They see me rollin'. They hatin'.
Staff member
Joined

Jul 28, 2004
Messages

129,751
LGKash:

$500.00
Just like that, hockey is back.
Using our often applauded 10 Tidbits format, here are the key LA Kings related takeaways from Day 1 of the 2023 NHL Rookie Faceoff:
1. Before the game even got underway, Mayor's Manor broke some news…
2. Even though the plane is warming up back in LA and everybody is packing to leave for Australia, that didn't stop GM Rob Blake from attending Game 1. Everybody was in town to watch the prospects, including: Bill Ranford, Nelson Emerson, Mark Yannetti, and the usual cast of Development Staff, like Jarret Stoll and Matt Greene. Curiously, though, recently-retired Nate Thompson and longtime fan favorite Marty McSorley were also spotted. Neither have been hired by the club yet, as far as we know. However, rumors are, Thompson will likely be joining the team in some capacity. Kings legend Dave Taylor was also in attendance. Despite his St. Louis Blues not being part of the tournament, he was still doing what he does — scouting.
3. Andre Lee was named captain for today's game. Per the usual routine at this event, he found out when he walked into the locker room. It was a nice surprise for the second-year pro, even if he may have had a little inkling something like that could happen, considering he's one of the older players in the locker room. For reference, he last wore a letter (an 'A') when he was around 16 or 17 years old playing in Sweden.
"It's fun to be a leader and I think I took on the role pretty well," he said when asked about wearing the C. "As an older guy, and you've been around for a little bit, you have to take responsibility and kinda lead the younger guys, the new guys."
Lee also scored the game's first goal and was all smiles when talking about getting that out of the way early coming off a long summer. "Last season was very important," he began. "I got into the game more and learned my way to play. It's way different from college, but I think around Christmas time, I started to figure it out – do the simple stuff, the details are very important. So, if you get a goal here and there, of course I'll take it."
4. Frankie Pinelli set up the Lee goal and was arguably the team's best player over the full 60+ minute effort. This was a stark comparison to just a few years ago when the then 18-year-old center was hardly noticeable just a few months after being drafted by Los Angeles. He's expected to play a big role for AHL Ontario this coming season and today was a great start for the former Kitchener Rangers captain. Pinelli also switched numbers, he's now wearing 73.
5. Sammy Helenius is another player who stood out, mainly for his physical play. This is something coach Marco Sturm and many in the organization have been waiting for — they wanted to see a bit of meaner streak coming from the 6-foot-6 center. From what we hear, he spent quite a bit of time training with Jeremy Clark over the summer and has reduced his body fat by more than 50%. He looked like a man possessed at time on Friday, staring down the Sharks goalie after one play in the first period and then later having a prolonged 'Do you want some of this?' moment with another Sharks player near center quite some time later. Eventually, Helenius had one of the best hockey fights in the tournament's history. The towering Finn may have thrown over a dozen solid punches and only took one big bomb, which didn't even phase him.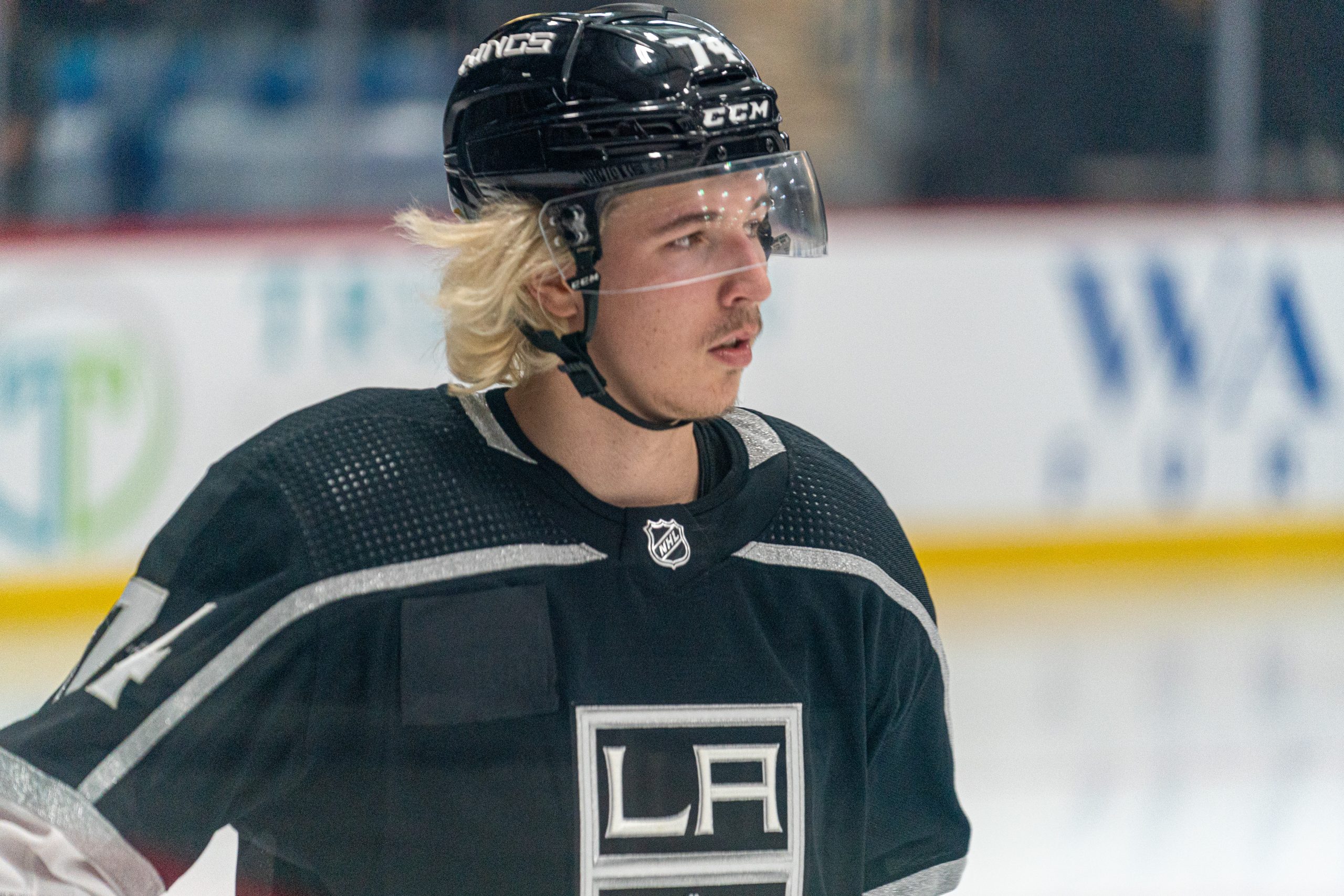 6. Development Camp standout Aatu Jamsen now has bleached blond hair ala Hulk Hogan (pictured above).
7. Kings 2023 draftee Matthew Mania is not attending the tournament, as he's still recovering from off-season shoulder surgery.
8. Perhaps the top story of the day was the official on-ice return of goaltender Jacob Ingham. After missing last season due to back surgery, he came in and made 18 saves in the first period and another 11 in the second frame before giving way to Eric Portillo (which was the plan all along).
"This is my fifth rookie tournament," he said with a chuckle following the game. "I've done the whole loop. My first one was here in Vegas (the inaugural event) and I played pretty bad. So, (today was) a little bit of a revenge tour in my last go around. It was a long year, lots of rehab. A lot of 7am sessions and (there was) a lot of work behind the scenes to get me back playing. And my last game would have been against San Jose a year ago. So, I'm over the moon. I'm really happy; a little emotional right now just thinking about all those long days and hours. Plus, not knowing how I'd feel coming back off of major surgery like that. To get the opportunity to start and get the opportunity to play how I know I can; just to have that sense of, 'Yeah, you can do this again. You're good.'"
9. The goaltending plan for tomorrow is to do another split game. Camp invitee Jacob Oster is slated to play one period. Which should leave Eric Portillo to get the other two periods — where he'll be looking to rebound after a tough outing on Friday, giving up two goals in regulation and another pair in the shootout. He was tagged with the 4-3 loss after coming in with a 2-1 lead. As for Oster, he's a 19-year-old netminder out of the OHL who started his career with the Guelph Storm and then was traded to the Oshawa Generals.
10. What else happened in the game? Recently drafted forward Koehn Ziemmer was firing the puck at will in the first period and then wasn't much of a factor after the opening 20 minutes. On defense, Angus Booth has good lateral vision and moved the puck quickly. Coach Marco Sturm agreed and noted the coaching staff believed he was one of the better players in Game 1.
BONUS NOTE
Alex Laferriere continues to impress nearly every shift. He played well at both ends of the ice was heavily involved from the drop of the puck all the way though his attempt during the shootout. In fact, we're still not sure one of his shots in the first period didn't actually get past the goaltender. We'll never know because the play wasn't reviewed. Even so, he did score the game-tying goal with less than two minutes remaining in regulation to send the game to overtime.
As discussed on a recent Kings Of The Podcast, it wouldn't be surprising to see him get NHL games this season. For more on the former Harvard standout, be sure to check out Kings AGM Nelson Emerson's interview linked below.
RELATED CONTENT:
Follow @mayorNHL
Continue reading...