jammer's overlord
Staff member
TEAM LGK
Joined

May 10, 2012
Messages

12,809
LGKash:

$450.00

Game Day Thread
Game #57/82 -- 3/6/22
**Game Time 10:00am Pacific**
​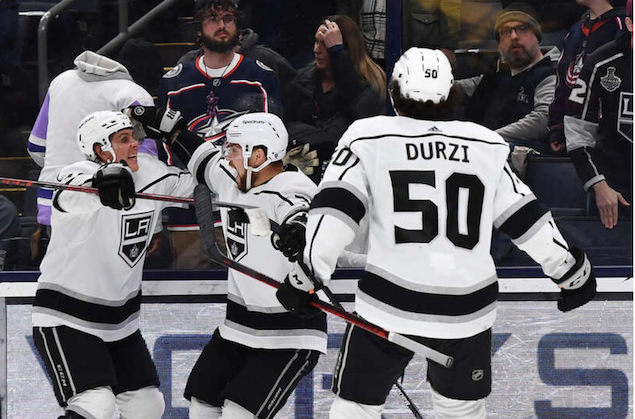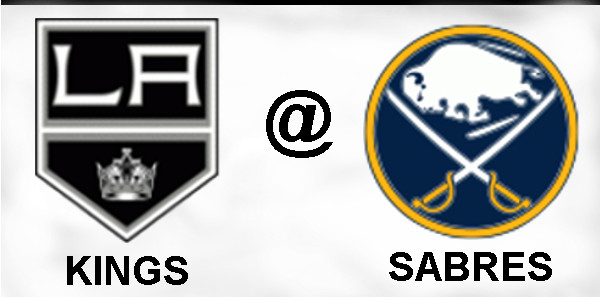 LA Kings vs. Buffalo Sabres
KeyBank Center | Buffalo, NY
Kids Takeover Day
Free Puck Bank to first 2,000 kids
Previous Meetings
10/31/21 – Sabres 2,
Kings 3

TV:

**BSW**



Radio: LA Kings iHeartRadio app
Please remember,
DO NOT
post links to Live Game Streams in the GDT or anywhere else on LGK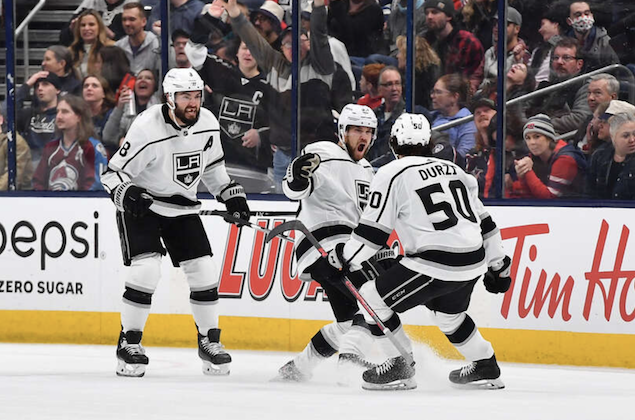 Check out articles on LA Kings Insider Here
Trent Yawney 3/2/22 Post Game Quotes & Viktor Arvidsson video link
Arvidsson's Post Game Video Interview
https://twitter.com/i/status/1499945168098766854
Trent Yawney
On Todd McLellan's consistent praise for the team's comeback mentality
Yeah, [Todd] just texted me and said they don't want to do it the easy way. There's a lot of character in the room. Those two goals in the second period kind of came off our stick. I thought the first was really strong, it looked a lot like us. The second, they're a good team, they're 7-3 in their last 10 games, I think I read they're the third highest scoring team since the end of January. If you give them chances, they're not going to miss and they didn't. I thought the guys stuck with it, it was making sure that we didn't try to chase it too quickly and do our thing. Brownie's goal was a bit of a relief on the bench, I think they could feel that maybe there was an opportunity.
On Viktor Arvidsson and his ability to get into high-danger areas
Well, he's nice to have on your team, because when I was in Anaheim, he was in a yellow sweater and he used to do that a lot. He's an opportunist, he's got a great release on his shot. He scored three, he hit the crossbar and hit the post, it was following him around a little bit and it was a nice move in overtime as well.
On the players impacted by the line adjustments made for this game
I thought that JAD was really good, it's his first game and I thought he skated well. Moving Al down gave that line a little bit more stability and I thought Byfield was skating well, trying to get some things accomplished, which was good, and Brownie's goal was a big goal in the third period.
On the emotions of overtime, and realizing they'd get a second chance
From my vantage point, I couldn't really see whether it was offsides, and as soon as they scored [Derik Johnson] said "whoa whoa" and as soon as I looked down, you could see it was clearly offsides. We tried to keep positive on the bench that we're going to get another opportunity here, so let's reset and get ready to go. It was nice for the guys to finish it off like that.
On Jonathan Quick's third period play, and his breakaway save
The breakaway save was huge. I think if they score there, obviously, it's a different game. That was a really, really big save and I think the guys really fed off of that one as well.


​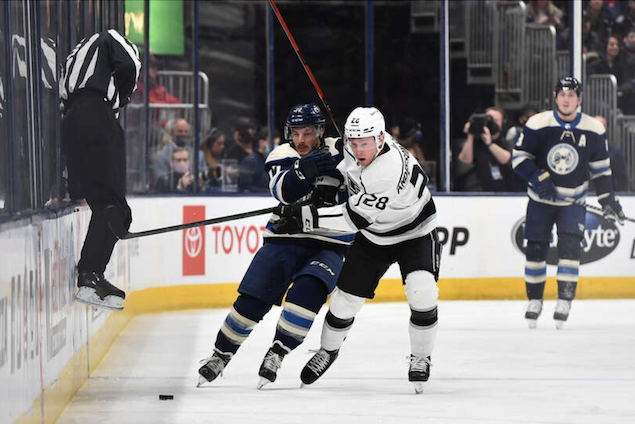 Subject To Change
FORWARDS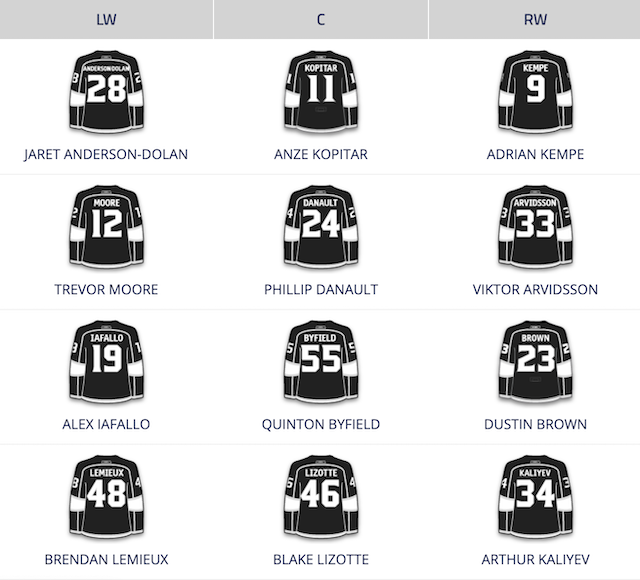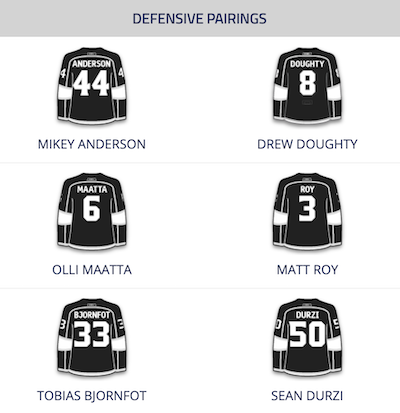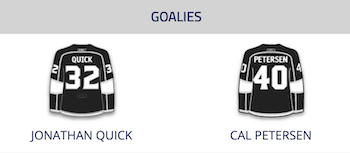 Kings Injuries
Alexander Edler (LTIR)
Brendan Lemieux (DtD)
Sean Walker (LTIR)
__________________________________________________
__________________________________________________
Sabres Probable Lineup
courtesy of dailyfaceoff.com
FORWARDS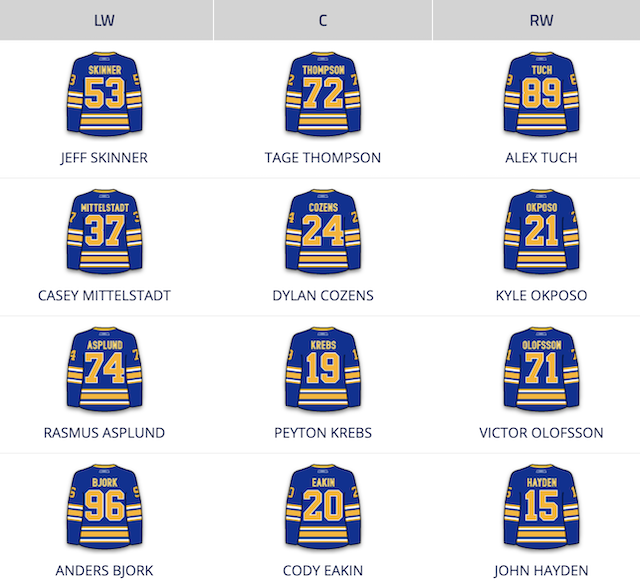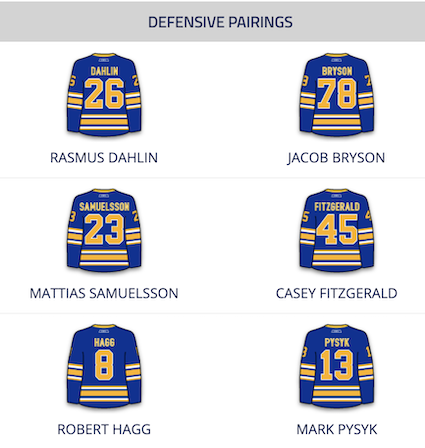 Former Kings Draft Pick
Colin Miller (injured)

________________________________________________
_________________________________________________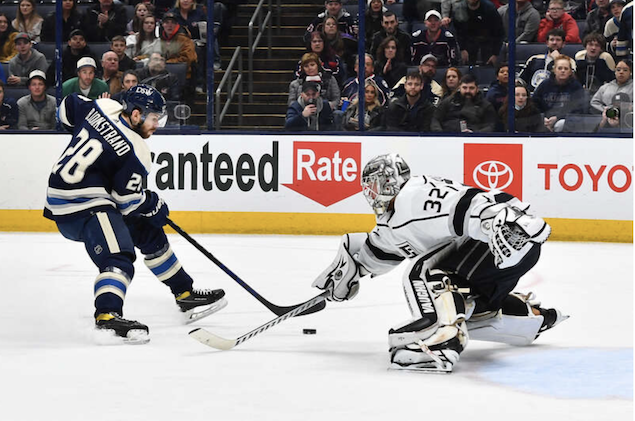 GOALIE STATS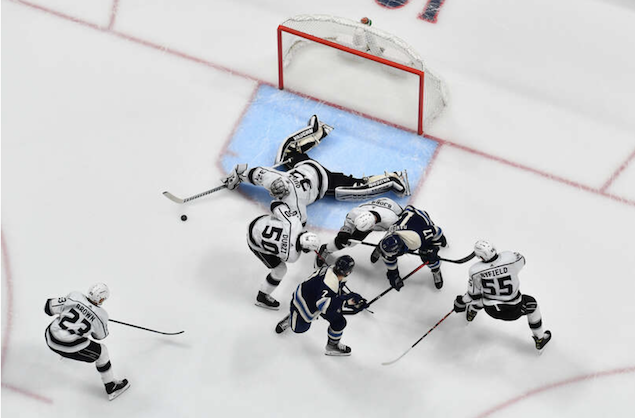 PLAYER STATS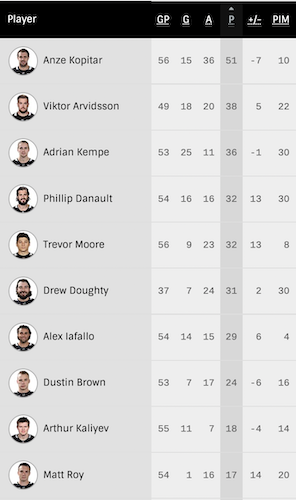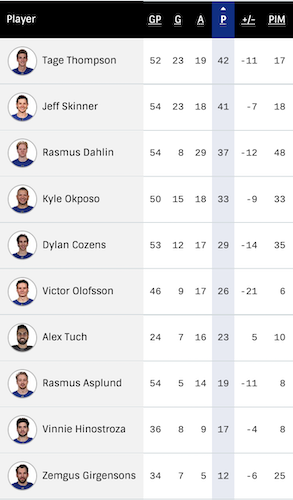 PACIFIC DIVISION STANDINGS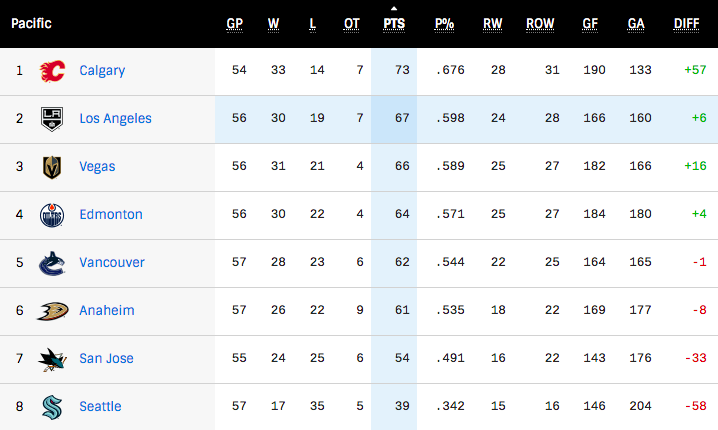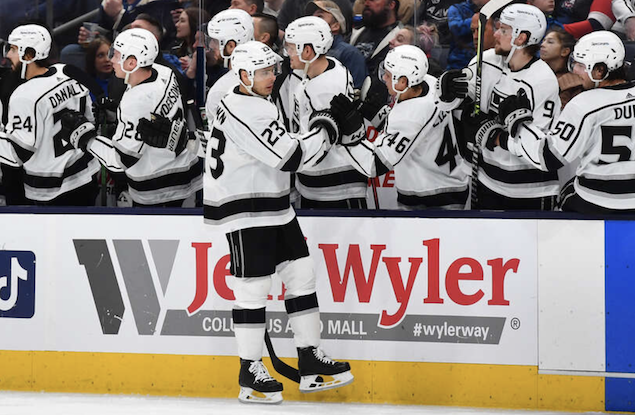 Tonight's Poll Question:
Only 1 question today: How many TOTAL POINTS will be scored by ALL SWEDISH BORN PLAYERS in today's game?

You can take 3 guesses - a correct guess will get 1 point

Here's the list of players:

Sabres: Asplund (F), Dahlin (D), Hagg (D), Olofsson (F)
they have other guys whose names look Swedish, but they were born in the USA

Kings: Arvidsson (F), Bjornfot (D), Grundstrom (F), Kempe (F), Moverare (D) Also: Andersson (on the Reign right now) and Edler (LTIR)


Take your best guesses in your post below.
The only prize is the glory of seeing your name in the next GDT if you get it right.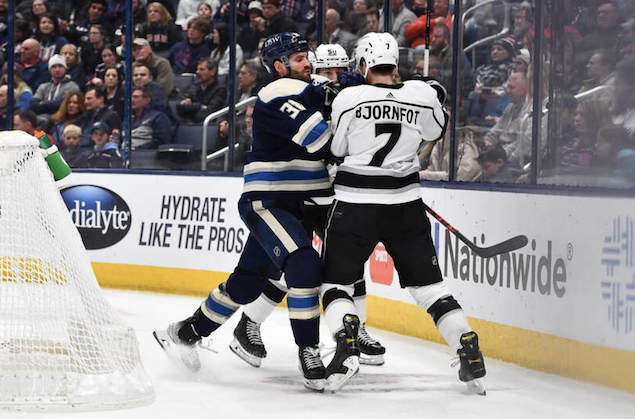 Previous Game's Winners
Congratulations to the following posters who correctly guessed within +/-3 of 72 shots and/or the goal differential of 1:
69-70,72-73 shots (1 point) :
jammer06
Clif
AngelEyes
kingsmen93
Goal differential (1 point)
Kurisu
Dr. Tran
VegasHockey
JayWells24
jammer06
DRice
JETS GARAGE
LeftyKing
Busted Chops
Nyssa42
SirJW
Bill Hicks
forum gold
dannybuoy1
Poll Win Totals
King Of The Mountain
with

41

points:
srm1105
40 Points
Reg or Rog?
36 Points
VegasHockey
35 Points
LeftyKing
Rusty
34 Points
John a90
pray4mojo
Sonnyboy11
33 Points
AngelEyes
notbob
32 Points
Chateau Bow Wow
Helvetica
31 Points
DRice
Kurisu
Liz4LA
30 Points
Dr. Tran
hornman
29 Points
hokiecat
jammer06
28 Points
Bill Hicks
27 Points
Busted Chops
kingrussell
26 Points
25 Points
JayWells24
KHenry14
Nyssa42
24 Points
23 Points
Byron
STONE
22 Points
dannybuoy1
21 Points
CIrvine
Shackleford
SirJW
20 Points
empire
19 Points
Sevenhole
18 Points
TooCool
17 Points
16 Points
Clif
forum gold
Rogie-Vachon
15 Points
14 Points
cokingsfan
13 Points
Dirtweazle
JETS GARAGE
PuckMaster
randdog
12 Points
DRGinLBC
11 Points
Greg33
kopinator
10 Points
beady eye
beedee
9 Points
8 Points
7 Points
MaxwellSmart
6 Points
5 Points
Joe Laviguer
waynet
4 Points
kingsmen93
3 Points
2 Points
Ice24
rinkrat
1 Point
lurker
MBreeden
RoS
Salami
Stormy2213
***Bet your karma in geogirl's KARMA BETTING THREAD HERE***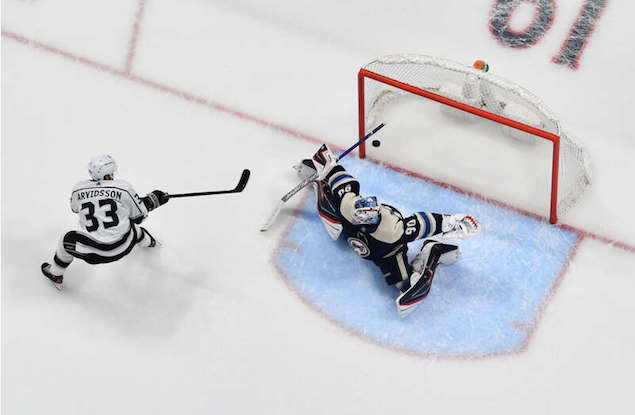 ________________________________________________
Photos courtesy of NHL.com/Getty Images​