jammer's overlord
Staff member
TEAM LGK
Joined

May 10, 2012
Messages

12,768
LGKash:

$450.00

Game Day Thread
Game #21/82 -- 11/30/21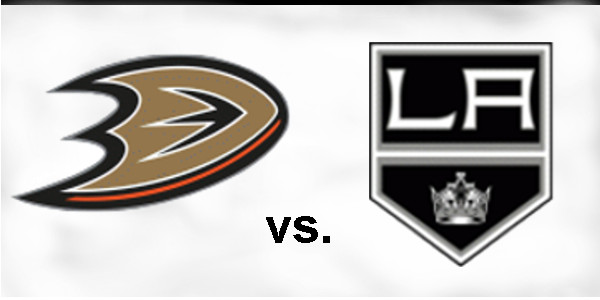 Anaheim Ducks vs. Los Angeles Kings
at
Center | Los Angeles, CA
Chargers Night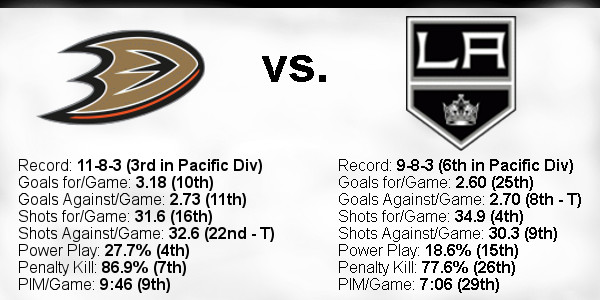 TV:

**BSW**



Radio: LA Kings iHeartRadio app
Please remember,
DO NOT
post links to Live Game Streams in the GDT or anywhere else on LGK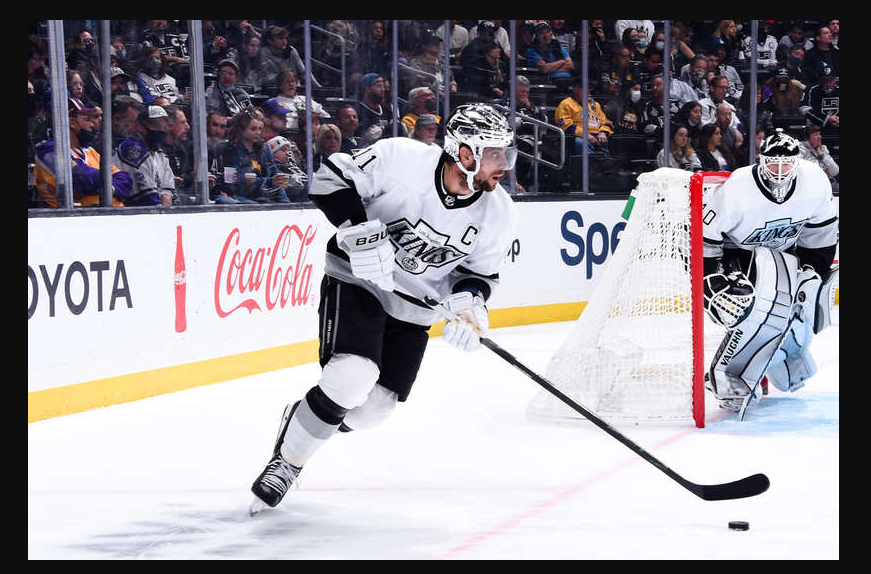 Check out articles on LA Kings Insider Here
Anze Kopitar, Arthur Kaliyev, & Todd McLellan 11/27/21 Post Game Quotes
​
Anze Kopitar
On how important the win was for the team
Obviously it was big. Being on a five game skid is never really fun and we're not the biggest believers in moral victories so it was nice to get the two points and stop the bleeding but now we have to keep on winning games and getting points.
On what was going right during the late major penalty kill
I don't think we gave them a whole lot of room. There was a ton of blocked shots which is always nice and Cal made a couple nice saves so everything came together, I thought we were in good positions, didn't give up the second and third chances and were able to get the job done.
On if there is a different mindset during a 5-minute penalty kill
No, not really. The only thing is we're trying not to get caught out there because you know you're definitely going to be going again so just try to keep short shifts and clearing the puck is huge.
On what Sean Durzi brings to the power play
He brings a lot of poise on the blue line. I think his deception back there is exceptional and making the right play at the right time gives us more time around him and more ability to make our plays on our own. He's been really good for us, not just getting on the scoresheet but been pretty solid and sharp in his own zone too.

Arthur Kaliyev
On what went well in the third
I thought we didn't give them much in the third, maybe a couple on that power play they had but I thought we played pretty well.
On if it was rewarding to start the play and then finish with the goal
I try to play hard all around, defensively, in the neutral zone and that's where the scoring chances and more shots come from I think so I'm glad. I took it away from the d-man and then the defense made a great play too finding me.

Todd McLellan
On how his team is feeling after being rewarded with a win
We were desperate for a win and wins help no matter how you get them. I thought we played a fairly solid game, there was some wavering here and there, we made a few mistakes and the lack of ability to put a team away, especially early in the game when you have that many opportunities and give their goaltender credit, often comes back to bite you and we didn't want to play the last six minutes the way we did either but the penalty killers, the goaltender, faceoffs, everybody did a really good job during that time so good for them.
On the match penalty assessed to Lemieux
I haven't talked to him (Lemieux) about it yet. When the referee explained it to me it made sense, I didn't see it, at least on the video we had on the bench and there's many different angles but the way the referee explained it, it adds up. First of all it's wrong, if it did happen. We don't want it to happen. And two, it's not a good situation to put the team in and not only for tonight, but moving forward. Brendan Lemieux has become a really valuable player to our team. I think he knows that, we all believe it and we need him in the lineup. We need him playing every night, we need him playing every minute that he gets offensively, defensively, physically, emotionally, and if we happen to lose him for any period of time, we'll miss him and he has to understand how important he's become.
On the management of shift changes during the late penalty kill
We talked a lot on the bench about staying fresh. The way things worked out, we could play almost two pairs and throw the third in there, have our best faceoff guys on the ice during those moments, a timeout helped us again that allowed us to rest a little bit and get our best penalty killers on the ice. We looked at it as a six-minute penalty kill too because they were going to pull their goalie in the last one and we just didn't have the icing ability but the way they managed the six minutes was well done.
On making changes to the lines during the second period
I thought when Grundstrom got his opportunity to go he made good on the shift and he seemed to be playing with some energy. I thought that Lias Anderson and Trevor Moore had energy and that helped Brown, so we just flipped those two during the game and it was fine, all four lines had an impact on the game.
On the play of Sean Durzi in his second NHL game
I thought it was much like the first game. He's got a tremendous amount of poise with the puck, he can hold it and look people off, and that's a real asset for him as long as it doesn't become a liability and he'll learn what he can get away with and what he can't, but again good plays on the power play, good poise on the power play, he's going to get better defensively once he goes through the league once or twice and understands the speed, the pace, the tendencies of the top players. Let's face it, in the American League, Connor McDavid and Leon Draisaitl aren't there. The only way you get to learn to play against them is by playing up here and he'll get that over time.
On the goal by Kaliyev and his development
He's developing a full game. And he was really frustrated with himself missing the empty net. That's in his wheelhouse, that's in his prime spot, and he mis-shot it. But he didn't let it rattle himself. You can see him maturing. We really appreciate all the little things that Arty is doing right now. When you compare him in his one game last year against Anaheim to his 15-20 games that he's played this year, it's significantly different. Just defending, the confidence to play in certain situations, using his body…he's going to score, he's going to shoot the puck, he's going play on the power play, we're trying to train him for the full 20 minutes that he could eventually end up playing and he's getting it.
On if his penalty killers were a little more fresh with it being their first situation
I didn't think about that but we were penalty-free. It perhaps helped. It takes our minds a lot further along from the pre-scout and the prep, but there's an opportunity to remind them of a few things and from there- our penalty kill, knock on wood, has been tremendous basically for the whole year. Take the St. Louis game out and we're quite pleased with it.
​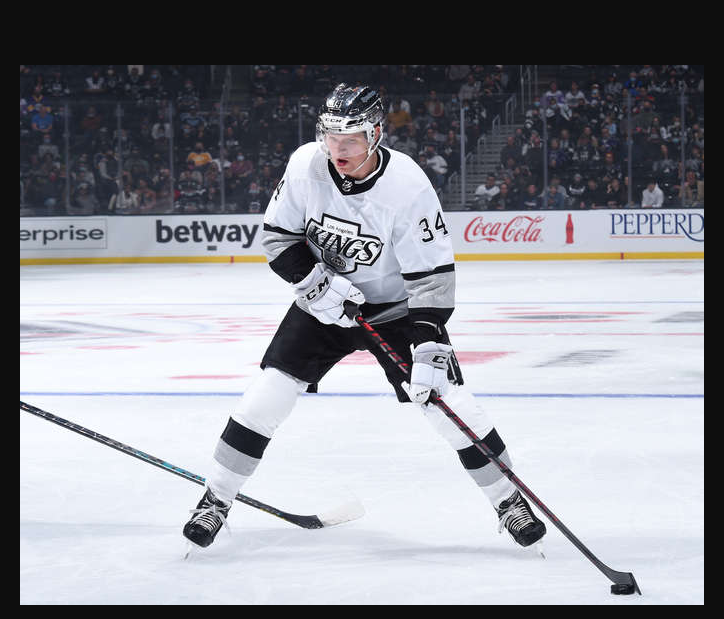 Subject To Change
FORWARDS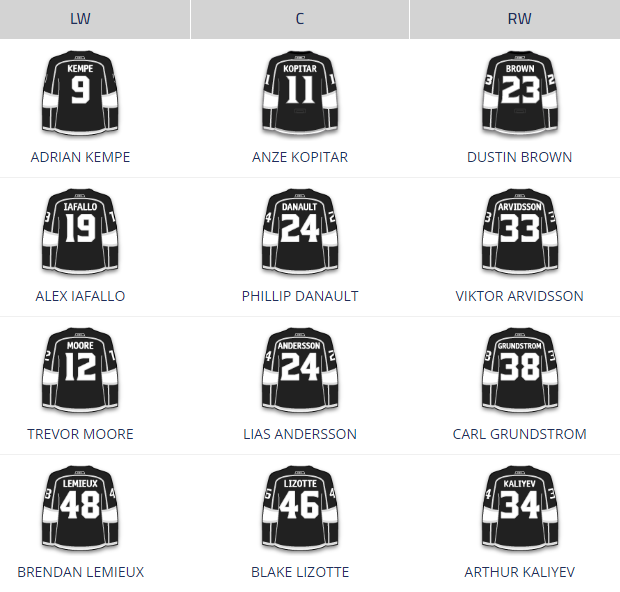 DREW IS BACK TONIGHT!
(so lineup not correct)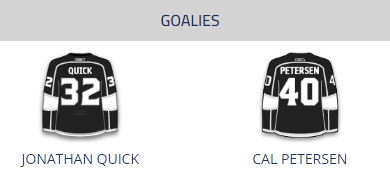 Kings Injuries
Andrea Athanasiou - (covid protocol)
Quinton Byfield
Sean Walker
__________________________________________________
__________________________________________________
Ducks Probable Lineup
courtesy of dailyfaceoff.com
FORWARDS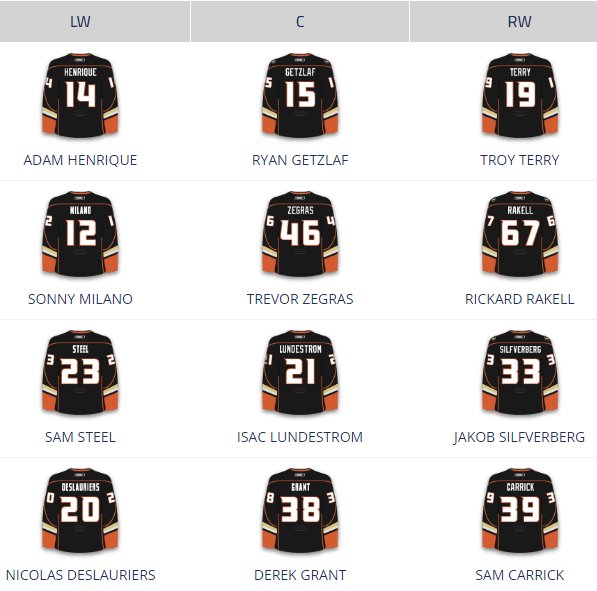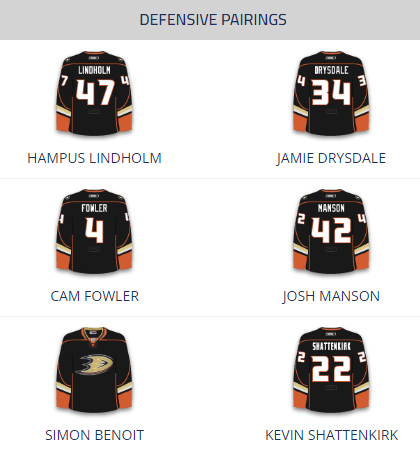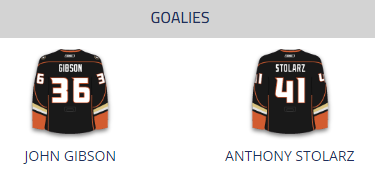 Former Kings Draft Pick
Nicholas Deslauriers

________________________________________________
_________________________________________________
GOALIE STATS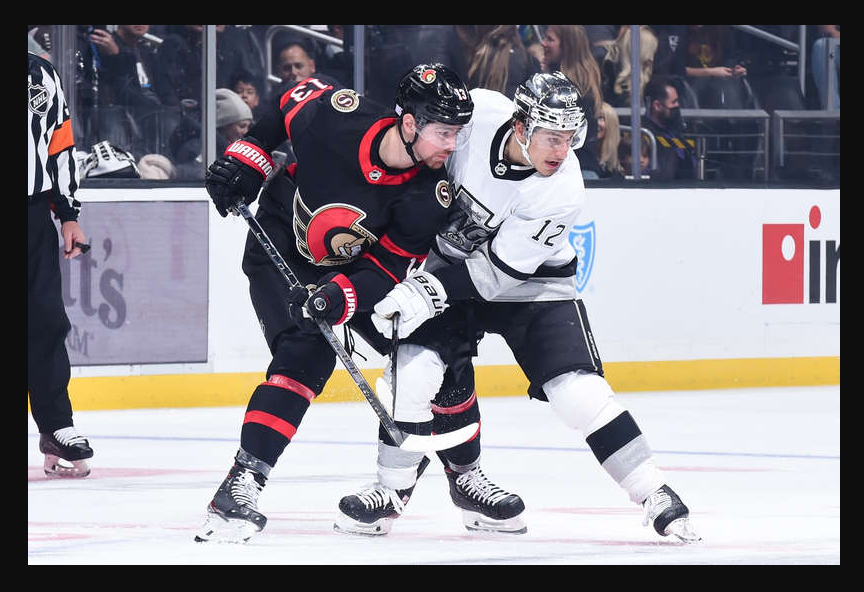 PLAYER STATS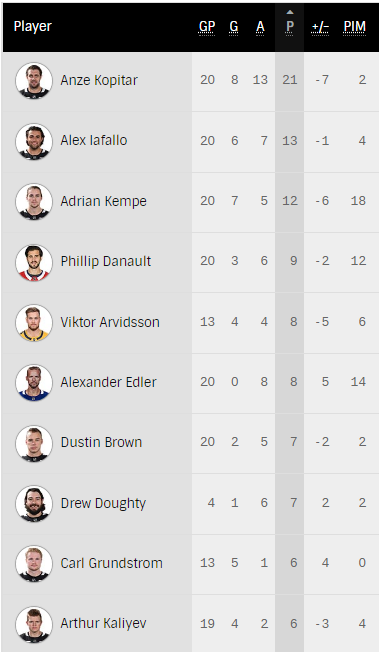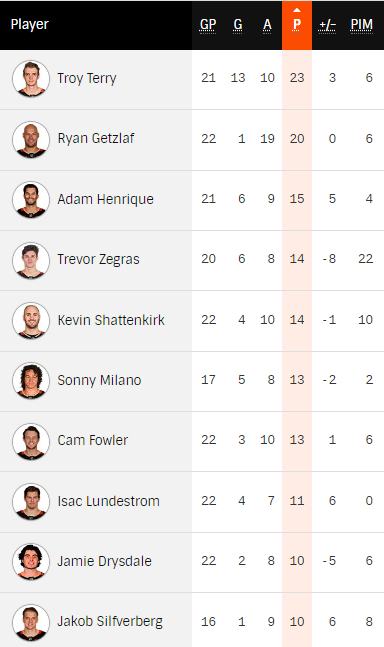 PACIFIC DIVISION STANDINGS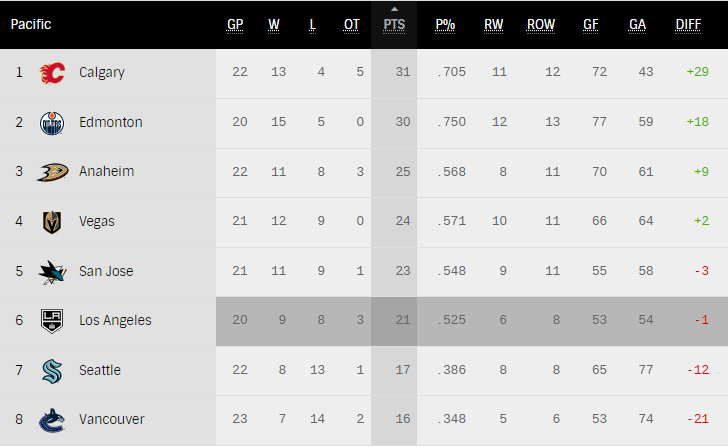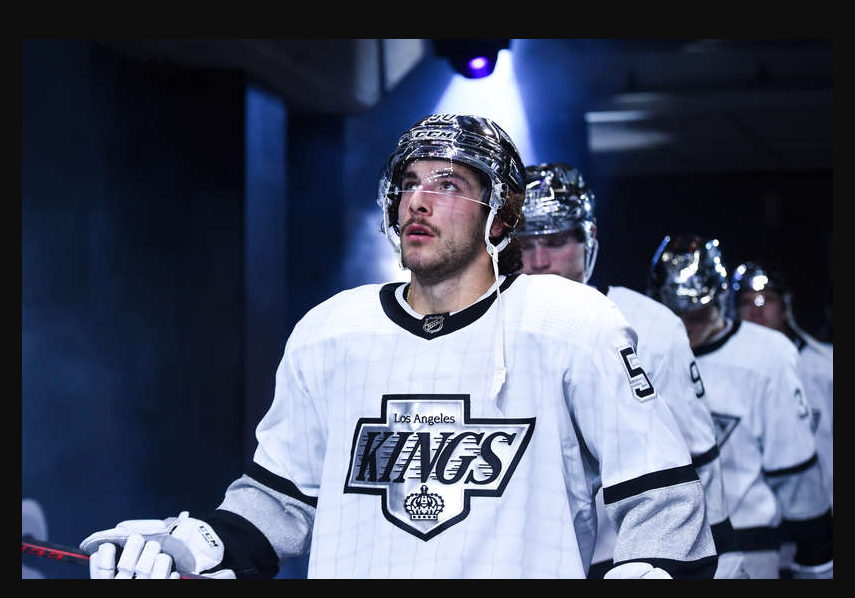 Tonight's Poll Question:
UPDATE: Doughty confirmed to play tonight!!
The only Kings Dmen who have scored goals this season are Sean Durzi and Drew Doughty. Shattenkirk has 4 goals & 10 assists to lead Ducks Dmen in scoring (& Fowler has 3 goals, 10 assists).
How many TOTAL POINTS will be scored BY ALL DMEN on BOTH teams in tonight's game?
You can take 3 guesses

Previous Game's Winners
Congratulations to the following posters who correctly guessed within +/-2,1,0 of 33 saves by Ottowa goaltending:
31,35 (1 point)
beedee
DRice
Reg or Rog?
forum gold
Bill Hicks
PuckMaster
srm1105
32,34 (2 Points)
Kurisu
AngelEyes
jammer06
Rusty
Helvetica
John a90
KHenry14
sonnyboy11
empire
hornman
kingrussell
Liz4LA
dannybuoy1
cokingsfan
pray4mojo
33 on the dot (3 points)
Chateau Bow Wow
kopinator
Poll Win Totals
Kings Of The Mountain
with

17

points:
pray4mojo
srm1105
16 Points
Rusty
15 Points
John a90
Liz4LA
14 Points
LeftyKing
notbob
13 Points
Chateau Bow Wow
Dr. Tran
Hornman
12 Points
Sonnyboy11
11 Points
AngelEyes
jammer06
Reg or Rog?
VegasHockey
10 Points
Greg33
Kurisu
9 Points
Busted Chops
Byron
KHenry14
Nyssa42
8 Points
beady eye
DRice
Helvetica
kingrussell
Randdog
Shackelford
SirJW
7 Points
cokingsfan
MaxwellSmart
TooCool
6 Points
Dannybuoy1
empire
JETS GARAGE
STONE
5 Points
CIrvine
DRGinLBC
hokiecat
JayWells24
kopinator
Rogie-Vachon
Sevenhole
4 Points
beedee
Bill Hicks
Joe Laviguer
3 Points
forum gold
Stone
2 Points
Ice24
PuckMaster
1 Point
Dirtweazle
lurker
MBreeden
rinkrat
RoS
Salami
Stormy2213
waynet
***Bet your karma in geogirl's KARMA BETTING THREAD HERE***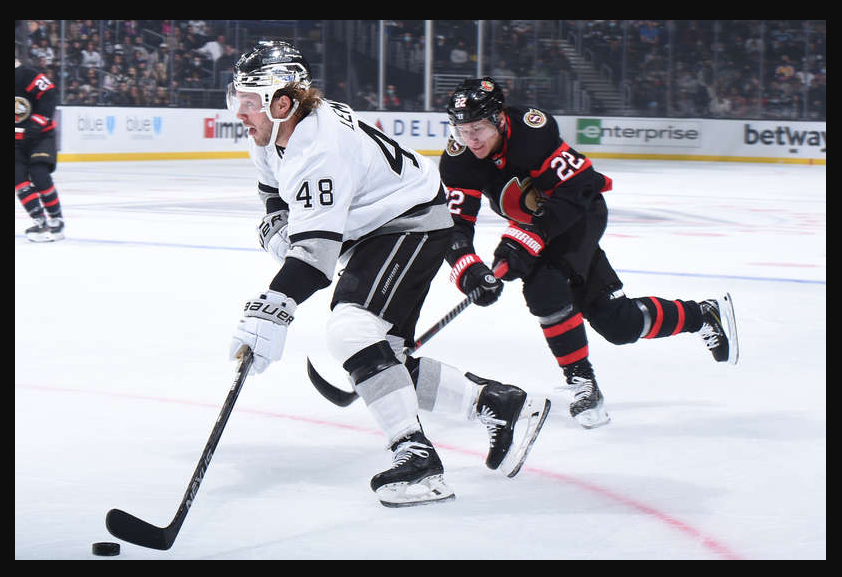 ________________________________________________
Photos courtesy of nhl.com/getty images​
Last edited: