jammer's overlord
Staff member
TEAM LGK
Joined

May 10, 2012
Messages

12,849
LGKash:

$550.00

Game Day Thread
Game #54/82 -- 2/28/22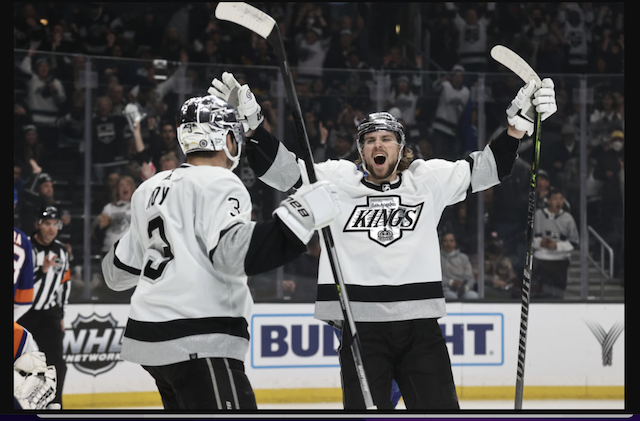 Boston Bruins vs. LA Kings
at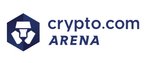 | Los Angeles, CA
Previous Meeting
A really, really long time ago
12/17/19 -
Kings 4
, Bruins 3 (OT)
(last home game vs. Bruins was 2/16/19)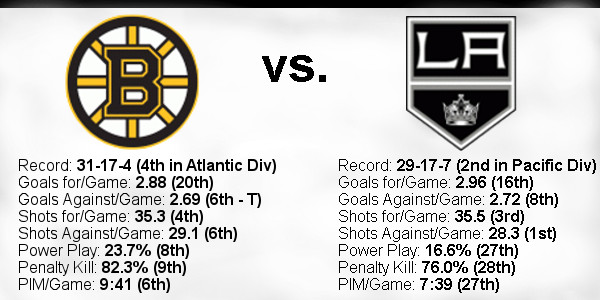 TV:

**BSW & NHL Network**



Radio: LA Kings iHeartRadio app
Please remember,
DO NOT
post links to Live Game Streams in the GDT or anywhere else on LGK
Check out articles on LA Kings Insider Here
Matt Roy & Trent Yawney 2/26/22 Post Game Quotes
Matt Roy
On the Kings jumping out to such a hot start tonight
I think we were prepared, we had a lot of energy. We had a big win last night and I think that carried over into the start of the game tonight.
On carrying over energy between games in a back-to-back set
It can be. Those games, last night felt like a playoff game and we gave it our all last night. At this point in the season, we're really excited to play and we're excited to prove ourselves. We were ready to go.
On the effectiveness of his pairing with Olli Maatta
We communicate well with each other out there and we try to make it as easy as possible on the other guy. If you communicate, you end plays and you break the puck out, it makes the game a lot easier.
On his goal tonight
I just saw an opportunity to jump in, look for a little play and I got a shot on net. When I didn't get that original one, I just tried to find open ice in the back-door area and Kopi is an amazing player. He knew I was there and he made a great play.

Trent Yawney
On getting a goal from each line tonight in a team win
Yeah, I think that looked a lot like yesterday's game, where everybody had an impact on the game. A little bit tougher, back-to-back, but I thought the guys really showed some mental toughness. They were ready from the start to play the game they're capable of and playing to their identity.
On if he felt there was some carryover energy from last night's win
Yeah, I think so. As coaches, you always worry about when you played a division rival, the emotional letdown I guess, but I was impressed with how they started the game. They went right after it, missed a couple of open nets that could have made it a little bit different, but they stuck with it for the most part. [The Islanders] are a good team, they're going to push us, especially in the third period and they did, and then Cal was there. Everybody had contributions in the win and that's good to see, you're not just depending on one line.
On the energy levels of the team tonight
It's that time of the year, when everybody is hungry for points. There are a lot of good things in our game and have been for a while, those good habits, sometimes they're harder to develop than the bad ones are to break, and our leadership is very, very strong. When it gets a little haywire out there, there's always Kopi, Phil, Dewy, they'll settle everything down and we'll regain a little momentum. I think that was evident tonight.
On the continued offensive success of the Danault line, tonight and every night
I think that they enjoy playing with each other and they complement each other. Mooresy and Arvy are pretty quick and with Phil, they start with the puck a lot because of the faceoffs. They missed some chances today, and they have, but the puck has been following Arvy around. He had a couple of chances last night and again tonight. They definitely provide energy for our team and usually they're playing in the offensive zone.
On any messaging that came from Todd McLellan today
We talked before we went over our pre-game meeting, before we presented it to the players, we had Todd on the call. He listened to what we were trying to give him, but it's pretty much the same, we try to keep it a mirror image, maybe just a different voice of what would be done if he was here, so there's really no change. That's why Marco has been with the forwards, he's around them, they hear his voice, the D hear my voice, the only one they're missing is Todd. We talked in the morning, talked before the game and we'll talk again tomorrow.
On looking ahead to the Boston game on Monday
Everybody talks about a big game, every game is a big game when you look at the standings. No one wants to get in that rut, that you're going to lose three or four because you're going to be out of it. The game is ramped up, Boston is a good team, they're looking for points. We're welcoming the challenge and we'll have our hands full.

​

Subject To Change
FORWARDS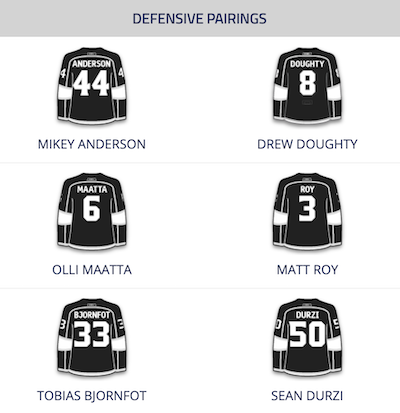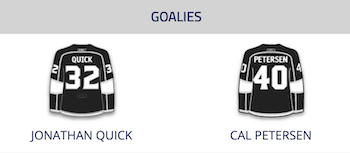 Kings Injuries
Alexander Edler (LTIR)
Sean Walker (LTIR)
Christian Wolanin (CP)
__________________________________________________
__________________________________________________
Bruins Probable Lineup
courtesy of dailyfaceoff.com
FORWARDS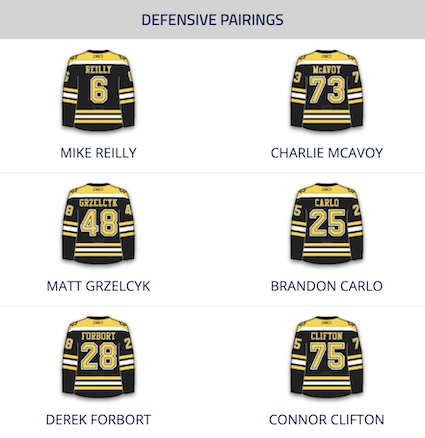 Former King
Derek Forbort

________________________________________________
_________________________________________________
GOALIE STATS

PLAYER STATS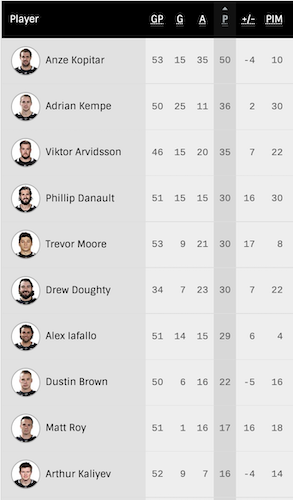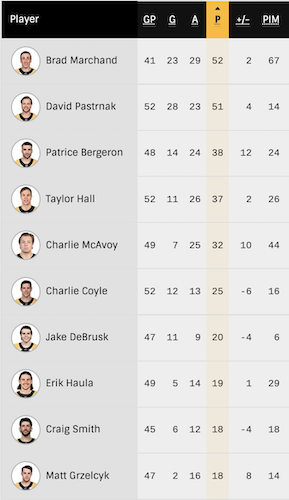 PACIFIC DIVISION STANDINGS
Tonight's Poll Question:
The games are coming fast & furious over the next few weeks - my poll questions may suffer from a lack of creativity and/or jinxiness.
Part 1 - The Bruins seem to take a lot of penalties. How many total different players from BOTH teams will sit in the penalty box at some time this evening? (or get sent to the locker room by the officials, not for an injury) If the same guy takes more than 1 penalty it only counts as 1.
You can take 2 guesses

And….we'll try this again - sorry to everyone who guessed 4-1 the other night.
Part 2 - What will be the FINAL SCORE of the game?
(doesn't matter who wins, just the score)
You can take 2 guesses

Previous Game's Winners
Congratulations to the following posters who correctly guessed 3 points by Kings D-men and/or a final score of 5-2
Both (2 points) :
JayWells24
Reg or Rog?
Bill Hicks
Final score 5-2
Nyssa42 (I swear I didn't cheat!)
3 points by defense:
kingsmen93
jammer06
srm1105
Busted Chops
randdog
DRice
sonnyboy11
John a90
LeftyKing
Chateau Bow Wow
empire
Dirtweazle
Poll Win Totals
King Of The Mountain
with

40

points:
srm1105
39 Points
Reg or Rog?
38 Points
37 Points
36 Points
35 Points
Rusty
VegasHockey
34 Points
pray4mojo
33 Points
LeftyKing
32 Points
John a90
notbob
Sonnyboy11
31 Points
AngelEyes
Chateau Bow Wow
Helvetica
30 Points
Kurisu
Liz4LA
29 Points
DRice
Dr. Tran
hornman
28 Points
hokiecat
27 Points
26 Points
jammer06
25 Points
Bill Hicks
Busted Chops
KHenry14
kingrussell
24 Points
23 Points
Byron
Nyssa42
STONE
22 Points
JayWells24
21 Points
CIrvine
20 Points
dannybuoy1
Shackleford
19 Points
empire
Sevenhole
SirJW
18 Points
TooCool
17 Points
16 Points
Rogie-Vachon
15 Points
14 Points
Clif
cokingsfan
forum gold
13 Points
Dirtweazle
PuckMaster
randdog
12 Points
11 Points
DRGinLBC
Greg33
JETS GARAGE
kopinator
10 Points
beady eye
beedee
9 Points
8 Points
7 Points
MaxwellSmart
6 Points
5 Points
waynet
4 Points
Joe Laviguer
3 Points
2 Points
Ice24
kingsmen93
rinkrat
1 Point
lurker
MBreeden
RoS
Salami
Stormy2213
***Bet your karma in geogirl's KARMA BETTING THREAD HERE***
________________________________________________
Photos courtesy of Rinkrat/LetsGoKings.com & Getty Images​
Last edited: