jammer's overlord
Staff member
TEAM LGK
Joined

May 10, 2012
Messages

12,809
LGKash:

$450.00
Special Halloween Poll Question Added!!

Official Game Day Thread
Game #9/82 -- 10/31/21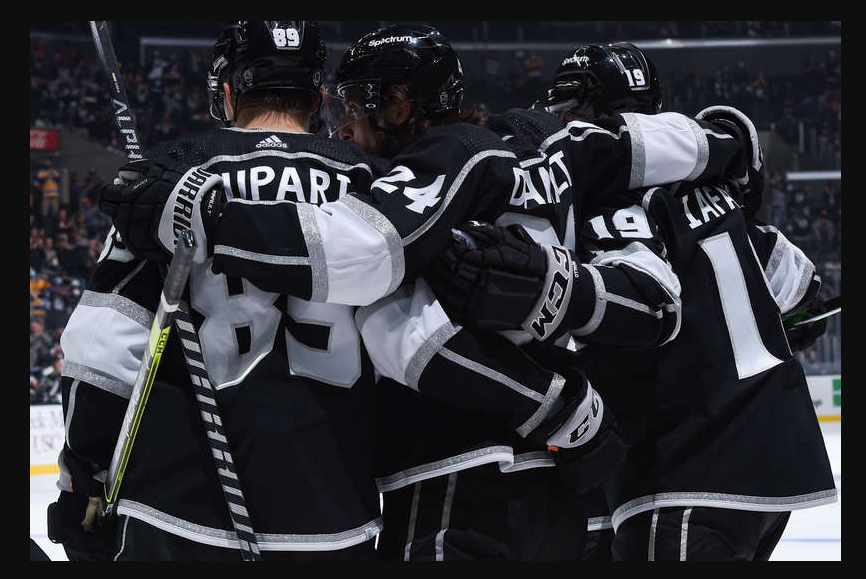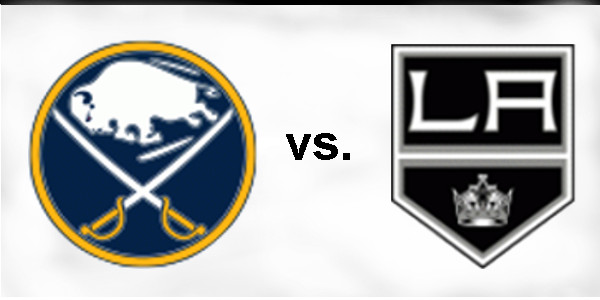 Buffalo Sabres vs. Los Angeles Kings
at
Center | Los Angeles, CA
Halloween Family Day
Giveaway: Kid's Giveaway - Fidget Popper
Current Records:
Kings 2-5-1
Sabres 5-1-1
**GAME TIME - 1:00 PM PST*
​

TV:

**Bally Sports West**



Radio: LA Kings iHeartRadio app
Please remember,
DO NOT
post links to Live Game Streams in the GDT or anywhere else on LGK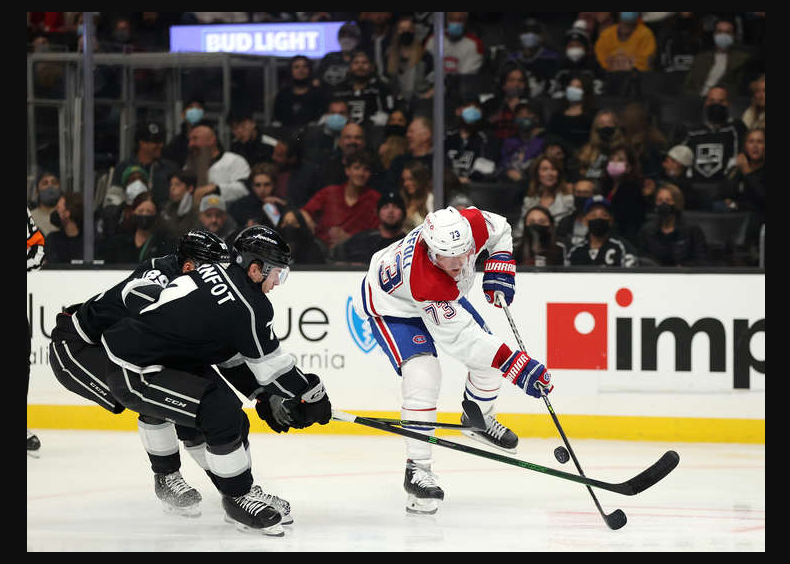 Check out articles on LA Kings Insider Here
Rasmus Kupari & Todd McLellan 10/28/21 Post Game Quotes
​
Rasmus Kupari
On which goal he was happier with, the shot today or the move on Thursday
It's tough to say, I'm always happy to score. That was probably the shot of my life so far. I'm happy for that, but I can't say which one was better, both of them felt really good.
On what he saw when firing his shot on that goal
I had it in my mind that I wanted to go short side and [it was a] great screen by Brownie. It made it even harder for the goalie to see the shot. I'm happy for the shot.
On getting power-play time todayt, and contributing with two points
Yeah, it was an honor from the coaching staff, to get that role, on the second power-play unit. I was familiar with it, I played that role last year with the Reign for most of the year, so I pretty much knew what to do. Obviously it's a little bit of a different game here, but the roles are the same. It worked today and just keep it going and work on it a bit.
On the team's confidence coming off of today's win
It's huge, we've been in these kinds of situations a few times, after two periods having a 2-1 lead and we've given up that. It was huge for our confidence. Every guy did a really good job today, let's keep it going and take all of the positives from today's victory.

Todd McLellan
On if today's game was the closest yet to the Opening Night performance
Dallas, Dallas was a pretty good night for us too, we did a lot of good things in that game too. We played good segments of games, or in games and lost, but this was a more complete 60 minutes. The answer is definitely yes, but there are pieces of other games that we showed that composure, pace and execution.
On the biggest difference in closing out today's game, versus Thursday's loss
Power play. It gave us a cushion, it gave us some comfort, it gave us confidence. We've been waiting for that to happen. When you score like that on your power play, other parts of your game come along with it. You get confident and I think that may have been the different in the game tonight. Different style of game too, they played different than Winnipeg does.
On getting goals from both power-play units today
Important. They're obviously shuffled, there's players from A-Unit, B-Unit, C-Unit if you want to call it that, in different situations. I couldn't tell you who our top power-play unit is right now. They'll sort that out as we go.
On players giving energy to their teammates, specifically Kupari and Kaliyev
There's different ways you can affect a game. You have to hand something off to a teammate and if you're sucking the life out, and you're that type of person with your body language, you're taking somebody with you, whether you intend to or not. Ras has an excitement for the game, he's ready to go again, he wants to go again. Arty has a bit of that, give me the puck and let me go. We're okay with their mistakes, they're going to make them, but they're exciting mistakes, they're full of excitement. I think, when you wake up in the morning, you're either going to give energy off, or you're going to suck the life out of somebody, you get to choose. Right now, those two are giving off energy.
On what a win like today's does to the team's identity and belief system
It provides a little bit of belief, there's the ability to enjoy the night. It's not fun losing. No matter the type of game, or the effort you put in, you can't leave the building feeling good about yourself when you lose. Even if you played your A-Game and lost on a bad bounce, you still leave with a bad taste in your mouth. A win fixes that. You could feel some stress goes out, leave the bench a bit. Guys were enjoying the moment, haven't felt that since opening night, everything's been so close or we've been behind since then. There is some relief, but that relief only lasts for the next hour or two and then we've got to play at one again tomorrow. Let's try to replicate what we had.



​


Subject To Change
FORWARDS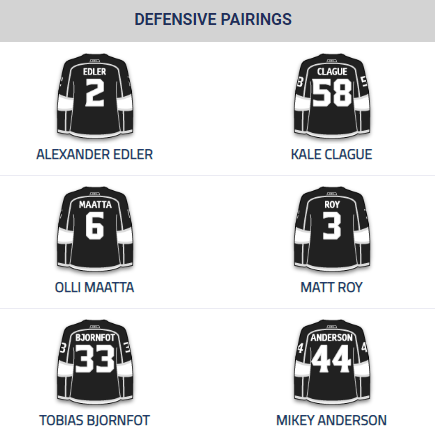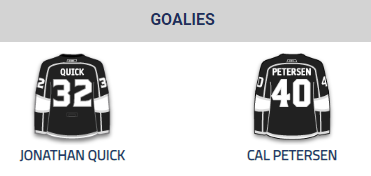 Kings Injuries
Andreas Athanasiou
Quinton Byfield
Drew Doughty
Sean Walker
__________________________________________________
__________________________________________________
Sabres Probable Lineup
courtesy of dailyfaceoff.com
FORWARDS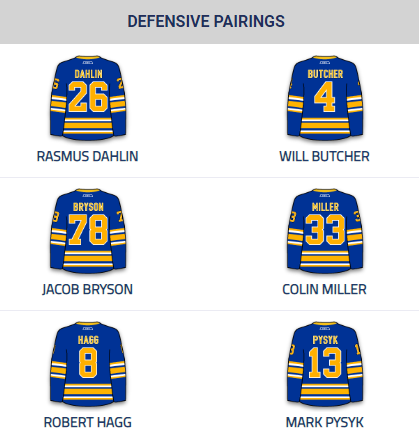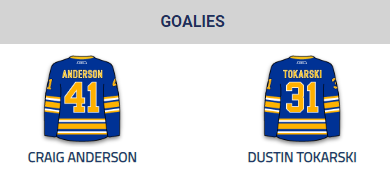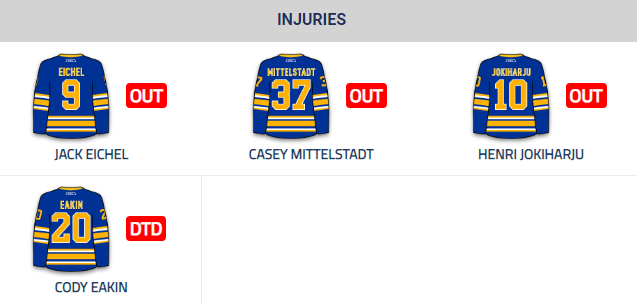 Former Kings
Chistian Wolanin

Colin Miller (Kings Draft Pick)

_________________________________________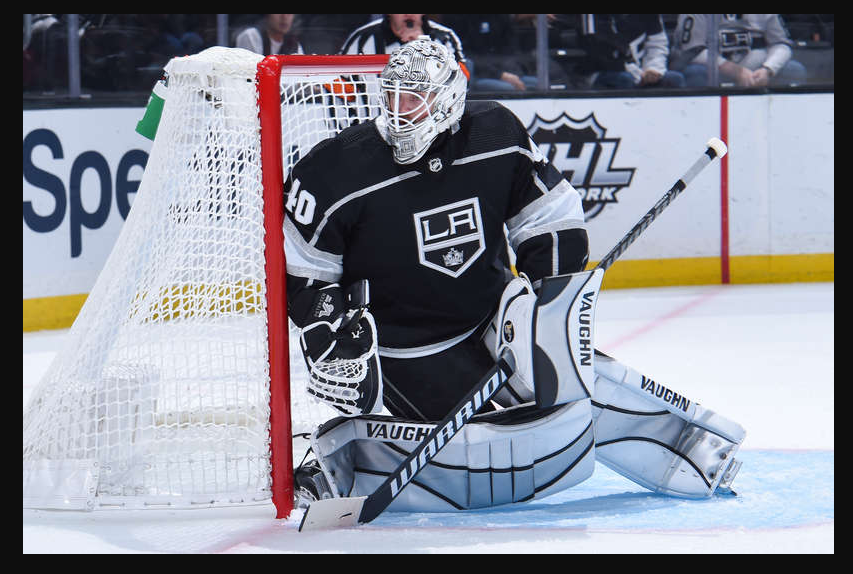 GOALIE STATS

PLAYER STATS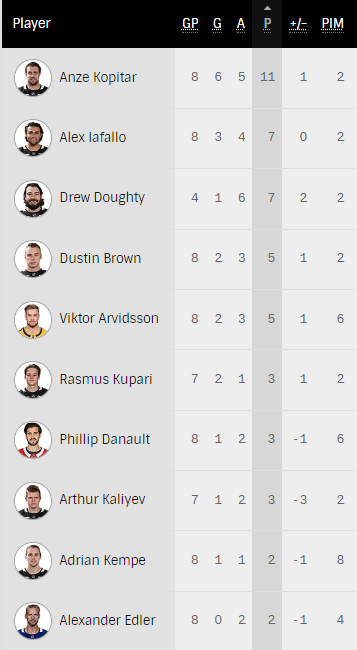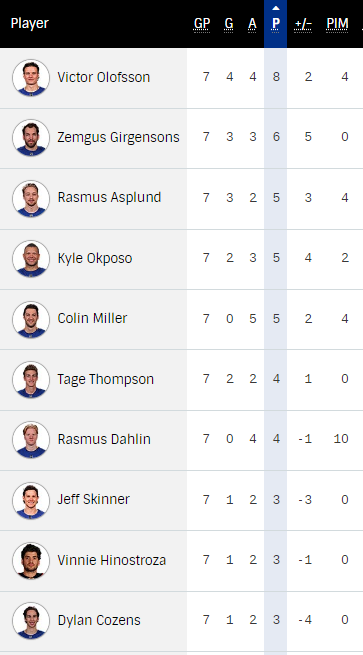 PACIFIC DIVISION STANDINGS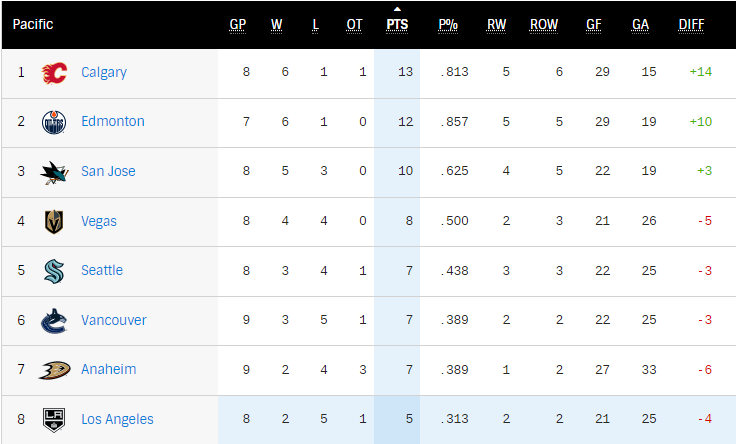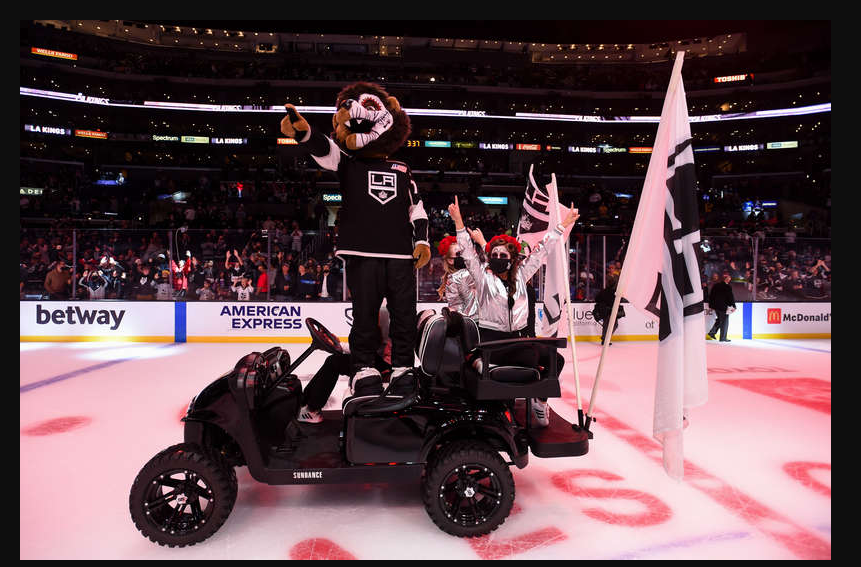 Tonight's Poll Question:
I'm adding a question just for fun & a point if you get it right: There will most likely be 3 Rasmuses playing in todays game. How many total points will be scored by guys named Rasmus or Zemgus?
You can take 2 guesses
Take your best guesses in your post below. The only prize is the glory of seeing your name in the next GDT if you get it right.
Previous Game's Winners
Questions from game 7 still carrying over
Poll Win Totals
Kings Of The Mountain
with

6

points:
Dr. Tran
Hornman
srm1105
5 Points
Liz4LA
Rusty
STONE
4 Points
Kurisu
LeftyKing
pray4mojo
Reg or Rog?
3 Points
beady eye
Busted Chops
Byron
Chateau Bow Wow
Greg33
KHenry14
MaxwellSmart
SirJW
Stone
VegasHockey
2 Points
cokingsfan
dannybuoy1
Helvetica
Ice24
jammer06
JayWells24
JETS GARAGE
John a90
Shackelford
Sonnyboy11
TooCool
1 Point
AngelEyes
beedee
CIrvine
Dirtweazle
DRGinLBC
DRice
hokiecat
kingrussell
lurker
MBreeden
notbob
Nyssa42
PuckMaster
Randdog
Rogie-Vachon
RoS
salami
Stormy2213
waynet
***Bet your karma in geogirl's KARMA BETTING THREAD HERE***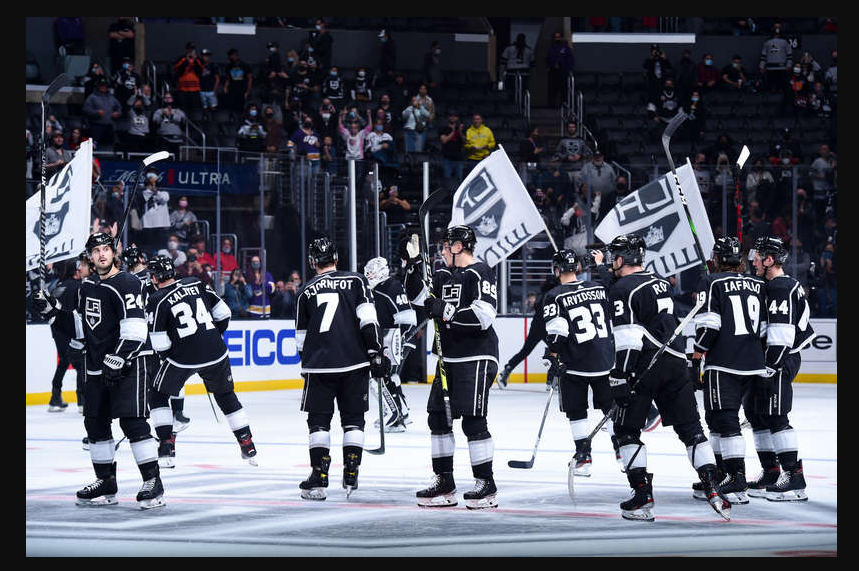 ________________________________________________
Photos courtesy of Rinkrat & nhl.com/getty images​
Last edited: