jammer's overlord
Staff member
TEAM LGK
Joined

May 10, 2012
Messages

12,815
LGKash:

$450.00

Game Day Thread
Game #17/82 -- 11/20/21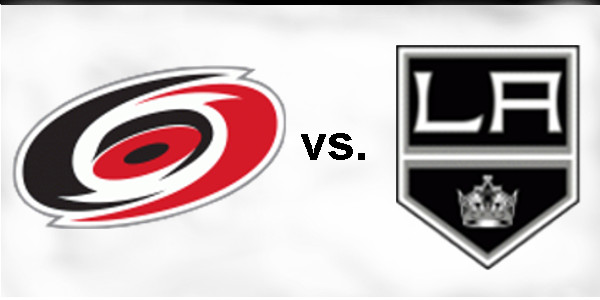 Carolina Hurricanes vs. Los Angeles Kings
at
Center | Los Angeles, CA
LA Auto Show - Parking Nightmare!
**GAME TIME - 1:00 PM PDT**
​

TV:

**BSW**



Radio: LA Kings iHeartRadio app
Please remember,
DO NOT
post links to Live Game Streams in the GDT or anywhere else on LGK
Check out articles on LA Kings Insider Here
Anze Kopitar & Todd McLellan 11/17/21 Post Game Quotes
​
Anze Kopitar
On coming up short tonight, after winning similar types of games recently
I mean, obviously hard to win the game without scoring any goals. It was a tight game, obviously up and down the ice, and they found a way to pop one and get the lead. You?ve got to find a way to score goals.
On the way the team checked tonight
We gave up two goals, one being the empty netter, so we?ll take that, but on the flip side, we?ve got to score goals.
On adding Arvidsson back onto his line tonight
It was good. Obviously not playing with him for a couple weeks, there?s a few reads that need to be sorted out still. We?ll get the timing back with him and Brownie and find the chemistry again.
On the mood after losing tonight, following a long run of wins
It?s hopeful. We?re not going to go sit in the corner and suck our thumbs over this one, we did some good stuff. At the end of the day, it?s about winning games and we?re certainly not satisfied with the outcome, but there?s parts of the game that I think were pretty good today. We?ll build on that and take the next steps.

Todd McLellan
On his overall thoughts on tonight?s game
This was certainly a tight game, it felt playoff-ish a little bit, in that there wasn?t any space either way. I think both teams had to work hard just to even get a shot off and we didn?t take advantage of some of the loose ice we did create. There were a few 2-on-1 opportunities that we had, that we tried to make an extra pass, and they?re a really good checking team. At the end of the night, it felt like it was going to be that type of game, where at the end of the night it was going to be one goal that was the difference and that?s what it was. It went off a skate, changed the complexion of the play and they made a good play to put it in.
On losing back-to-back games, giving up just two total goals at 5-on-5
That?s hard. It means we?re doing a lot of things well. Tonight we needed to score though, you need at least one to win and we couldn?t get it, so that?s the disappointing side. The checking side was really good, we kept some of their better players off the sheet, they didn?t get any glorious chances either. I thought the teams played a mirror image of each other, which I thought was good for us to play in, to understand what it feels like to play against ourselves, a lot of structure both ways. The ability to check right now is there for our group and that?s going to have to stay there. The offense isn?t coming quite as much, there?s a tendency now to open it up and start cheating, and that really costs you. We created enough opportunities, we just polish them up a little bit, we can score 2 or 3 a night.
On Viktor Arvidsson?s return to the lineup
Arvy?s always going to have energy, he could probably play July 1 and still be energized and be quick. The polish, the hands, the sense of timing is going to have to come back, but that would happen to anybody. I thought he had a good, positive impact on the game. We were happy to have him back.
On the play of the Kempe ? Kupari ? Moore line tonight
I thought they were good, they created opportunities. Unfortunately, they were on the ice for the goal, but it went off Edler?s skate and that changed everything. Everybody was reading the puck to go to a certain spot and it goes off of the skate and it changes everything, it?s hard to place blame on anything there. They played well, everybody?s playing pretty well. Not often a coach comes in and talks about his group playing well when you lose a home game, but we have played well.
On if he feels anything has changed with Jonathan Quick, or if the team around him is playing better than the last couple of seasons
From my time with Quickie, I think he is the same person, I think he works just as hard, he?s as focused as he?s been. He?s healthy this year, last year he got dinged up a little bit. I don?t see a big difference in him, I think he?s always been that goaltender. I think the people around him are playing a little bit more predictable, to allow him to make some reads, I think that we?re playing a better defensive brand in front of him. I?ve said this every time he?s played, but his game management, his ability to read what?s going on during the game ? not just the pass from Carlson to Ovechkin, but the ?we need a whistle? or ?keep the play alive because we?ve got them going? ? you can tell he?s a veteran goaltender.
On the play of Anderson and Bjornfot, specifically against the Ovechkin line
Mikey and Toby, to play against that line, did a really good job. Ovie is obviously one of the best, if not the best, scorer. For two young kids to eat those minutes up against him is admirable. They?ve got to be feeling really good about themselves right now, growing right in front of us. Good for them, they deserve the confidence that they?re gaining.

​


Subject To Change
FORWARDS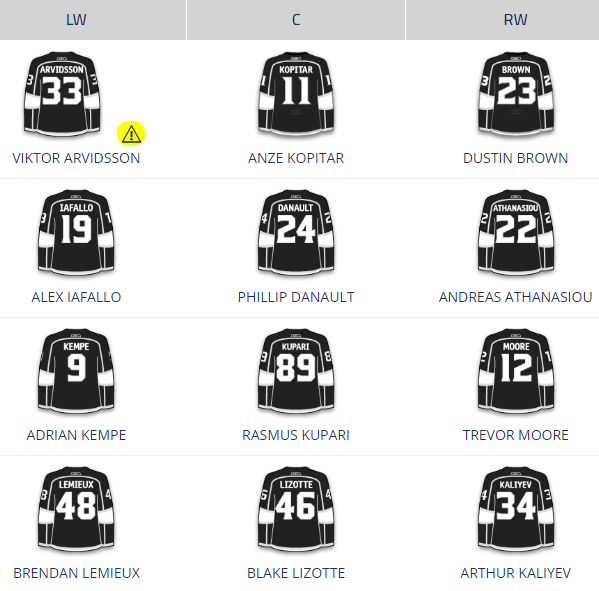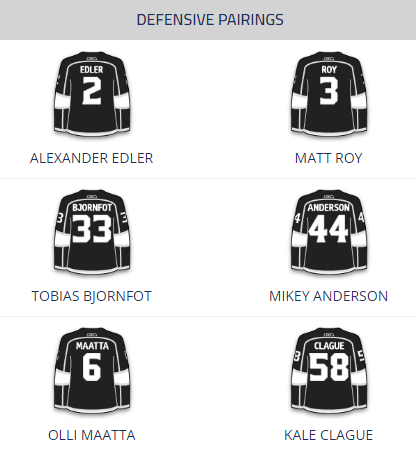 Kings Injuries
Quinton Byfield
Drew Doughty
Sean Walker
__________________________________________________
__________________________________________________
Hurricanes Probable Lineup
courtesy of dailyfaceoff.com
FORWARDS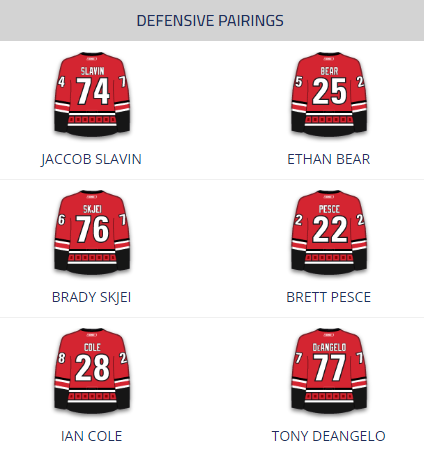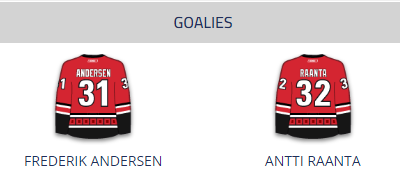 Former Kings - Staff
Peter Harrold - Defensemen Development

Justin Williams - Special Advisor to the General Manager
Yes, this is REALLY the picture he uses on the website!

________________________________________________
_________________________________________________
GOALIE STATS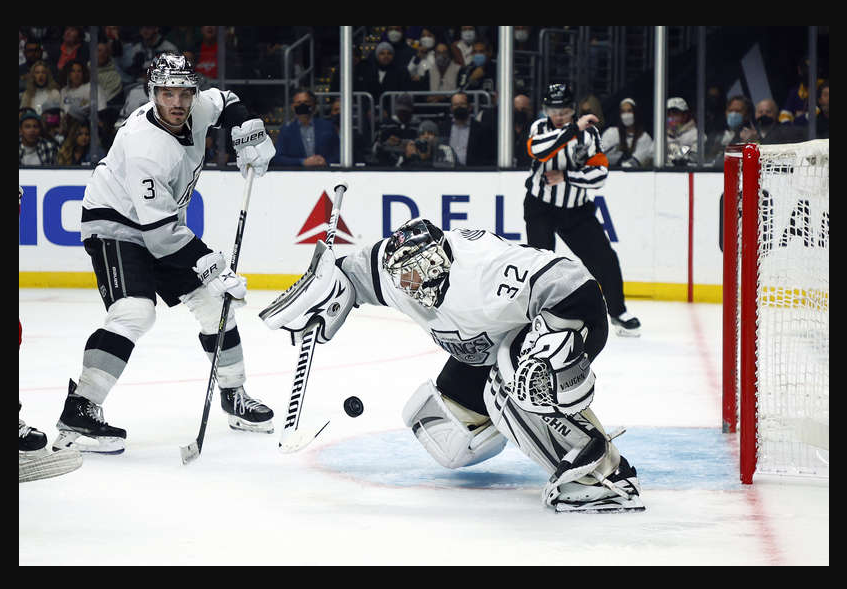 PLAYER STATS
PACIFIC DIVISION STANDINGS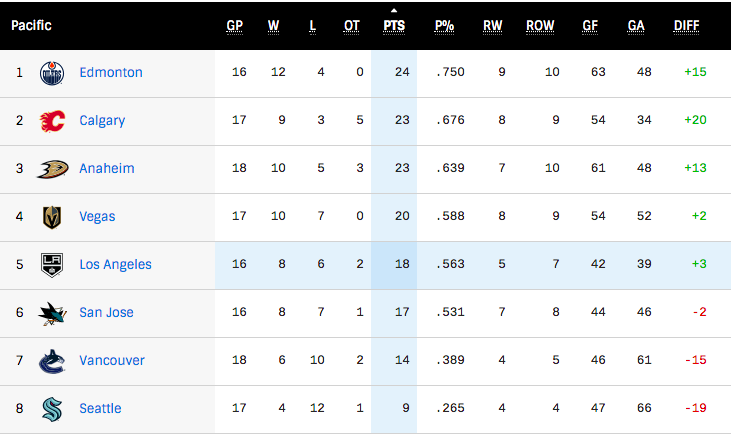 Tonight?s Poll Question:
The Kings are miraculously ahead of the Hurricanes in one category: Shots on Goal per Game.
How many TOTAL SHOTS will be taken by BOTH TEAMS in today?s game?
+/- 3 = 1 point, +/-2 = 2 points,+/-1 = 3 points
Previous Game?s Winners
Congratulations to the following posters who correctly guessed that none of the rookies in the previous game would score a point:
Dr. Tran
srm1105
notbob
JayWells24
sonnyboy11
jammer06
John a90
MaxwellSmart
Greg33
TooCool
AngelEyes
forum gold
SirJW
Sevenhole
kopinator
kingrussell
Poll Win Totals
Kings Of The Mountain
with

13

points:
LeftyKing
Liz4LA
srm1105
12 Points
Rusty
11 Points
Dr. Tran
VegasHockey
10 Points
notbob
pray4mojo
9 Points
Byron
Greg33
Hornman
jammer06
John a90
8 Points
SirJW
Sonnyboy11
7 Points
AngelEyes
beady eye
Busted Chops
MaxwellSmart
Randdog
Reg or Rog?
Shackelford
TooCool
6 Points
Chateau Bow Wow
Helvetica
JETS GARAGE
Nyssa42
STONE
5 Points
CIrvine
cokingsfan
DRGinLBC
hokiecat
JayWells24
KHenry14
Kurisu
Rogie-Vachon
Sevenhole
4 Points
Dannybuoy1
DRice
empire
Joe Laviguer
3 Points
beedee
Bill Hicks
kingrussell
Stone
2 Points
forum gold
Ice24
1 Point
Dirtweazle
kopinator
lurker
MBreeden
PuckMaster
rinkrat
RoS
Salami
Stormy2213
waynet
***Bet your karma in geogirl?s KARMA BETTING THREAD HERE***
________________________________________________
Photos courtesy of Rinkrat & nhl.com/getty images​