jammer's overlord
Staff member
TEAM LGK
Joined

May 10, 2012
Messages

12,792
LGKash:

$450.00

Game Day Thread
Game #35/82 -- 1/8/22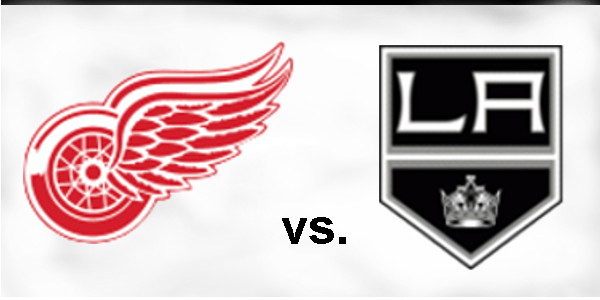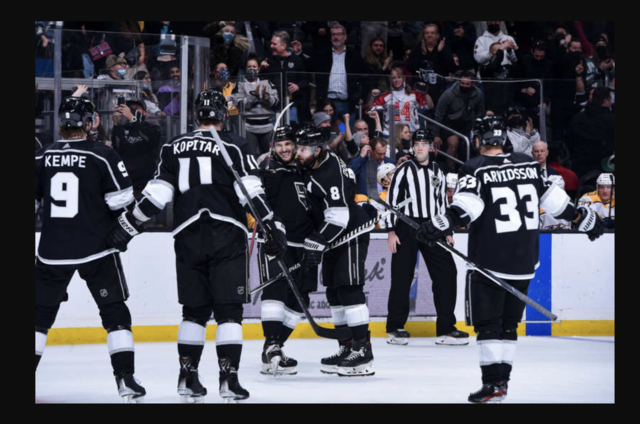 Detroit Red Wings vs. Los Angeles Kings
at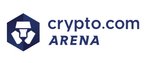 | Los Angeles, CA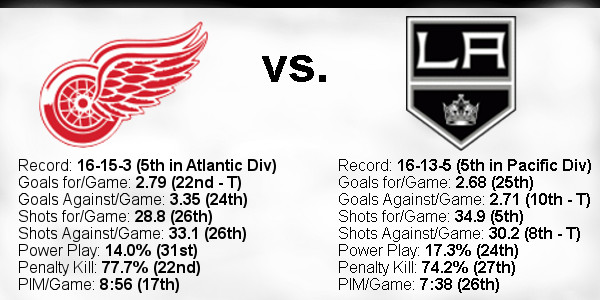 TV:

**BSW**



Radio: LA Kings iHeartRadio app
Please remember,
DO NOT
post links to Live Game Streams in the GDT or anywhere else on LGK
Check out articles on LA Kings Insider Here
Dustin Brown & Todd MacLellan 1/6/22 Post Game Quotes
​
Dustin Brown
On how he felt first game back
I felt good. I didn't have any symptoms, so I was able to work out all throughout it. I felt pretty good [tonight].
On his takeaways from tonight's game
If you look at our 5-on-5 play, I think we outplayed them, the whole night, from start to finish, the very first shift was really good. We gave up two power-play goals, empty net. It's one of those games where, 5-on-5 I think we're the better team, but that's not always the way it goes.
On the challenge of coming back from a three-goal deficit in the NHL
10 years ago it was impossible, now it seems like it happens every night around the league, there's three, four-goal leads being blown. I'd say that's a trend, maybe I'm wrong, it just feels that way over the last two to three years where no lead is really safe.
On what he read on his goal
I had a breakaway from our zone, so I didn't want to think too much about it. I was going to shoot, but he was a little bit off his angle, he adjusted and I just made a move, a move I've done before. Breakaway, is what it is.
On if he feels there are things to take from tonight's game that can translate to wins
You have to build on whatever you have. I haven't been around the team for the last two weeks, so it's just getting the vibe of the team back. It's a good sign that, when we're down 3-0, we don't just fade away. The last game I played, we were down 2-0 in Washington and we found a way. Having that type of mentality, regardless of the score we have a chance, that's another good sign.

Todd McLellan
On his frustration level of controlling 5-on-5 play but coming up short
It's frustrating, you have to prevent in certain situations and finish in others and we failed to do that tonight. Everything else in between was fairly good. If you're 1-for-3 on the penalty kill, on most nights you're not winning. We don't score enough to give up two power plays right off the bat and then fight our way back, not against a team like that. It's pretty simple, and at the other end of the rink, we had a penalty shot, Lizzo had a breakaway, missed the puck, we had rebound opportunities, open nets, their goaltender played tremendous, their D boxed out and did a good job. Some of those need to find their way into the net.
On if he felt the team had energy, but lacked polish
Yeah, I think for the most part, our guys had some legs and a sense of timing. We started the game well, obviously the two power-play goals, that set us back a little bit. To go down three against that team, that's tough, but we kept chipping away. They very rarely, probably won't this year give up a three-goal lead, they're that strong of a club. I could agree with all those things about energy, legs, timing but at the end of the day, the execution is what got us and we didn't execute well enough.
On the even-strength play versus special teams
5-on-5, we do that to a lot of teams. Let's face it, our team needs to improve in the special-teams area. We concentrate on that, we work on that and it just needs to get better. If this group wants to move forward and go where it needs to go, the penalty kill has to get better and the power play has to get better.
On how the new additions fared and the lineup adjustments that were needed
I wish we could get consistent. The players that haven't played for a while, Brownie hasn't played since December 19, so good for him to come back in. Jacob coming into the lineup was really good, Lias hasn't played for a while, so those players came in and gave us fairly good nights. I can't wait until we can get our whole team back, but that's not going to happen because Edler and Walker are done for a long, long time, Walks [for the season] and hopefully we get Edler really late in the season. At least the guys that we can get in our lineup, get them going. I think we have three lines right now that go quite well, we need to find that fourth, find consistent pairs that work for us. Like anybody else, we're trying to find the right combinations through COVID.
On Martin Frk's game tonight
Marty played well, let's face it, he did what we asked him to do coming up here, shoot the puck in the net. He was the one guy that finished on the power play, good for him. He wasn't afraid to shoot it, he wasn't a liability defensively, a real good night for him.
On the team's ability to chip away in games and fight back, as opposed to last season when games would get away
Well, we've had some of those games too, it's human nature to get down. This game was no different than the one in Carolina, we were down 2-0 real quick in Carolina, one was on the power play on the missed coaches call. We responded much better here tonight, but we were fresher here at home, so that's a good thing. I don't question the character of our group one bit. There's nights where we question the input into the game, maybe the effort, we get lazy at times, but the character is there.

​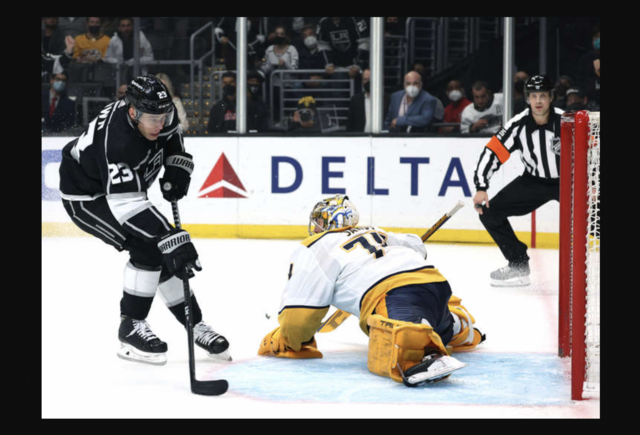 Subject To Change
FORWARDS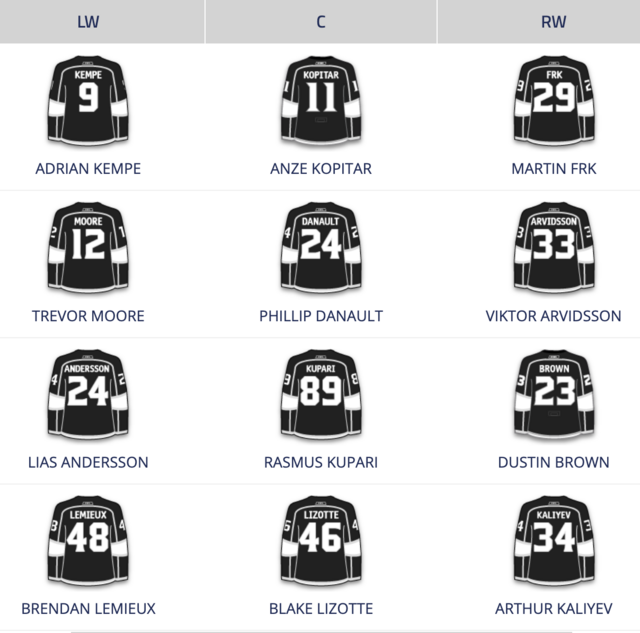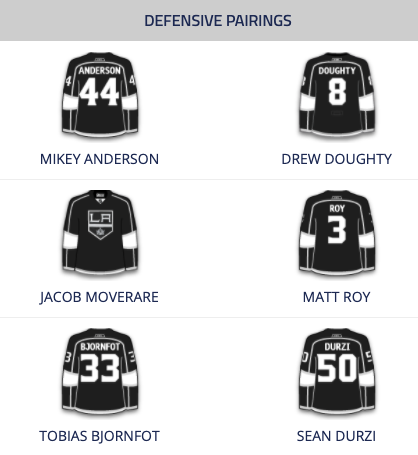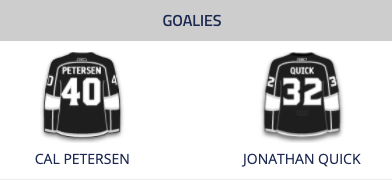 Kings Injuries
Andreas Athanasiou (IR)
Alexander Edler (LTIR)
Carl Grundstrom (CP)
Alex Iafallo (CP)
Alex Turcotte (CP)
Sean Walker (LTIR)
Christian Wolanin (CP)
__________________________________________________
__________________________________________________
Red Wings Probable Lineup
courtesy of dailyfaceoff.com
FORWARDS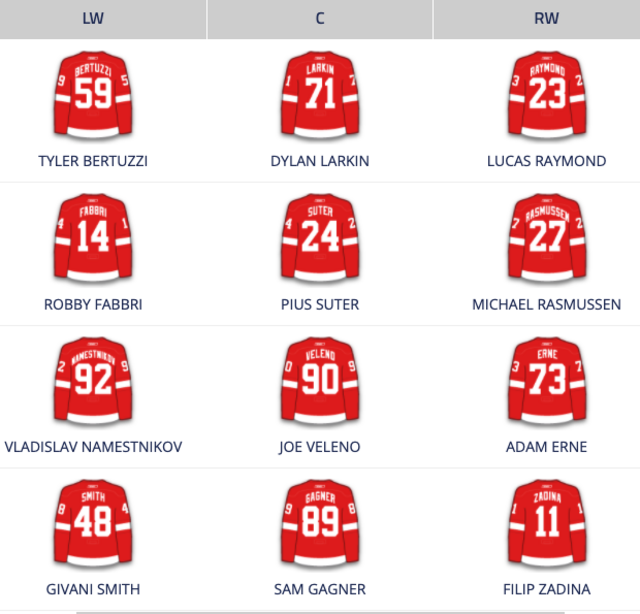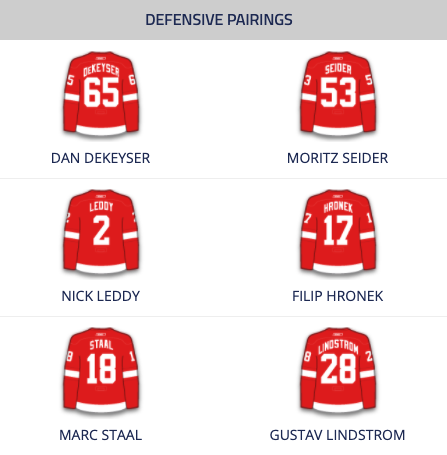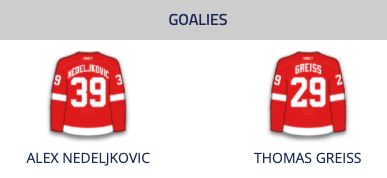 NO Former Kings
________________________________________________
_________________________________________________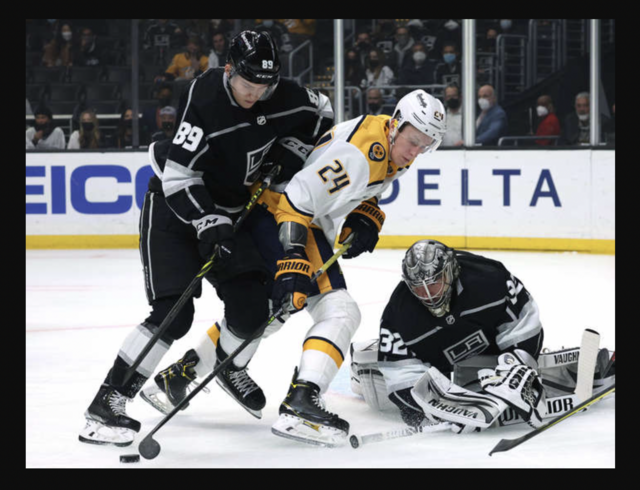 GOALIE STATS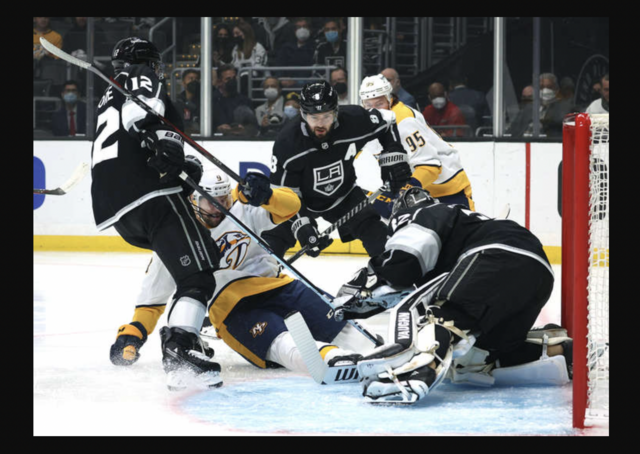 PLAYER STATS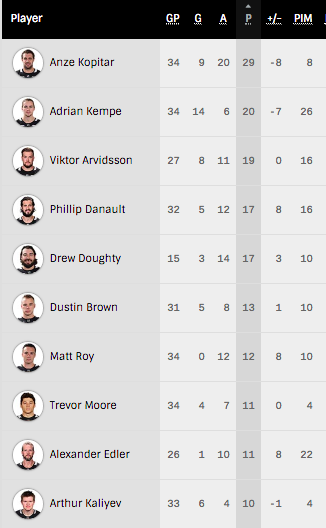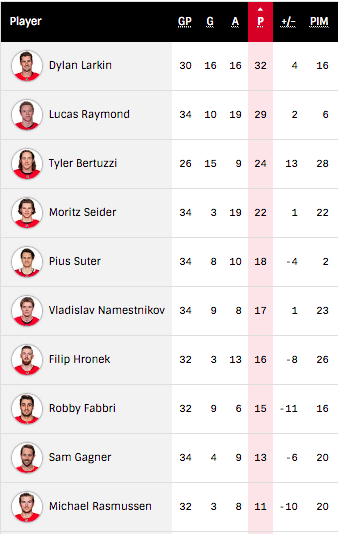 PACIFIC DIVISION STANDINGS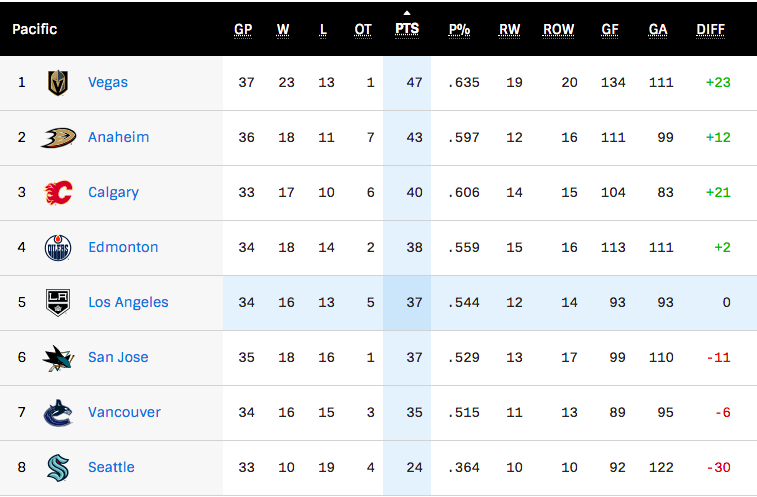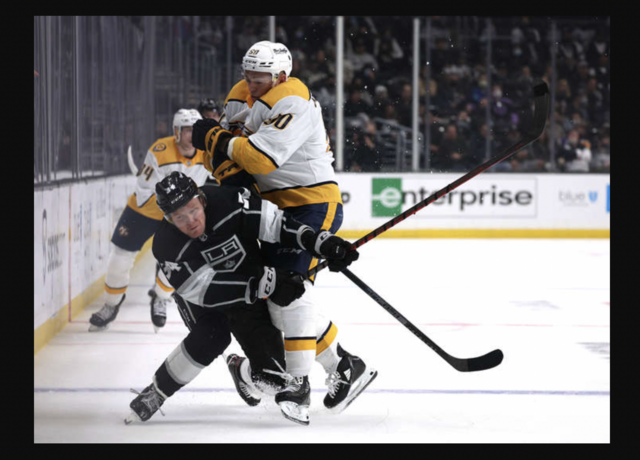 Tonight's Poll Question:
Part 1 - How many TOTAL POWER PLAY GOALS will be scored by both teams in this game?
ONE GUESS ONLY for Part 1

Part 2 - What will be the Final Score of the game (doesn't matter which team, just the numbers)
You can take 2 guesses for part 2
Previous Game's Winners
Congratulations to the following posters who guessed that the game winning goal would be scored in the 2nd period.
Nobody guessed that Matt Luff would be the scorer, but I'm giving TooCool a point for saying, " Bummer that we don't get to see Matt Luff. He would have definitely scored if they took him off the Taxi Squad and played him against us." - sorry I wasn't able to do updates before the game to note that Luff was, indeed, going to play!
***win totals not updated***
Kurisu
AngelEyes
Dr. Tran
DRice
VegasHockey
Rusty
Helvetica
empire
TooCool
STONE
Chateau Bow Wow
hornman
dannybuoy1
hokiecat
notbob
cokingsfan
Liz4LA
Shackleford
Poll Win Totals
***NOT UPDATED***
King Of The Mountain
with

28

points:
pray4mojo
srm1105
27 Points
26 Points
Liz4LA
25 Points
LeftyKing
24 Points
Reg or Rog?
Rusty
VegasHockey
23 Points
hornman
John a90
notbob
22 Points
Byron
Chateau Bow Wow
Dr. Tran
Kurisu
21 Points
AngelEyes
Helvetica
Sonnyboy11
20 Points
19 Points
jammer06
kingrussell
18 Points
DRice
17 Points
Busted Chops
16 Points
Shackleford
15 Points
CIrvine
empire
hokiecat
KHenry14
14 Points
dannybuoy1
SirJW
STONE
TooCool
13 Points
Bill Hicks
Nyssa42
Sevenhole
12 Points
JayWells24
11 Points
Clif
forum gold
Greg33
kopinator
10 Points
beady eye
cokingsfan
Randdog
9 Points
JETS GARAGE
Rogie-Vachon
8 Points
Dirtweazle
PuckMaster
7 Points
DRGinLBC
MaxwellSmart
6 Points
beedee
5 Points
4 Points
Joe Laviguer
3 Points
Stone
2 Points
Ice24
waynet
1 Point
lurker
MBreeden
rinkrat
RoS
Salami
Stormy2213
***Bet your karma in geogirl's KARMA BETTING THREAD HERE***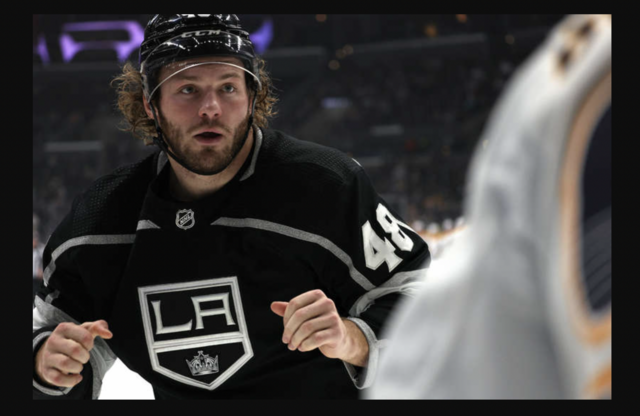 ________________________________________________
Photos courtesy of nhl.com/getty images​
Last edited: