They see me rollin'. They hatin'.
Staff member
Joined

Jul 28, 2004
Messages

129,703
LGKash:

$500.00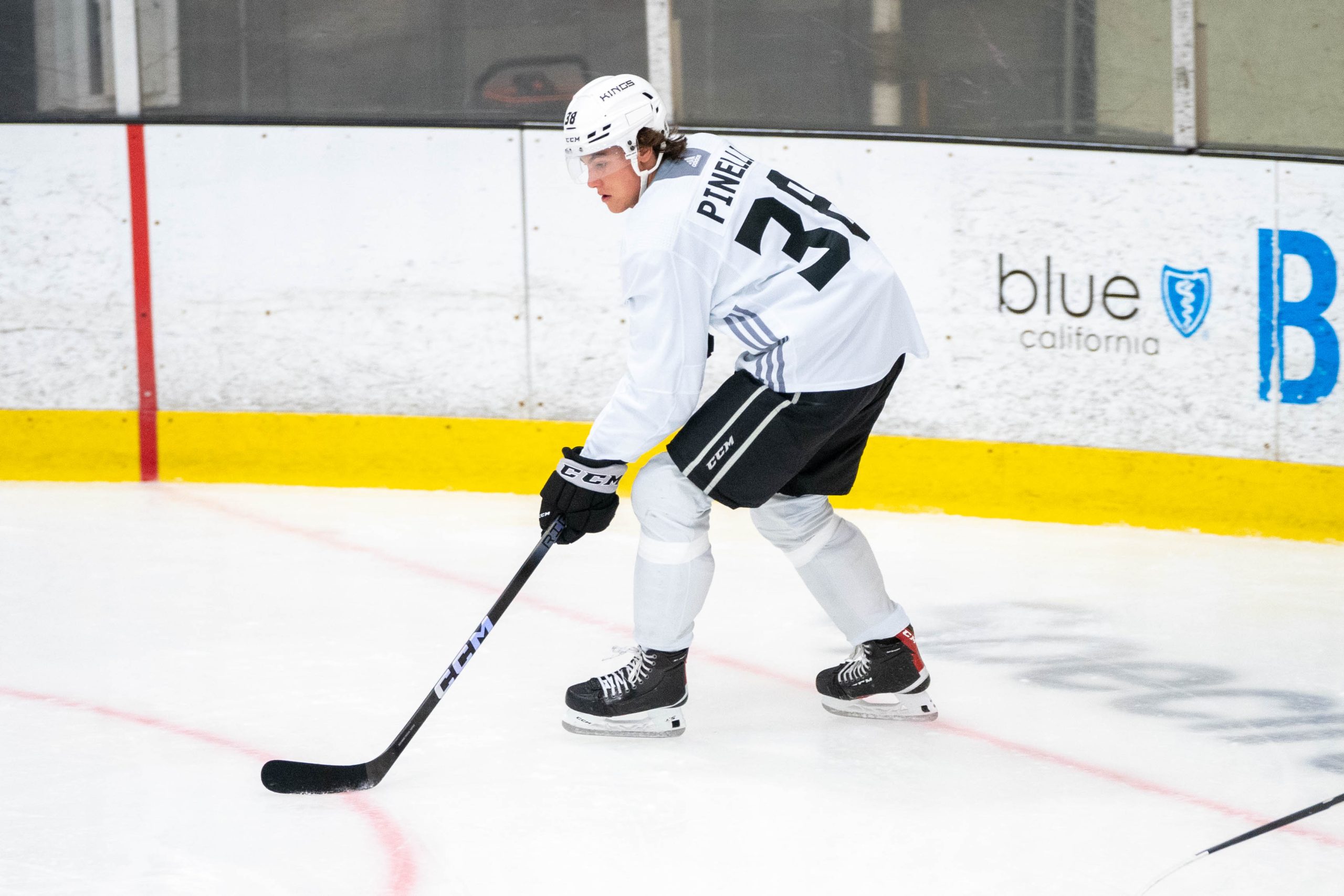 Dev Camp can feel a bit like series of rinse and repeat sessions when looking at it as a whole. Mornings are typically a group of forwards on the ice for about an hour, getting instruction from various members of the Kings Development Staff, along with a similar hour (or so) for all of the defensemen. Then, around 3pm each day, the prospects and invited campers are dispersed into Team Black and Team White for a scrimmage that also usually lasts about an hour. There isn't any official score kept, or even a clock with running time. Below are some key notes from Day 2 at Toyota Sports Performance Center in El Segundo using our familiar 10 Tidbits format:
1. Let's start with the scrimmage. On Day 1, Team White started out with a line of Fransisco Pinelli centering a line with Aatu Jamsen and Martin Chromiak, while Jack Hughes centered Team Black's opening line along with wingers Alex Laferriere and Kasper Simontaival. And Laferriere went on to score the most beautiful goal of the day, showing off some of his dangling skills before burying the puck and probably causing Ontario Reign coach Marco Sturm (who was in attendance) to sit up a little straighter in his chair. Unfortunately, Day 2 didn't offer anywhere near the eye-popping headlines. The two squads only scrimmaged for about 10 minutes on Friday. It was a much more controlled session, where the group did about 40 minutes of 5-on-5 drills to start, but the coaches blew the whistle after each sequence. We're expecting things to return to normal on Saturday, with perhaps the largest crowd on hand to watch the only weekend scrimmage scheduled.
2. Sunday will feature the normal morning sessions, with players broken into their positional groups. However, there won't be an afternoon scrimmage, as the group will participate in the annual Dev Camp Volleyball Tournament on the sands of Hermosa/Manhattan Beach. Hopefully, somebody remembers to bring the sun block.
#GoKingsGo#DevCamp

Defenseman Braden Doyle has an upper-body injury, so he's not participating in scrimmages. However. He is doing morning drills.

@Stopani_Photos pic.twitter.com/oYji6732it

— The Mayor | Team MM (@mayorNHL)

July 7, 2023
3. Two of the Kings defensive prospects attending camp are actually not full participants. Both Braden Doyle and Matthew Mania are nursing upper-body injuries. Doyle is still participating in drills with a red no-contact jersey, while Mania is still recovering from his surgery a few weeks ago.
4. Today's defensive drills included defending 2-on-1 situations and puck cycles. For example, there was a drill where the defenseman would shoot on net, and then retreat toward the neutral zone to intercept a pass, then skate the puck to the blueline and put a shot on net again. The purpose of the drill appeared to be to keep the players in a D-first mindset, i.e. just because you put a shot on net doesn't mean that your defensive responsibilities should be put on pause mode.
5. Forwards worked on generating speed, as well as attacking the zone with the puck and then passing before circling up ice. They also did a 2v2 drill at center ice where they tried to maintain puck possession within the neutral zone. It was a very physical session at times. Later, there was a 1v1 battle against the boards; after puck possession was established, the winner would wait for the loser to retreat toward the blueline, then pass the puck to set up a one-timer on goal. The final drill was a 3v3 game inside one zone of the ice (see below).
#GoKingsGo #DevCamp

@aloimages pic.twitter.com/pJeWcyYldd

— The Mayor | Team MM (@mayorNHL)

July 8, 2023
6. By all accounts, defenseman Jakub Dvorak will return home to play the 2023-24 season. Yet, he has several options available, and it wouldn't be too surprising to see a last-minute change of plans come September.
Fun Facts about

#GoKingsGo

prospect Jakub Dvorak:

There are 4 options of where he could play next year.

– NHL

– AHL

– WHL (drafted by the Broncos in the 2022 CHL Import Draft)

– Czechia. Bili Tygri Liberec is also where former Kings prospect David Hrenak is playing next year

— The Armchair Scout (He/Him) (@Davidenkness)

July 8, 2023
7. Defenseman Angus Booth has quickly observed he's the only prospect in camp from the Quebec Major Junior Hockey League and he's proud to carry the flag for the often forgotten about third CHL organization. "Being the only guy from the Quebec league, I think it's an honor to be here," he said. "To represent my league, to show that it's a good league, and in the end, we can compete with all the other leagues basically, that's important."
8. Circling back to a line combination from the scrimmage, Pinelli and Chromiak weren't put together by accident. They'll be together next season in AHL Ontario. Chromiak turned pro last summer and ended up recording 28 points in 55 games with the Reign. They played against each other in the OHL previously, while Chromiak was a member of the Kingston Frontenacs and Pinelli served as the Kitchner Rangers captain. This past season, Pinelli put up 41 goals in 60 games. No doubt, Sturm was watching the duo and daydreaming about what they could possibly do together for the Reign next season.
9. Part of Friday's action included prospects getting their fitness testing done over on the side rink at TSPC, affectionately referred to as 'the pond' rink.
Dev Camp — Day 2

#GoKingsGo

prospects doing their biometrics testing on the pond ice at TSPC

@aloimages pic.twitter.com/lbyEdeueFh

— The Mayor | Team MM (@mayorNHL)

July 7, 2023
10. It's only Day 2 of camp, yet 18-year-old goaltender Hampton Slukynsky is already turning into quite the story. He's looked solid in every drill and carries himself mature beyond his age. We'll have a feature story on the Kings 2023 draftee posted on Saturday morning. Be on the lookout for our feature report on the kid nicknamed 'Hammer,' it will be a good read.
RELATED CONTENT:
Follow @mayorNHL
Continue reading...