They see me rollin'. They hatin'.
Staff member
Joined

Jul 28, 2004
Messages

129,731
LGKash:

$500.00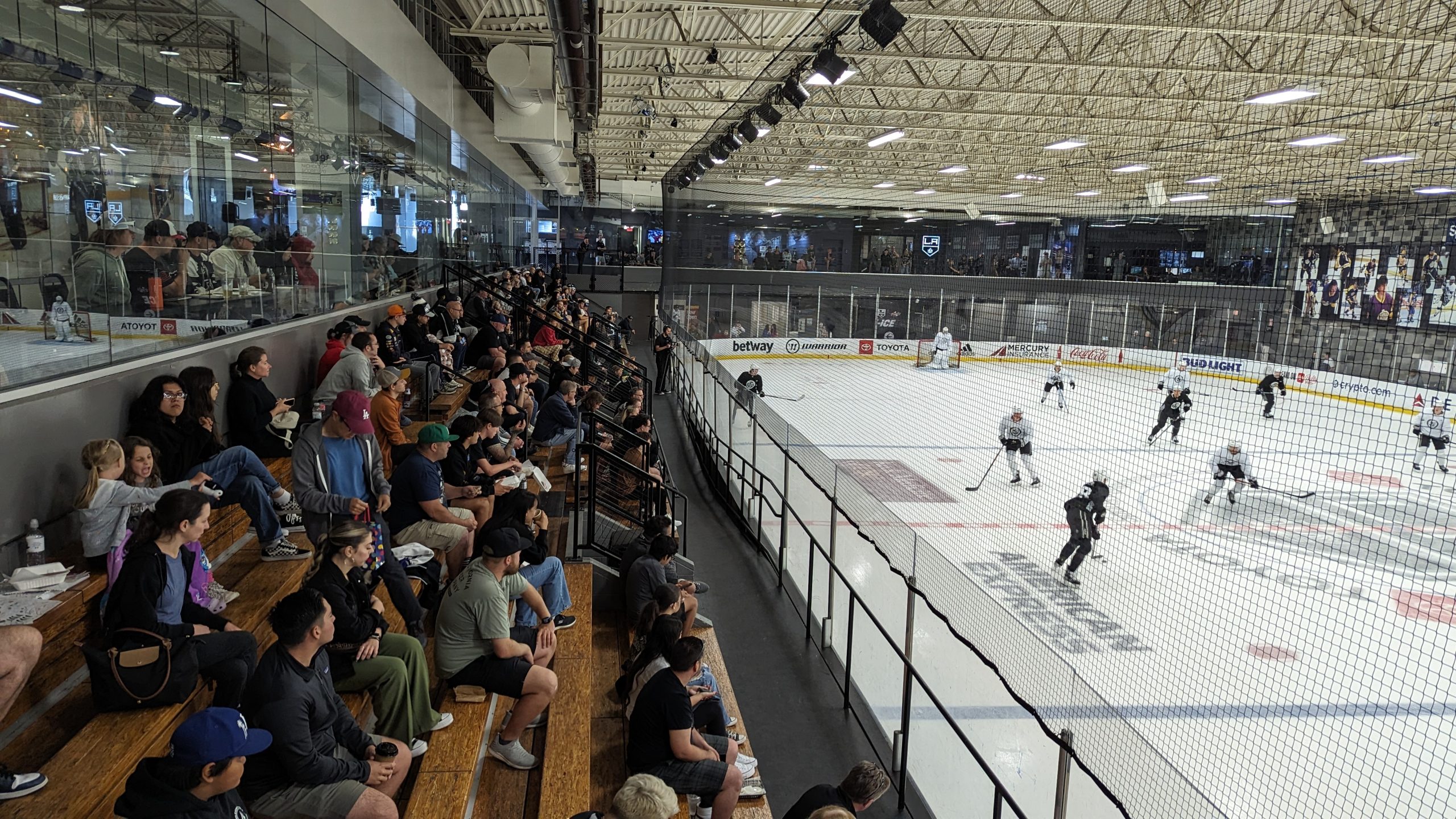 Just as quickly as it arrived, Development Camp is just about over. The only remaining on-ice activity will be Monday's 'last chance to impress' scrimmage. Sunday was largely a series of skill-based drills for first the defensemen, then the forwards. Thus far, we've heard from several of LA's coaches running the show, and tomorrow we'll gather comments from Senior Director of Player Personnel Glen Murray. For now, though, let's recap the weekend that was using our familiar 10 Tidbits format.
1. Technically speaking, today's activities aren't actually over just yet. Campers have only wrapped up activities in El Segundo. Later this afternoon, everybody will reconvene for the annual volleyball tournament in Hermosa Beach.
2. In speaking with Kenny Connors — one of the more underrated prospects in camp and we'll have a feature story posted on soon — it was another sport that came up first.
"Jack [Hughes] has been talking about his golf game," remarked the Umass forward. "He said he's been lowering his handicap this summer. I play a little bit, but Jack said he's been playing a lot. So, I'd like to see that the side of his game, see him on the course, that'd be fun."
3. Once things turned back to volleyball, Connors didn't seem to have the same level of interest.
"I think my golf game is probably a little bit better," he quipped.
That does make sense, there's probably not a lot of beach volleyball going on at school or even back home in Pennsylvania.
"No, no," he continued with a hearty laugh.
"Hopefully, I can just rest the legs a little bit at the beach and get some juice back, that would be good."
With a lot of traffic in front of the net, 2022 sixth-round pick Jared Wright scores a tough goal for Team White.

#GoKingsGo #DevCamp

— The Mayor | Team MM (@mayorNHL)

July 8, 2023
4. When coach Mike Donnelly was asked if there have been any prospects who have been improving quicker than he may have expected, the first name he pointed to was intriguing, to say the least. When you call out a sixth-round pick over some of the bigger names in camp, it's noticeable. In musical terms, not everybody has heard about the opening band when they go to see the headliner. Yet, if you get to the show early enough, you may discover some good tunes.
"I think you see bits and pieces in different drills," Donnelly began. "Like Jared Wright, for example, his speed is so evident. Just getting him to [focus on] little things, like where to keep the puck in certain [situations]. When he's going to shoot, where does he have the puck? Does he have his head down? There are just these little details. Is he dribbling the puck too much? I look at it more as a group, I don't really like [to mention individual players], but I would say he's gotten better."
5. Donnelly went on to say he also thought 2023 third-round pick Koehn Ziemmer was better on Saturday. And that's to be expected. It's his first time at Dev Camp, after just being selected by the team about a week ago in Nashville. Plus, at 18 years old, he's on the younger side of the curve when looking at the two dozen prospects in totality. An NHL player being 28 vs. 29 may not bring that much difference. However, 18 vs. 19 is a whole other world, in terms of physical and mental development – both on and off the ice.
"It's tough for these kids," Donnelly wanted to remind everybody. "But, I'd say those two guys I've noticed. They've gotten better since day one."
5. Speaking of physical development, Frankie Pinelli is absolutely ripped. He isn't quite Kyle Clifford at that age, where there are muscles on top of the other muscles, yet the 20-year-old forward appears to have filled out in advance of making his AHL debut next season. We're still going to need to work on getting him to open up a bit, though.
6. More on Pinelli. In gathering feedback from a handful of the Kings brass throughout camp, he's one of the five players brought up the most. Back at the 2021 NHL Draft, LA traded up to select him 42nd overall. That cost them two draft picks (sending a second and a fifth to Ottawa), yet they've seen the type of progression expected since then. During his Draft year, Pinelli posted 41 points for the Kitchener Rangers. He's followed that up in his D+1 and D+2 seasons with 60 points and then 90 points this past season. And it hasn't all come from hometown assists. His goal production has risen from 18 to 22 to 41. If the lines in camp hold up, Reign coach Marco Sturm could be looking to pair him with Martin Chromiak once Ontario opens up training camp.
7. Speaking of the Reign, forward Alex Turcotte was spotted hanging out at TSPC on Saturday. Perhaps he is thinking about finding his way on to that potential Pinelli-Chromiak line. The Kings 2019 first-round pick will be playing his final season on an Entry Level Contract in 2023-24, which means it's his last year of being exempt from waivers. Health is everybody's primary concern for the 22-year-old forward. When he's in the lineup, Turcotte has been an offensive driver and a difference maker. Can he do it consistently? This year will be a big test and a pivotal season in his career.
8. The other four skaters most often mentioned when speaking with Kings management this week have been Jakub Dvorak, Alex Laferriere, Otto Salin, and Aatu Jamsen. The latter two are interesting for a myriad of reasons. To start with, they're both mid-late round picks, Salin was taken in the fifth-round (2022) and Jamsen in the seventh-round (2020).
We
wrote about both players
last month. Here's a brief excerpt from that article:
Jamsen had his fair share of injuries this season, but continued to battle back time and time again. He was productive when healthy, including scoring and setting up teammates in the Liiga final. It was a breakout year for him in many ways, there was even a stretch of about 4-5 weeks where he was said to be the team's best forward. He was even seeing top line minutes and being used on the top power play. Jamsen wrapped up his regular season campaign with 14 goals and 32 points in 43 games, then added 8 more points in 14 playoff games. He's signed with the Pelicans for two more years. Although he could possibly sign with the Kings and come to North America next summer via a special clause available.

Otto Salin, one of LA's 2022 Draft selections is also expected to attend Dev Camp in July. He's coming off a loss in the Liiga bronze medal game (the two teams who don't advance from the semifinals play a one-game bronze medal game). However, the real story is the fact that Salin is back playing again. He had a tough year, missing seven weeks with a broken hand. After skating in 27 regular season games for Helsinki, the 19-year-old defenseman was able to play in all eight playoff games. This will be his first Dev Camp with the Kings.
9. When it comes to sleepers in the Kings current prospect pool, names like Laferriere (fourth-round) and Chromiak (fifth-round) are emerging as the more obvious ones. However, don't forget about Jamsen. We talked and wrote about him quite a bit last summer. In fact, he was one of our three stars from 2022 Dev Camp.
THREE STARS OF THE WEEK…

Forwards:

Laferriere

Jamsen

Hughes

Defensemen:

Clarke

Spence

Nousiainen

Byfield was really good too.

Hrenak was impressive in net.

#LAKDevCamp

— The Mayor | Team MM (@mayorNHL)

July 15, 2022
He also scored a beautiful goal at last September's Rookie Tournament in San Jose.
If he continues his strong development, there is a very real possibility Jamsen could join Matt Roy, Nic Dowd, and Andre Lee as one of the rare seventh round picks who goes on to earn a contract.
10. Predictions for the final scrimmage on Monday: goaltender Erik Portillo will make several five-alarm saves, Hughes will get at least two points, Jamsen will have a goal, and the game will go to overtime.
Fine, those are a little too vanilla? Ben Meehan will be one of the most noticeable defensemen in the game not named Clarke or Booth.
RELATED CONTENT:
Follow @mayorNHL
Continue reading...