jammer's overlord
Staff member
TEAM LGK
Joined

May 10, 2012
Messages

12,830
LGKash:

$550.00
***Kings @ Islanders Drew's 1,000th Game GDT 1/27/22 4:00pm on ESPN+ & Hulu ONLY***

Game Day Thread
Game #44/82 -- 1/27/22
DREW DOUGHTY'S 1,000th GAME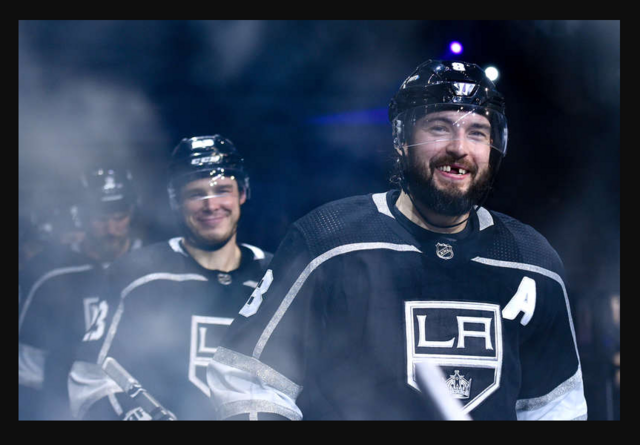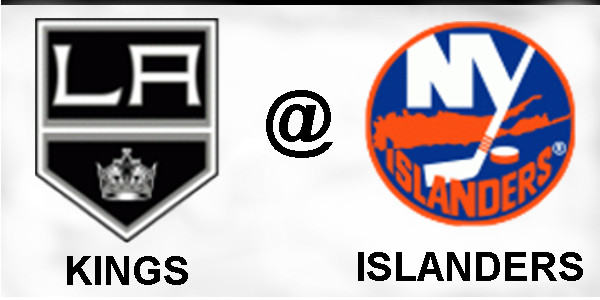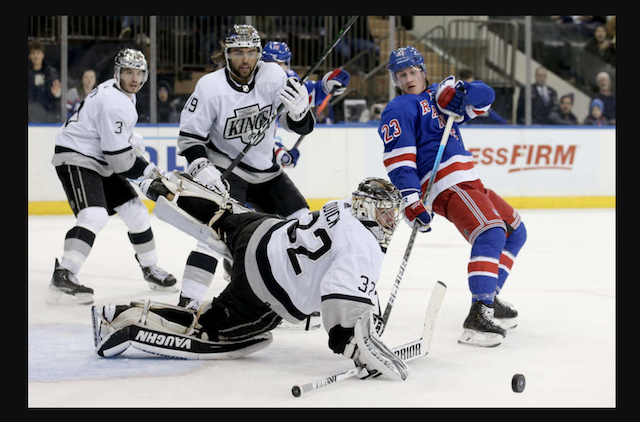 Los Angeles Kings @ New York Islanders
UBS Arena | Elmont, NY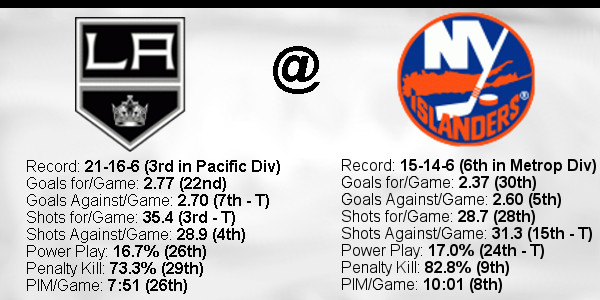 TV:

**ESPN+ & Hulu ONLY**



Radio: LA Kings iHeartRadio app
Please remember,
DO NOT
post links to Live Game Streams in the GDT or anywhere else on LGK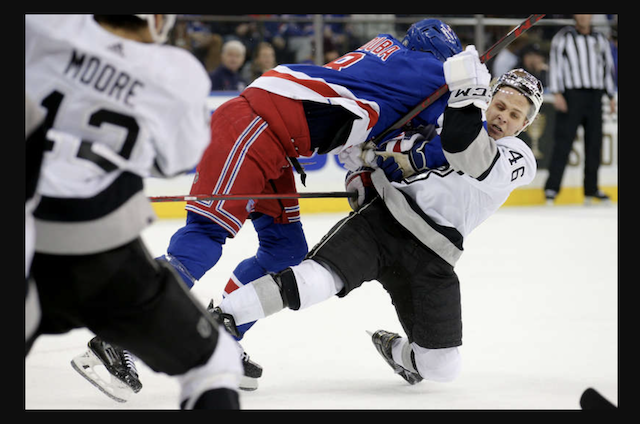 Check out articles on LA Kings Insider Here
Anze Kopitar & Todd MacLellan 1/24/22 Post Game Quotes
​
Anze Kopitar
On a hard-fought point on the road
Very bittersweet in that regard, we'll certainly take the point, but on that second goal against, I've got to do a better job of making sure the guy doesn't get a stick on it. All in all, three our of four on the first two games of the roadtrip is not bad, we'll take them and regroup for Thursday.
On the power-play goal and his thoughts on the PP moving the puck tonight
It's the moving around part that's a little bit deceiving, we've got to attack a little bit more, so I thought in the second period, we got the shots off. Our toes and our sticks were pointing towards the net, which was a good thing.
On Jonathan Quick's play tonight, and his play at MSG
Yeah, it's always something about that guy, especially in MSG, that obviously brings out the best in him. We've been fortunate enough for 14 years to have a front-row seat to that, so it hasn't changed a whole lot.
On the team's effort over these 2 games
We've been playing good hockey, maybe the record doesn't show that quite well, but we've been playing decent hockey. It's just putting all the pieces together to get the win.
On Blake Lizotte's goal and his offensive play
Obviously very nice. Great move and a great shot. He's, I think, a little bit more confident with the puck now, he's seen a few pucks hit the back of the net. That always helps.
On getting three of a possible four points
It's bittersweet. Yeah, three out of four is okay, and I guess if it was the other way around, if we got one yesterday and two today, I'd have been a little bit happier sitting in front of you guys here. In the grand scheme of things though, if we can get three out of four on the rest of the trip, it's going to be a pretty good trip. Obviously you want to get the two points, and you're not satisfied, but we'll take the one.

Todd McLellan
On a hard-fought point on the road
Yeah, for us, we'll take the point. A back-to-back is never easy, especially against that team. I thought we had the perfect start, really, if you could describe a road game. We were checking really well, coming out of our end clean, I think we had them at the point where they were a little bit frustrated. The penalty kind of swung that a bit. No intent on the penalty, I don't think Pep was maliciously trying to do anything, but it did swing the game and a lot of the momentum. It also tested our resolve and we stuck with it. Couldn't quite hang on at the end, but our penalty kill came up big in the last two minutes to preserve at least a point. When it gets to the shootout, toss a coin.
On how the team checked tonight against a skilled opponent and if he feels the Kings stuck to the gameplan going in
We did. They have basically six dynamic players up front and some really good backend guys, so they're going to get chances. You can check as well as you want and they're going to get some chances, and I thought that's where Quickie came up big. For the most part, I'm quite happy with the effort and quite happy with the type of game we attempted to play. To hold that team to, I think they had 16 even-strength shots on goal through 65 minutes, that probably doesn't happen very often. A lot of their life and energy came through the power play, which it naturally will with all the talent they have.
On the power play tonight
We didn't like much early, on the first power play. We talked about it in between periods, adjusting a little bit, and we started to play with a little bit more pace. The goal itself was a downhill attack, a secondary opportunity, which a lot of power-play goals are now. That was good to see.
On fighting through late in the third to force overtime and if that's a sign of growth
Yeah, I think it is, although you have to remember we have some solid veterans who have been through those situations, so there's a calming influence, starting with the goaltender tonight. I think the resilience at the end of the game was a carryover from the resilience going into the second period. To get scored on with a second left, we felt, the group, or at least I felt really good about our play at that point. It could have went the other way, but we slugged it out with them, penalty killed well and found a way to get the next one. If we had any natural touch in and around the net we probably would have had another one or two but the goaltender was outstanding.
On the pace and intensity in tonight's game
It had a little bit of everything, it almost felt like a rivalry game for two teams that are on opposite coasts. I'm not sure it started that way, but it built into that. I thought it was an entertaining game, even at the back end in the shootout, whether you believe in the shootout or not, there were a lot of people on their feet enjoying it.
On Blake Lizotte tonight and his goal
I thought that Lizzo was outstanding, and he has been basically all season. He's getting rewarded more and more with offense, he drives a line regardless of who he plays with, gives us some good penalty killing, he was rewarded with some ice time in overtime tonight. Smart play, he used the defenseman as a screen, a little bit of a hesitation move and a good shot. He had to beat a good goaltender, so he used what he could and he put it in.
​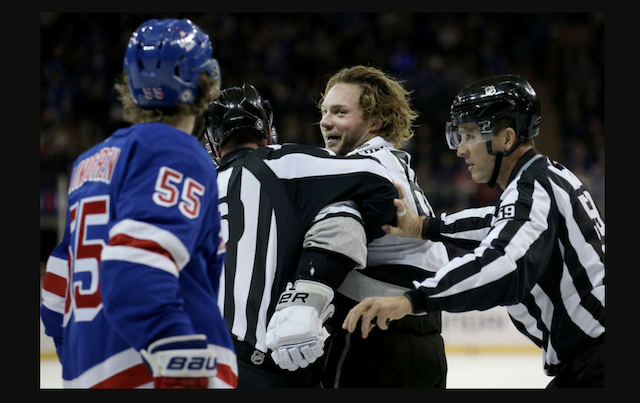 Subject To Change
FORWARDS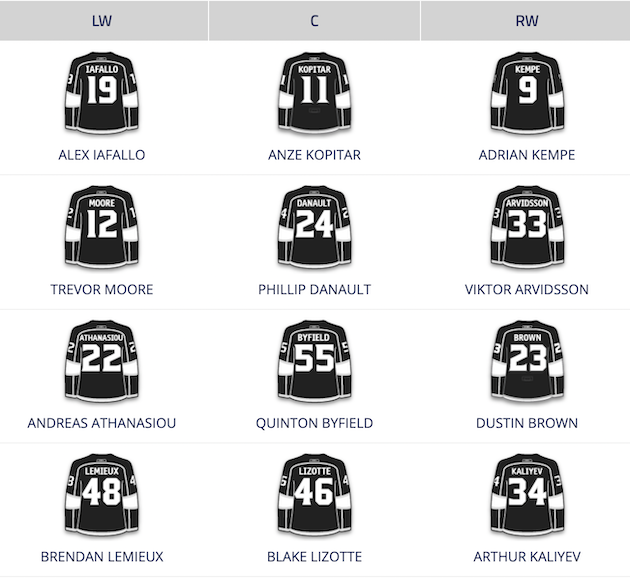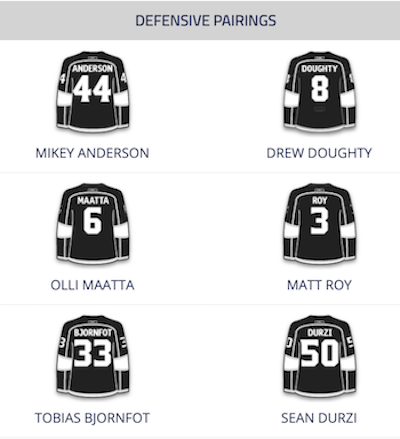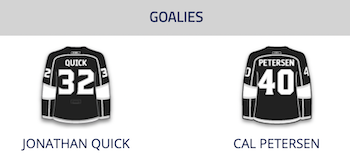 Kings Injuries
Lias Andersson (IR)
Alexander Edler (LTIR)
Sean Walker (LTIR)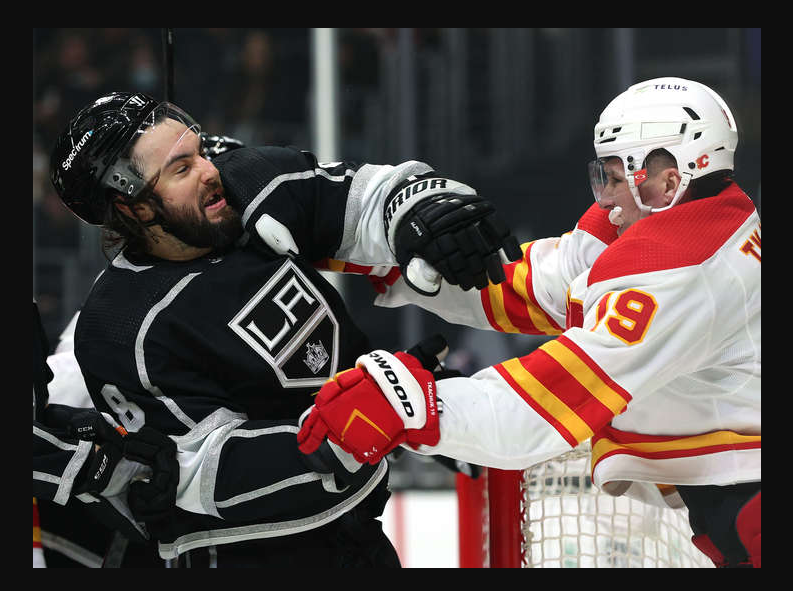 __________________________________________________
__________________________________________________
Islanders Probable Lineup
courtesy of dailyfaceoff.com
FORWARDS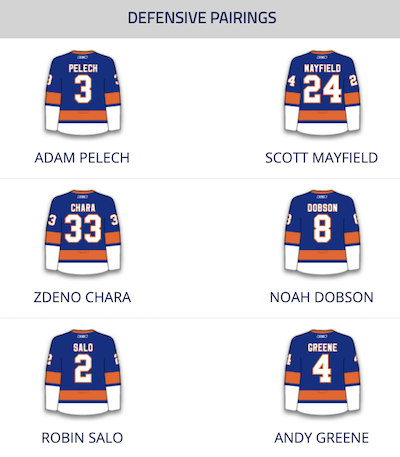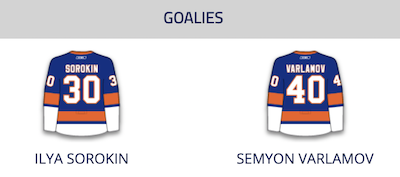 NO Former Kings
________________________________________________
_________________________________________________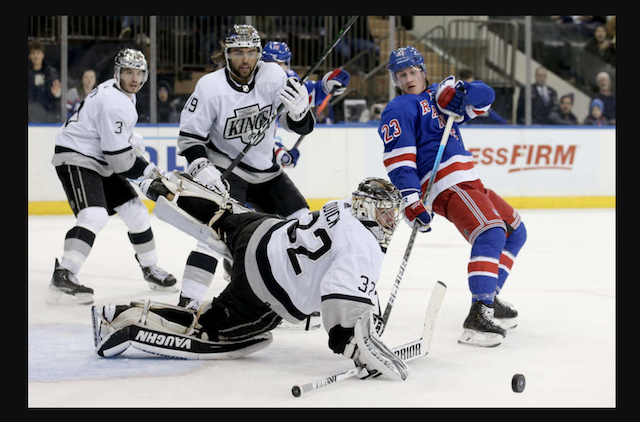 GOALIE STATS



PLAYER STATS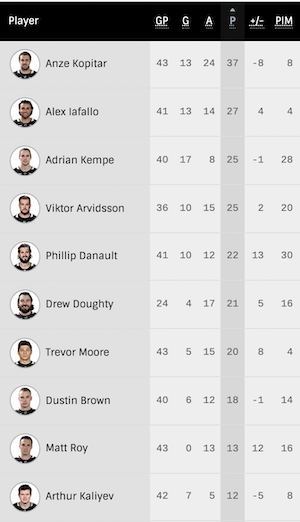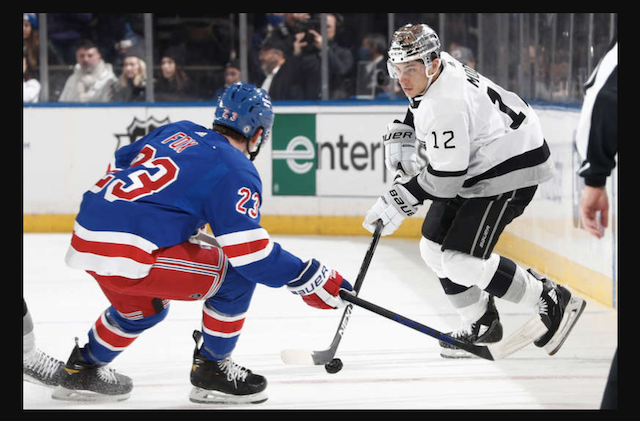 PACIFIC DIVISION STANDINGS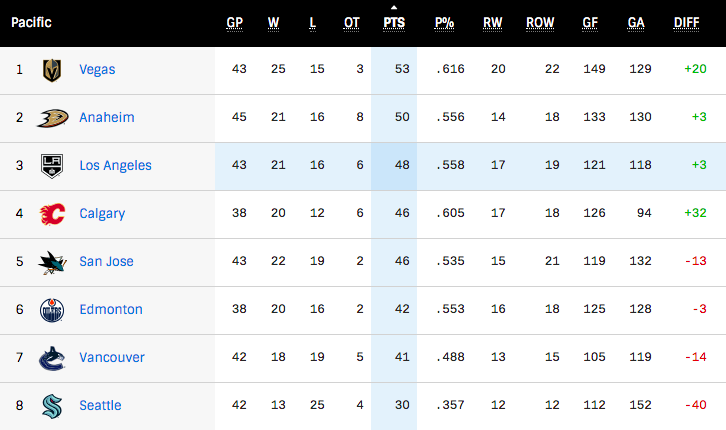 Tonight's Poll Question:
In honor of Drew Doughty's 1,000th game - How many TOTAL POINTS will be scored by ALL DEFENSEMEN in this game from BOTH teams?

Previous Game's Winners
1/23 Poll Winners
Congratulations to the following posters who correctly guessed the Kings would tally 5 goals and/or the Devils and Rangers would tally 4 goals over these two games:
(Shootout goals don't count for this - I'll be sure to clarify next time I do this question)
Both 5 and 4 (2 points):
DRice
Kurisu
STONE
SirJW
kingrussell
CIrvine
hornman
VegasHockey
Bill Hicks
Shackleford
forum gold
JayWells24
Reg or Rog?
Kings Score 5 (1 point)
srm1105
hokiecat
sonnyboy11
jammer06
John a90
AngelEyes
TooCool
LeftyKing
dannybuoy1
Devils/Rags Score 4 (1 point)
Dirtweazle
Rogie-Vachon
Dr. Tran
Busted Chops
KHenry14
Sevenhole
cokingsfan
Rusty
1/24 Poll Winners
Congratulations to the following posters who correctly guessed a 6 shots-on-goal differential or within +/- 1 of 6 (5,7)
6 Shots (2 points)
Kurisu
jammer06
Helvetica
LeftyKing
hokiecat
Bill Hicks
Nyssa42
5,7 shots (1 point)
Drice
sonnyboy11
beedee
Busted Chops
kingrussell
AngelEyes
SirJW
JETS GARAGE
STONE
Chateau Bow Wow
randdog
pray4mojo
Poll Win Totals
King Of The Mountain
with

36

points:
srm1105
35 Points
Reg or Rog?
34 Points
VegasHockey
33 Points
pray4mojo
32 Points
LeftyKing
31 Points
Rusty
30 Points
AngelEyes
Kurisu
29 Points
hornman
28 Points
Dr. Tran
Helvetica
John a90
Liz4LA
notbob
Sonnyboy11
27 Points
Chateau Bow Wow
26 Points
hokiecat
25 Points
jammer06
24 Points
DRice
kingrussell
23 Points
Busted Chops
Byron
22 Points
KHenry14
21 Points
Bill Hicks
CIrvine
20 Points
Nyssa42
Shackleford
STONE
19 Points
18 Points
dannybuoy1
empire
SirJW
TooCool
17 Points
JayWells24
16 Points
Sevenhole
15 Points
14 Points
Clif
cokingsfan
forum gold
Rogie-Vachon
13 Points
12 Points
Dirtweazle
PuckMaster
randdog
11 Points
DRGinLBC
Greg33
JETS GARAGE
kopinator
10 Points
beady eye
9 Points
8 Points
beedee
7 Points
MaxwellSmart
6 Points
5 Points
waynet
4 Points
Joe Laviguer
3 Points
2 Points
Ice24
1 Point
kingsmen93
lurker
MBreeden
rinkrat
RoS
Salami
Stormy2213
***Bet your karma in geogirl's KARMA BETTING THREAD HERE***
________________________________________________
Photos courtesy of nhl.com/getty images​
Last edited: