jammer's overlord
Staff member
TEAM LGK
Joined

May 10, 2012
Messages

12,809
LGKash:

$450.00

Game Day Thread
Game #52/82 -- 2/25/22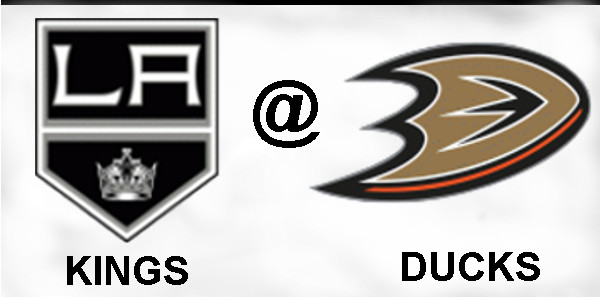 Los Angeles Kings @ Anaheim Ducks
Honda Center | Anaheim, CA
Puck Drop by Olympic Figure Skaters
Nathan Chen, Mariah Bell, Alexa Knierim, Brandon Frazier and Michal Brezina
Previous Meeting
11/30/21 -
Ducks 5,
Kings 4 (SO)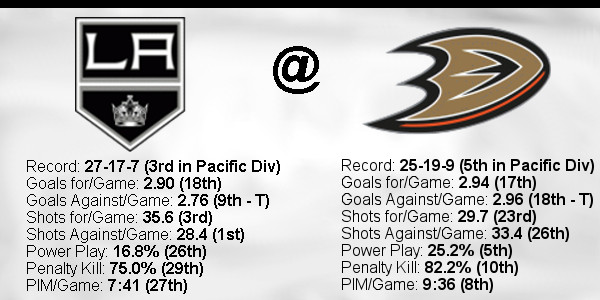 TV:**KCOP Ch 13**
Ducks Feed on Bally's Southern California

Radio: LA Kings iHeartRadio app
Please remember,
DO NOT
post links to Live Game Streams in the GDT or anywhere else on LGK

Check out articles on LA Kings Insider Here
Viktor Arvidsson (video), Trevor Moore & Todd MacLellan 2/23/22 Post Game Quotes
Arvidsson Post-Game Presser
-
Trevor Moore
On what put the Kings on top at the end of the game tonight
I don't know, I guess just [sticking to it], but we had a lot to clean up tonight. It's good that we got the win, but as a group, we know that we can be better than that. I'm glad that we got the two points, but we've got to keep pushing.
On if wanting more, even after a win, is a sign of an evolving team
Yeah, for sure. Arizona is a good team in their own right, I think that they were a tough opponent for us and they made it hard to get through the neutral zone, so credit to them. We've just got to keep getting better.
On Viktor Arvidsson's game and his two goals tonight
He's obviously a shooter, he calls for the puck a lot, he wants the puck, he's competitive and he just finds open ice. It's just something that good goalscorers are able to do on a consistent basis. We're fortunate.
On the sequence of how the lines first goal tonight came about
We were kind of sitting back in the neutral zone and Phil was like "nah, let's go forecheck", so that's great, that's what we want to do, Phil started that whole thing off. We got up there, Phil had some good back pressure on them, made it hard, and a good bump pass by Phil and Arvy got in a good spot.
On the penalty kill coming up big tonight, after it was the power play on Saturday
Yeah, it's huge. We talked about it, we can't get to where we want to go unless we improve on special teams. It's been a good little stretch for us.

Todd McLellan
On tonight's game, a tighter-checking game than Saturday
I thought it was an even game all night, really. We had the shot advantage, I'm not sure if they were real quality chances and Wedgewood played well. They wouldn't go away, they kept staying in the game and we didn't make them go away, so that's on us. We stuck with it, guys were saying and doing the right things for the most part, got a couple of saves when we needed it and a big kill at the end. At the end of the day, it was generally a team win. Tough day. I don't know how it was for the Coyotes at home, but we flew in yesterday, basically an 8:30 start, we didn't have a pre-game skate because we stayed [far from the rink]. Just a long day, it dragged on and on, I'm not sure that we had the energy we needed, but we found a way.
On scoring less than 30 seconds after conceding, for the second straight game
We talk about bump-up shifts, and obviously when something goes wrong, there's a letdown on the bench and disappointment. That next line that goes out there, I think it was Lizzo's line again, they generally provide us with some energy and bring us back in. Tonight, they scored, which was tremendous, it kept us around. It could have got worse, but it kept us around.
On Viktor Arvidsson's game, since moving alongside Danault and Moore
He's confident, he feels good playing with those guys, he's shooting the puck from everywhere. He had an open net on the power play, and an open net on an open net, so he should have had a hat trick. I really think the combination of that line, they spend a lot of time together, they're proud of how we play. We talk team identity, they have a line identity and they use it. He's a big part of it.
On that first goal the second line scored, the forecheck and passing play
Yeah, it was the forecheck part. Mooresy probably doesn't get the chance to poke the puck if Phil doesn't get in on it right away. Earlier in the year, we talked about being more aggressive in those situations and they got it done, they made the play after too.
On the team's road success here, especially of late
We should play that way all the time, we've just played a lot of road games lately, and we've got four more or five more coming up. This is our road time. It's interesting because on Saturday, we go back and play a home game and we haven't won at home since the middle of January, but we haven't played at home since the middle of January, really. There's no secret recipe, I really think the ability to play four lines, six D has a factor in it, and checking, I think when you're on the road you have to check.
On the late kill tonight, against a 6-on-4 advantage
Yeah, and big moments in it. The shot block by Lizzo, walking down the heart and he lays out and blocks a shot, the bench recognizes that. We got some really good clears, forced them to ice the puck on the power play, that doesn't happen often at 6-on-4. So, it went our way in certain situations, but we earned that.
​


Subject To Change
FORWARDS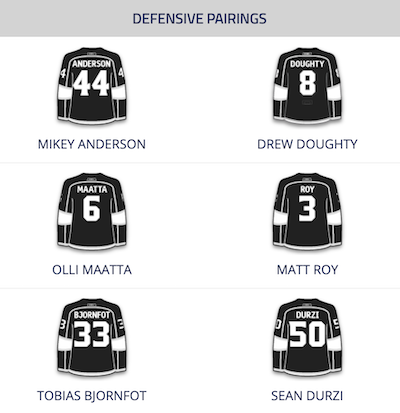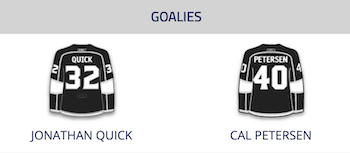 Kings Injuries
Alexander Edler (LTIR)
Sean Walker (LTIR)
Christian Wolanin (CP)
__________________________________________________
__________________________________________________
Ducks Probable Lineup
courtesy of dailyfaceoff.com
FORWARDS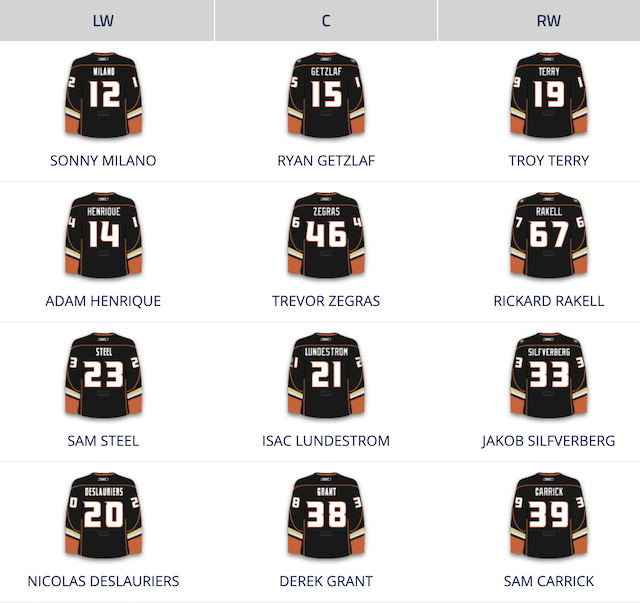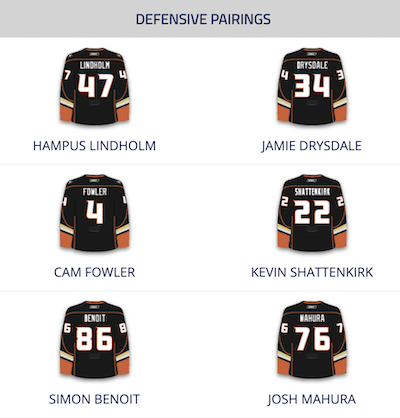 Former Kings
Nicolas Deslauriers (draft pick)

Assistant Coach: Mike Stothers
Assistant GM: Jeff Solomon
________________________________________________
_________________________________________________
GOALIE STATS



PLAYER STATS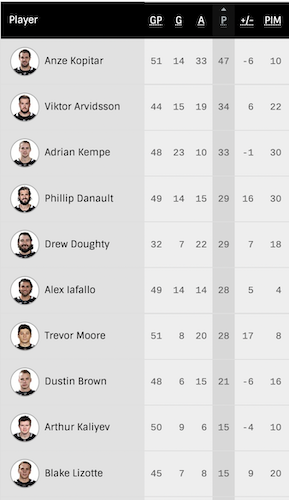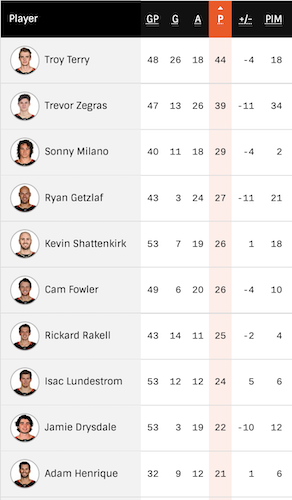 PACIFIC DIVISION STANDINGS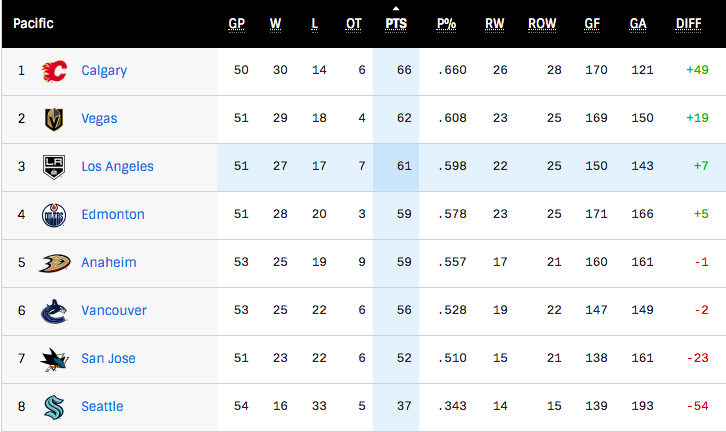 Tonight's Poll Question:
How much time will elapse between the first goal scored in the game and the second goal scored in the game (by either team)? use the min:sec format

You can take 3 guesses - one of them can be "there will only be 1 goal"
+/- 1:30 will get 1 point, +/- 1:00 will get 2 points, and +/- :30 will get 3 points

only your closest guess will count for points


Previous Game's Winners
Congratulations to the following posters who correctly/insanely guessed the shot differential in the previous game would be 16:
STONE
rinkrat
Busted Chops
Chateau Bow Wow
Poll Win Totals
King Of The Mountain
with

39

points:
srm1105
37 Points
Reg or Rog?
36 Points
35 Points
Rusty
VegasHockey
34 Points
pray4mojo
33 Points
32 Points
LeftyKing
31 Points
AngelEyes
Helvetica
John a90
30 Points
Chateau Bow Wow
Kurisu
Liz4LA
Sonnyboy11
29 Points
Dr. Tran
hornman
notbob
28 Points
DRice
27 Points
hokiecat
26 Points
25 Points
jammer06
KHenry14
kingrussell
24 Points
Busted Chops
23 Points
Bill Hicks
Byron
22 Points
Nyssa42
21 Points
CIrvine
STONE
20 Points
dannybuoy1
JayWells24
Shackleford
19 Points
Sevenhole
SirJW
18 Points
empire
TooCool
17 Points
16 Points
15 Points
Rogie-Vachon
14 Points
Clif
cokingsfan
forum gold
13 Points
PuckMaster
12 Points
Dirtweazle
randdog
11 Points
DRGinLBC
Greg33
JETS GARAGE
kopinator
10 Points
beady eye
beedee
9 Points
8 Points
7 Points
MaxwellSmart
6 Points
5 Points
waynet
4 Points
Joe Laviguer
3 Points
2 Points
Ice24
rinkrat
1 Point
kingsmen93
lurker
MBreeden
RoS
Salami
Stormy2213
***Bet your karma in geogirl's KARMA BETTING THREAD HERE***

________________________________________________
Photos courtesy of Rinkrat/LetsGoKings.com​
Last edited: