jammer's overlord
Staff member
TEAM LGK
Joined

May 10, 2012
Messages

12,809
LGKash:

$450.00

Game Day Thread
Game #58/82 -- 3/7/22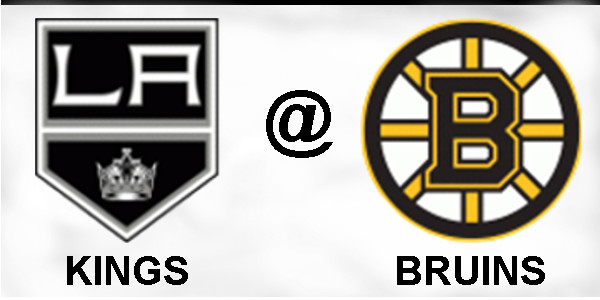 LA Kings vs. Boston Bruins
TD Garden | Boston, MA
First Responders Night
Previous Meetings
02/28/22 –
Bruins 7
, Kings 0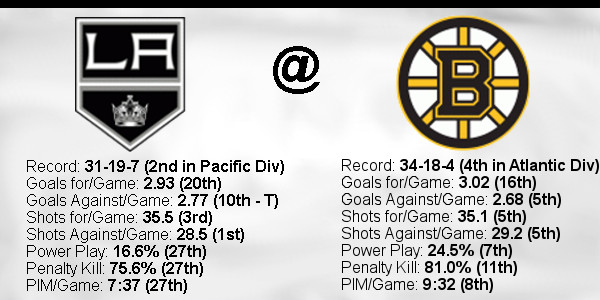 TV:

**BSW**



Radio: LA Kings iHeartRadio app
Please remember,
DO NOT
post links to Live Game Streams in the GDT or anywhere else on LGK

Check out articles on LA Kings Insider Here
Andreas Athanasiou & Trent Yawney 3/6/22 Post Game Quotes & Cal Peterson video link
Cal Peterson's Post Game Video Interview
https://twitter.com/i/status/1500569761893212165
Andreas Athanasiou
On contributing with two goals in his return to the lineup
Yeah, I think we played a pretty solid, team game today, that team has been playing some real good hockey lately, it was a tough game. I thought all four lines were solid tonight, defense and goaltending was all there.
On impacting a game where offense was at a premium in the way that he did
Yeah, any time games are close, that's when the goals become bigger, they're more important in those 0-0 games, it's important to get that first one. Obviously, I like getting goals and helping the team out, tonight was a big one, it was a big win for us.
On the lead up to the 2-on-1 on his goal
It was a good play all around, from the start. Dewy rimmed it out to Kaliyev, who made a great bump back to Andy and it was just a great breakout all around. It kind of just worked out, from the defensive side of the puck and got the offense from there.
On reaching 100 professional goals, with the game winner being his 100th in the NHL
Yeah, that's pretty cool. Any time you put the puck in the back of the net, it's a confidence booster, it gets your feet underneath you and the sooner it happens, the better. Just an all-around, team effort tonight
On having the confidence of the coaching staff to be out late in a one-goal game
Those are big moments, a big time in the game and you want to be out there and able to help get the puck out and ice the game. It worked out tonight.

Trent Yawney
On his impressions from tonight's victory on the road
A collective effort. Cal made some big saves in the first period, that gave us a chance to get running, the other night it was Quickie in the third on the breakaway. Everybody's effort had an impact and they played a real strong game from start to finish.
On Athanasiou's impact tonight, and his ability to change a game in one play
Yes, he definitely has that skillset for sure. It was good for him to get back in and I thought he played some real strong [hockey]. On his goal, it was a strong track to start it off and he got rewarded at the other end with a 2-on-1.
On the Kings playing more to their identity tonight
Today's game was probably close to our identity as a group, this year. The one thing our guys are very comfortable with is those close games, those 1-0, 0-0 games. The leadership has played in a lot of them, never beat themselves which is a trait that you want and our leadership core provides that.
On the team playing a disciplined game tonight
We had to respect that power play, watching it before the game, I was like we better check properly because if we give up too many opportunities, we're going to be in trouble, because their power play is really, really hot.
On Mikey Anderson's play and ability to put a bad play or game behind him
He and the defense as a whole I thought were really solid around the net, the last two games, Buffalo scored five goals in each game. Mikey in particular was back on track, he looked like the Mikey of old and that's just a credit to his confidence. He has that ability, which you don't see very often in a young player, where he has a tough night, he can bounce back. I hope he never loses that, because it's something that a lot of guys strive for and never, ever find.
On finishing his tenure as acting head coach, and looking ahead to tomorrow
It's been fun, it was fun, I enjoyed it. It's nice to be around the guys and see them on both sides of the coin. It started at home, getting clobbered by Boston and now we're going to finish up in Boston. It's going to be an interesting game tomorrow.


​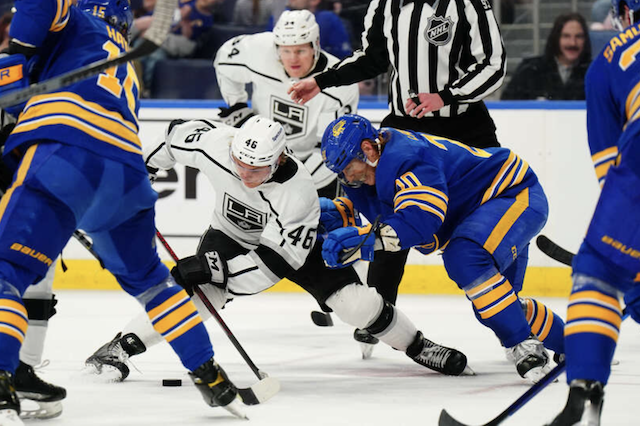 Subject To Change
FORWARDS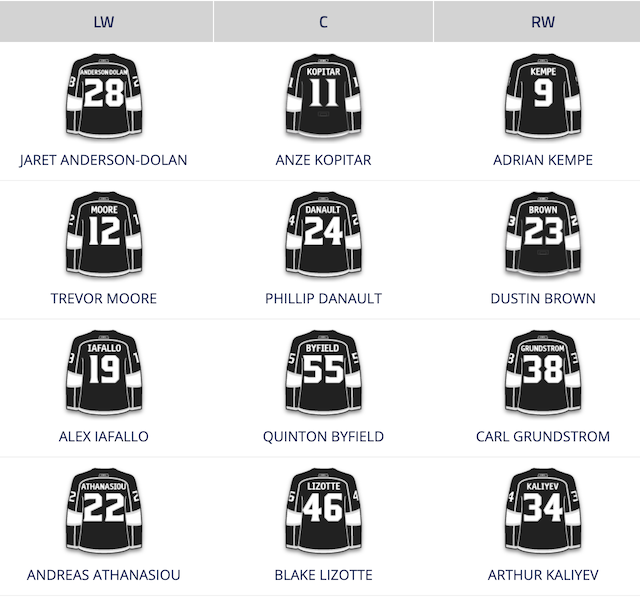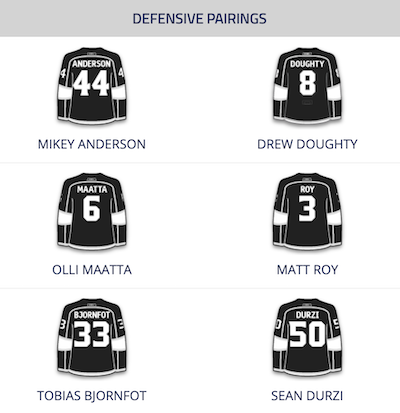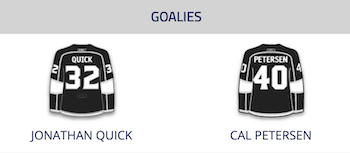 Kings Injuries
Alexander Edler (LTIR)
Brendan Lemieux (DtD)
Sean Walker (LTIR)
__________________________________________________
__________________________________________________
Bruins Probable Lineup
courtesy of dailyfaceoff.com
FORWARDS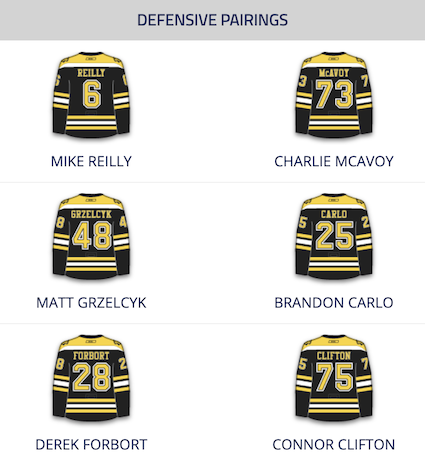 Former King
Derek Forbort

________________________________________________
_________________________________________________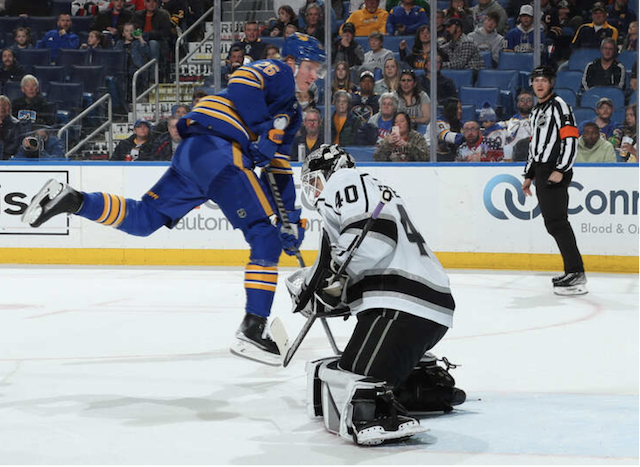 GOALIE STATS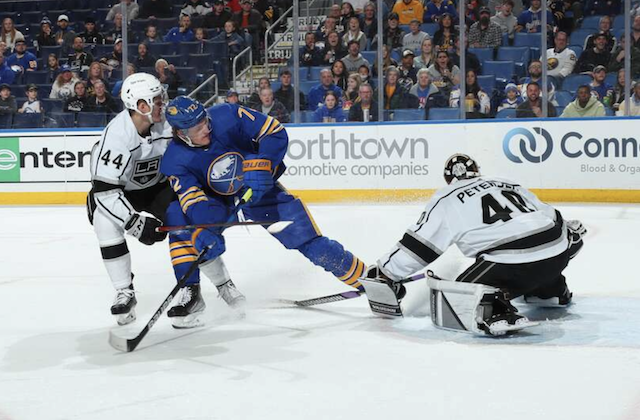 PLAYER STATS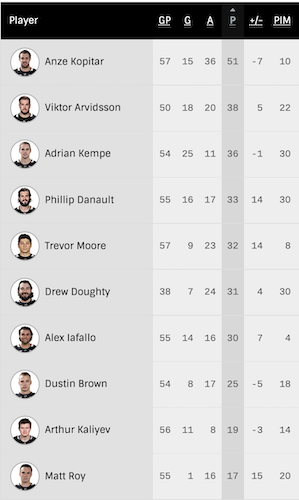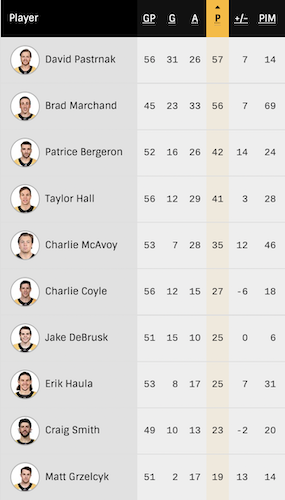 PACIFIC DIVISION STANDINGS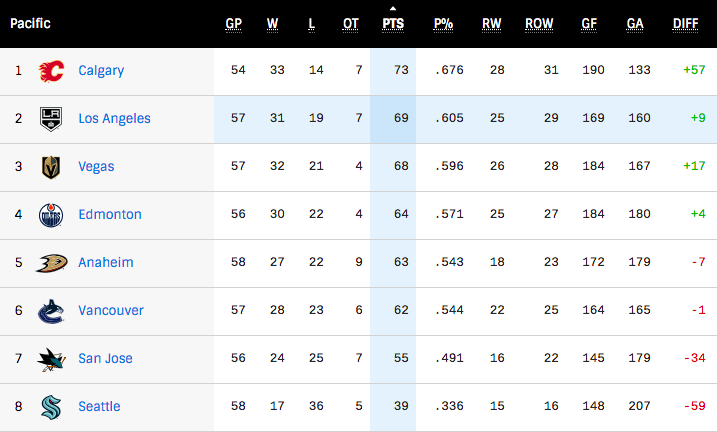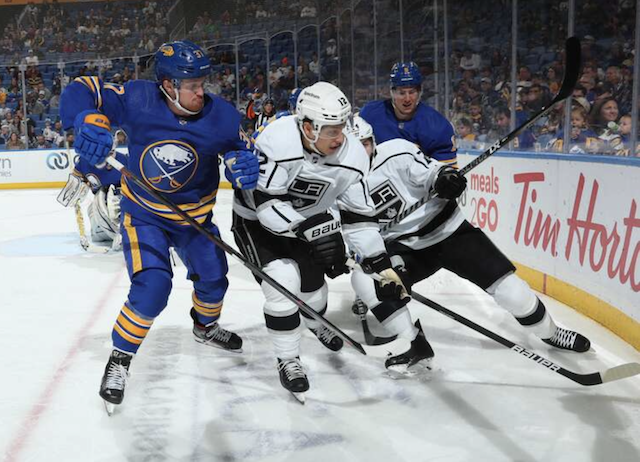 Tonight's Poll Question:
Part 1 - At what time will the FIRST KINGS GOAL of the game be scored?

You can take 3 guesses - use the "min:sec of the ____ period" format. You can also choose "the Kings will not score any goals in this game" as one of your guesses.

Part 2 - At what time will the first PENALTY by EITHER TEAM be taken?

You can take 3 guesses - use the "min:sec of the ____ period" format. (You can also choose "there won't be any penalties in this game" as one of your guesses if you really want to).

For both sections: +/-2:00 = 1 point, +/-1:00 = 2 points and +/- :30 = 3 points (only your closest guess will count for points)

Take your best guesses in your post below.
The only prize is the glory of seeing your name in the next GDT if you get it right.
Previous Game's Winners
Congratulations to the following posters who correctly guessed that all of the Swedes in the previous game would be kept off the scoreboard with zero points:
DRGinLBC
hokiecat
dannybuoy1
DRice
Rogie-Vachon
Joe Laviguer
Byron
srm1105
Kurisu
Poll Win Totals
King Of The Mountain
with

42

points:
srm1105
40 Points
Reg or Rog?
36 Points
VegasHockey
35 Points
LeftyKing
Rusty
34 Points
John a90
pray4mojo
Sonnyboy11
33 Points
AngelEyes
notbob
32 Points
Chateau Bow Wow
DRice
Helvetica
Kurisu
31 Points
Liz4LA
30 Points
Dr. Tran
hokiecat
hornman
29 Points
jammer06
28 Points
Bill Hicks
27 Points
Busted Chops
kingrussell
26 Points
25 Points
JayWells24
KHenry14
Nyssa42
24 Points
Byron
23 Points
dannybuoy1
STONE
22 Points
21 Points
CIrvine
Shackleford
SirJW
20 Points
empire
19 Points
Sevenhole
18 Points
TooCool
17 Points
Rogie-Vachon
16 Points
Clif
forum gold
15 Points
14 Points
cokingsfan
13 Points
Dirtweazle
DRGinLBC
JETS GARAGE
PuckMaster
randdog
12 Points
11 Points
Greg33
kopinator
10 Points
beady eye
beedee
9 Points
8 Points
7 Points
MaxwellSmart
6 Points
Joe Laviguer
5 Points
waynet
4 Points
kingsmen93
3 Points
2 Points
Ice24
rinkrat
1 Point
lurker
MBreeden
RoS
Salami
Stormy2213
***Bet your karma in geogirl's KARMA BETTING THREAD HERE***
________________________________________________
Photos courtesy of NHL.com/Getty Images​
Last edited: