jammer's overlord
Staff member
TEAM LGK
Joined

May 10, 2012
Messages

12,809
LGKash:

$450.00

Game Day Thread
Game #28/82 -- 12/16/21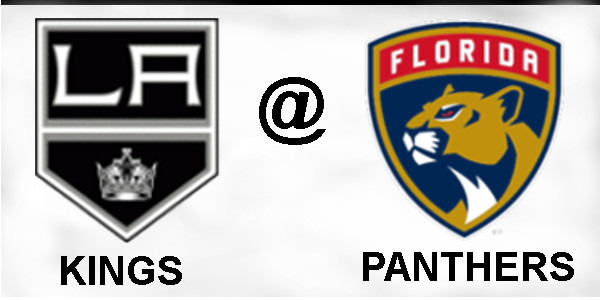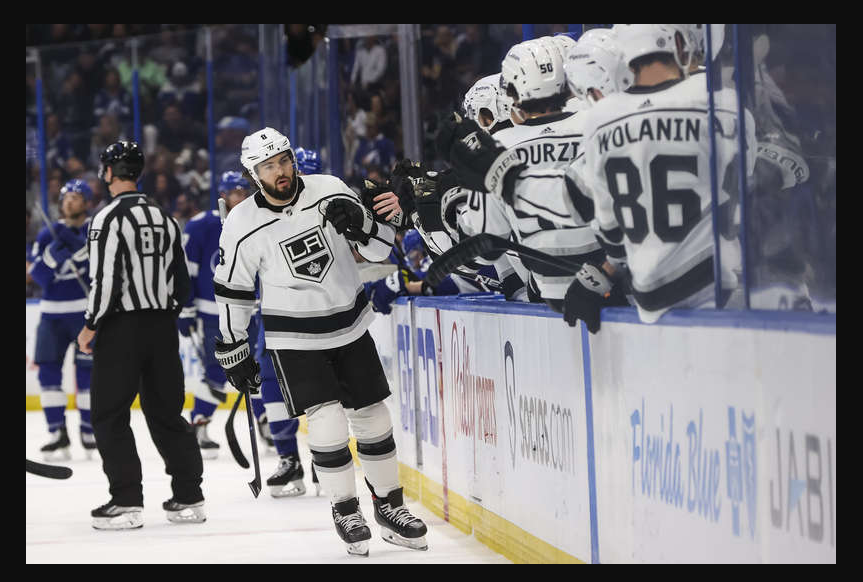 Los Angeles Kings @ Florida Panthers
FLA Live Arena | Sunrise, FL
Thirsty Thursdays Promotion:
Fans can purchase and enjoy discounted Yuengling, Yuengling Flight, Corona and other domestic products at all concession stands during Thursday home games at FLA Live Arena.

TV:

**BSW**



Radio: LA Kings iHeartRadio app
Please remember,
DO NOT
post links to Live Game Streams in the GDT or anywhere else on LGK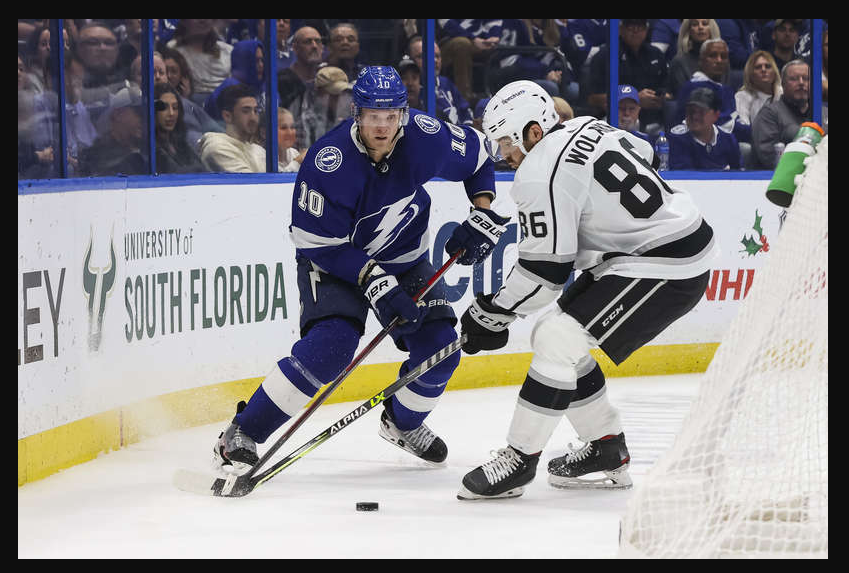 Check out articles on LA Kings Insider Here
Todd McLellan 12/14/21 Post Game Quotes
​
Todd McLellan
On balancing tonight's result versus the overall performance
I think you always have to look at the game as a whole. We came into the Stanley Cup champs building, we were pretty short on the backend and played a solid, 64 minutes and earned a point. Were there moments in the game where we'd like to be better? Of course there are, but on your best night you're going to find that. Without sounding satisfied, because we're not, we came for two points, it was a well-played, solid game by us.
On other defensemen stepping in with Anderson and Edler out
They did a really good job, minutes went up for just about everybody. Having Olli come back in, who has played in the NHL but he hasn't been around us for a little while, a little bit nervous early but I think he settled in real well. Durzi continues to give us exactly what we need, night in and night out, and his confidence is growing and the rest of the group as well. The veteran group, and I include Olli in that, did their job.
On the pace of play tonight during overtime
It's fast. You give them all that open ice and they go and that's how they're built and trained and we have that in our game too, it was going back and forth. There were a lot of times when a mistake is made at one end and it ends up being an opportunity at the other. That's what we saw in overtime, it was pretty exciting.
On Arvidsson being taken down prior to the GWG, and a similar situation earlier
That's what's frustrating about our game, there's the human element in it. Referees have a tough job to do, I get it, I make a ton of mistakes on the bench, but I would agree. I thought that Arvy was tripped, identically to what Kopi did to I think Corey Perry [at the end of the second period]. I don't know if they missed it or what, there's fewer players on the ice and he had the puck, but they didn't see it the way we did.

​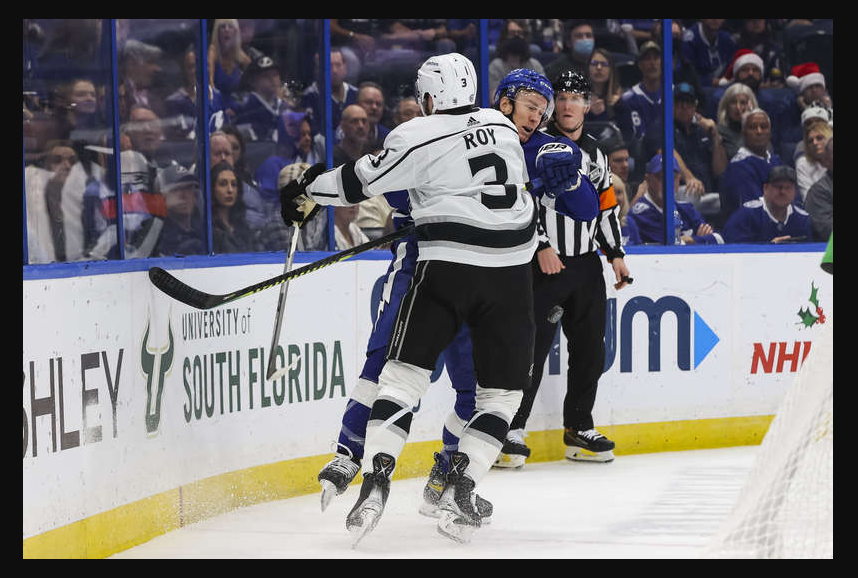 Subject To Change
Projected Lineup Courtesy of www.MayorsManor.com
Kempe – Kopitar – Brown
Iafallo – Danault – Arvidsson
Andersson – Kupari – Grundstrom
Lemieux – Lizotte – Kaliyev
Other options: Moore
Bjornfot – Anderson
Maatta – Roy
Wolanin – Durzi
FORWARDS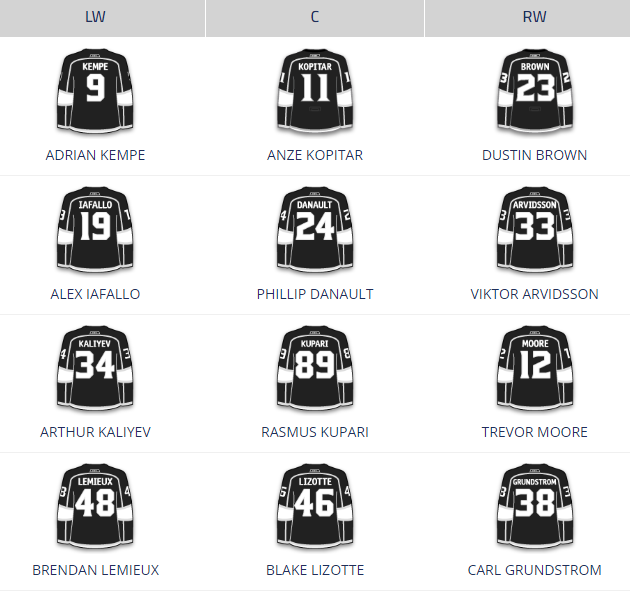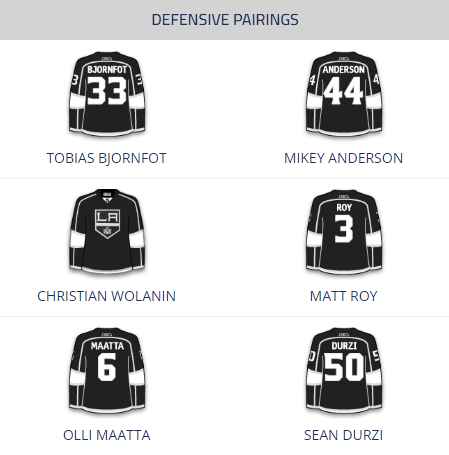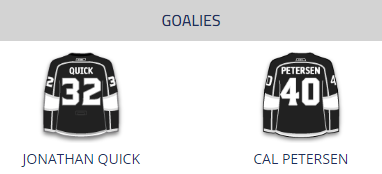 Kings Injuries
Andreas Athanasiou (IR)
Drew Doughty (Covid Protocol)
Alexander Edler (IR)
Sean Walker (LTIR)
__________________________________________________
__________________________________________________
Panthers Probable Lineup
courtesy of dailyfaceoff.com
FORWARDS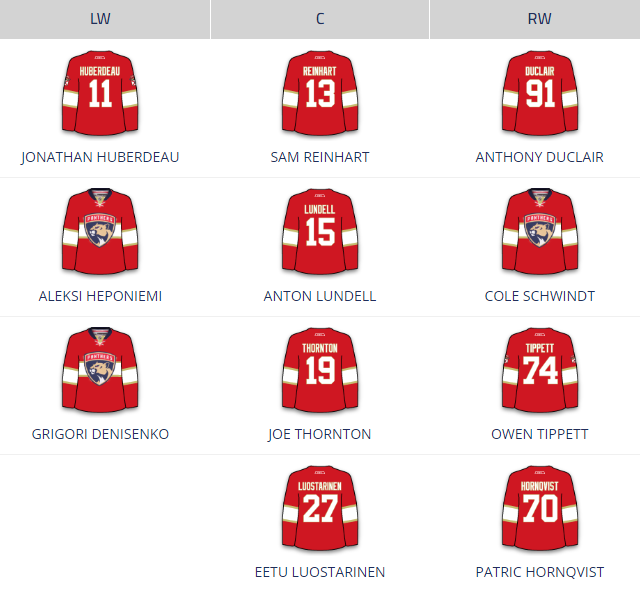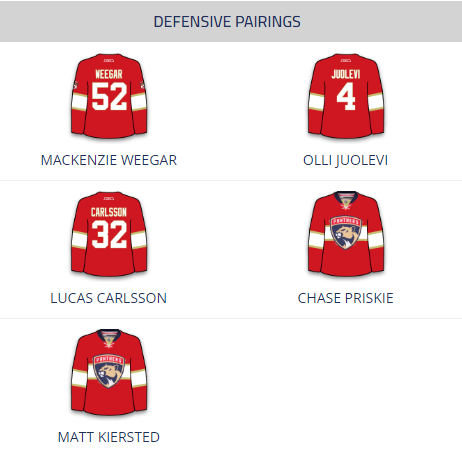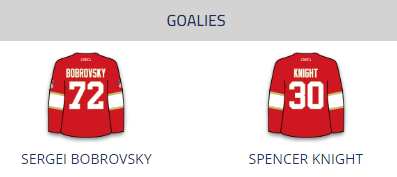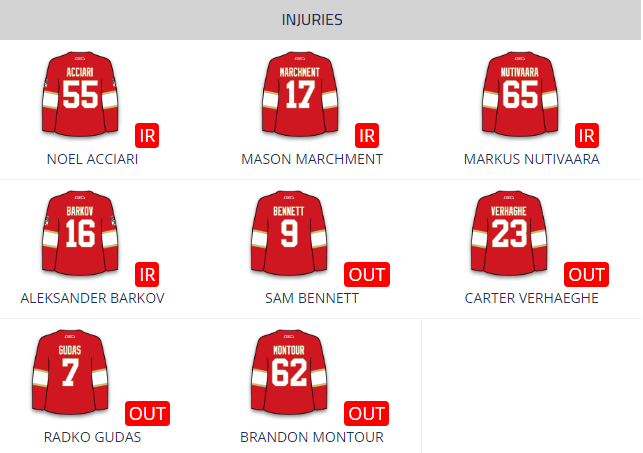 NO Former Kings
________________________________________________
_________________________________________________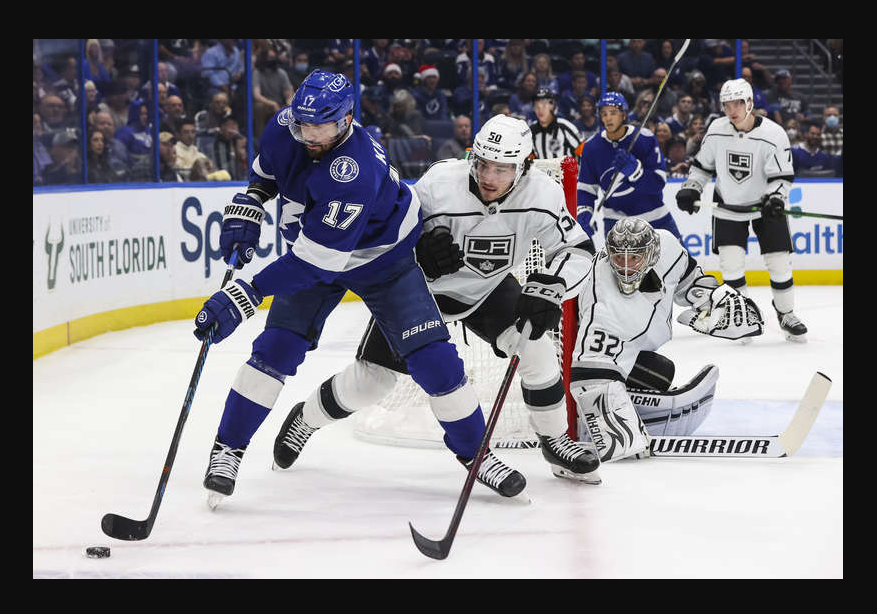 GOALIE STATS


PLAYER STATS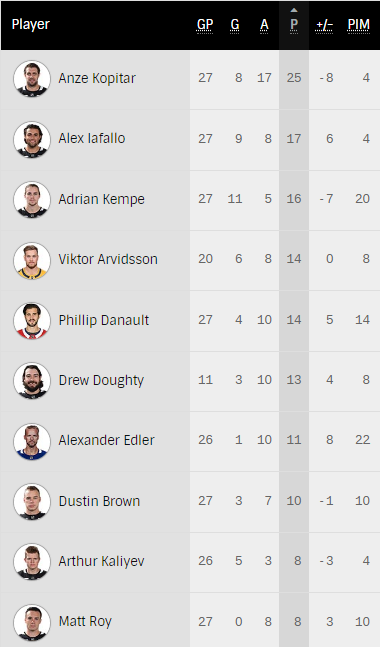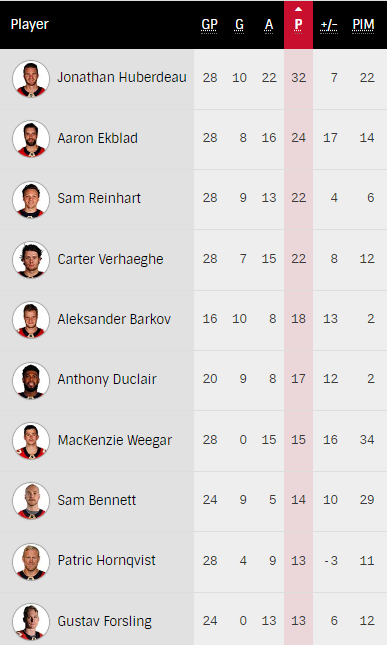 PACIFIC DIVISION STANDINGS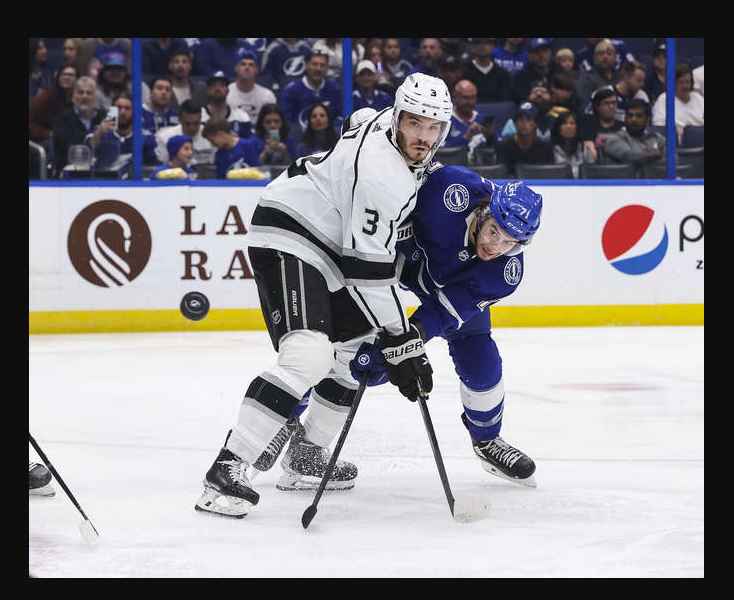 Tonight's Poll Question:
The Panthers are 1st in the league for Shots on Goal (36.1), and the Kings are 3rd (35.3)

Part 1 - How many TOTAL SHOTS ON GOAL will the Kings get in tonight's game?
Part 2 - How many TOTAL SHOTS ON GOAL will the Panthers get in tonight's game?

One guess per team
+/- 2 = 1 point, +/- 1 = 2 points, dead-on = 3 points
Previous Game's Winners
Congratulations to the following posters who correctly guessed the first goals would be scored by Drew Doughty and/or Victor Hedman
:
Doughty (1 point):
jammer06
CIrvine
randdog
kingrussell
Hedman (1 point):
DRice
Byron
John a90
pray4mojo
Sevenhole
Reg or Rog?
Shackleford
Both (2 points):
Busted Chops
Helvetica
Liz4LA
Clif
Poll Win Totals
King Of The Mountain
with

26

points:
pray4mojo
23 Points
Liz4LA
22 Points
hornman
John a90
srm1105
21 Points
Dr. Tran
Rusty
20 Points
Reg or Rog?
19 Points
Chateau Bow Wow
LeftyKing
VegasHockey
18 Points
Byron
notbob
Sonnyboy11
17 Points
AngelEyes
jammer06
Kurisu
16 Points
15 Points
kingrussell
14 Points
Busted Chops
KHenry14
Shackleford
13 Points
DRice
Helvetica
12 Points
CIrvine
hokiecat
Nyssa42
SirJW
STONE
11 Points
dannybuoy1
empire
Greg33
TooCool
10 Points
beady eye
Bill Hicks
kopinator
Randdog'
Sevenhole
9 Points
8 Points
cokingsfan
JayWells24
PuckMaster
7 Points
DRGinLBC
forum gold
JETS GARAGE
MaxwellSmart
Rogie-Vachon
6 Points
beedee
Clif
5 Points
Dirtweazle
4 Points
Joe Laviguer
3 Points
Stone
2 Points
Ice24
1 Point
lurker
MBreeden
rinkrat
RoS
Salami
Stormy2213
waynet
***Bet your karma in geogirl's KARMA BETTING THREAD HERE***
________________________________________________
Photos courtesy of nhl.com/getty images​
Last edited: