jammer's overlord
Staff member
TEAM LGK
Joined

May 10, 2012
Messages

12,768
LGKash:

$450.00

Game Day Thread
Game #42/82 -- 1/23/22
Los Angeles Kings @ New Jersey Devils
Prudential Center | Newark, NJ
Previous Meeting
11/05/21 – Devils 2,
Kings 3
OT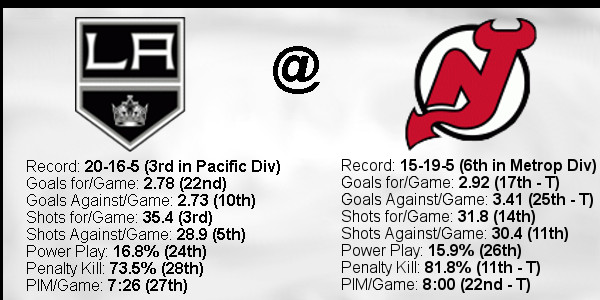 TV:

**BSW**



Radio: LA Kings iHeartRadio app
Please remember,
DO NOT
post links to Live Game Streams in the GDT or anywhere else on LGK
Check out articles on LA Kings Insider Here
Quinton Byfield & Todd MacLellan 1/20/22 Post Game Quotes
​
Quinton Byfield
On his comfort level tonight compared to his NHL debut late last season
I think I was definitely a lot more comfortable. I think last year, it was still my first pro year and it was kind of weird playing with all the people you grew up watching and playing against all those guys. Now, I've just got to fit in, I know I can play with them and contribute a little bit. I just felt more comfortable.
On if his play tonight gave him a feeling that he belongs as an NHL player
Yeah, I think so. I had some chances, just got to bury those next time. I feel like my line had quite a bit of offensive-zone time tonight and I think we were building a lot of energy for our team.
On his line with Brown and Grundstrom
I really liked playing with them. Brownie, he's played numerous game in this league, obviously he's a great leader, he led the team to two cups, he's a great player to play with and learn from. Being able to be out there on the ice with him, he definitely controls the faceoffs, makes sure I know what's happening out there, he's a good leader. Grundy is always working super hard, he was driving a lot of pace as well.
On matching up with a team like Colorado in his season debut
They definitely have a really solid team over there, they have a lot of speed and pace that they play with. For a good part of the game, I thought we had a pretty good game, we were driving the play as well and I think it shows that we can play with those guys. I think if we can bear down on some chances, a little more game management, I think the score's a little different next time.
On his process of working through this year
Definitely a lot of ups and downs this year. Coming into LA, dev camp, rookie tournament, preseason, definitely super exciting to get back with the team and hopefully make the lineup. Getting hurt in the preseason was definitely a setback, wasn't a great feeling, being out of hockey for two and a half, three months, it's not a good feeling, so I was excited to get back. I've still got a lot of career ahead of me, there's definitely the breaks you have to go through.

Todd McLellan
On if tonight's loss is about eliminating mistakes and game management
That and a little bit of finish too. When you talk about mistakes, usually they're in your net and yeah we made a couple, but the difference right now is that team over there capitalizes on them and it takes us an extra four or five chances to capitalize. We're working towards that. We can't ask our players to play perfect. The defensive part of it, yeah, mistakes we have to clean some of that up, the offensive part, we have to score more goals. It was not for lack of effort or chances, it's just got to go in.
On not capitalizing more during a strong second period
The second period for me was the period, we had a good period. We had a team that played last night, they were tired, tried to slow down the line changes, not playing all of their D as much as they would have liked and we just didn't finish at that point. The break between the second and third, it certainly didn't help us, it helped them. They regrouped and then the third goal really took a lot out of us because it was at the backend of the power play. Everybody is yelling and screaming, yet we didn't have cover, maybe we didn't make the best puck decision either.
On his impressions of Quinton Byfield tonight
Quinton, I thought he was quite good. We talked as a group about the explosiveness of his legs, the timing, the comfort with the puck. He showed all of those things today, a lot more than he did last year when he came up in those games. His summer work, despite the injury, was valuable, and then his time he put back to getting his game back in the American League was good. One, real good night so far and we hope that will continue.
On where he believes the Kings stack up against a team like Colorado
We played with them, I think this was a real game. Last year, at the end of the year, it wasn't a real game when we played against them, but we didn't have a lot of the pieces that we have right now. It was a competitive night, it was a hard night. I really believe we can play with any team in the league. We need some things to go right for us offensively, we explode for five or six and then all of a sudden we're back down to the one or two. Two's a bad number in the NHL, if you're thinking about offense. Two's a great number if you're considering defense, but two [goals] doesn't get you very much, three gets you a lot more.
On finding more offense in games like tonight
The finish has to come. A lot of pucks to the net, were we in the eyes, around the eyes, I think we were, there were a lot of scramble plays. Lemieux in the first period had a tremendous scoring opportunity, made a great move. Those have to go in a little bit more than they are right now, it's one of the toughest things to coach, or to practice or to train, sometimes it's just natural instincts. We played against Tampa the other night, the game was close, I think Iafallo pulled the puck and hit the post. Those are moments where the natural scorers are putting them in and the guys that are really good players, but maybe it just doesn't come naturally are ringing them off the posts. We'll keep working on it, we're getting better.


​

Subject To Change
FORWARDS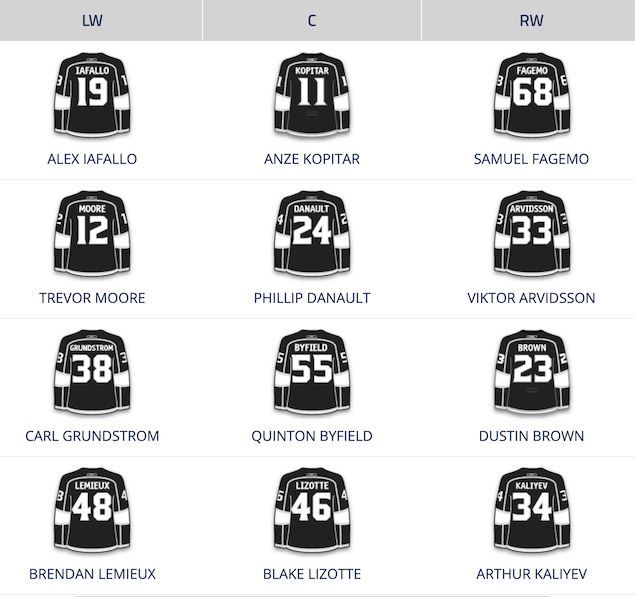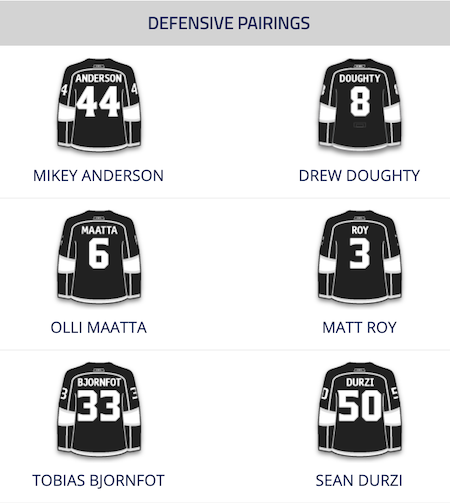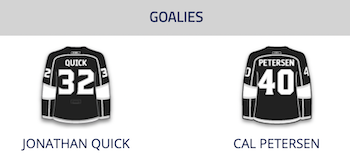 Kings Injuries
Lias Andersson (IR)
Andreas Athanasiou (IR)
Alexander Edler (LTIR)
Adrian Kempe (CP)
Sean Walker (LTIR)
Christian Wolanin (CP)
__________________________________________________
__________________________________________________
Devils Probable Lineup
courtesy of dailyfaceoff.com
FORWARDS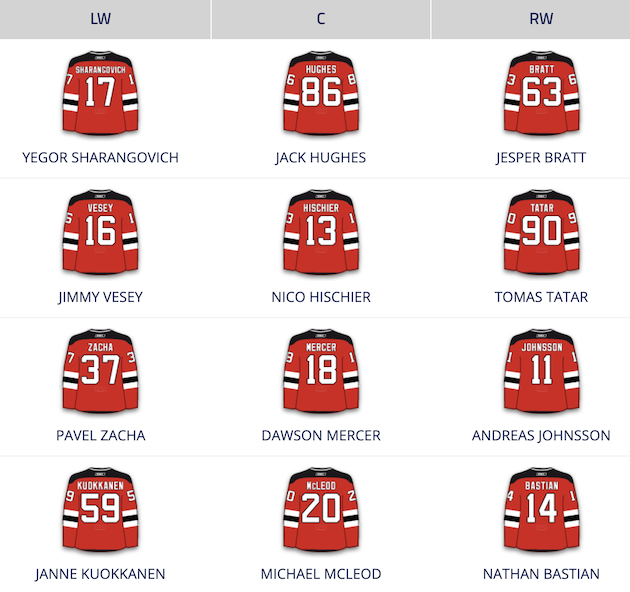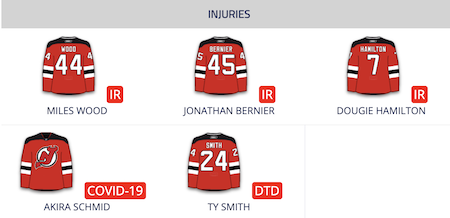 Former Kings
Jonathan Bernier (IR)

________________________________________________
_________________________________________________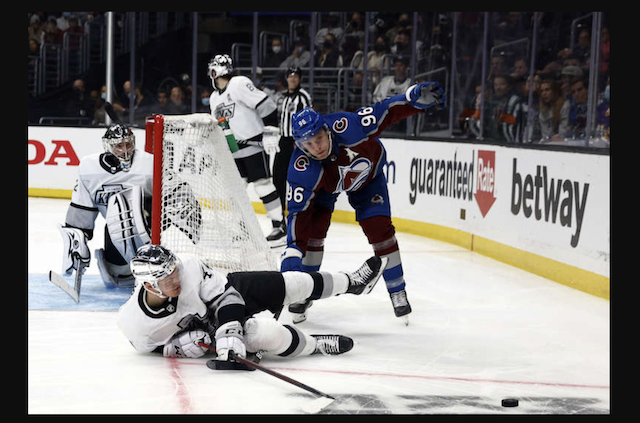 GOALIE STATS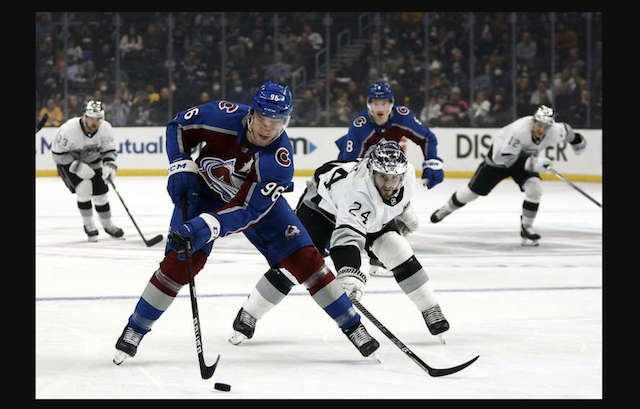 PLAYER STATS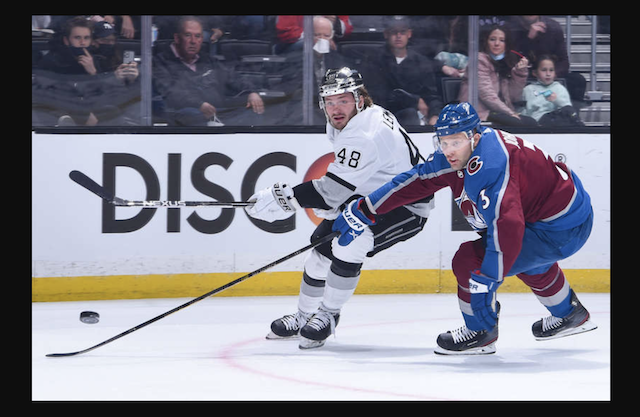 PACIFIC DIVISION STANDINGS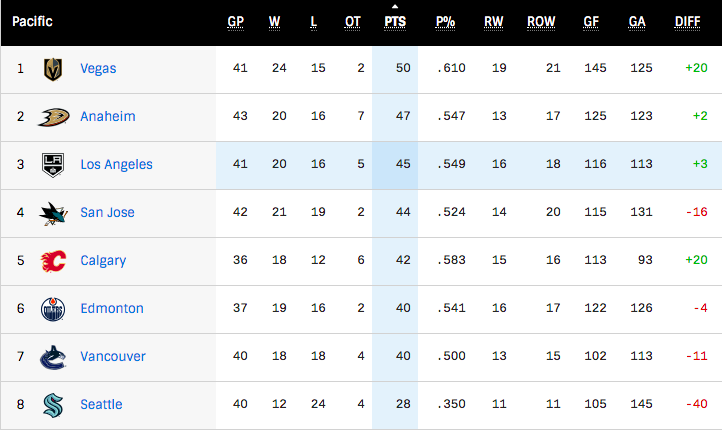 Tonight's Poll Question:
THESE QUESTIONS COVER TONIGHT and TOMORROW'S GAMES - There's probably not going to be another question tomorrow.

Part 1 - How many total GOALS will the KINGS score in TONIGHT'S & TOMORROW'S game?

Part 2 - How many total GOALS will be scored by the DEVILS AND RANGERS in these 2 games?

You can take 2 guesses per question (1 point available per question)

Note: poll questions for the coming road trip will likely span multple games because I have family coming to town and won't have a lot of free time for the GDTs.
Previous Game's Winners
Congratulations to the following posters who correctly guessed that there would be 8 assists by both teams in the previous game:
Kurisu
srm1105
CIrvine
VegasHockey
Reg or Rog?
DRGinLBC
Helvetica
beedee
JETSGARAGE
hokiecat
KHenry14
Clif
Nyssa42
sonnyboy11
hornman
randdog
Poll Win Totals
King Of The Mountain
with

35

points:
srm1105
33 Points
Reg or Rog?
32 Points
pray4mojo
VegasHockey
31 Points
30 Points
Rusty
29 Points
LeftyKing
28 Points
AngelEyes
Liz4LA
notbob
27 Points
Dr. Tran
hornman
John a90
26 Points
Chateau Bow Wow
Helvetica
Kurisu
Sonnyboy11
25 Points
24 Points
23 Points
Byron
hokiecat
22 Points
jammer06
21 Points
Busted Chops
DRice
kingrussell
KHenry14
20 Points
19 Points
CIrvine
18 Points
empire
Nyssa42
Shackleford
17 Points
Bill Hicks
dannybuoy1
STONE
TooCool
16 Points
15 Points
JayWells24
Sevenhole
SirJW
14 Points
Clif
13 Points
cokingsfan
Rogie-Vachon
12 Points
forum gold
PuckMaster
11 Points
Dirtweazle
DRGinLBC
Greg33
kopinator
randdog
10 Points
beady eye
JETS GARAGE
9 Points
8 Points
7 Points
beedee
MaxwellSmart
6 Points
5 Points
waynet
4 Points
Joe Laviguer
3 Points
2 Points
Ice24
1 Point
kingsmen93
lurker
MBreeden
rinkrat
RoS
Salami
Stormy2213
***Bet your karma in geogirl's KARMA BETTING THREAD HERE***
________________________________________________
Photos courtesy of nhl.com/getty images​
Last edited: