jammer's overlord
Staff member
TEAM LGK
Joined

May 10, 2012
Messages

12,768
LGKash:

$450.00
***LA Kings @ San Jose Sharks DREADED DAY GAME GDT 1/17/22 1:00pm <<<< on BSW***

Game Day Thread
Game #39/82 -- 1/17/22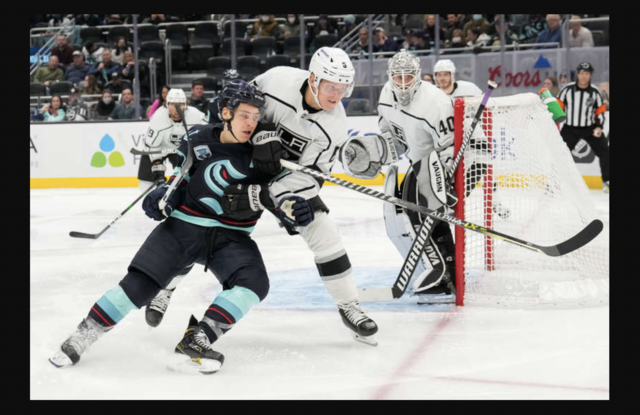 Los Angeles Kings @ San Jose Sharks
SAP Center | San Jose, CA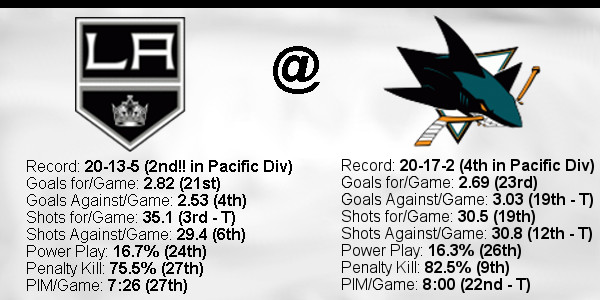 **GAME TIME - 1:00pm - AFTERNOON GAME**
​

TV:

**BSW**



Radio: LA Kings iHeartRadio app
Please remember,
DO NOT
post links to Live Game Streams in the GDT or anywhere else on LGK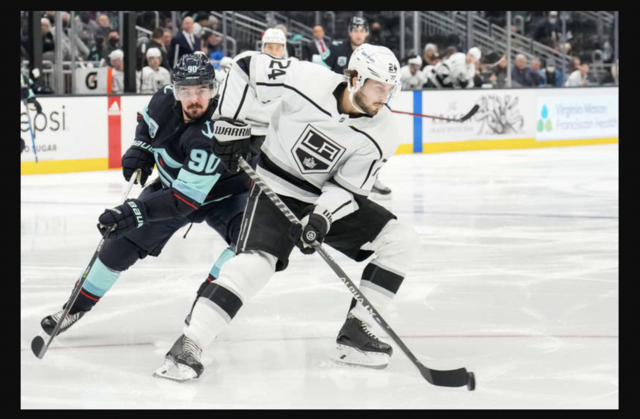 Check out articles on LA Kings Insider Here
Phillip Danault & Todd MacLellan 1/15/22 Post Game Quotes
​
Phillip Danault
On tonight's game and getting the win in Seattle
I think it was a great game to be honest with you, they caught us off guard a little bit, they play very hard and they play the right way. They were a tough team to play today. I thought we battled well and scored some big goals. Big 60 minutes from us.
On finding a way in a tight-checking game to get the win
A good team finds a way. We stuck to our plan, they came out flying and they use their barn a lot too, the boards are very lively here, you miss the net and it's one shot and done. We've definitely got to learn from this game, it was grinding today.
On finding goals regularly from right outside of the crease
Yeah, obviously if you want to score goals, you have to get there. I got a good bounce and some great play from my wingers. It's huge for me and Arvy is chipping in as well. If you play well defensively as a team, it brings the offense.
On the play of the team's goaltenders right now
Yeah, Cal and Quickie, they've both been very solid for us. They've given us a chance, Cal's giving us a chance, and Quickie, every single game. Cal tonight was outstanding as usual, making some huge saves, key saves as well. When the game could have turned around, he made the big saves. It's huge for us, you need big goalies to win, to make the playoffs, and that's what we got.

Todd McLellan
On the win tonight
It was a battle, a fight for us both ways. They checked hard, they closed gaps, they took space away, won some races to pucks and we did the same thing. Both goaltenders made some big saves when they had to. Fortunate to get the penalty kill at the end. I think scoring first helped us, gave us a little confidence. It was a well-earned win, a win they made us earn.
On if he got the game he expected from Seattle
Absolutely, and maybe more. They came through the neutral zone pretty good, had a heavy forecheck. We were in position, sometimes we didn't execute as well as we wanted. I think it was Kopi that said they're not all pretty, but they count [the same]. Wins are hard to come by and we'll take them any way we can get them.
On Philip Danault's ability to score from in front and around the net
Yeah, I think that we probably don't appreciate that part of his game enough. The guys around him are also doing a good job of getting the puck into that area, so that he can go and take advantage of it, I think that was the case again tonight. Solid at both ends of the rink, a very trusting player, the type of player we thought we were getting and a little more offense now as the year goes on. Good to see.
On Cal Petersen and the bigger saves he made tonight
He had some tough ones. There was a lot of traffic in and around the area, some rebounds, specifically on the penalty kill at the end. They had 14 even-strength shots, or whatever it was, which isn't a lot, but there were some tough ones. He handled it well.
On Alex Iafallo's key shot block and how he's feeling
He's fine, he'll be a little bit sore. When your skill, top-six [players] are willing to do that, you're usually winning games. You're going to lose your share too, but you have a better chance of winning when guys sell out and sacrifice. During our little run, we've seen a lot of that. Good for us and hopefully it rubs off on everybody else.

​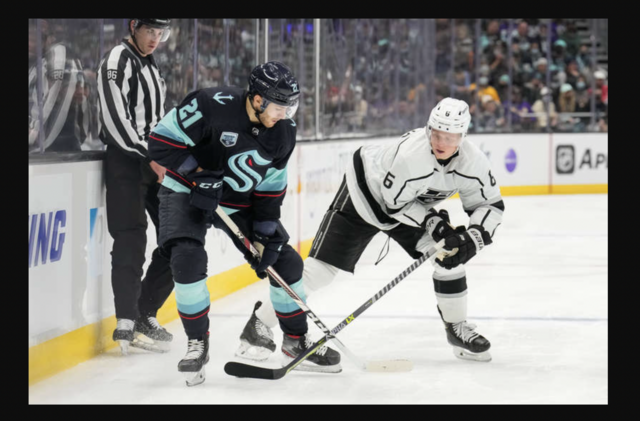 Subject To Change
FORWARDS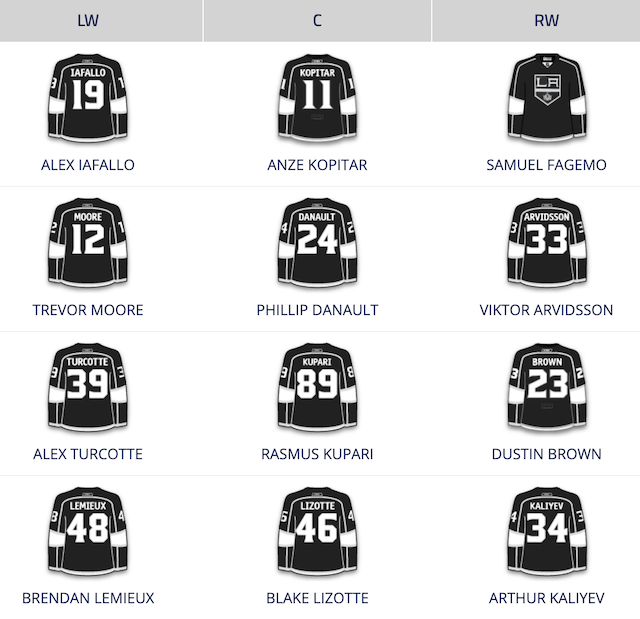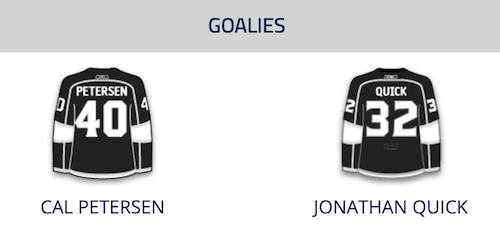 Kings Injuries
Lias Andersson (IR)
Andreas Athanasiou (IR)
Alexander Edler (LTIR)
Carl Grundstrom (CP)
Adrian Kempe (CP)
Sean Walker (LTIR)
Christian Wolanin (CP)
__________________________________________________
__________________________________________________
Sharks Probable Lineup
courtesy of dailyfaceoff.com
FORWARDS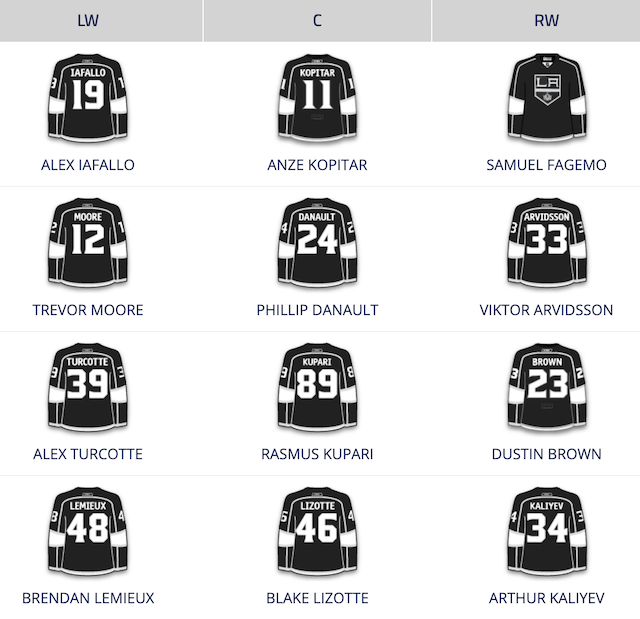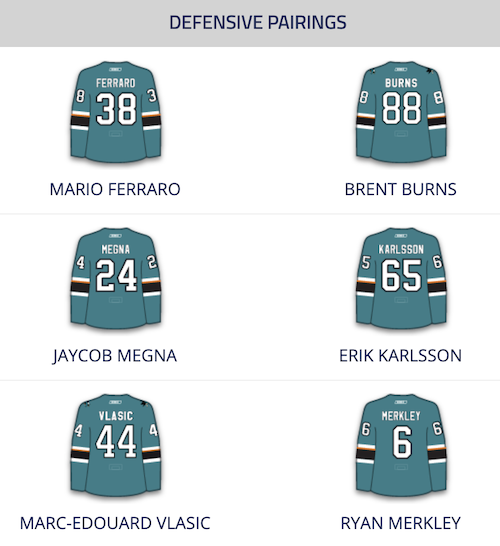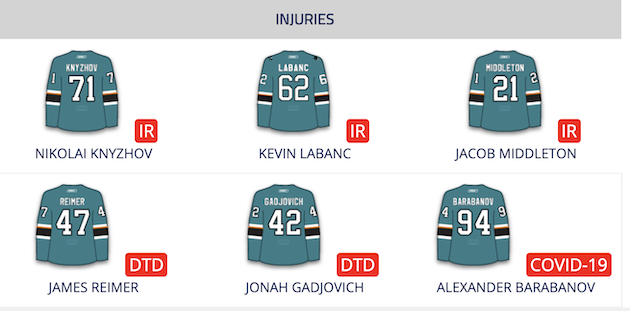 Former Kings Draft Pick
Jacob Middleton

________________________________________________
_________________________________________________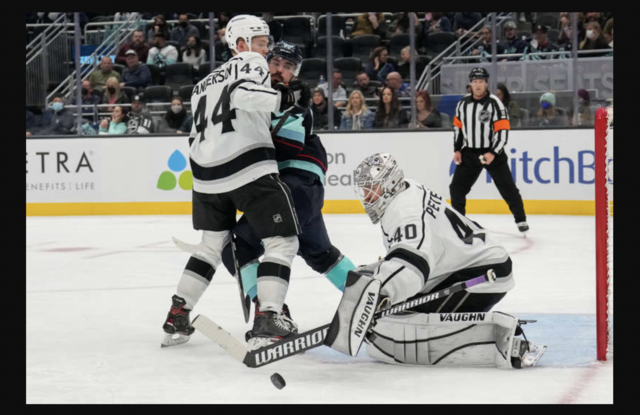 GOALIE STATS


PLAYER STATS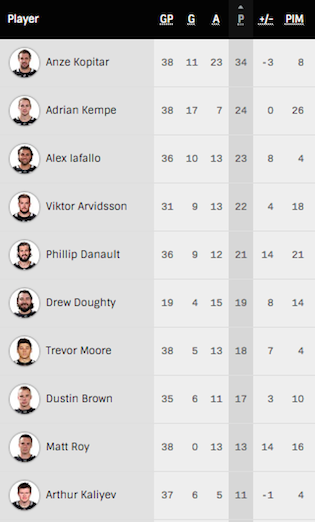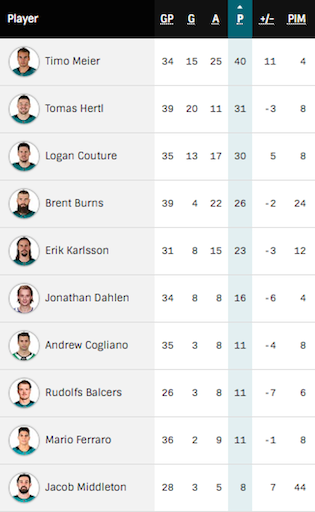 PACIFIC DIVISION STANDINGS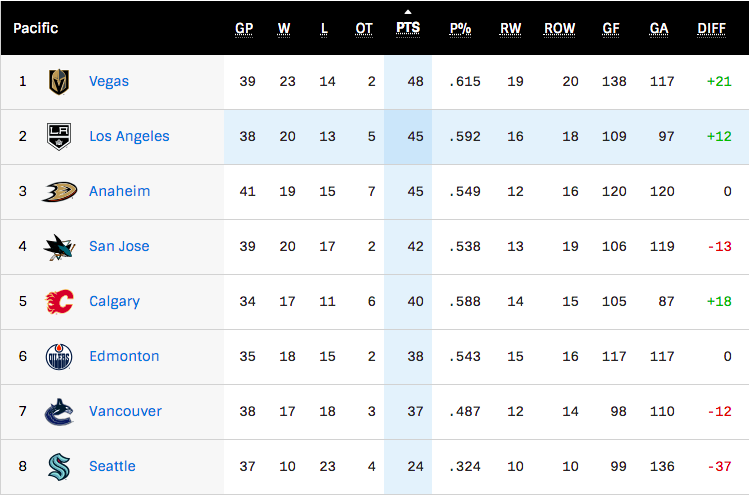 Tonight's Poll Question:
Just 1 question today since it's a back-to-back:
The Sharks are 9th in the league on the PK. The Kings are not. (25th) But they both are towards the bottom of the pack on the PP (24th & 26th).
How many TOTAL MINUTES & SECONDS of Penalty Time will be KILLED in today's game?
(aka how much total PP time will there be? - penalty time ends when a goal is scored)
You can take 2 guesses. Use the MIN:SEC format.
+/- 1:00 will get 1 point, +/- :30 will get 2 points, and dead-on will get 3 points
you will only get points for your closest guess
Previous Game's Winners
Congratulations to the many, many posters who correctly guessed the first goals would be scored by Kempe and/or Johansson

Both (2 points) :
pray4mojo
Vegas Hockey
hokiecat
Sevenhole
Kempe (1 point)
jammer06
Kurisu
Dr. Tran
Rogie-Vachon
srm1105
notbob
Dirtweazle
Reg or Rog?
STONE
Helvetica
Shackelford
forum gold
John a90
empire
AngelEyes
LeftyKing
SirJW
hornman
Bill Hicks
Rusty
JayWells24
TooCool
kingrussell
Clif
Liz4LA
Chateau Bow Wow
Nyssa42
KHenry14
Johansson (1 point) :
Busted Chops
Poll Win Totals
King Of The Mountain
with

32

points:
pray4mojo
29 Points
srm1105
28 Points
Liz4LA
Reg or Rog?
27 Points
Dr. Tran
LeftyKing
Rusty
VegasHockey
26 Points
hornman
notbob
25 Points
Kurisu
24 Points
Chateau Bow Wow
John a90
23 Points
AngelEyes
Byron
Helvetica
22 Points
jammer06
21 Points
Busted Chops
Sonnyboy11
20 Points
DRice
kingrussell
19 Points
hokiecat
18 Points
empire
Shackleford
17 Points
KHenry14
STONE
TooCool
16 Points
dannybuoy1
15 Points
Bill Hicks
CIrvine
Sevenhole
SirJW
14 Points
JayWells24
Nyssa42
13 Points
12 Points
Clif
forum gold
11 Points
cokingsfan
Greg33
kopinator
PuckMaster
Rogie-Vachon
10 Points
beady eye
DRGinLBC
Randdog
9 Points
Dirtweazle
JETS GARAGE
8 Points
7 Points
MaxwellSmart
6 Points
beedee
5 Points
4 Points
Joe Laviguer
3 Points
waynet
2 Points
Ice24
1 Point
lurker
MBreeden
rinkrat
RoS
Salami
Stormy2213
***Bet your karma in geogirl's KARMA BETTING THREAD HERE***
________________________________________________
Photos courtesy of nhl.com/getty images​
Last edited: