jammer's overlord
Staff member
TEAM LGK
Joined

May 10, 2012
Messages

12,830
LGKash:

$550.00

Game Day Thread
Game #38/82 -- 1/15/22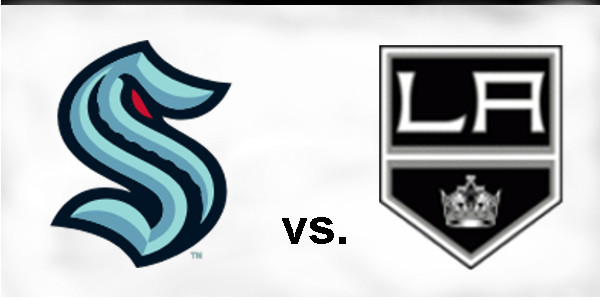 Los Angeles Kings @ Seattle Kraken
Climate Pledge Arena | Seattle, WA
Hockey Talks - Mental Health Awareness Night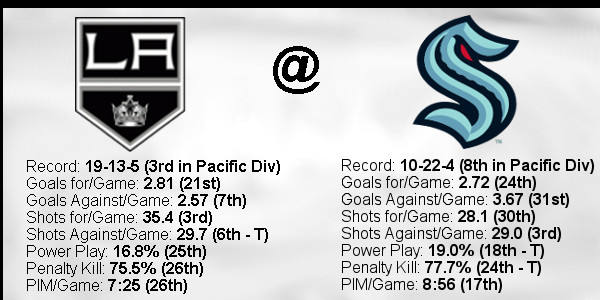 **GAME TIME - 7:00pm - EARLY START**
​

TV:

**BSW**



Radio: LA Kings iHeartRadio app
Please remember,
DO NOT
post links to Live Game Streams in the GDT or anywhere else on LGK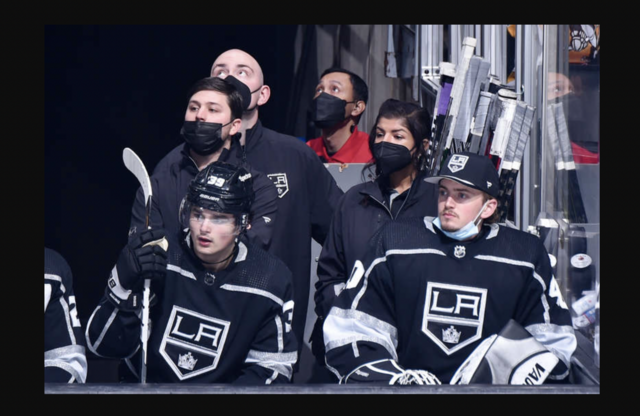 Check out articles on LA Kings Insider Here
Sean Durzi, Samuel Fagemo, & Todd MacLellan 1/13/22 Post Game Quotes
​
Sean Durzi
On his first three-point night
It was good. It was nice to score a goal in a win, which was fun. It was a big game for us, I think giving up that second goal, I wasn?t too happy about it, I made a read maybe a second late, but I got a couple back and the boys really stepped up tonight.
On the team?s response to Pittsburgh?s second goal
Momentum?s real. It?s a big part of hockey, big part of sports. I think after they scored, the response on the bench was really good. A lot of guys just talking it through saying let?s bounce back. Good energy, guys really showed it. To get two in one shift was huge. Feeding off that, building off that, I thought the guys responded well getting pucks behind them and not playing around with it. Those situations after you get one or give one up, playing north, playing hard and good response.
On the team?s confidence after beating good teams in the league
I think once you start beating teams, playing a couple good games in a row, you start to build some confidence as a group and it shows. I thought just the way we play, we have the belief that we can honestly beat anyone if we play our game and playing as a group, it?s a lot of fun, good energy, good atmosphere in the room, good atmosphere on the bench and I think that?s pretty critical, just communication off the ice, away from the ice, the guys have a lot of fun playing the game and it makes it a lot more fun and the effort?s a lot better.
On when he felt he could be a full-time NHL player
Scoring game one gave me a little more confidence to play, I?d say throughout game one it was a lot better. I think I?ve had the belief that I could play in this league for a little while now, even before I was called up. I just wanted the chance to show it. I think having this opportunity is pretty huge, it?s something I?ve been preparing for my entire life and especially the last three seasons in pro. To get it and to try to make something with it is really something I?m working towards. 19 games in and I?m grateful for every one and I?m just going to keep doing my best and try to build and try to contribute. Try to do something that helps the team win games and helps the team move forward.
On what scoring does for his confidence level
It?s huge, especially for an offensive guy. You don?t think about producing because you want it to come naturally, but if you really dwell on that, it hurts your game defensively and hurts you away from the ice, kind of takes your mind off what you can do to help the team. That?s something I?ve learned from the past couple years is that it?s pro hockey, every night you?re not going to score, every night you?re not going to put up two or three points, it?s tight defensively and as long as you just try to do things right away from the puck, move pucks well, especially in my position, those things will come. It was definitely nice to get a couple tonight. It just lets me fall back in my position, play my game and know that I can score in those situations.

Samuel Fagemo
On how it felt to make his NHL debut
It was such a great feeling. It was such a dream come true and a big day for my family and me as well. It was just so fun.
On when he found out he would be playing
I found out around 10:30 in the morning today. I had practice with the Reign this morning so it happened quick and I just focused on the game and went back home and ate and slept so it?s been a busy day for sure
On playing with and against some superstars in his first game
Special for sure. I think I?ve watched those guys since I was four or five years old so it was just so happy and it was awesome being able to sit and watch those guys from the bench.
On seeing his team score three goals in a short span during the third
I think we did a really good job as a team today. We scored a lot of goals and had such a good pace too. It was just fun to sit on the bench and see us score all those goals and actually play was so much fun, it was awesome.
On if it helped to have players in the lineup that he?s played with in Ontario
Yeah, for sure. I think that gave me calmness and confidence too and I think the guys talked to me a lot today. Kopi and those guys and then Kupari and Turcotte and Blake Lizotte and Trevor Moore and all the other Swedes talked to me and helped me. I?m very thankful for them.

Todd McLellan
On what the best parts about the win were
I think two things: they play a fast, aggressive game, they forced us to play that way and we were able to play with them tonight anyhow. And then secondly the response after they scored their second. To come back and put those three goals together was powerful, it deflates the opposition quickly and guys made good, confident plays.
On Jonathan Quick?s play in the game
He made some outstanding saves. Some of them were of the difficult variety especially early. Bad luck on the first one, but let?s face it, teams that are winning games are getting good goaltending, it?s as simple as that. When you lose it?s not always on the goaltender but they?re a big part of the wins.
On if he can see the potential of the younger players in the lineup
Young and old, we talk about that so much here. The kids coming in need to look up and see it done the right way. And our older players, the ones that are still here, do it the right way most of the time and they deserve a lot of credit for providing guidance. If you?ve had a big brother or sister at home that took care of you and showed you the way, it?s a lot easier than walking around aimlessly and we get that from our upper end group. They?re strong believers and supporters of the kids that are playing now and the kids hopefully feel that. But at some point years down the road, that?s going to transfer and we?ll worry about that when we get to it.
On the NHL debut of Samuel Fagemo
I thought he played tremendously. He woke up this morning practicing with the Reign, had no time to think about his first night, very little time to phone family and friends and he had a tremendous game, he played well. Couple good scoring opportunities, pretty responsible all over, good night for him.
​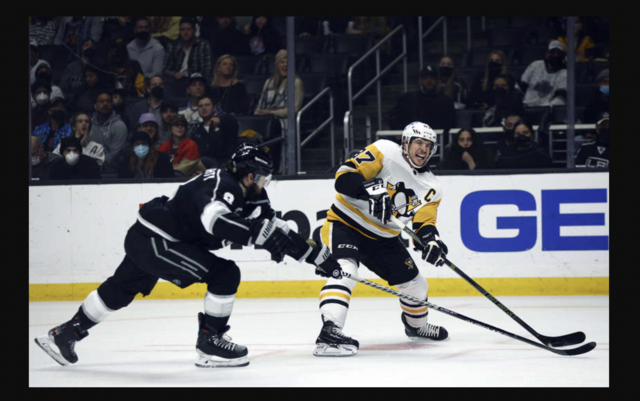 Subject To Change
FORWARDS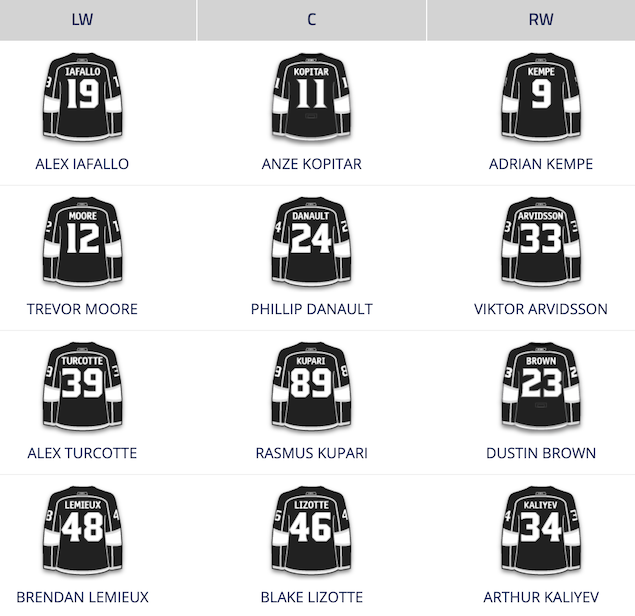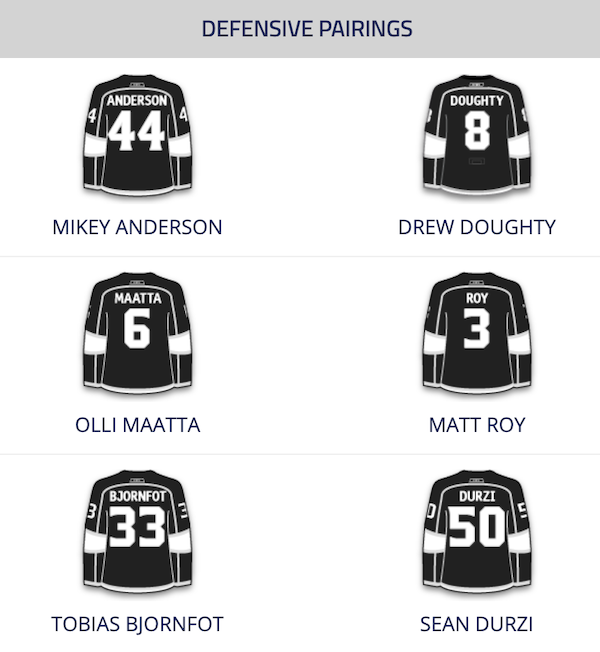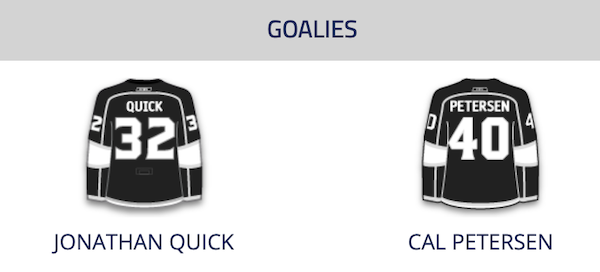 Kings Injuries
Lias Andersson (IR)
Andreas Athanasiou (IR)
Alexander Edler (LTIR)
Martin Frk (CP)
Carl Grundstrom (CP)
Sean Walker (LTIR)
Christian Wolanin (CP)
__________________________________________________
__________________________________________________
Kraken Probable Lineup
courtesy of dailyfaceoff.com
FORWARDS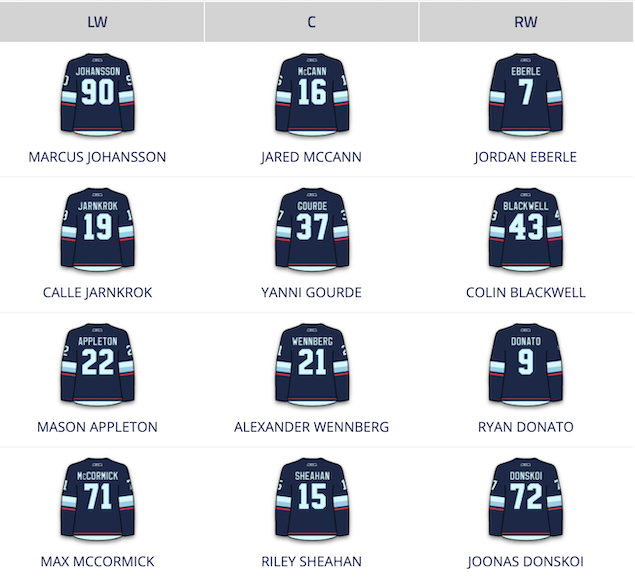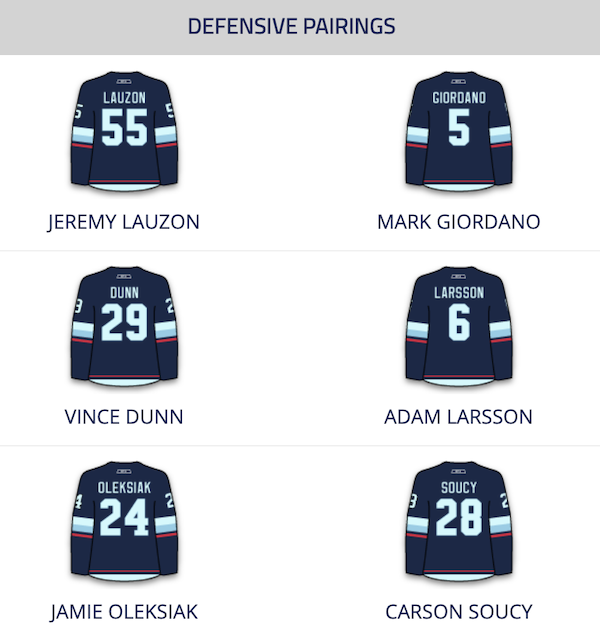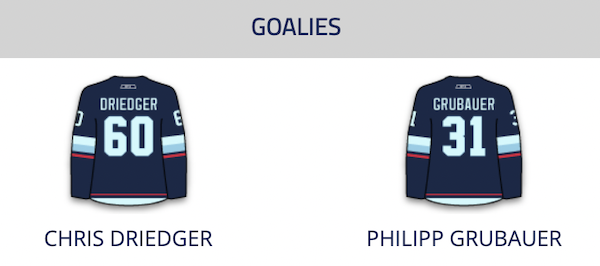 NO Former Kings
________________________________________________
_________________________________________________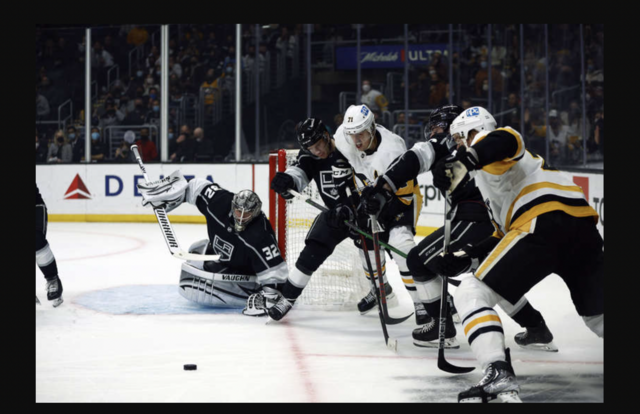 GOALIE STATS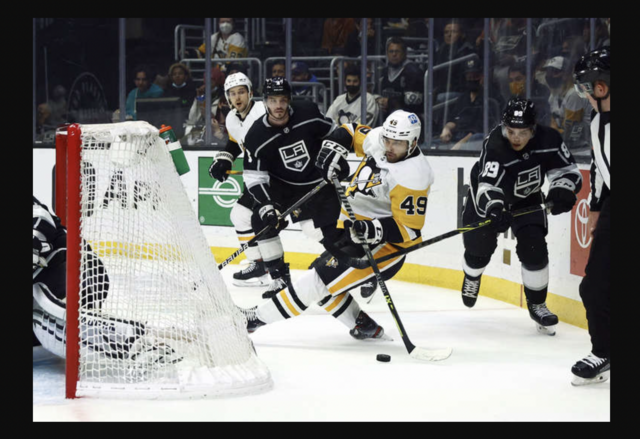 PLAYER STATS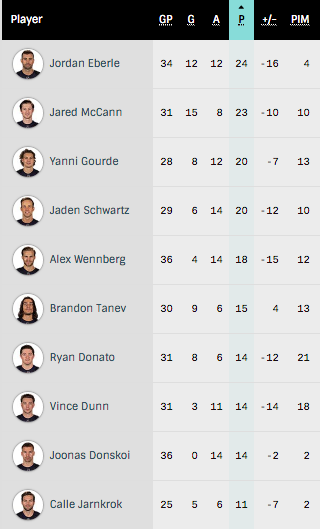 PACIFIC DIVISION STANDINGS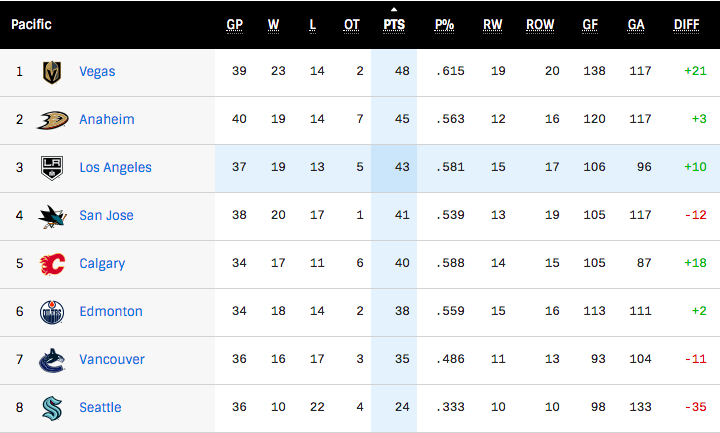 Tonight?s Poll Question:
Part 1 - Which King is going to score the first Kings Goal in Climate Pledge Arena?

Part 2 - Which Kraken will be the first to score against the Kings?

You can take 4 guesses per team, and you can also choose ?no one? as one of your choices.
(1 point per correct guess)
Previous Game?s Winners
Congratulations to the following posters who correctly guessed Carter would get shut out and/or within +/- 3 minutes of when the game winning goal would be scored (3:07 of the 3rd):
Carter Zilch (1 Point)
jammer06
notbob
DRGinLBC
Byron
KHenry14
Rusty
waynet
dannybuoy1
JayWells24
DRice
STONE
LeftyKing
Rogie-Vachon
Bill Hicks
hokiecat
hornman
GWG within +/-1 min (3 points)
Reg or Rog?
Dr. Tran
Busted Chops
GWG within +/-2 min (2 points)
DRGinLBC
pray4mojo
Poll Win Totals
King Of The Mountain
with

30

points:
pray4mojo
29 Points
28 Points
srm1105
27 Points
Liz4LA
Reg or Rog?
26 Points
Dr. Tran
LeftyKing
Rusty
25 Points
hornman
notbob
VegasHockey
24 Points
Kurisu
23 Points
Byron
Chateau Bow Wow
John a90
22 Points
AngelEyes
Helvetica
21 Points
jammer06
Sonnyboy11
20 Points
Busted Chops
DRice
19 Points
kingrussell
18 Points
17 Points
empire
hokiecat
Shackleford
16 Points
dannybuoy1
KHenry14
STONE
TooCool
15 Points
CIrvine
14 Points
Bill Hicks
SirJW
13 Points
JayWells24
Nyssa42
Sevenhole
12 Points
11 Points
Clif
cokingsfan
forum gold
Greg33
kopinator
PuckMaster
10 Points
beady eye
DRGinLBC
Randdog
Rogie-Vachon
9 Points
JETS GARAGE
8 Points
Dirtweazle
7 Points
MaxwellSmart
6 Points
beedee
5 Points
4 Points
Joe Laviguer
3 Points
Stone
waynet
2 Points
Ice24
1 Point
lurker
MBreeden
rinkrat
RoS
Salami
Stormy2213
***Bet your karma in geogirl?s KARMA BETTING THREAD HERE***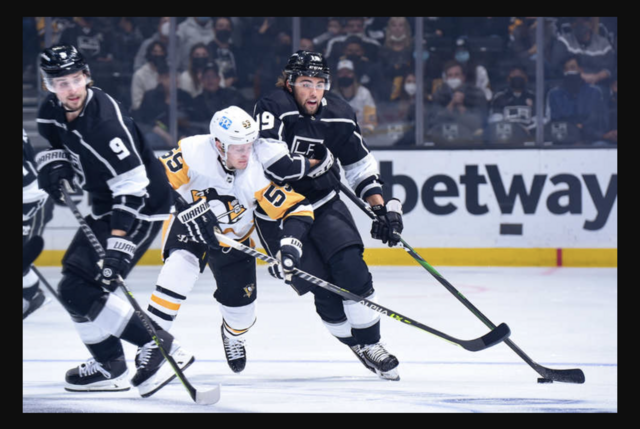 ________________________________________________
Photos courtesy of nhl.com/getty images​