jammer's overlord
Staff member
TEAM LGK
Joined

May 10, 2012
Messages

12,768
LGKash:

$450.00

Game Day Thread
Game #15/82 -- 11/13/21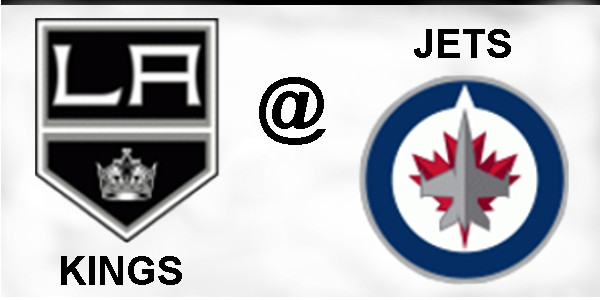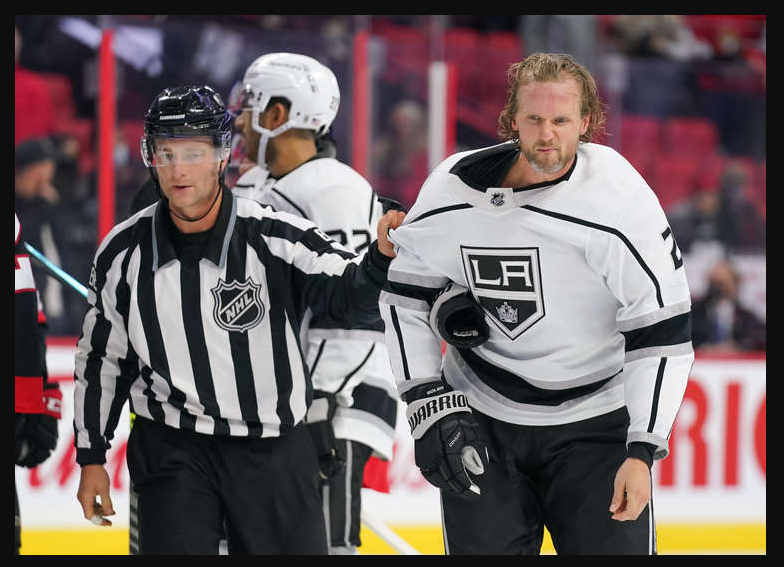 Los Angeles Kings @ Winnipeg Jets
Canada Life Centre | Winnipeg, MB
Canadian Armed Forces Night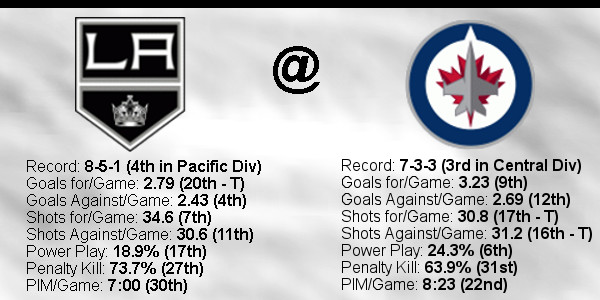 **GAME TIME - 4:00 PM PDT**
​

TV:

**BSW & NHL Network**



Radio: LA Kings iHeartRadio app
Please remember,
DO NOT
post links to Live Game Streams in the GDT or anywhere else on LGK
Check out articles on LA Kings Insider Here
Jonathan Quick & Todd McLellan 11/11/21 Post Game Quotes
​
Jonathan Quick
On what he?s liked most from the team?s current seven-game winning streak
I think we?re finding ways to win. I don?t think we?re doing things much differently than earlier in the year. If you look at the end of the game, we?re in tight games, 2-2, and then we?d find a way to lose. Now, we?re on the other side of it. We?re progressing as a team and we?re doing it on the road.
On learning to win these kinds of games throughout the early parts of the season
Yeah, I think there?s game management and making big plays in big moments. We?re getting those now, we?re stringing wins together.
On what the team did well defensively to earn the shutout tonight
We only gave them two power plays, it means we were checking well and we were on the right side of the puck. When you can hold a team to a limited amount of power plays, it keeps guys fresh, it allows you to roll lines, everyone?s in the game. Defensively, we blocked shots. You mentioned Kopi, [Lemieux] had a huge one, it?s up and down the lineup.

Todd McLellan
On his general takeaways from tonight?s win
Tough night, they gave us everything they could handle, for a short-staffed team. We expected that and they gave us everything that we could handle. They checked, they did a lot of good things, but we were patient. We didn?t have to open things up, once we got to one we were patient enough to get to two. Penalty kill was good, we got one on the power play. Not pretty again, but [it?s] a win and that seems to be a theme going on with our team. We?re checking our way to wins right now and we?ll take it.
On Jonathan Quick?s performance and influence on the team
There?s four players left from the championship years and it?s interesting to see how it works. I really believe that the younger players want to play for those older players and Quickie is one of them. They really want to compete for him and he?s been outstanding. He hasn?t wavered at all, he doesn?t want to give up his place in the lineup, and we don?t expect him to. It?s forced Cal to play well. Anytime we can get that from within our team, in an 82-game season, we don?t know what we?re going to finish with, but we certainly need both of them.
On how the team has overcome injuries and protocol to have the run
I think at first we were stunned, when we lost Drew and Walks in particular, within three periods of play. I think it affected our group, like what are we going to do now? It took us a little while to get through it and then we realized we have players that can play and we needed to play a certain way to some success. We?ve been able to repeat that night after night. We?re looking forward to getting guys back, there are some forwards back in LA who are skating now, coming out of protocol, and they?ll help us get better, but getting through what just happened to us [is good].
On Mikey Anderson?s play tonight
Him and Toby, analytics are showing us that they?re a really good pair together, and their play is showing us that too. He was assertive. He?s always assertive defensively, but he jumped into the play, had some real good looks at the net, broke some plays up. He had a real good night.
On Alex Edler?s presence and impact on the young defensive core
Huge. I can?t say enough about him, he doesn?t get talked about a lot. He?s a real stabilizing factor back there, with his play but also with his presence. It gets a little nervy back there sometimes, he?s there to calm us down. I think that Toby looks to him a little bit, obviously there?s a Swedish connection. The younger players look to him, he?s played in every situation, so they have tremendous respect for him.


​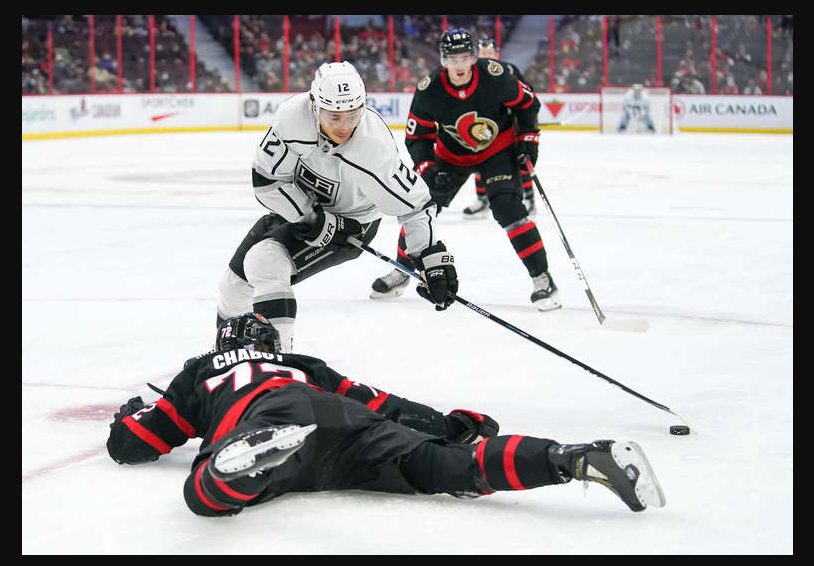 Subject To Change
FORWARDS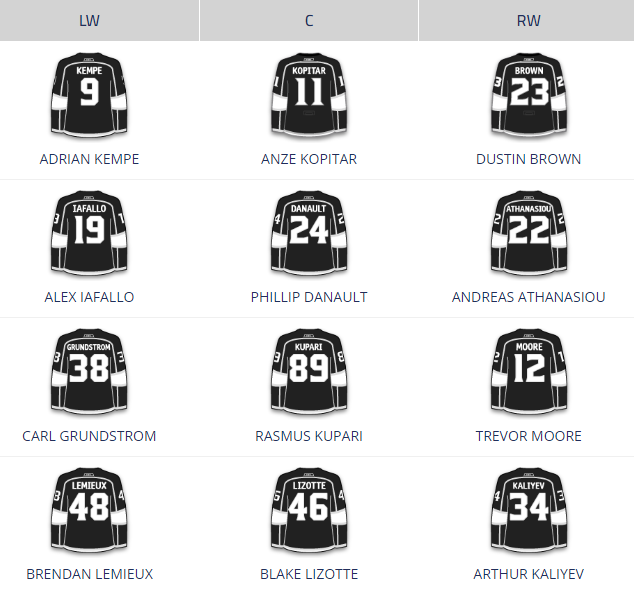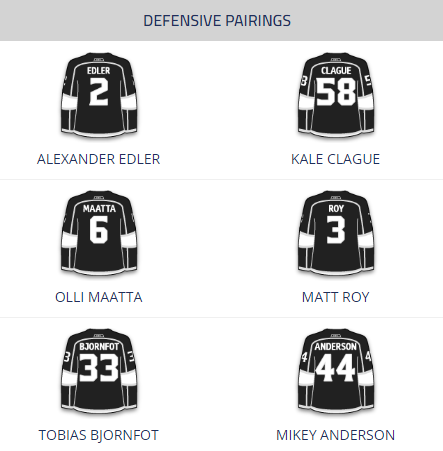 Kings Injuries
Lias Andersson
Victor Arvidsson (Covid Protocol)
Quinton Byfield
Drew Doughty
Gabriel Vilardi (Covid Protocol)
Sean Walker
__________________________________________________
__________________________________________________
Jets Probable Lineup
courtesy of dailyfaceoff.com
FORWARDS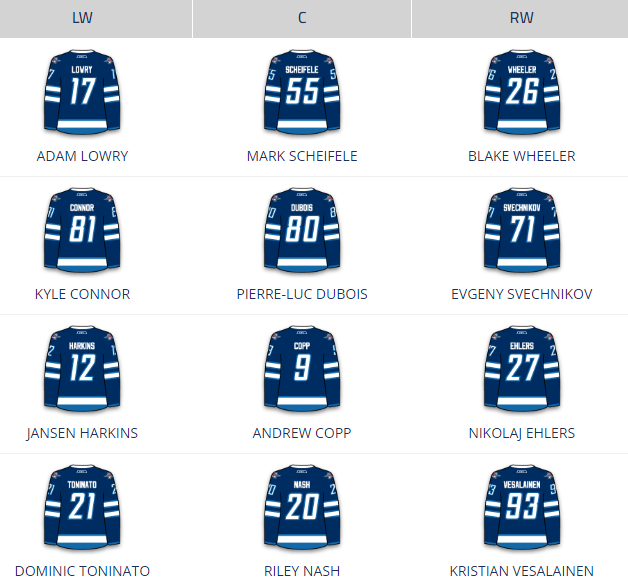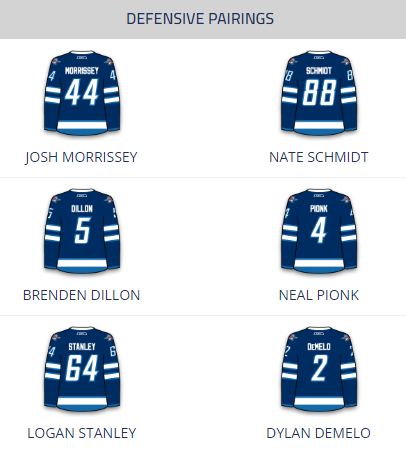 No Former Kings
_________________________________________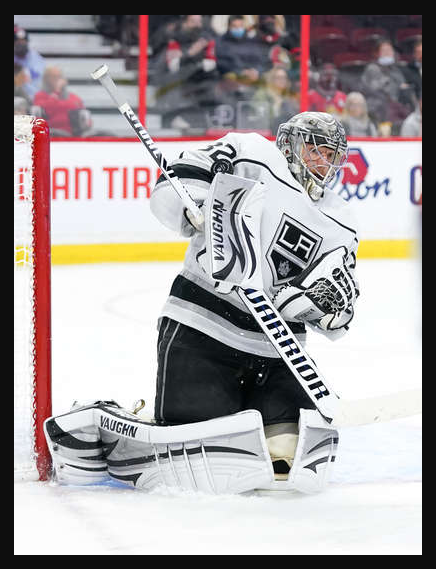 GOALIE STATS

PLAYER STATS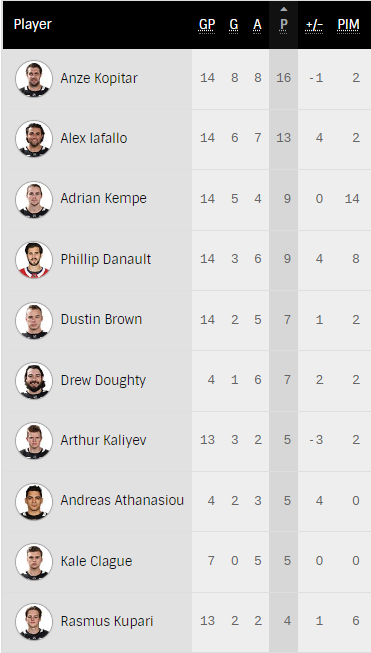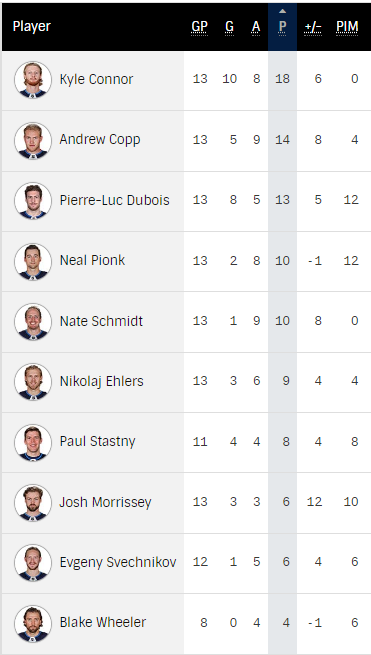 PACIFIC DIVISION STANDINGS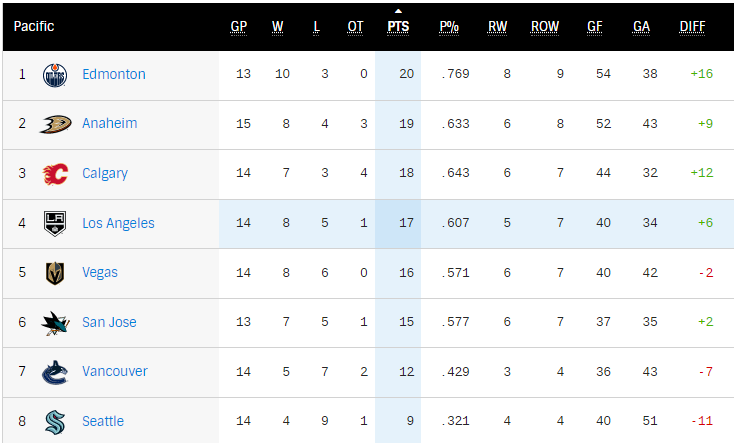 Tonight?s Poll Question:
At what time of the game will the FIRST KINGS GOAL be scored?
Use the min:sec of the __ Period format
you can take TWO guesses
+/-3 min = 1 point, +/- 2 min = 2 points, +/-1 min = 3 points
dead-on guess will get 5 points
Only your closest guess will count for points
Take your best guesses in your post below. The only prize is the glory of seeing your name in the next GDT if you get it right.
Previous Game?s Winners
Congratulations to the following posters who correctly within +/-2 saves by Quick for a total of 34
32,36 1 poin
t
pray4mojo
33,35 2 point
s
LeftyKing
CIrvine
jammer06
SirJW
34 dead on 3 points
Liz4LA - CONGRATS!!
Poll Win Totals
Kings Of The Mountain
with

10

points:
LeftyKing
Liz4LA
9 Points
Byron
pray4mojo
srm1105
VegasHockey
8 Points
Dr. Tran
Greg33
Rusty
7 Points
jammer06
Reg or Rog?
Shackelford
SirJW
6 Points
Hornman
JETS GARAGE
MaxwellSmart
notbob
Nyssa42
STONE
5 Points
AngelEyes
CIrvine
cokingsfan
Helvetica
John a90
KHenry14
Kurisu
Rogie-Vachon
4 Points
beady eye
Busted Chops
DRice
hokiecat
JayWells24
Randdog
Sonnyboy11
3 Points
beedee
Chateau Bow Wow
Sevenhole
Stone
TooCool
2 Points
Bill Hicks
Dannybuoy1
DRGinLBC
Ice24
kingrussell
1 Point
Dirtweazle
forum gold
Joe Laviguer
lurker
MBreeden
PuckMaster
rinkrat
RoS
Salami
Stormy2213
waynet
***Bet your karma in geogirl?s KARMA BETTING THREAD HERE***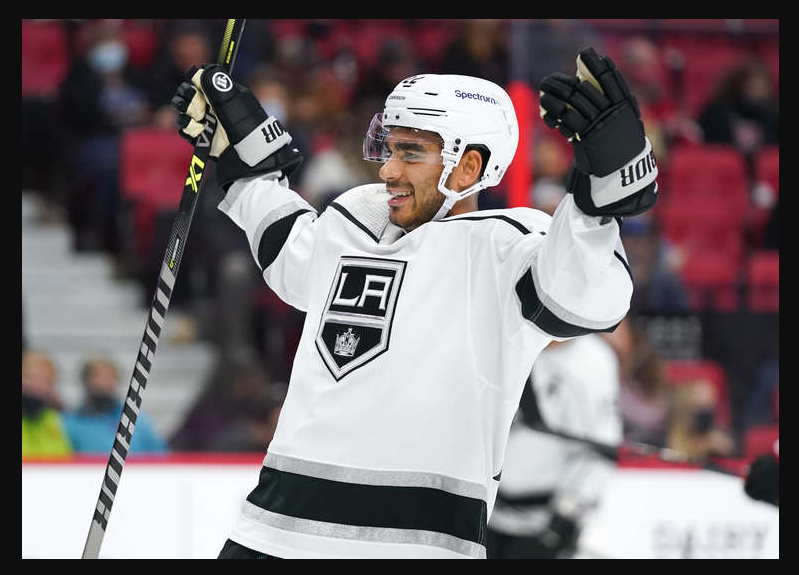 ________________________________________________
Photos courtesy of nhl.com/getty images​