jammer's overlord
Staff member
TEAM LGK
Joined

May 10, 2012
Messages

12,842
LGKash:

$550.00

Official Game Day Thread
Game #11/82 -- 11/05/21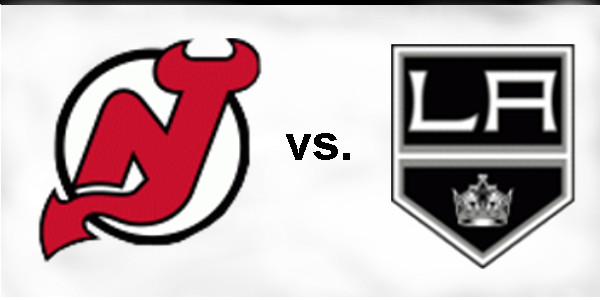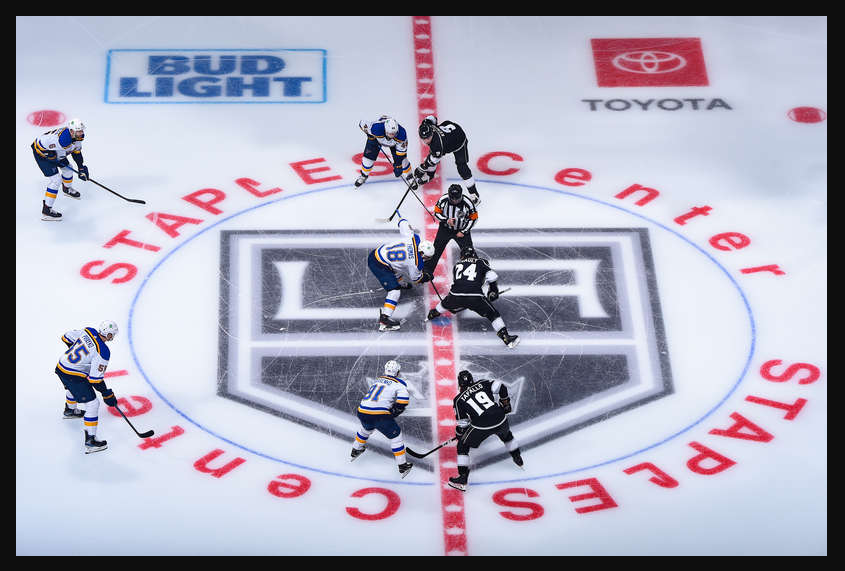 New Jersey Devils vs. Los Angeles Kings
at
Center | Los Angeles, CA
Salute to Service Presented by Belfor
**GAME TIME - 7:30 PM PST*
​

TV:

**ESPN+ & HULU**



Radio: LA Kings iHeartRadio app
Please remember,
DO NOT
post links to Live Game Streams in the GDT or anywhere else on LGK

Check out articles on LA Kings Insider Here
Adrian Kempe, Arthur Kaliyev & Todd McLellan 11/3/21 Post Game Quotes
​
Adrian Kempe
On what the team did well in the third period tonight
Against those guys, that?s the way we have to play. The first two periods, I think we did a pretty good job, but we didn?t really get a lot of chances in front of the net. If you look at the third period, we were throwing a lot more pucks there, getting more opportunities and ended up with a couple goals, it was good. They?re a hard team to play against, their special teams, their 5-on-5 game is really good. It took a while before we figured them out, but we came up with the win.
On the mood of the group following the late goal
Obviously that?s not what we wanted, we wanted to win it in the first 60 minutes, but we came down from being down 1-0 in the third period. We told each other on the bench, let?s keep going here and we?re going to get our chances in OT, if not we have good players to finish in the shootout. That was nice.
On what he felt the team did better tonight against St. Louis than in the games there
First of all, we didn?t kill as much as we did in those games, so that helped a lot. Overall, for 6[5] minutes, we played solid, we didn?t give up as much as we did in St. Louis. We looked at the chances they had against us when we played there and we minimized those for sure. They?re a good team, they?re going to get chances, but Quickie was standing on his head as usual. We had a good push in the last period, and that got us the two points.

Arthur Kaliyev
On which he felt was the better shot, the goal or the shootout goal
I don?t know, probably regulation, maybe. It was an important goal too, to tie it, and it was up high [below] the crossbar.
On if scoring in regulation gave him confidence in the shootout
Yeah, a little bit. It?s always nice to get one in the game, but I think you always try to show confidence in the shootout. See what the goalie does, and it worked out well.
On his goal in regulation
I was trying to get speed, I saw an opening in the middle of the ice. I saw Claguer had the puck and I was trying to get as much speed as possible, I saw an opening and I had a chance to shoot it. I was lucky enough to have it go in.

Todd McLellan
On if there was a more excruciating way to earn two points than that game
You?re only talking about the last 30 seconds, let?s go through the game and then I?ll answer the question. Tight checking, not a lot going on either way, not a lot of chances created. Frustration in losing a draw seven seconds into a penalty kill and the rebound comes out and now we?re down by one. They?re playing the game they normally play, tight-checking, and then we come back and we play in the third. We had nothing to lose, we play hard, and now we?re going to go to what I think what you?re talking about, those last few seconds. The last two [games] we?ve had veteran players that have had the puck on their tape, heading towards an empty net, and it didn?t work for us. The other night, Brownie threw it into the middle, tonight it didn?t work with Kopi and it came back and cost us. Even the goal, I don?t know what we would do on it. It hits Quickie, it bounces, it goes over a few people, it goes off Kopi?s foot and it?s in our net. Where was the mistake made? Probably not hitting the open net.
On if he felt the tide started to turn in the third period
I really think that between the second and third, we had to decide if we were going to let frustration sink in for another period, or if we were going to try and play through it. I don?t think anybody in our locker room gave the other team enough credit for how well they check. They?re in first place in the Central Division, they?ve got the top penalty kill and power play, or the top two, they check as well as anybody in the league, they?ve got elite goaltending, so why wouldn?t it be a 1-0 game. If anybody thought it was going to be a 6-5 game, that would have been the mistake. The adjustment wasn?t how we were playing, but how we were playing between our ears. Clean it out a little bit and let?s go.
On the shifts of the Moore line, in advance of the goal
You could feel it a little bit. I don?t know what it felt like watching it in whatever section you were in, but on the bench, you could feel a little bit of momentum coming our way, and that wasn?t really there all night. I?m not sure that it was there for their team either, it was just the type of game that was being played. A little bit of cat and mouse both ways, but you could feel it start to turn in our favor at that point.
On the group?s resiliency and what the team is showing with three straight wins
Yes, resiliency is a good word, but I didn?t think we were that bad when we lost. We were bad in St. Louis. Four power-play goals and a shortie, that?s a bad night. We were good in Dallas, we were okay in Nashville, we were close in Nashville. I think we deserved to win in Dallas, but they found a way to comeback. The second night in St. Louis, 3-0 game, it?s like tonight, it really is. It?s back and forth and they capitalized on an individual mistake to get the first one, they block a shot with four minutes left in the game when we?ve got to open it up and gamble a little bit and they got an empty netter. We played just as well that night as we did tonight, so coming home, I didn?t think we were a 1-5-1 team, or whatever our record was when we came home. We also played seven of our ten games against Central Division teams, and top-end teams, we?re trying to get up in their weight class. We?ve got to take all of that into consideration, but the resiliency to overcome the injuries, yes.
​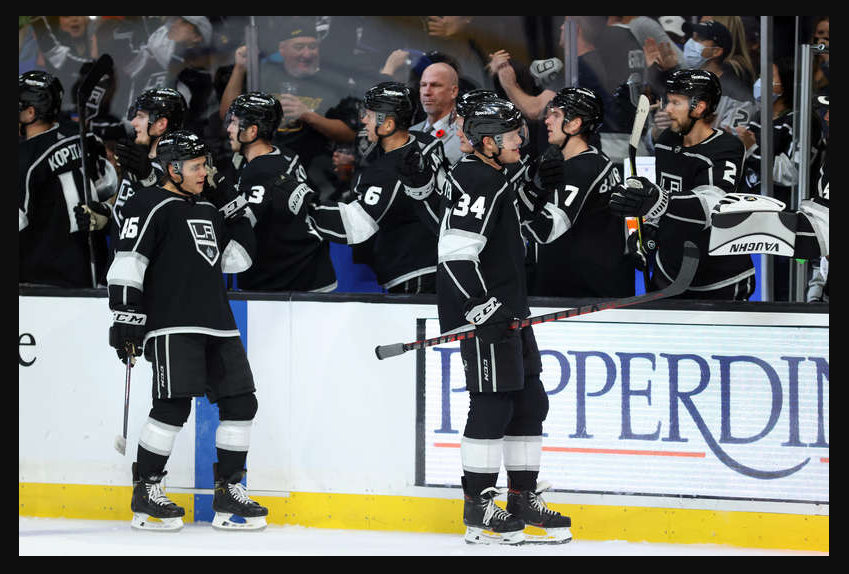 Subject To Change
FORWARDS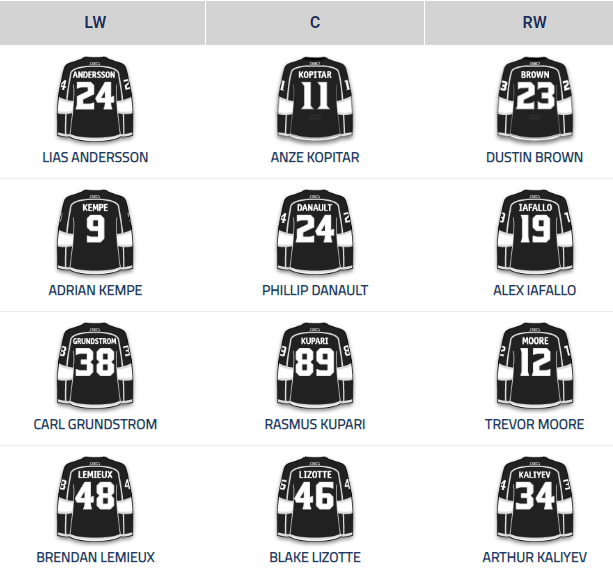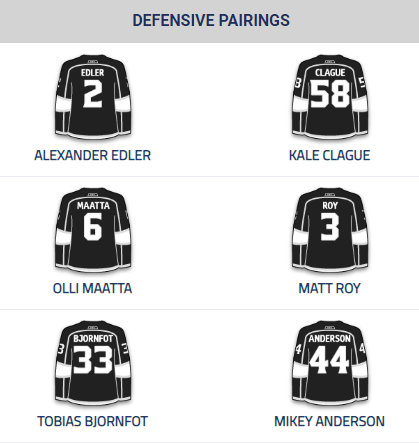 Kings Injuries
Lias Andersson
Victor Arvidsson (Covid Protocol)
Andreas Athanasiou
Quinton Byfield
Drew Doughty
Gabriel Vilardi (Covid Protocol)
Sean Walker
__________________________________________________
__________________________________________________
Devils Probable Lineup
courtesy of dailyfaceoff.com
FORWARDS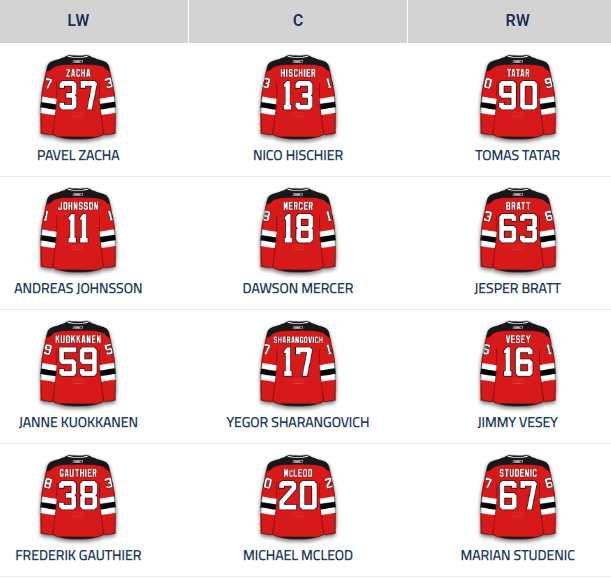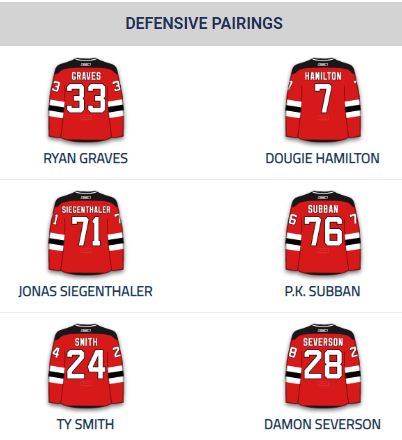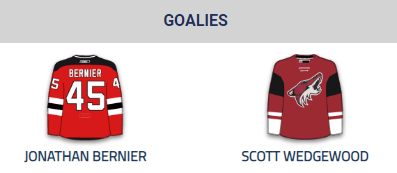 Former King
Jonathan Bernier

_________________________________________
GOALIE STATS


PLAYER STATS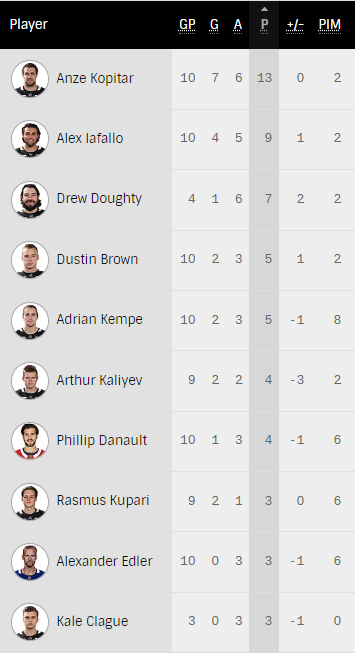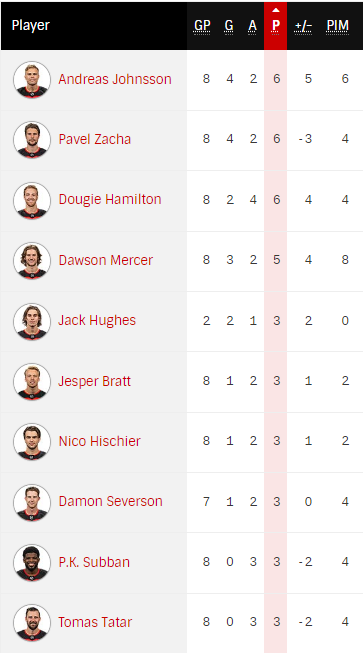 PACIFIC DIVISION STANDINGS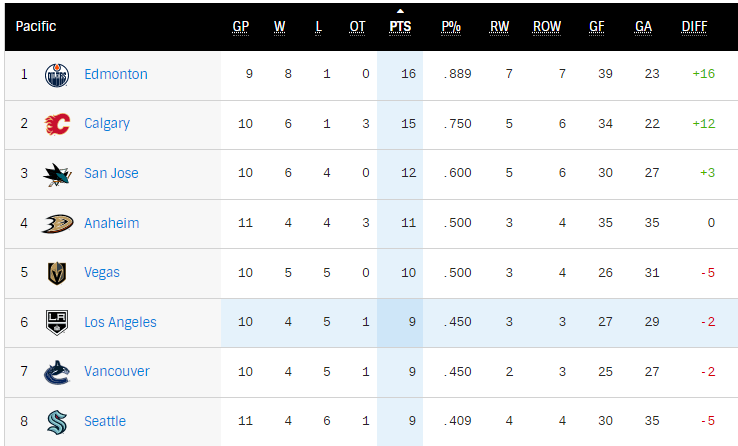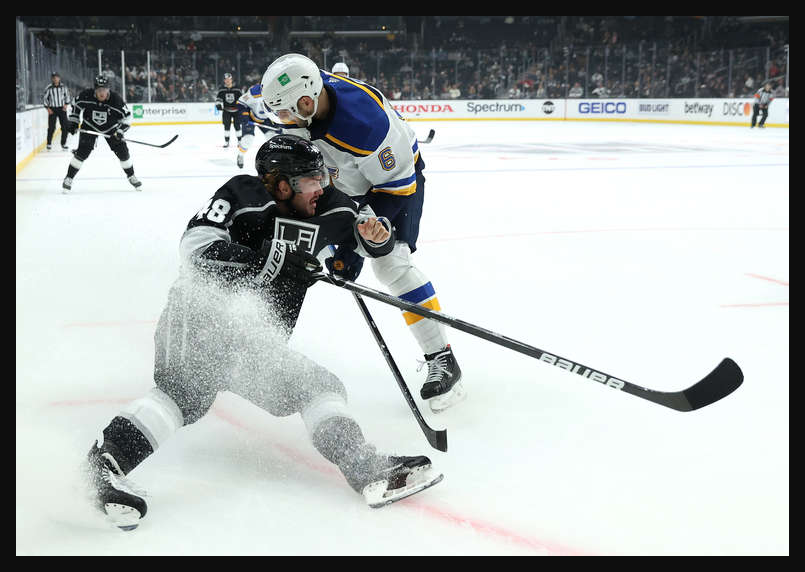 Tonight?s Poll Question:
Let?s do a 2 parter before the Kings hit the road:
Part 1 - In which period is tonight?s Game Winning Goal going to be scored? 1,2,3,OT,SO

Part 2 - Which Kings player is going to take the LAST PENALTY before the road trip?
You can take 3 guesses & 1 can be ?there will be no individual penalties taken in tonight?s game by the Kings?
BENCH MINOR WILL NOT COUNT. Only a penalty by an individual player.
Take your best guesses in your post below. The only prize is the glory of seeing your name in the next GDT if you get it right.
Previous Game?s Winners
Congratulations to the following posters who correctly guessed the GWG would be scored by Kaliev
Reg or Rog?
VegasHockey
notbob
KHenry14
randdog
pray4mojo
Shackleford
Rogie-Vachon
Sevenhole
hokiecat
Dr. Tran
Poll Win Totals
King Of The Mountain
with

8

points:
srm1105
7 Points
Byron
Dr. Tran
Pray4mojo
VegasHockey
6 Points
Hornman
Liz4LA
MaxwellSmart
Reg or Rog?
Rusty
5 Points
LeftyKing
STONE
4 Points
Busted Chops
cokingsfan
Greg33
John a90
KHenry14
Kurisu
Rogie-Vachon
Shackelford
SirJW
3 Points
AngelEyes
beady eye
Chateau Bow Wow
Helvetica
Hokiecat
jammer06
JayWells24
notbob
Nyssa42
Randdog
Sonnyboy11
Stone
TooCool
2 Points
Bill Hicks
CIrvine
Dannybuoy1
DRGinLBC
DRice
Ice24
JETS GARAGE
Sevenhole
1 Point
Beedee
Dirtweazle
kingrussell
lurker
MBreeden
PuckMaster
rinkrat
RoS
Salami
Stormy2213
waynet
***Bet your karma in geogirl?s KARMA BETTING THREAD HERE***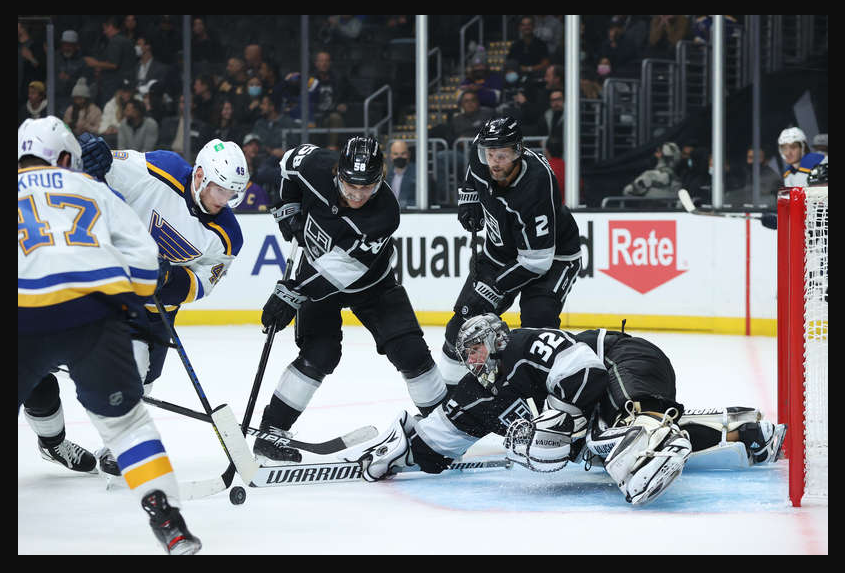 ________________________________________________
Photos courtesy of nhl.com/getty images​