jammer's overlord
Staff member
TEAM LGK
Joined

May 10, 2012
Messages

12,814
LGKash:

$450.00

Game Day Thread
Game #53/82 -- 2/26/22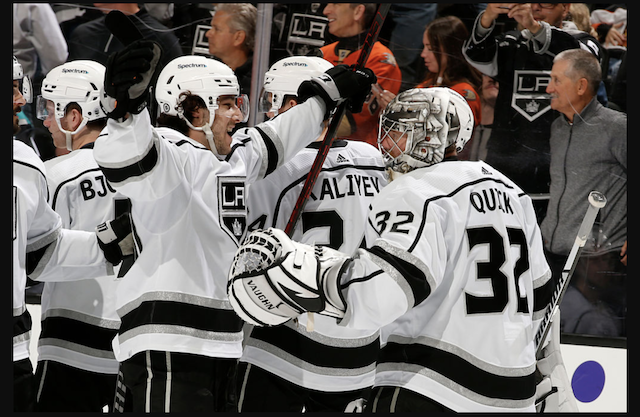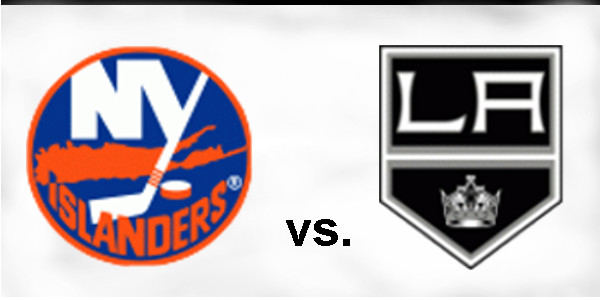 New York Islanders vs. LA Kings
at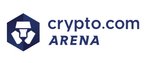 | Los Angeles, CA
Star Wars Night
Giveaway: Beanie
Previous Meeting
1/27/22 -
Kings 3,
Islanders 2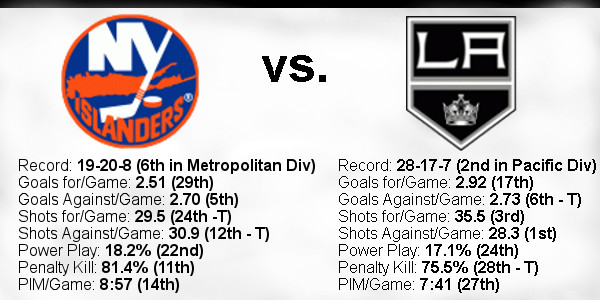 TV:

**BSW**



Radio: LA Kings iHeartRadio app
Please remember,
DO NOT
post links to Live Game Streams in the GDT or anywhere else on LGK

Check out articles on LA Kings Insider Here
Adrian Kempe & Trent Yawney 2/25/22 Post Game Quotes
Adrian Kempe
On what?s going so well for the team right now offensively
Overall, our 5-on-5 game has been good the entire time and special teams is starting to be better too, that gives us confidence. We get one on the power play, it gives us confidence going into 5-on-5 and you feel better too, that helps a lot. The team is playing really good, every line is playing good, we?re all on the same page with forechecks, the way we want to play in the d-zone, stuff like that. It builds confidence in the team and I feel like every line is playing good right now and it?s a good thing we can produce because that?s why we?re out there.
On improvements on special teams over the last five games
It?s great, it can win games some nights. As I said, it gives momentum and confidence, not just for special teams but at 5-on-5 too. We were relying on our 5-on-5 play and it?s been good enough to win us games, when special teams haven?t been good enough. I feel like the last couple of games, we?ve taken some good steps in the right direction, scored a few goals on the power play, moved the puck a lot quicker, shot a lot more. That helps. When you get a goal, you feel the momentum, you feel better next game and not frustrated. PK, I feel like it?s been good all year, been unlucky a times. A couple of goals in the back of our net, but lately, a little bit more aggressive and that?s been helping us a lot too. The battle between pressure and not pressure, it?s been good.
On moving into second place with a win over a rival
It?s big. We haven?t played these guys in a while. Going back to last game against Arizona, we felt like we needed to play a lot better to beat [Anaheim], I feel like they?re a better team, they?re in the playoff hunt too. We had to be on our toes right away and we did a good job of that. For the rest of the season, every game is going to be huge, we can?t relax now. We?re in a good spot right now and we can?t fall off, it?s going to be important games.
On the crowd tonight, including a large showing of Kings fans
Yeah, we heard them there were a lot of Kings fans, it was very nice to hear. I feel like, whenever we play here, or in LA, there?s always a good mix, it?s a good rivalry and it?s fun to play in front of.

Trent Yawney
On how things transpired today, with McLellan testing positive and him taking over as head coach
We actually didn?t know until we got to the game. Todd had said he wasn?t feeling that great, talked to the medical people, and [Chris Kingsley] said he should get tested, and he tested positive. We were going through our regular pre-game preparation and knock on the door, come with me, seen that movie before. We had to adjust a little bit and everybody had a hand in it.
On his conversations with McLellan after finding out the news
For three years, it?s been a collective effort. If you were ever behind the scenes with our staff ? [Todd] is the head guy and when we leave the room it?s his voice ? but he gives us a lot of leeway. He wants our opinions and it was no different even tonight, as we were preparing. What you saw on the ice was pretty much what we?ve been doing for three years. They probably didn?t need anybody behind the bench tonight, in terms of the magnitude of the game at this time of the season, rivalry, that kind of stuff. They played very, very well, it was nice to see them have success.
On if the Grundstrom lineup change was predetermined, or made after
That was predetermined. I thought Grunny was really good, I thought Q and that line was really solid for us. Grunny, he plays a really North-South game and is physical. I thought that was pretty evident tonight and good for him, he?s been working really hard in practice, waiting for his opportunity. I thought he added to the line and having said that, I thought all four lines had an impact on the game.
On the overall improvements on special teams since the All-Star break
I think that our PP, when we have motion, we?re moving around and they?re interchangeable parts, it becomes much harder to defend. I think the goal was pretty evident of that, Kopi was low, Juice was high, and we?ve pounded away at that, Todd and Marco have, of getting a little bit more movement. The last couple of games, they?ve been rewarded with it and hopefully that will continue. The penalty kill, for the most part, I know statistically it hasn?t been great, but at the same time, we needed to get a little bit more aggressive in some areas and at the right time. We were doing some good things?we got four goals scored against us in St. Louis and as long as I?ve been in the league, you?re not recovering from that. The guys have done a great job with it, they?ve pressured together at the right times, it?s been good.
On the younger players learning from the veterans
We?re fortunate with our young players. On D, they get to watch Drew, they see a guy who, what hasn?t he done in his career, and he?s really, really good with the young guys. Up front, Phil and Kopi down the middle, they play the game the right way, they don?t cheat the game and that?s probably the best coaching you can provide your young players. The best coaching you can provide your young players is watching those players perform on a nightly basis. Q gets to see that, where he?s at in his career, like I said, I don?t think there?s any better coaching than that.
On Jonathan Quick tonight and getting his 350th career win
That?s outstanding. That?s quite a milestone, that?s kind of lost maybe in the win, but I thought he was great. Quickie, when he?s put in those situations where someone needs to rise up, he doesn?t get enough credit for his leadership qualities, because of his position. He was there in terms of providing that, you saw it in the second period in that scrum. He?s fiery and gave us a chance. He made some huge saves.
​


Subject To Change
FORWARDS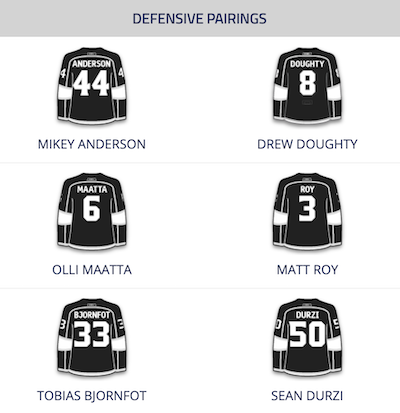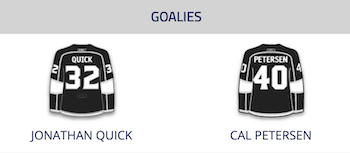 Kings Injuries
Alexander Edler (LTIR)
Sean Walker (LTIR)
Christian Wolanin (CP)
__________________________________________________
__________________________________________________
Islanders Probable Lineup
courtesy of dailyfaceoff.com
FORWARDS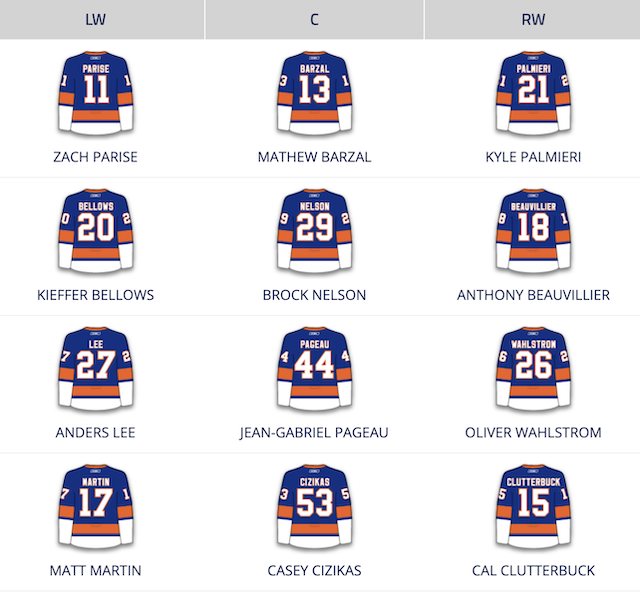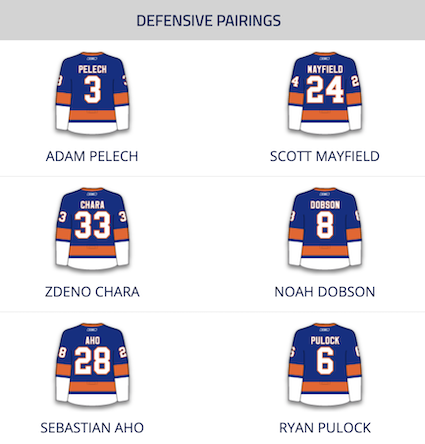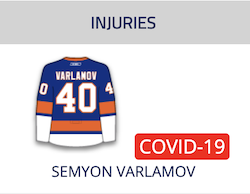 NO Former Kings
________________________________________________
_________________________________________________
GOALIE STATS


PLAYER STATS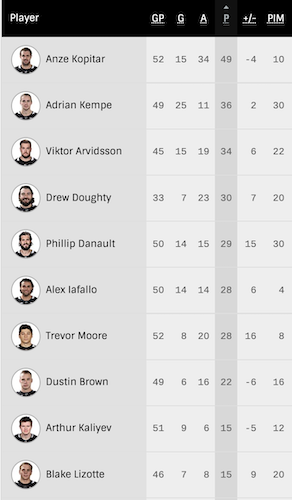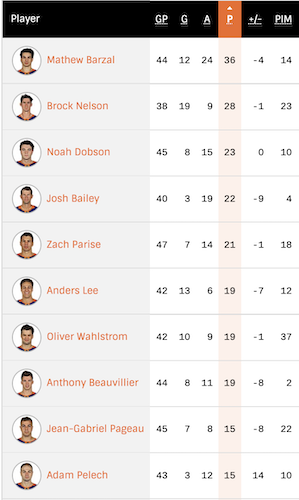 PACIFIC DIVISION STANDINGS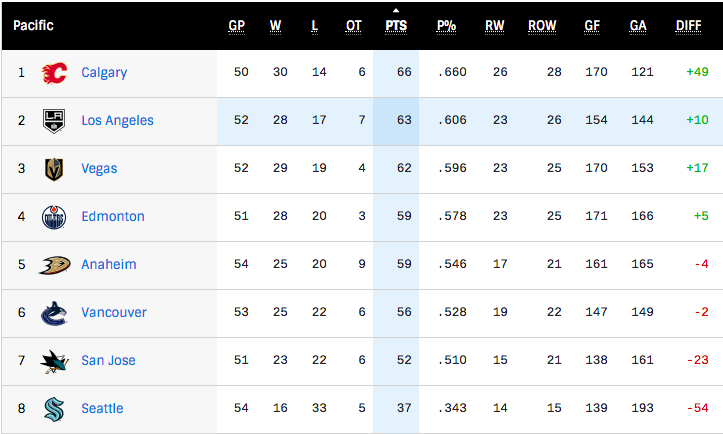 Tonight?s Poll Question:
Part 1 - The last time the Kings played the Islanders, it was Drew Doughty?s 1,000th game. How many points will be scored by ALL KINGS D-MEN in tonight?s game?
You can take 2 guesses

Part 2 - What will be the FINAL SCORE of the game?
(doesn?t matter who wins, just the score)
You can take 2 guesses

Previous Game?s Winners
15:31-16:31 (3 points)
notbob
15:01-17:01 (2 points)
STONE
14:31-17:31 (1 point)
hokiecat
14:30 *I?m giving these 2 a bonus point for being loyal players of the game
Rogie-Vachon
sonnyboy11
Poll Win Totals
King Of The Mountain
with

39

points:
srm1105
37 Points
Reg or Rog?
36 Points
35 Points
Rusty
VegasHockey
34 Points
pray4mojo
33 Points
32 Points
LeftyKing
notbob
31 Points
AngelEyes
Helvetica
John a90
Sonnyboy11
30 Points
Chateau Bow Wow
Kurisu
Liz4LA
29 Points
Dr. Tran
hornman
28 Points
DRice
hokiecat
27 Points
26 Points
25 Points
jammer06
KHenry14
kingrussell
24 Points
Busted Chops
23 Points
Bill Hicks
Byron
STONE
22 Points
Nyssa42
21 Points
CIrvine
20 Points
dannybuoy1
JayWells24
Shackleford
19 Points
Sevenhole
SirJW
18 Points
empire
TooCool
17 Points
16 Points
Rogie-Vachon
15 Points
14 Points
Clif
cokingsfan
forum gold
13 Points
PuckMaster
12 Points
Dirtweazle
randdog
11 Points
DRGinLBC
Greg33
JETS GARAGE
kopinator
10 Points
beady eye
beedee
9 Points
8 Points
7 Points
MaxwellSmart
6 Points
5 Points
waynet
4 Points
Joe Laviguer
3 Points
2 Points
Ice24
rinkrat
1 Point
kingsmen93
lurker
MBreeden
RoS
Salami
Stormy2213
***Bet your karma in geogirl?s KARMA BETTING THREAD HERE***

________________________________________________
Photos courtesy of Rinkrat/LetsGoKings.com​