jammer's overlord
Staff member
TEAM LGK
Joined

May 10, 2012
Messages

12,768
LGKash:

$450.00

Game Day Thread
Game #20/82 -- 11/27/21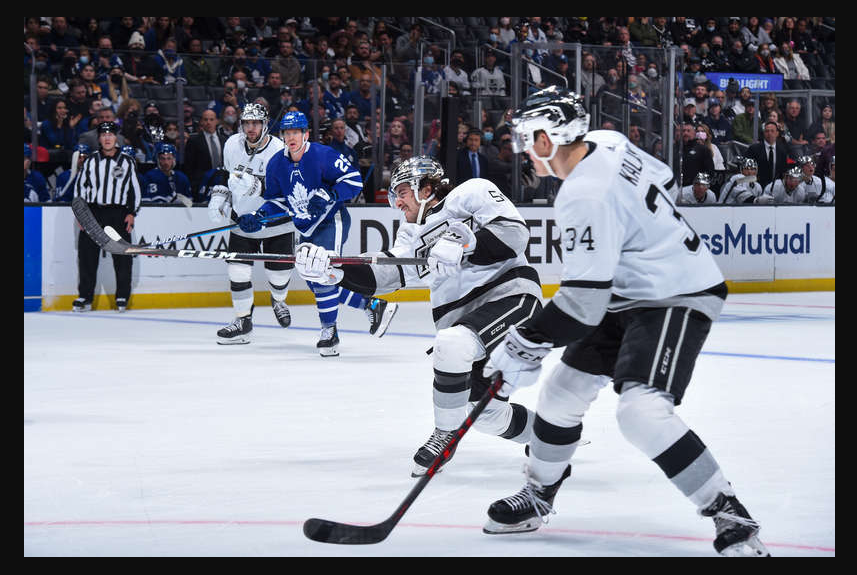 Ottawa Senators vs. Los Angeles Kings
at
Center | Los Angeles, CA
Family Day - Kid's Giveaway - Fidget Popper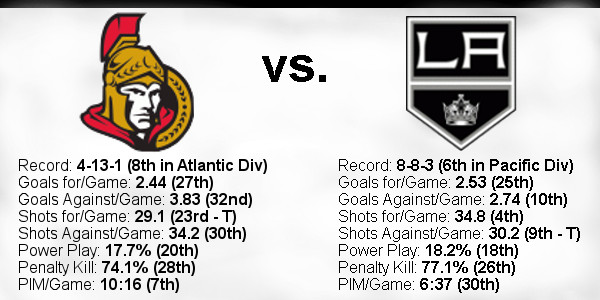 Previous Meeting:
11/11/21 --
Kings 2
, Senators 0
**GAME TIME - 4:00 PM <<Early Start**
​

TV:

**BSW**



Radio: LA Kings iHeartRadio app
Please remember,
DO NOT
post links to Live Game Streams in the GDT or anywhere else on LGK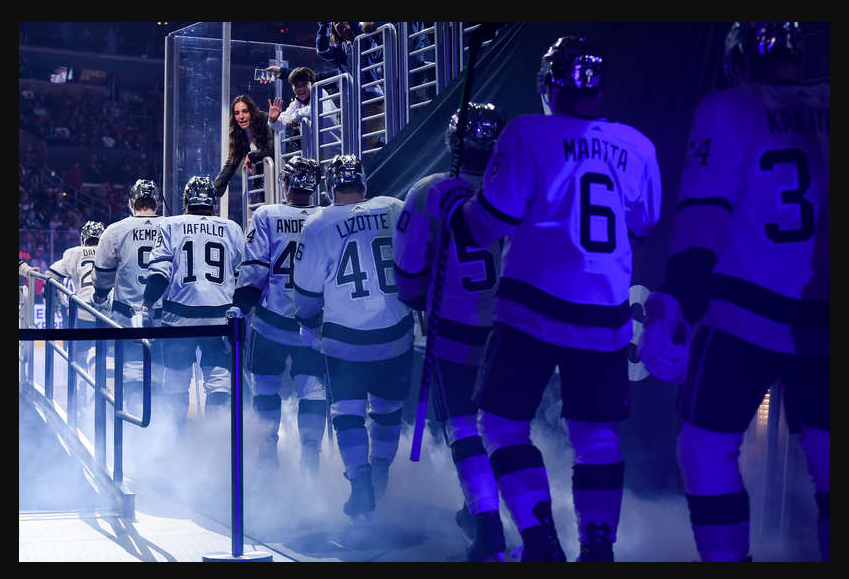 Check out articles on LA Kings Insider Here
Sean Durzi & Todd McLellan 11/24/21 Post Game Quotes
​
Sean Durzi
On the emotions of his NHL debut and his first career NHL goal
Yeah, it was nice. Obviously garbage time in the hockey game, but to get it out of the way was good. I thought there was a lot to clean up, but it's a good feeling.
On having his family in attendance for a special night
Yeah, it was awesome. It was kind of last minute, mom made her way from the Dominican Republic, but it was special to have them here. They've gone through a lot with me, my biggest support group. My girlfriend was here too, that was great. It was nice to have them here.
On handling the nerves coming into today
The team was really good about it throughout the day. Lemieux actually sat down with me before the game, said a couple nice words, which I thought really calmed me down a little bit. It's a great group. Not the result we wanted, especially for my first game, but I thought a lot of the guys, especially the leaders, Kopi, Brownie, I could say a lot of names on the list. The team was really good about it and made it as easy as possible for me.
On how he felt on the power play
Good, there's a lot of great players on that power-play unit. I was lucky enough to get that first shift with them, and I tried to make the most of it. You talk about the hockey IQ on that unit, the skill, everything. I felt good with the extra man, it went well there.
On what he felt went wrong for the Kings during the second period
I thought they were a really good transition hockey team, a lot of skill, speed coming from different areas and it showed. For myself, it felt like a fast hockey team and obviously in my first game, I knew it was going to feel like that, and even a little bit faster than I expected. Puck management in the neutral zone probably wasn't the best, a lot to clean up there. Just managing pucks, getting them in, maybe a little bit more communication.

Todd McLellan
On if tonight's result was a one-off, or if things he didn't like from other losses were just amplified today
Well, let's hope it's a one-off, we won't know until we play the next, but tonight was obviously not a good night for us. I thought that one team skated like they were on top of the ice, smooth and fast, and another team just sloshed through the slush. We were slow, when we were quick to make decisions we had poor execution, we weren't together. It just wasn't a good night against a real good hockey team and that's what happens.
On Jonathan Quick tonight
Not one bit on Quickie. In fact, we'd probably be talking about a lot of other goals if it wasn't for Quickie, so not even remotely close on the goaltender tonight.
On Sean Durzi's play toinght
I thought Durz did what he was supposed to do offensively, he was real good on the power play. Obviously, what a great night for him to remember from an individual perspective, a goal and an assist on the power play, but he didn't get what he wanted maybe team-wise. Tough game to play, when the team is not good around you in your first one and you're playing against a real good club that can move the puck around a lot. We liked what we saw, we're going to keep working with him and make sure that he improves as time goes on. Real good start.
On the moment with Durzi scoring his first career NHL goal
Unfortunately for Durz, the emotional component to his goal was minimal, because of when it happened and the score of the game. I'll give our guys credit, they were all excited for him, they were, the bench was all standing, guys were excited, but it would've been so much better for him as an individual if it was 3-2 or whatever it might be. Really happy for him, we all are, but the emotional investment into the goal wasn't as great as it could have been.
On if he saw any positives to the changes he made during the third period
Hard to evaluate them, we were just trying to find some legs for guys that didn't have legs, that were moving slowly and really sloshing around out there. We mixed things up to find a little bit of energy for a period. We'll look at it, there may be some things there that we can continue on with. We just wanted to find our team game again, I'm not sure that we did that. We tried something, we'll see.

​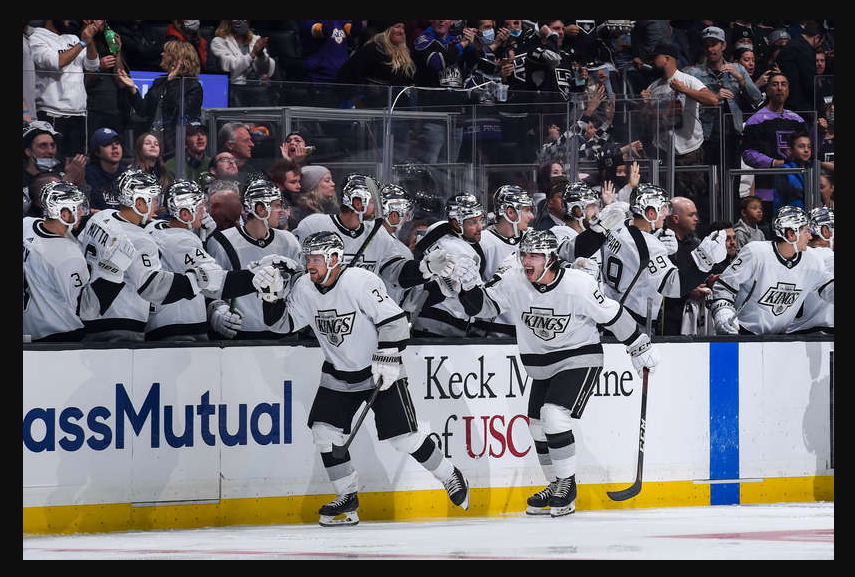 Subject To Change
FORWARDS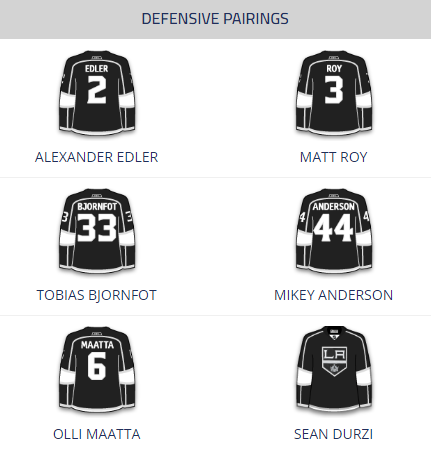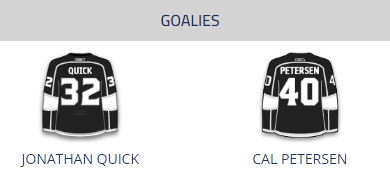 Kings Injuries
Andrea Athanasiou - (covid protocol)
Quinton Byfield
Drew Doughty
Sean Walker
__________________________________________________
__________________________________________________
Senators Probable Lineup
courtesy of dailyfaceoff.com
FORWARDS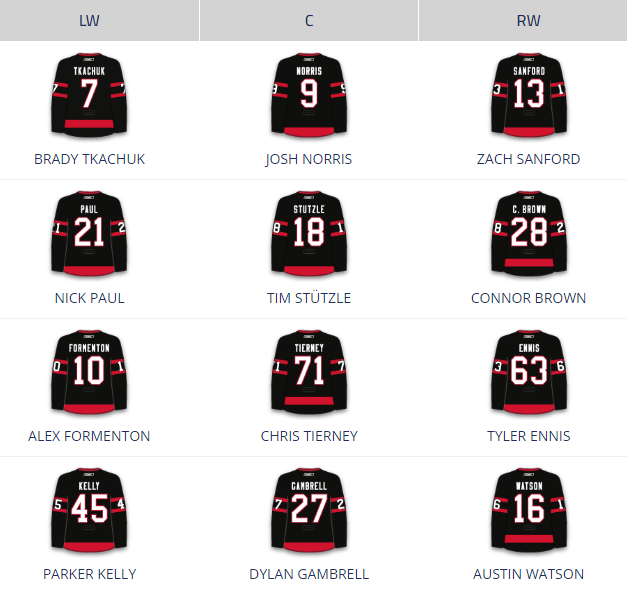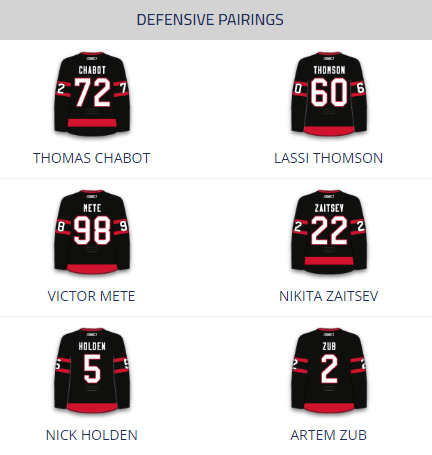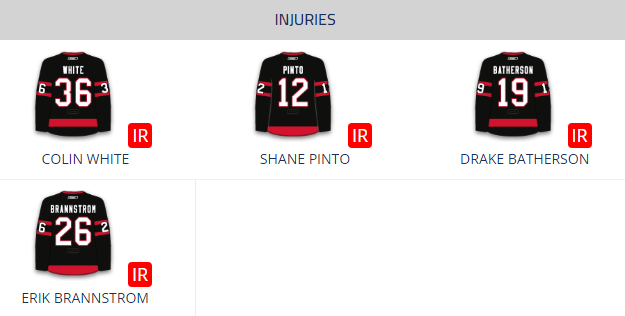 NO Former Kings
________________________________________________
_________________________________________________
GOALIE STATS


PLAYER STATS
PACIFIC DIVISION STANDINGS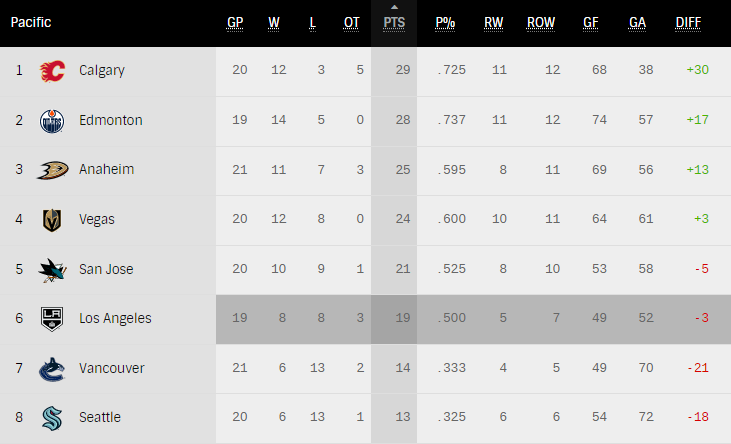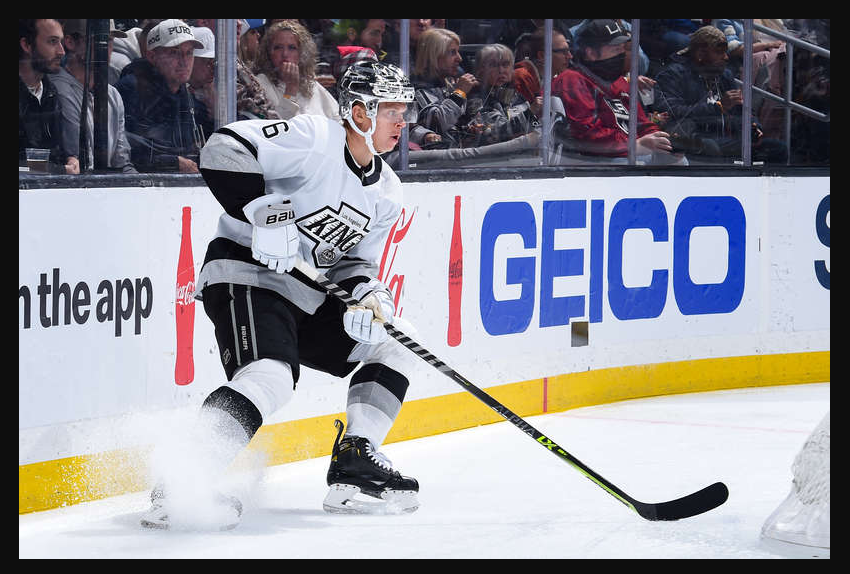 Tonight's Poll Question: The Senators have the worst Goals Against Average in the league, and there is a rumor that Matt Murray is going to be placed on waivers.
How many SAVES will the SENATORS GOALIE make tonight?
You can take 2 guesses
+/-2 = 1 point, +/-1=2 points, dead on = 3 point
Previous Game's Winners Congratulations to the following posters who correctly guessed the first Kings goal in the previous game would be scored by Arvidsson.

Only

beady eye

guessed that Kerfoot would score first for the Maple Leafs:

Kurisu

Dr. Tran

notbob

kopinator

AngelEyes

John a90

pray4mojo

randdog

Greg33

Poll Win Totals Kings Of The Mountain
with

16

points:

srm1105

15 Points

pray4mojo

14 Points

LeftyKing

notbob

Rusty

13 Points

Dr. Tran

John a90

Liz4LA

12 Points 11 Points

Hornman

VegasHockey

10 Points

Chateau Bow Wow

Greg33

Reg or Rog?

Sonnyboy11

9 Points

AngelEyes

Busted Chops

Byron

jammer06

Nyssa42

8 Points

beady eye

Kurisu

Randdog

Shackelford

SirJW

7 Points

DRice

KHenry14

MaxwellSmart

TooCool

6 Points

Helvetica

JETS GARAGE

kingrussell

STONE

5 Points

CIrvine

cokingsfan

DRGinLBC

hokiecat

JayWells24

Rogie-Vachon

Sevenhole

4 Points

Dannybuoy1

empire

Joe Laviguer

3 Points

beedee

Bill Hicks

Stone

2 Points

forum gold

Ice24

kopinator

1 Point

Dirtweazle

lurker

MBreeden

PuckMaster

rinkrat

RoS

Salami

Stormy2213

waynet

***Bet your karma in geogirl's KARMA BETTING THREAD HERE***
________________________________________________
Photos courtesy of nhl.com/getty images​
Last edited: