They see me rollin'. They hatin'.
Staff member
Joined

Jul 28, 2004
Messages

129,731
LGKash:

$500.00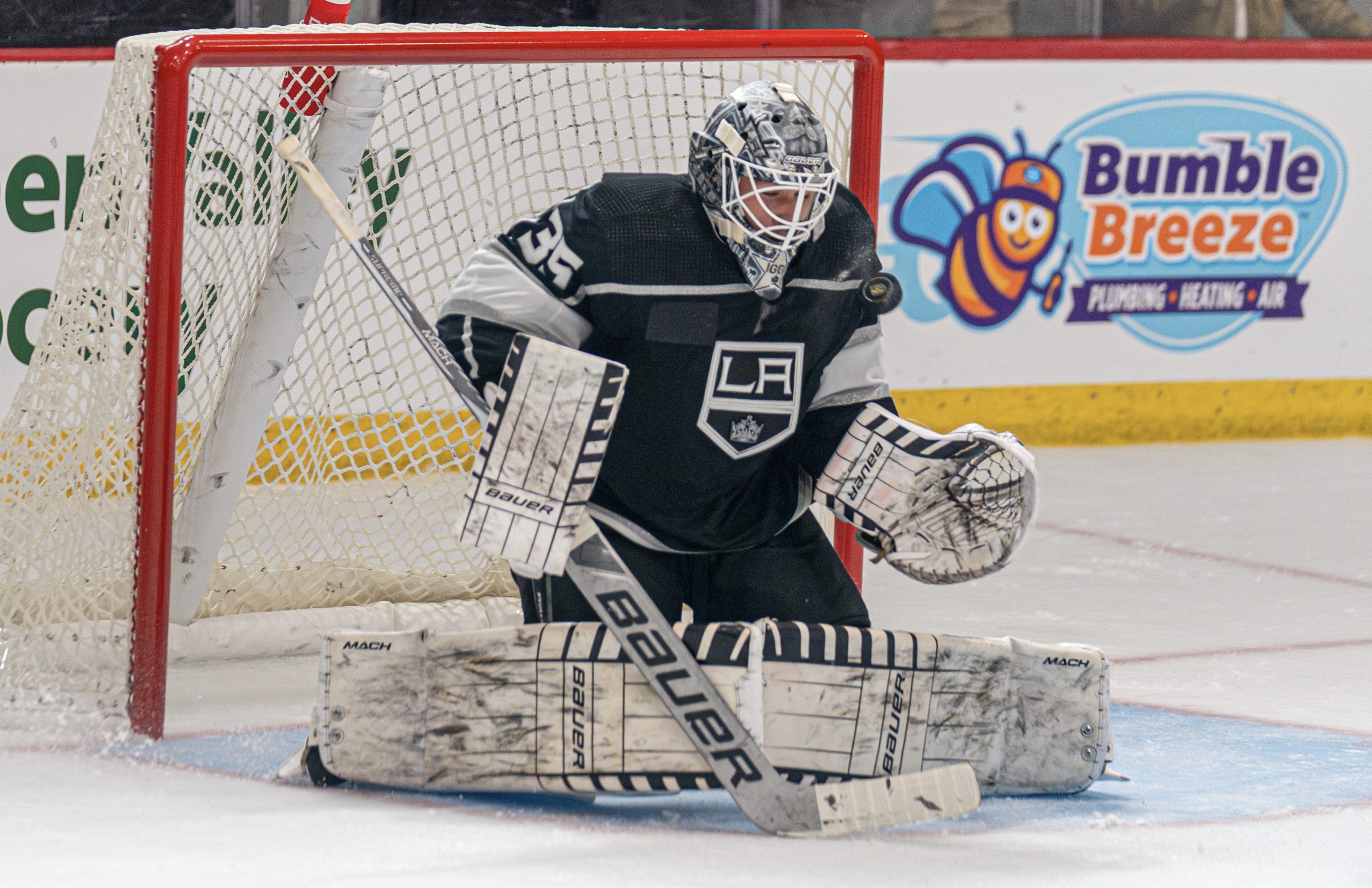 To set the table for Saturday afternoon, let's take a quick look back at Friday's opening game of the 2023 NHL Rookie Faceoff. In brief, there were four distinct chapters to that story. For the opening 30-ish minutes, Kings goalie Jacob Ingham was putting on a show, making more than 25 saves and looking rather impressive in his first official hockey since back surgery one year ago. Chapter two came after he left the contest. Former college netminder Erik Portillo took over between the pipes and a 2-1 LA lead turned into a 3-2 San Jose advantage. With just over a minute remaining regulation, Alex Laferriere tied things up to force overtime. LA eventually lost 4-3 in a shootout.
More notes from that game can be found here:
Turning the page toward today's contest, it sounds like coach Marco Sturm will be giving Laferriere and his two linemates (Andre Lee and Frankie Pinelli) a rest. That will allow a few of the other camp invitees to slide in at forward. These roster changes are nothing to be alarmed about. The rough plan coming into the tournament was to have each player suit up for two games. Thus, the expectation is that strong trio from Game 1 will return for the finale on Monday.
On defense, we're also expecting to see Kim Nousiainen draw in for his first appearance this year.
Want to get all your feels going? How about this:

Pictured below is a young Easton Armstrong watching his dad Derek back when he played for the

@LAKings

.

Next hour, Easton is going to suit up for the Kings at the NHL Rookie Tournament in Las Vegas.

Full lineup on MM shortly.

pic.twitter.com/rABSAPmFC4

— The Mayor | Team MM (@mayorNHL)

September 16, 2023
Kings Projected Lineup vs. Coyotes:​
Game 2 | 2023 Rookie Faceoff​
Tschigerl – Jamsen – Chromiak
Lawrence – Helenius – Ziemmer
Burke – Thorpe – Alfano
Francis – Johnson – Armstrong
Dvorak – Mayo
Nousiainen – Pauls
Krygier – Coyle
Ingham (first two periods)
Oster (P3)
A stream to watch today's game is available at the link down below.
2023 ROOKIE FACEOFF SCHEDULE​
Friday, Sept. 15
Game 1 – SJS vs. LAK, 1 pm PT
Game 2 – ARI vs. COL, 3:30 pm PT
Game 3 – ANA vs. VGK, 7 pm PT
Saturday, Sept. 16
Game 1 – LAK vs. ARI, 3:30 pm PT
Game 2 – VGK vs. SJS, 7 pm PT
Sunday, Sept. 17
Game 1 – COL vs. ANA, 1 pm PT
Monday, Sept. 18
Game 1 – ARI vs. SJS, 10 pm PT
Game 2 – ANA vs. LAK, 12:30 pm PT
Game 3 – COL vs. VGK, 3 pm PT
RELATED CONTENT:
2023 NHL Rookie Faceoff Stream
Follow @mayorNHL
Continue reading...