jammer's overlord
Staff member
TEAM LGK
Joined

May 10, 2012
Messages

12,768
LGKash:

$450.00

Game Day Thread
Game #19/82 -- 11/24/21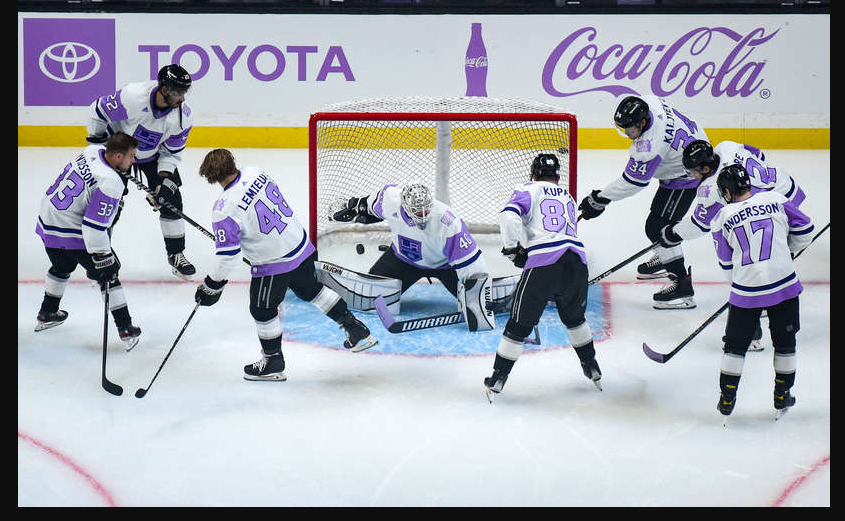 Toronto Maple Leafs vs. Los Angeles Kings
at
Center | Los Angeles, CA
Chrome Helmet Night!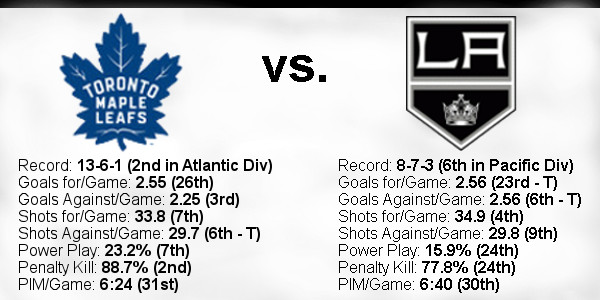 Previous Meeting:
11/8/21 --
Kings 5
, Maple Leafs 1
**GAME TIME - 7:00 PM <<Early Start**
​

TV:

**TNT**



Radio: LA Kings iHeartRadio app
Please remember,
DO NOT
post links to Live Game Streams in the GDT or anywhere else on LGK
Check out articles on LA Kings Insider Here
Todd McLellan 11/21/21 Post Game Quotes
​
Todd McLellan
On the difference in tonight's game
No finish, no finish on our behalf. 2-on-1's, breakaways, staring at the goaltender, open nets, opportunities were there but no finish.
On if he feels the Kings are playing better than four straight losses
I thought we played really well in Winnipeg, I thought the two games against the top teams from out east we played very well in. Tonight, it was a frustrating night because of the amount of chances that we created. We'd probably be talking a different story if we had some finish, but we didn't. Tonight's a tough one to evaluate. The chances were there, it's disappointing.
On the power play tonight, and if it was tough not to score on the one in the third period
I felt better about our power play. A full two minutes in the zone, a lot of movement, some looks. That's the best two minutes we've had in a while on the power play. Despite not scoring, which I think is your point, when you get down on that, I thought it gave us a little bit of life.
On direction he gives the players on a night when pucks aren't going in
We wanted to keep shooting the puck, we needed to get as much traffic in and around [the goaltender] as we could, numerous times, we shot the puck and hit our own players though, and just stick with it. Sometimes simplifying things, rather than making it difficult…right now, you can see coming down on some 2-on-1's, we're not always thinking shot first, we're thinking pass and then when the pass dies, we've got nothing left. Those are 2-on-1's, we've had breakaways, we had looks at the goaltender all alone and there's nothing that I can tell them or the goalie coach [can tell them]. That's 1-on-1 situations, where you've got to have skill, instinct and read what's in front of you. We stay out of the way when it comes to that.
On the level of separation he sees from top to bottom in the NHL
Not a lot. This team, Arizona, has played really well lately. They have good structure, they're all playing together, they make it difficult on teams and you've really got to earn your win when they get goaltending like that. The league is tight. We're starting to see teams from the other conference and other divisions that we haven't seen in a while, so we're still all trying to figure it out, but I think the league is fairly tight.
On addressing the finishing issues during practice
Well, we do every day. We emphasize finish in outnumbered situations, we put players in rebound situations, we do outnumbered rushes, we do outnumbered rushes with pressure behind, we do low 2-on-1's walking out of the corner. Every day in practice, there's some sort of offensive element to it.


​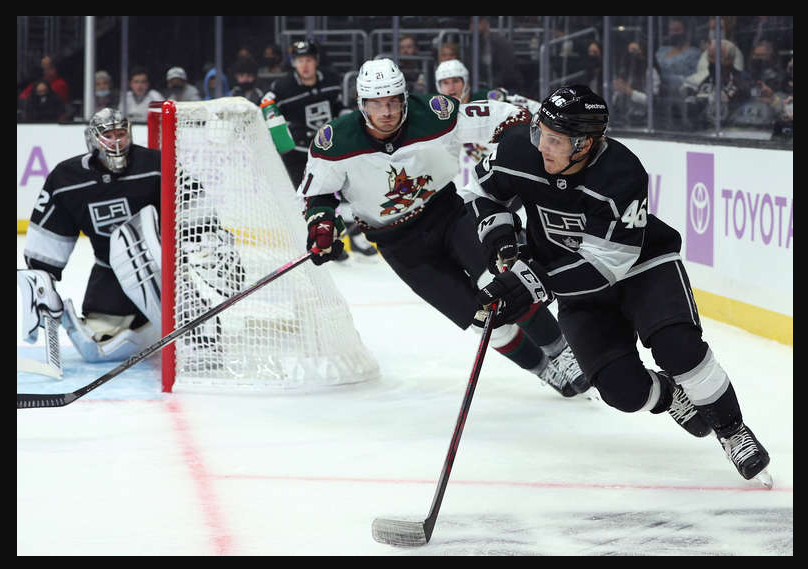 Subject To Change
Actual Projected Lineup
AA out in Covid protocol
Durzi 1st NHL game!!
Kempe – Kopitar – Arvidsson
Iafallo – Danault – Andersson
Moore – Kupari – Brown
Lemieux – Lizotte – Kaliyev

Edler – Roy
Bj?rnfot – Anderson
Maatta – Durzi

Quick in goal
FORWARDS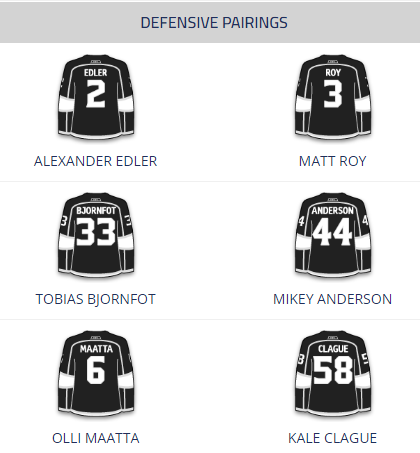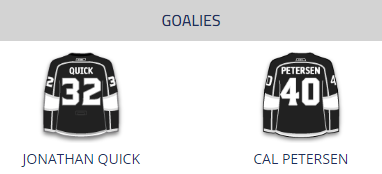 Kings Injuries
Andrea Athanasiou - (covid protocol)
Quinton Byfield
Drew Doughty
Sean Walker
__________________________________________________
__________________________________________________
Maple Leafs Probable Lineup
courtesy of dailyfaceoff.com
FORWARDS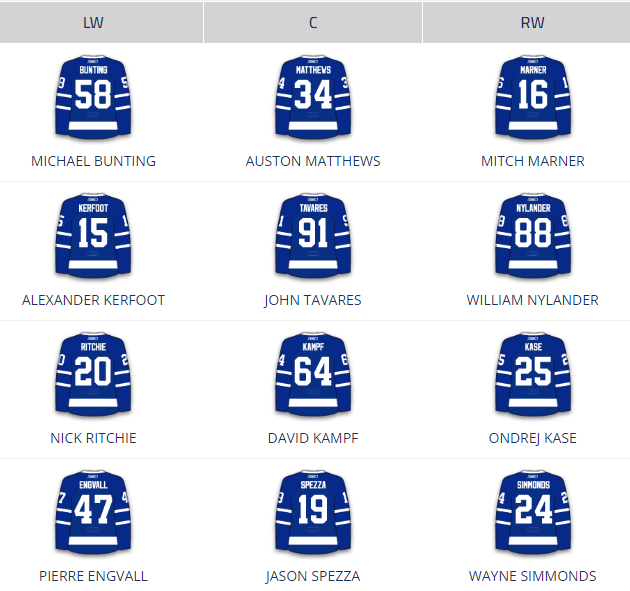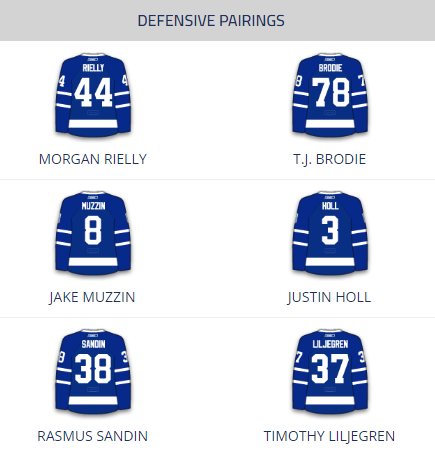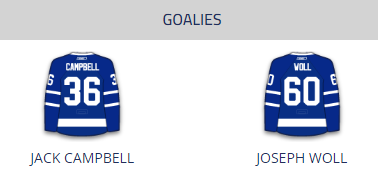 Former Kings
Jack Campbell

Kyle Clifford

Jake Muzzin

Wayne Simmonds

________________________________________________
_________________________________________________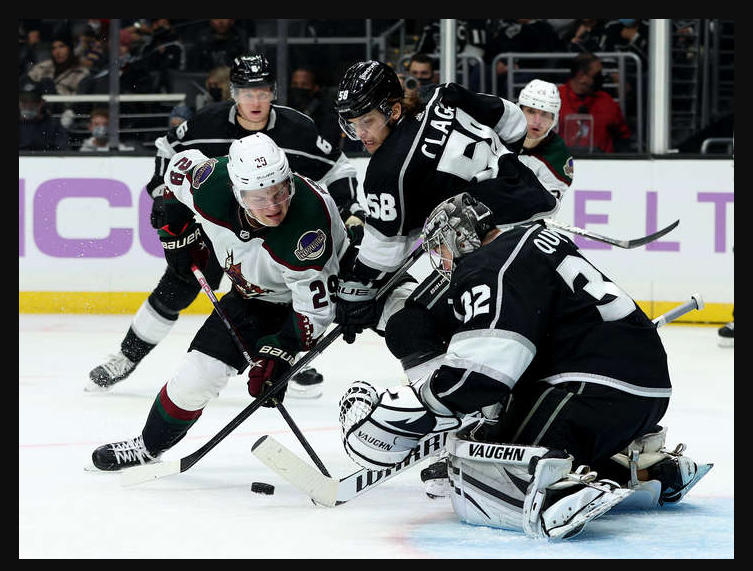 GOALIE STATS

PLAYER STATS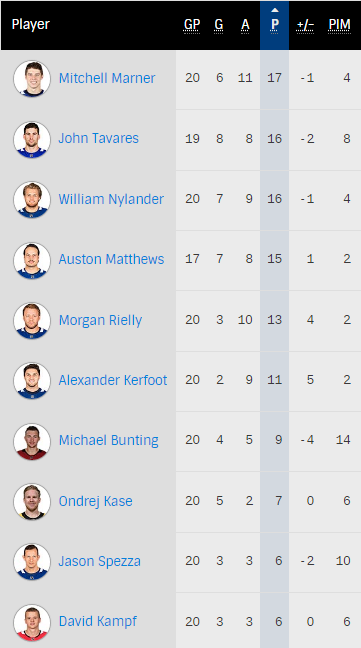 PACIFIC DIVISION STANDINGS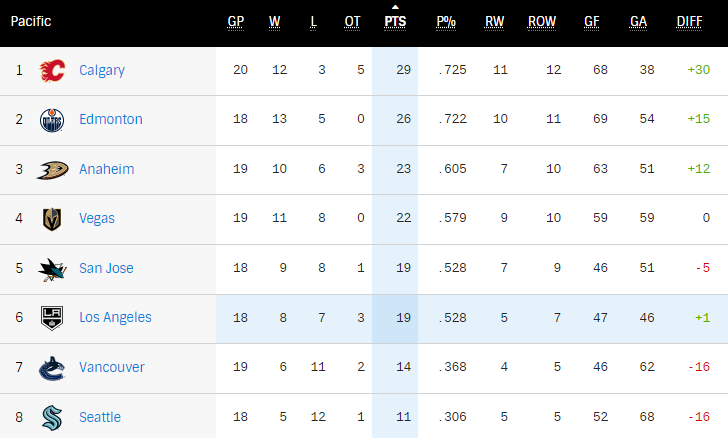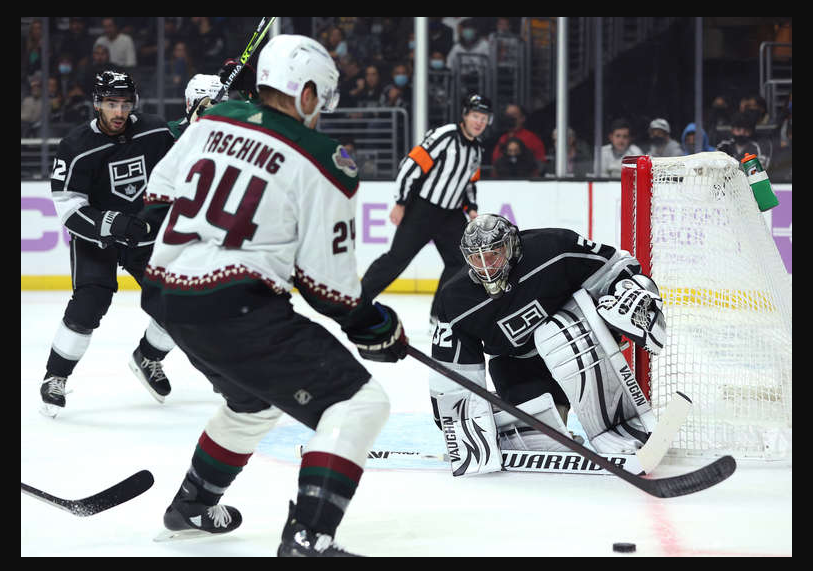 Tonight's Poll Question:
Happy Thanksgiving, everyone! "Easy" questions for tonight's game:
Part 1 - Who is going to score the 1st goal for the Kings?
Part 2 - Who is gong to score the 1st goal for the Maple Leafs?

You can take 3 guesses per team, or choose "no one will score" as one of your guesses

Previous Game's Winners
Nobody came close to guessing that there would be a mere 23 combined hits in the previous game. Several people guessed 28 and Shackleford was closest with 27, so I gave Shackleford a bonus point:
Poll Win Totals
Kings Of The Mountain
with

16

points:
srm1105
15 Points
14 Points
LeftyKing
pray4mojo
Rusty
13 Points
Liz4LA
notbob
12 Points
Dr. Tran
John a90
11 Points
Hornman
VegasHockey
10 Points
Chateau Bow Wow
Reg or Rog?
Sonnyboy11
9 Points
Busted Chops
Byron
Greg33
jammer06
Nyssa42
8 Points
AngelEyes
Shackelford
SirJW
7 Points
beady eye
DRice
KHenry14
Kurisu
MaxwellSmart
Randdog
TooCool
6 Points
Helvetica
JETS GARAGE
kingrussell
STONE
5 Points
CIrvine
cokingsfan
DRGinLBC
hokiecat
JayWells24
Rogie-Vachon
Sevenhole
4 Points
Dannybuoy1
empire
Joe Laviguer
3 Points
beedee
Bill Hicks
Stone
2 Points
forum gold
Ice24
1 Point
Dirtweazle
kopinator
lurker
MBreeden
PuckMaster
rinkrat
RoS
Salami
Stormy2213
waynet
***Bet your karma in geogirl's KARMA BETTING THREAD HERE***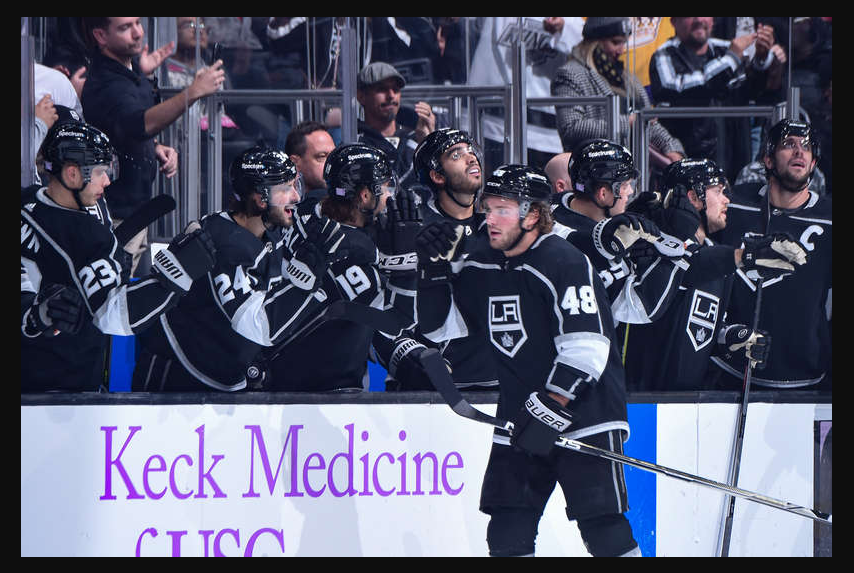 ________________________________________________
Photos courtesy of nhl.com/getty images​
Last edited: