They see me rollin'. They hatin'.
Staff member
Joined

Jul 28, 2004
Messages

129,672
LGKash:

$500.00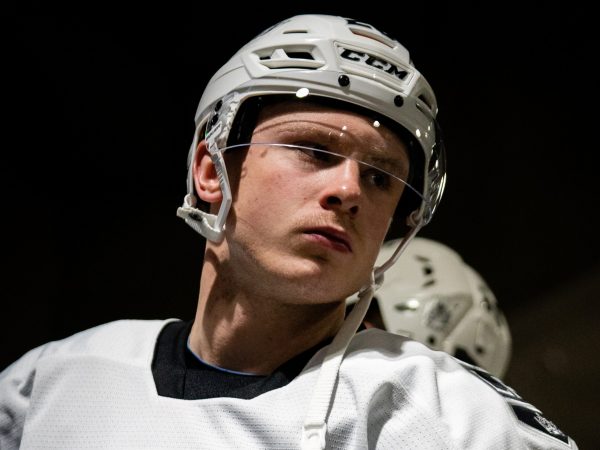 With just a few hours remaining until NHL teams must submit qualifying offers to their Restricted Free Agents — which only guarantess they continue to hold rights om those players, it doesn't actually get them signed to a contract — the LA Kings still have two decisions to make. As we approach the 2pm PST deadline, our sources are indicating decisions have still not been made on Jaret Anderson-Dolan and Zack MacEwen.
In the case of both players, it is said to largely hinge on the fact they both have arbitration rights. Quite simply, the Kings are out of salary cap space, as projected in this article here:
The team entered this off-season with a myriad of RFAs, including Gabe Vilardi and Rasums Kupari, who were recenlty traded to Winnipeg. Goaltending prospect David Hrenak also opted to sign a contract overseas, while forward Lias Andersson is believe to be signing in Sweden soon. Those moved helped thin the herd a bit, plus
we were previously able to confirm
they do plan on qualifying goalie Jacob Ingam, along with defenseman Toby Bjornfot. Joining the 'to be qualified' list are forwards Sammy Fagemo, Tyler Madden, and Akil Thomas.
Also noted in our previous article was news that the Kings do not plan to qualify goaltender Matt Vilalta or forward Aidan Dudas.
Which brings things down to just two players: Anderson-Dolan and MacEwen.
Notes on each player from our previous RFA article:
Jaret Anderson-Dolan – He's in a very similar situation to Bjornfot. He's bided his time in the AHL and now it's time to grab an NHL job. Last season, he was essentially the 13th forward for McLellan, suiting up in 46 NHL games. His seven goals over that stretch proves he's more than capable, even if those numbers aren't quite as efficient as he was a few years ago when JAD put up the same seven goals in just 34 GP. He plays a safe two-way game and has natural leadership qualities. He's a given to be qualified. The only thing really working against him is the fact the

Kings have one too many forwards right now

when projecting their opening night lineup.

Anderson-Dolan Qualifying Offer: $787,500
Zack MacEwen – Sure, the Kings lack sandpaper. Did MacEwen show enough after being acquired at the Trade Deadline in March? Probably not. He's questionable, at best, for a qualifying offer. His fate will most likely be determined by what Blake is able to accomplish via trade while in Nashville for the Draft next week. If he's qualified, there's still no guarantee he makes the opening night roster.

MacEwen Qualifying Offer: $971,250
Again, the issue at hand is arbitration. Even if the Kings qualify them, either player could refuse their qualifying offer and opt for arbitration. In that situation, a third-part decides their 2023-24 salary after hearing arguements from both sides. Beyond the fact this usually leaves hard feelings on both sides, if an arbitrator was to award either player more than their qualifying offer (which is likely), the Kings would be in even worse cap situation. Essentially, they would know the player most likely couldn't be added to the opening night roster and be tucked under the salary cap for next season. Thus, the player would end up on waivers (for the purposes of sending them to the AHL) and potentially being taken by another team. So what's the point in all of that?
If they can agree on contract terms, one of the players could still be retained. The challenge with JAD is his qualifying offer is so low to begin with, if he doesn't accept it, there would likely be little hope he'd re-sign in LA as a UFA becuase at that point, he'd likely be looking for a fresh start with another team vs. being LA's 13th forward again next season.
RELATED CONTENT:
Follow @mayorNHL
Continue reading...