jammer's overlord
Staff member
TEAM LGK
Joined

May 10, 2012
Messages

12,814
LGKash:

$450.00

Game Day Thread
Game #32/82 -- 12/30/21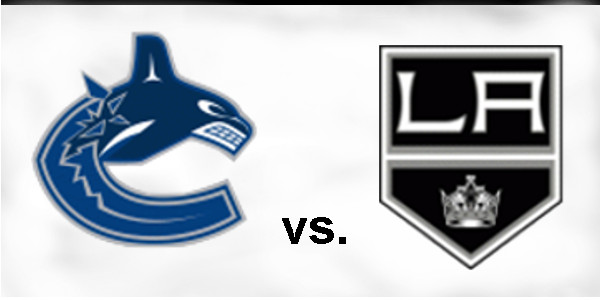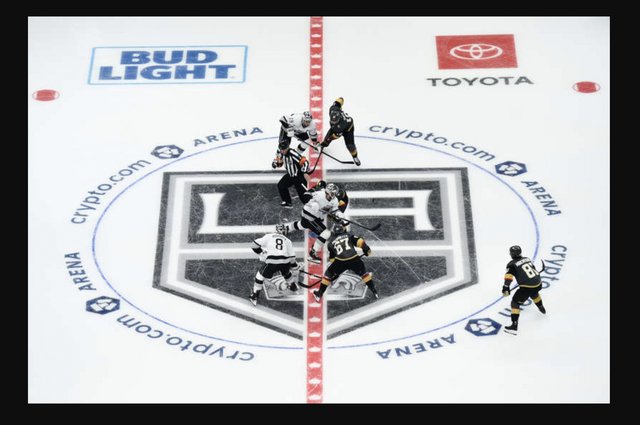 Vancouver Canucks vs. Los Angeles Kings
at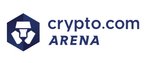 | Los Angeles, CA
Previous Meeting
:
12/6/21 ? Kings 0,
Canucks 4

TV:

**BSW**



Radio: LA Kings iHeartRadio app
Please remember,
DO NOT
post links to Live Game Streams in the GDT or anywhere else on LGK
Check out articles on LA Kings Insider Here
Todd MacLellan 12/28/21 Post Game Quotes
​
Todd McLellan
On if tonight was about engagement or execution
Both. If you look at the first period, we forgot who we were. We would pinch in the most inopportune times, we got lazy in transition from offense to defense, it was outnumbered rush after outnumbered rush and that?s not who we are. To me, that?s execution, but that?s also being engaged. My gut was pretty darn right, coming out after two practices.
On the Kings re-engaging midway through the game
Well, we barked a little bit, we played our way in. Embarrassment sometimes does that to you as well. We do have a lot of pride in there, there?s a lot of strong-willed guys and they got it back. We fixed the structure, the outnumbered rush stuff between periods, I think we only gave up one or two more the rest of the night, and that happens sometimes. Then, we got them to physically engage some more, but you?re not scoring seven goals, which we would?ve needed tonight, against that team. The rest of the night was just about trying to get back to playing the way we need to play.
On taking something into tomorrow and Thursday
It gives the coaching staff now, we?ll have their attention tomorrow. We?ve been trying to get it for a couple of days, so we?ll have it tomorrow.
On the level of play after nine days in between games
Not as good as it needs to be, but, and this isn?t letting the players off the hook, it?s almost expected. You do the best you can to get them ready to go, they need to take the test and get the grade to really understand whether they did their homework. We took it and failed.
On Alex Turcotte?s game and his line?s play
Tough game for the kid to play in. By the time he gathers his wits about him, it?s 5-1 or whatever it was and then you get into that situation, there?s half a night left and you?re a little bit anxious, you probably don?t want to make the next mistake and have it pile on, so you play a backed off game a little bit. Now, I thought Turc handled himself extremely well, we?ve seen improvements in his game and as he gets more confident, he?ll get more aggressive, his shift length will get a little bit longer, he won?t be afraid of making mistakes. He certainly wasn?t our problem tonight.
On missing a defenseman like Alex Edler in tonight?s game
Yeah, Edler, Walker, even Maatta, for the most part. That wasn?t Drew Doughty tonight, you can tell he hasn?t played in two and a half weeks and needs to get going again, he?d be the first to tell you that. You take three of our three top, mature, d-men out of the lineup and your go-to guy has an off night, that?s a tough load for a lot of others to cover up.
On new coaching personnel filling new roles due to COVID-related absences
They were great. Hajter?s been back there before, he?s been in the league, he?s an outstanding coach, he?s doing a tremendous job in the American League right now. He?s brought some structure in there, in his short period, and I?m happy that he?s getting his opportunity there because he deserves it. Derik [Johnson] has been around the game for a long time, he has some bloodlines as far as coaching goes, his role was smaller than what Hajter?s was but he did a good job as well. The prep that went into both power play and penalty kill meeting was done very well by both Sam[son Lee] and Derik, they got an opportunity and that?s a really good thing for them.

​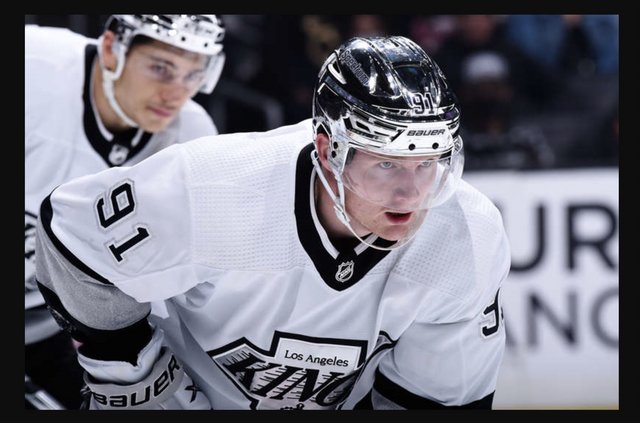 Subject To Change
FORWARDS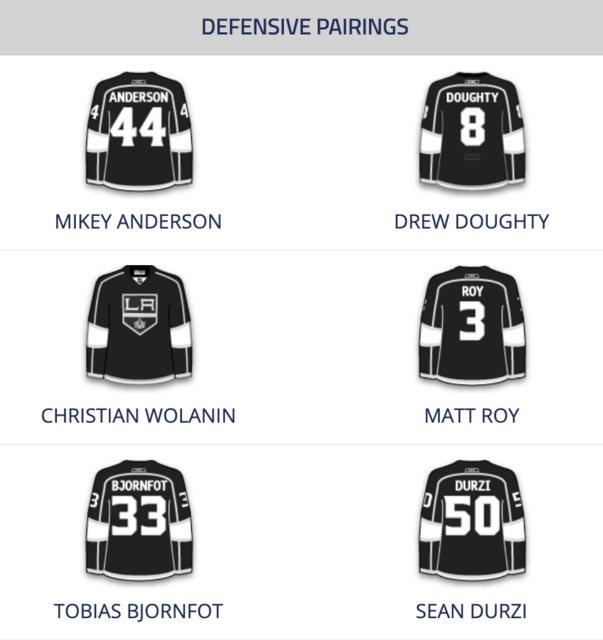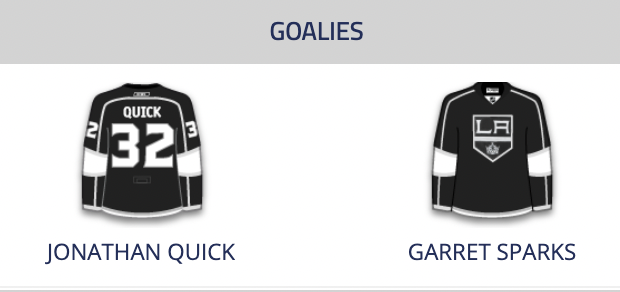 Kings Injuries
Andreas Athanasiou (IR)
Dustin Brown (Covid protocol)
Quinton Byfield (CP)
Philip Danault (CP)
Alexander Edler (LTIR)
Ollie Maata (CP)
Sean Walker (LTIR)
__________________________________________________
__________________________________________________
Canucks Probable Lineup
courtesy of dailyfaceoff.com
FORWARDS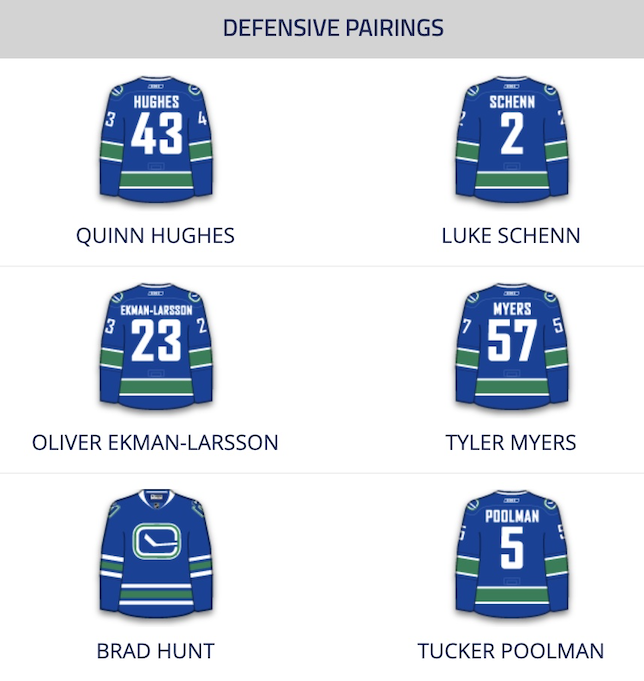 Former Kings
Tanner Pearson

Luke Schenn

________________________________________________
_________________________________________________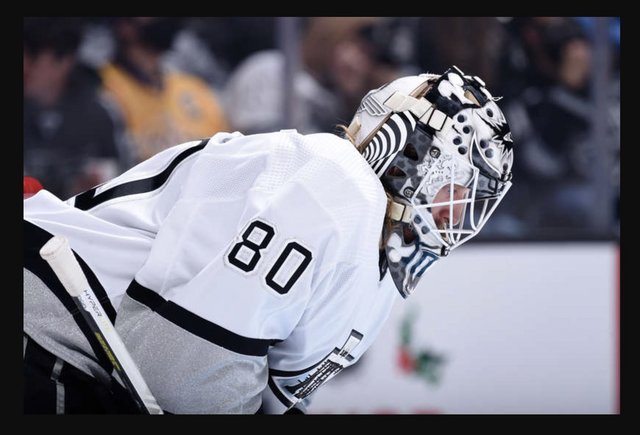 GOALIE STATS

PLAYER STATS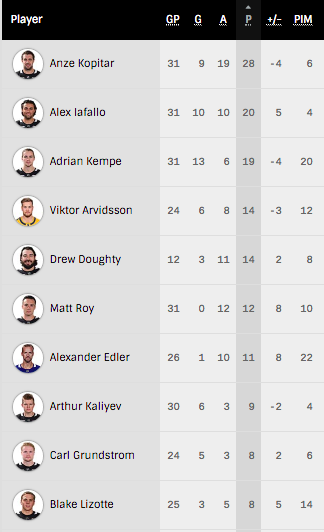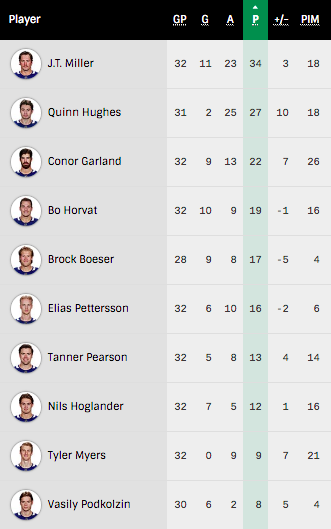 PACIFIC DIVISION STANDINGS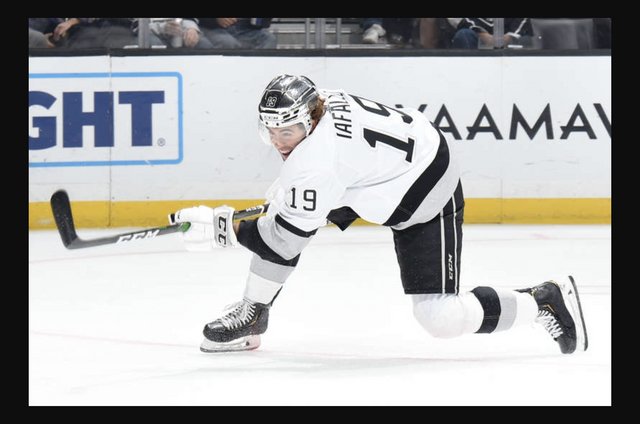 Tonight?s Poll Question:
The last time the Kings played the Canucks, they were shut out.
How many TOTAL GOALS will the KINGS get tonight?
You can take TWO guesses.
Previous Game?s Winners
Congratulations to the following posters who correctly guessed that Reilly Smith would score the first crypto.com arena goal and/or predicted the time to within +/-2 mins of 9:53 of the first.
Smith (1 point) :
jammer06
Reg or Rog?
DRice
Helvetica
sonnyboy11
VegasHockey
JayWells24
Bill Hicks
srm1105
pray4mojo
hokiecat
LeftyKing
forum gold
Chateau Bow Wow
kingrussell
Rusty
AngelEyes
dannybuoy1
7:53-11:53 (1 point)
:
kopinator
hokiecat
Shackelford
LeftyKing
Chateau Bow Wow
kingrussell
hornman
dannybuoy1
CIrvine
Liz4LA
8:53 - 10:53 (2 points)
Helvetica
empire
srm1105
forum gold
AngelEyes
Clif
Poll Win Totals
King Of The Mountain
with

27

points:
pray4mojo
26 Points
srm1105
25 Points
24 Points
Liz4LA
23 Points
hornman
22 Points
John a90
LeftyKing
Reg or Rog?
Rusty
21 Points
Chateau Bow Wow
Dr. Tran
notbob
VegasHockey
20 Points
AngelEyes
Byron
Kurisu
19 Points
Helvetica
Sonnyboy11
18 Points
jammer06
17 Points
kingrussell
16 Points
15 Points
Busted Chops
CIrvine
DRice
Shackleford
14 Points
hokiecat
KHenry14
13 Points
dannybuoy1
empire
TooCool
12 Points
Bill Hicks
Nyssa42
Sevenhole
SirJW
STONE
11 Points
Greg33
JayWells24
kopinator
10 Points
beady eye
Clif
forum gold
Randdog
9 Points
JETS GARAGE
8 Points
cokingsfan
PuckMaster
Rogie-Vachon
7 Points
DRGinLBC
MaxwellSmart
6 Points
beedee
5 Points
Dirtweazle
4 Points
Joe Laviguer
3 Points
Stone
2 Points
Ice24
1 Point
lurker
MBreeden
rinkrat
RoS
Salami
Stormy2213
waynet
***Bet your karma in geogirl?s KARMA BETTING THREAD HERE***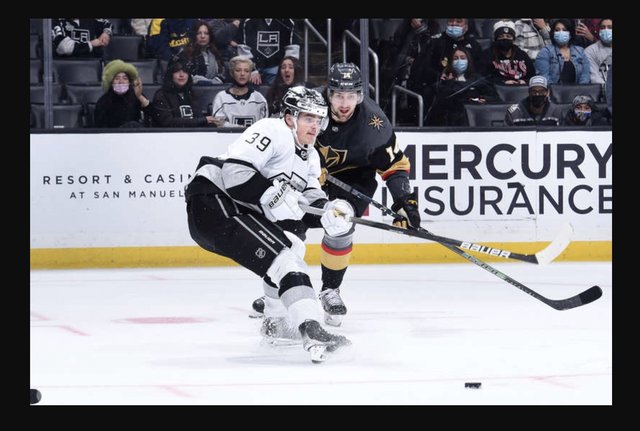 ________________________________________________
Photos courtesy of nhl.com/getty images​
Last edited: