jammer's overlord
Staff member
TEAM LGK
Joined

May 10, 2012
Messages

12,815
LGKash:

$450.00

Game Day Thread
Game #31/82 -- 12/28/21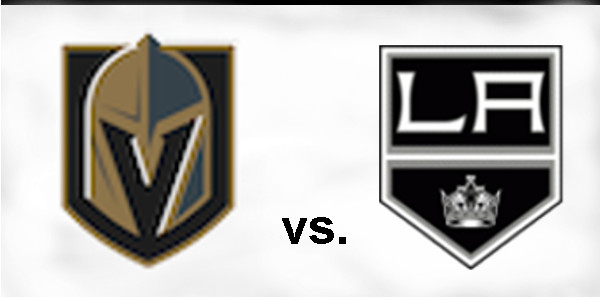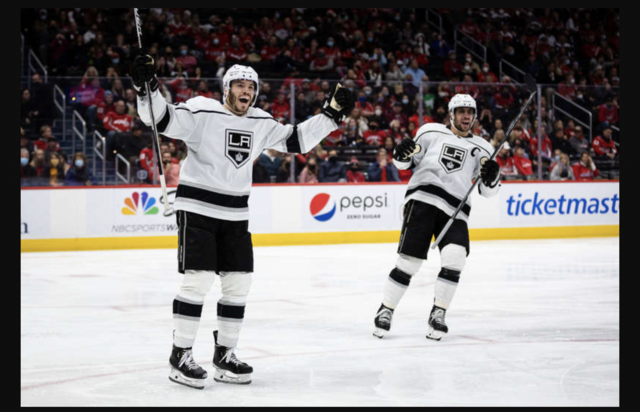 Vegas Golden Knights vs. Los Angeles Kings
at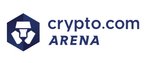 | Los Angeles, CA
Previous Meeting
:
10/14/21 – Golden Knights 2,
Kings 6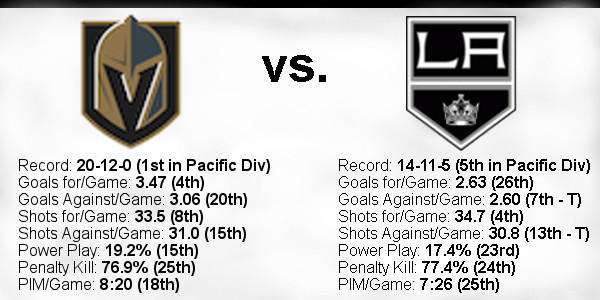 TV:

**BSW**



Radio: LA Kings iHeartRadio app
Please remember,
DO NOT
post links to Live Game Streams in the GDT or anywhere else on LGK
Check out articles on LA Kings Insider Here
Christian Wolanin & Todd MacLellan 12/19/21 Post Game Quotes
​
Christian Wolanin
On the conversation in the room during the second intermission, before the comeback
I don't know if it was a conversation, maybe lack there of. It was a long, long week on the road, tough road trip, a lot of great hockey teams. Coming on the back half of it here, in a back-to-back, it was more about just giving everything we had on the ice. Just thankful we came away with the win.
On his first goal as a King
I'm just really thankful. It's been a long time since I scored in the NHL and to do it and tie it up for the boys, and obviously Juice with the winner, just a long road trip. To win it in a rink like this, against a really good team, it was a lot of character from the group and I'm having an awesome time. It was a big sigh of relief to get that one for sure.
On Garret Sparks and his performance tonight
Awesome. Similar stories, actually. It's been a while since he's gotten a win in the NHL, he's been through a lot of adversity, a lot of ups and downs. All the way from the [ECHL] to the American League and now back where he belongs. Another awesome night, an awesome night for him for sure.

Todd McLellan
On what the win tonight meant to him, and to Garret Sparks
Obviously, the win's important to me, but Garret and the team is what matters and I guess we're part of that. Obviously, he's got a very interesting story, he's had some real highs and some real lows, playing wise and health wise. For the group to play hard and come back with him, I think for him, and he in turn for playing as well as he did tonight, it's a chapter in a book really, when you think about it. We're excited for him, the guys were really happy for him. We believe in him and he played a hell of a game.
On the technical side of Sparks and looking every bit the part of an NHL goaltender
And he should, he's a talented goaltender. He's played in the National League in the past, he played in a fishbowl, if you want to call it that, in Toronto and he's played well in the past. We didn't sign him because we didn't believe in him, we signed him because we did believe in him. He gave us a good night.
On overcoming the shorthanded situations and finding a way to win
I actually think getting through the penalty kills, it helped one team and hurt the other. What I mean by that is they had a lot of time on the power play, they were a really heavy forecheck team early in the game and the power play sort of took that away from them a little bit, it allowed us to get back into the game. While we were doing that, we lost a lot of players too and we had to get them back in the game quick. I think the shorthanded goal helped us, the break helped us, and then everybody got involved after that.
On Christian Wolanin getting his first as a King
Really good for him. There's another chapter in the book. If we're writing a book tonight, we have Sparksy's chapter and we have Wolly's chapter. With his travel since training camp, he's in game six now, he's into the first, second regular-season game and he's getting better every night. Good for him, big goal, it's got to make him feel good and give him some confidence.
On the current climate around the league right now
I can sit here and say we're in good hands, the doctors are going to take care of us, and I believe all of that, but I can also tell you that it's a very uneasy time right now for the players and the people that are involved in the game. What's strange, for us anyhow, I don't know about other teams, but we have players, for the most part, that are feeling perfectly fine, that are being pulled from the game. We've got a bit of a flu bug, cough, typical winter stuff going through our team and those players are playing, which is odd. I get the protocols, I get the health directive and I do believe we're in good hands, but it's confusing for the players. I can tell you, this time of year is not easy. There's little ones at home, with wives, and family becomes really, really important. We'll have a bunch of happy players getting on the plane. The ones we have to leave behind, we're going to get them home, we'll figure out a way.
​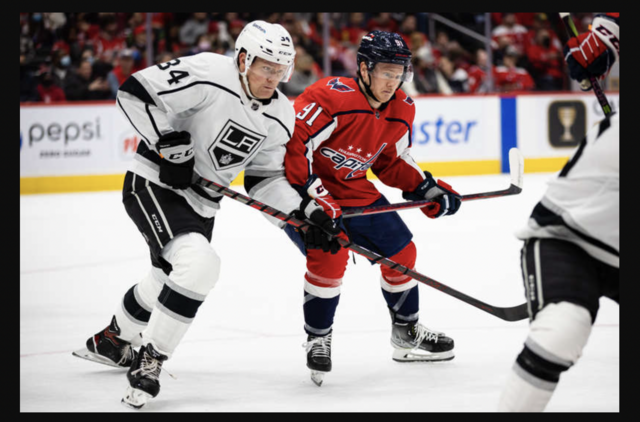 Subject To Change
FORWARDS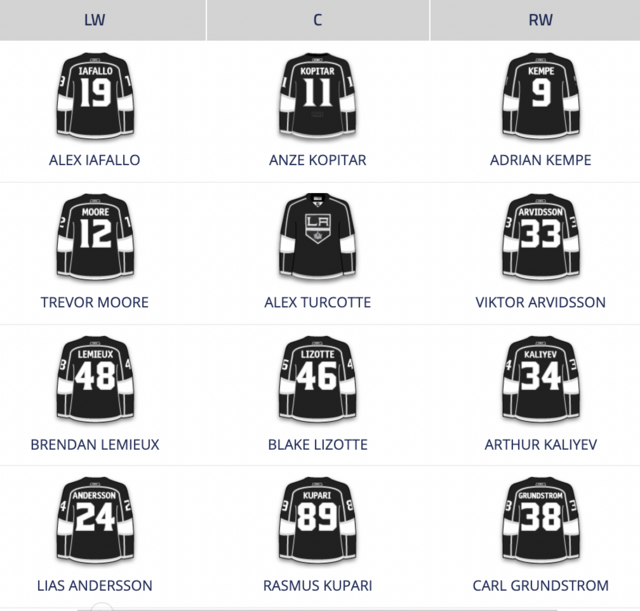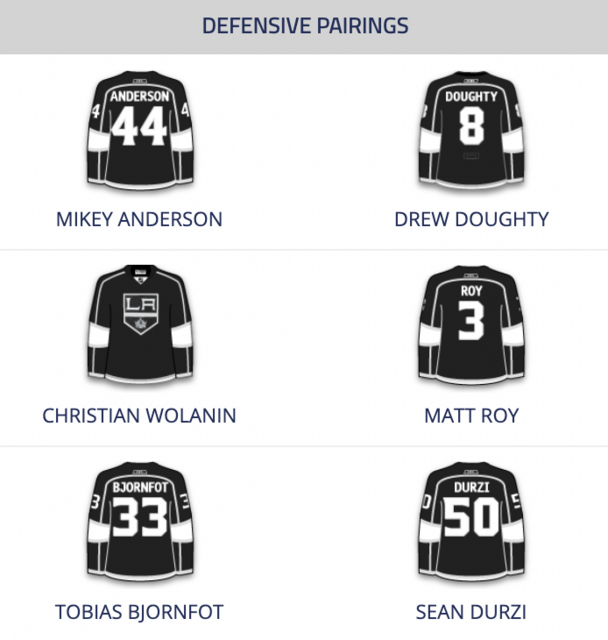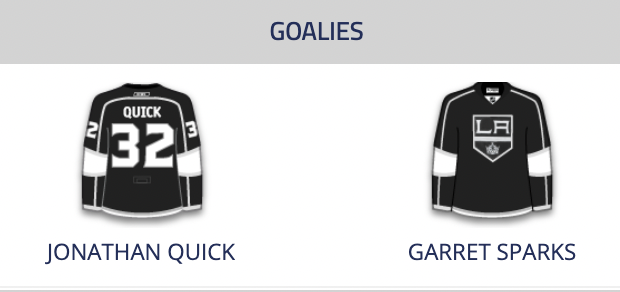 Kings Injuries
Andreas Athanasiou (IR)
Dustin Brown (Covid protocol)
Quinton Byfield (CP)
Philip Danault (CP)
Alexander Edler (LTIR)
Ollie Maata (CP)
Cal Peterson (Covid Protocol)
Sean Walker (LTIR)
__________________________________________________
__________________________________________________
Golden Knights Probable Lineup
courtesy of dailyfaceoff.com
FORWARDS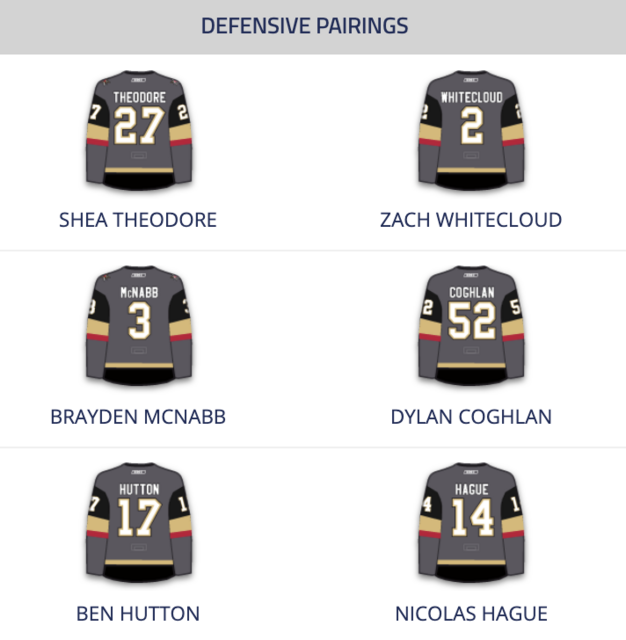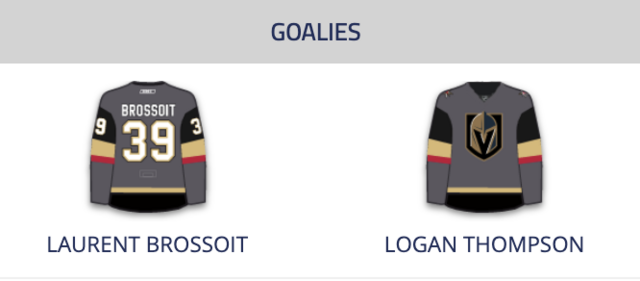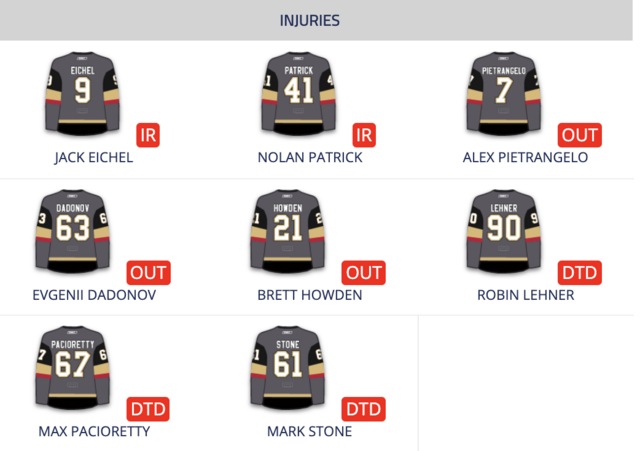 Former Kings
Michael Amadio

Ben Hutton

Alec Martinez

Brayden McNabb

European Scout: Peter Ahola
________________________________________________
_________________________________________________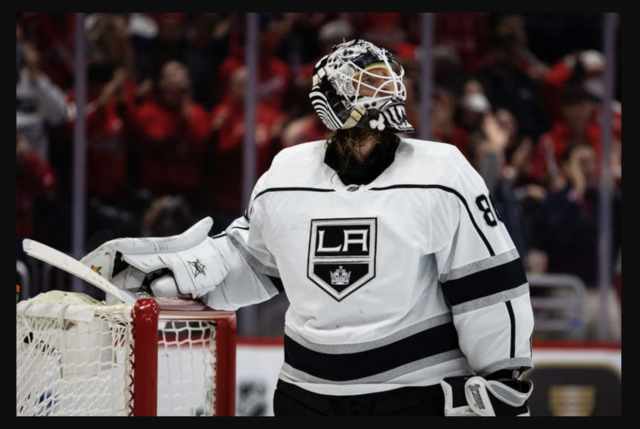 GOALIE STATS


PLAYER STATS
**got a new computer - having some formatting issues, sorry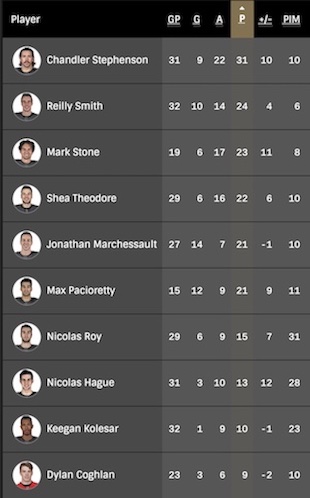 PACIFIC DIVISION STANDINGS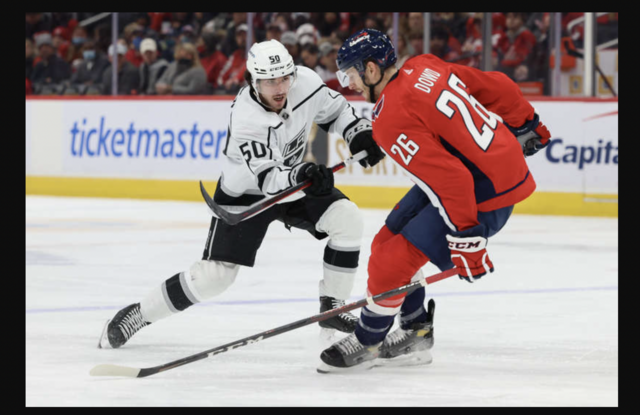 Tonight's Poll Question:


Two Part Question:

Which player is going to score the first goal in Crypto.com Arena? You can guess 8 players from either team
At what time of the game will the first goal in the renamed arena be scored?
*You can take 2 guesses*
Use the Min:Sec of the __ Period (1,2,3,OT) format, or you can choose SO or "Another Shutout" (only 1 point for correct guess of SO or ShutOut).
+/- 2:00 will get 1 point, +/- 1 min will get 2 points, Dead-on will get 3 points
Previous Game's Winners
Congratulations to the following posters who correctly guessed Lizotte and or within +/- 2 minutes of 17:04 of the second period for the first Kings goal:
16:04 - 18:04 (2 points):
Clif (missed by 33 seconds)
Lizotte (1 Point):
Reg or Rog?
Bill Hicks
notbob
Poll Win Totals
King Of The Mountain
with

26

points:
pray4mojo
23 Points
Liz4LA
srm1105
22 Points
hornman
John a90
21 Points
Dr. Tran
notbob
Reg or Rog?
Rusty
20 Points
Byron
Kurisu
LeftyKing
VegasHockey
19 Points
Chateau Bow Wow
18 Points
Sonnyboy11
17 Points
AngelEyes
jammer06
16 Points
Helvetica
15 Points
Busted Chops
kingrussell
14 Points
CIrvine
DRice
KHenry14
Shackleford
13 Points
TooCool
12 Points
hokiecat
Nyssa42
Sevenhole
SirJW
STONE
11 Points
Bill Hicks
dannybuoy1
empire
Greg33
10 Points
beady eye
JayWells24
kopinator
Randdog'
9 Points
JETS GARAGE
8 Points
Clif
cokingsfan
PuckMaster
Rogie-Vachon
7 Points
DRGinLBC
forum gold
MaxwellSmart
6 Points
beedee
5 Points
Dirtweazle
4 Points
Joe Laviguer
3 Points
Stone
2 Points
Ice24
1 Point
lurker
MBreeden
rinkrat
RoS
Salami
Stormy2213
waynet
***Bet your karma in geogirl's KARMA BETTING THREAD HERE***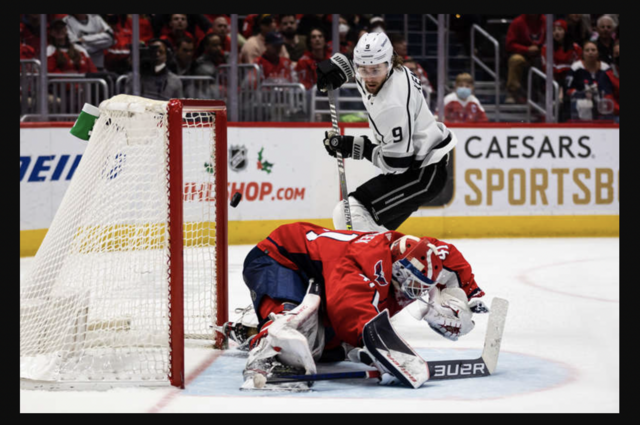 ________________________________________________
Photos courtesy of nhl.com/getty images​
Last edited: