jammer's overlord
Staff member
TEAM LGK
Joined

May 10, 2012
Messages

12,830
LGKash:

$550.00

Game Day Thread
Game #16/82 -- 11/17/21
Washington Capitals vs. Los Angeles Kings
at
Center | Los Angeles, CA
Native American Heritage Night
Alternate 3rd Jerseys - Chrome Helmets!
**GAME TIME - 7:30 PM PDT**
​

TV:

**BSW**



Radio: LA Kings iHeartRadio app
Please remember,
DO NOT
post links to Live Game Streams in the GDT or anywhere else on LGK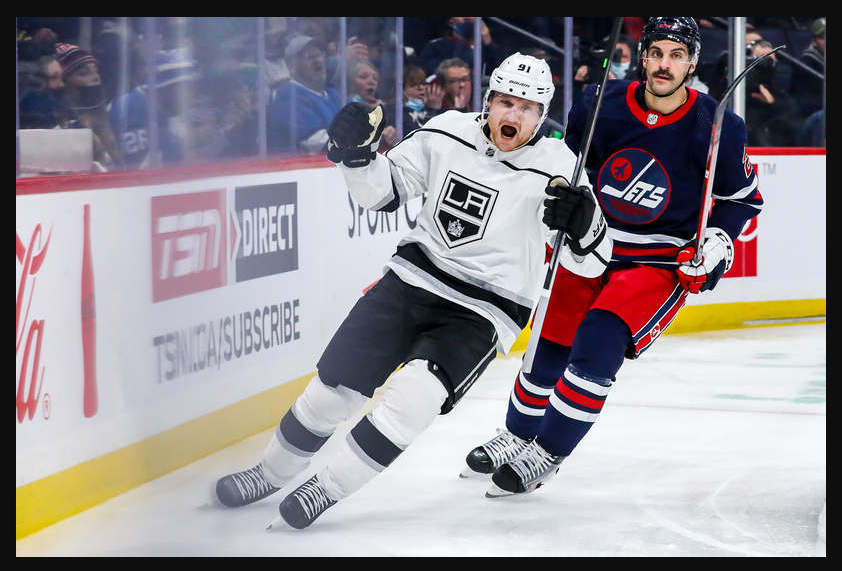 Check out articles on LA Kings Insider Here
Carl Grundstrom, Brendan Lemieux & Todd McLellan 11/13/21 Post Game Quotes
​
Carl Grundstrom
On his goal, and how he read the situation and put it home
I saw I had the 1-on-1 opportunity and I thought I had a pretty good opportunity to shoot it too. I just took a shot and tried to hit the short side.
On the play of his line tonight
I think this was probably our line?s best game of this trip. Even though we lost today, it was a big step for our line. I think we helped each other out a little bit better than we did in the other games.
On what the Kings did well to suppress Winnipeg, especially in the second period
We played tight, we didn?t give them anything for free. They have a really good forward core, so we didn?t want to let them get anything for free and I think we did a good job.
On the momentum generated by the team on this road trip
It?s huge. We played great the last couple of games here, so just keep building on that. Obviously, it?s way more fun to win, so we?ll try to do that.

Brendan Lemieux
On if he can see tonight?s game within the context of the larger trip, or if it?s too close to see that bigger picture
Anytime you go to the third period with a lead, and you don?t get two points, it sucks, it feels like a loss, but in the grand scheme of things, we definitely see this trip as a win. We got back to playing road hockey the way that we should, and we?ve made some strides with our team that I think we?ll remember for the rest of the year. We?ve got a good foundation to build a successful, hopefully playoff, hockey team.
On his game of playing with sandpaper, but also using discipline
I always try to. I definitely lean on the side of being more aggressive, rather than passive, in nature. So, with that comes walking that fine line and being on the disciplined side. That?s always an internal battle that I have going on, I try to play hard, play physical, be hard to play against. Those are staples of my game, so I have to work on toning it down more than working it up, but I?m happy with the way our team is playing, like I said. With penalties, this and that, I don?t think we did a poor job of it, or we?ve done a poor job of it, finding a way to win. I?m happy with the way our team is trending.
On getting a goal against his former team in Winnipeg
A lot of friends over there, something that?s outside of hockey. It?s cool to be back in Winnipeg, but I can?t say I?m not excited to get back to some warm weather. I felt the cold, I enjoyed it, but I?m ready to get back. It?s been a long trip and I?m ready to get home.

Todd McLellan
On balancing the disappointment of tonight?s loss versus the positivity of a 3-0-1 road trip
Well, you think small picture and big picture. Right now, there?s emotion in this one and it?s a game that we?re all disappointed got away on us, because I thought we played a real solid game, maybe one of the better ones on the road. We checked, we were first to a lot of pucks, we had a tenacity to us that was real good. I think we had a really good hockey club frustrated. Two special situations, one on the power play and one in overtime, gave them the chance at a win. That part of it is disappointing, but when you look at the bigger picture, when we got on a plane and went to Toronto, we were playing well, we had some confidence and I think the confidence has grown since then. We?re believing in each other, we?re believing in the system and the structure that we?re playing. Obviously there are some areas that we need to work on and improve, but there?s 31 other teams that have to do the same. Big picture, a really good road trip. Small picture, a little frustrated for the next 25, 30 minutes and then we?ll move on.
On the third line tonight and their play
They were [good], they played a lot more direct, they didn?t go 1-on-1 through the neutral zone, we saw that creeping into their game in Ottawa a little bit, and in Montreal, but that line has been pretty good for us. They?re not pretty, but they are effective. The amount of grind time that they come up with along the boards, and in front of the net, their tenacity on the backcheck is effective. They often hand off, we talk a lot about it, hand off a good shift to the next line. There?s a lot of value in that.
On his growing confidence in his entire lineup
Absolutely. When things are going well and everyone?s playing well, you want to reward them, you want to put them on the ice, you don?t want to shorten the bench. I want them looking back and me and saying hey, put me on the ice again, and when you?re going well that?s easy to do, but you have to bring it. Confidence is gained and lost by what you do on each, individual shift. I think of Lizzo?s line, with Arty and Lemieux, they?re doing some really good things on every shift, and go do it again, do it more. In turn, it gives Kopi and Danault, their lines, a little breather and it allows us to be effective longer in games.
On Brendan Lemieux?s ability to balance physical play with discipline
He?s a crafty player, he knows his trade, he knows what he should be doing and shouldn?t be doing. He adds a lot of spice to our team, we missed that early in the season, so we appreciate him bringing that to the group. Tonight, there were opportunities where he could have crossed the line, and put us down for two minutes by a man, but he made good decisions. He stayed out of the emotional stuff, which is important. That?s effective, and we appreciate that from him.
On his thoughts on the overtime period
I thought we gave up too much ice on the entry and they turned what was a 2-on-2, a soft 2-on-2, into almost a 2-on-1, we didn?t play it real well. They?re crafty players, they know how to create that situation, they did a good job. Sometimes you have to give the opposition credit too.
​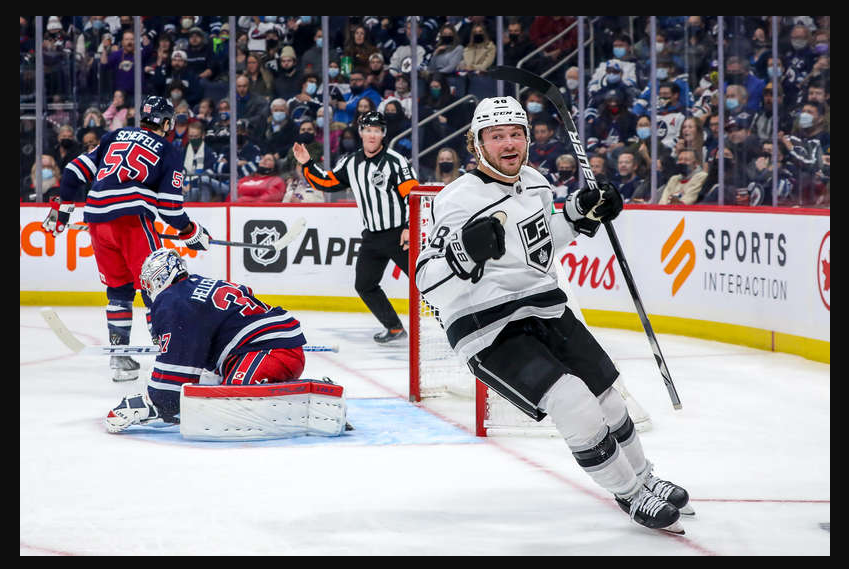 Subject To Change
FORWARDS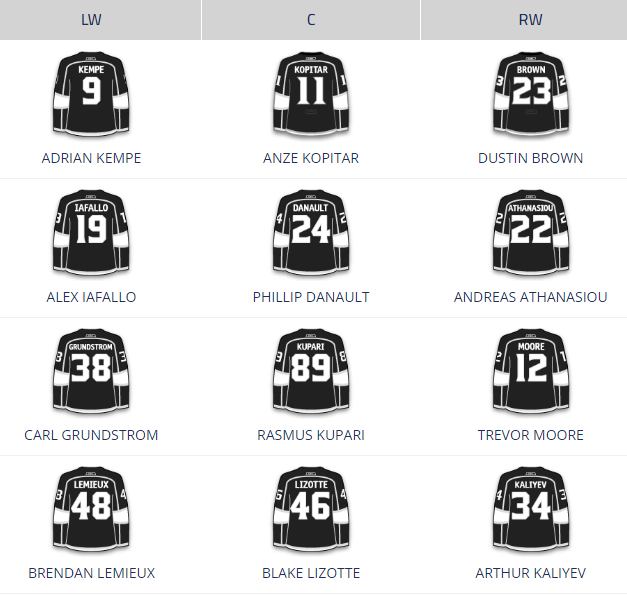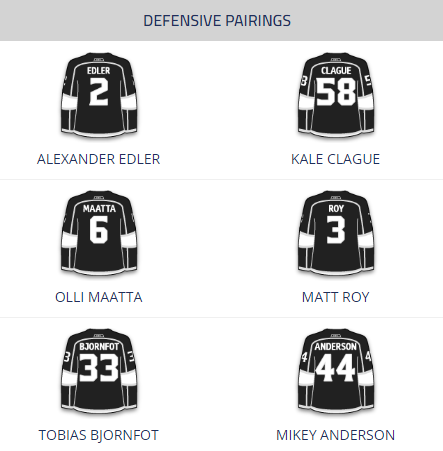 Kings Injuries
Victor Arvidsson (Covid Protocol)
Quinton Byfield
Drew Doughty
Sean Walker
__________________________________________________
__________________________________________________
Capitals Probable Lineup
courtesy of dailyfaceoff.com
FORWARDS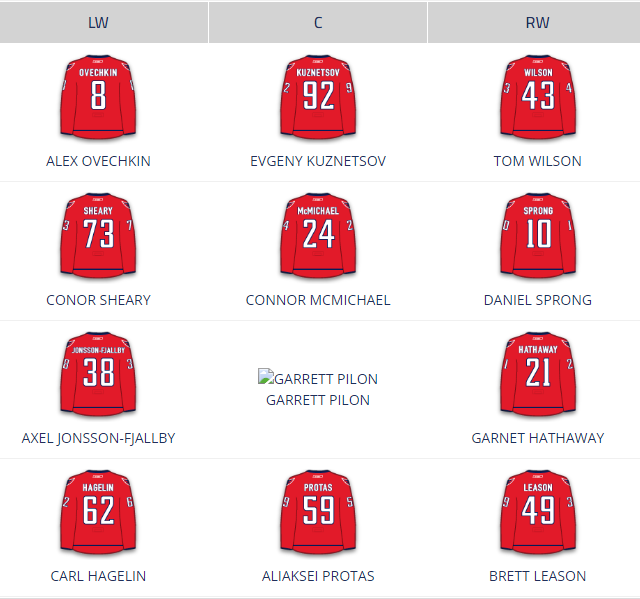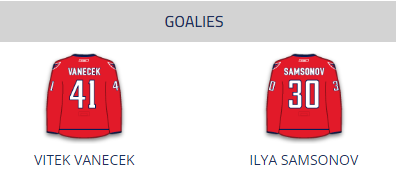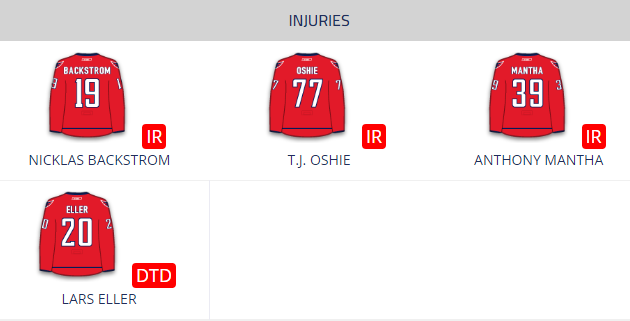 Former Kings
Nic Dowd

Carl Hagelin
_________________________________________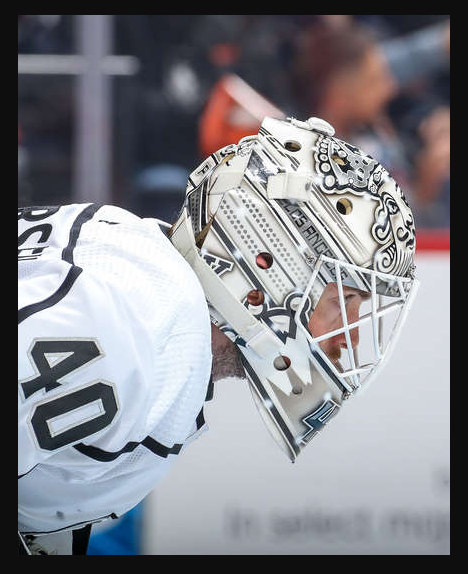 GOALIE STATS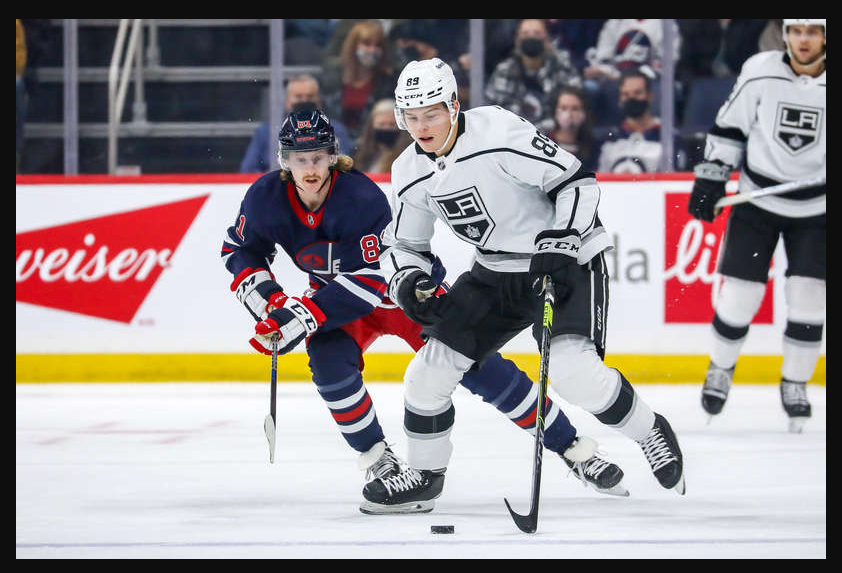 PLAYER STATS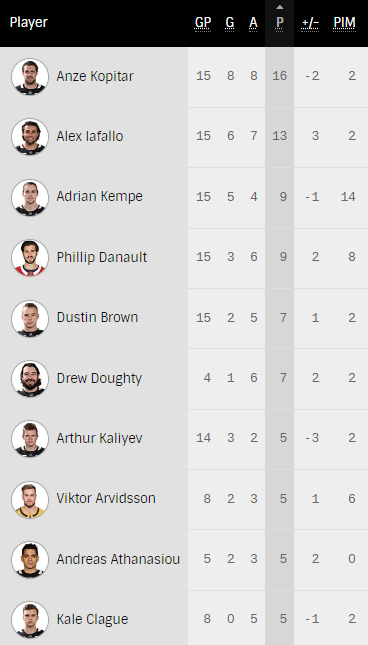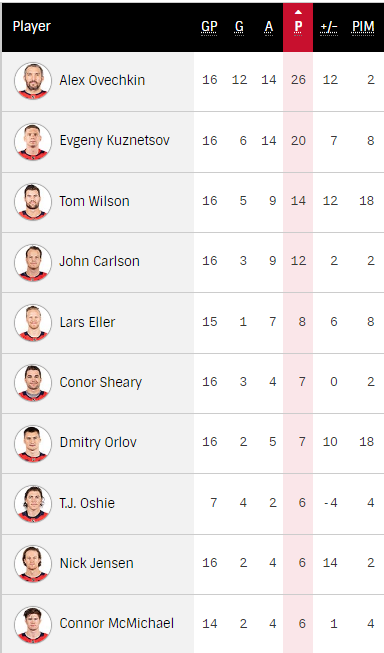 PACIFIC DIVISION STANDINGS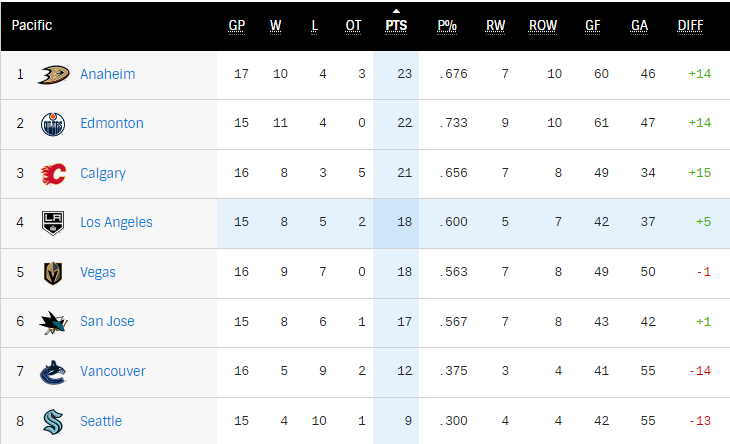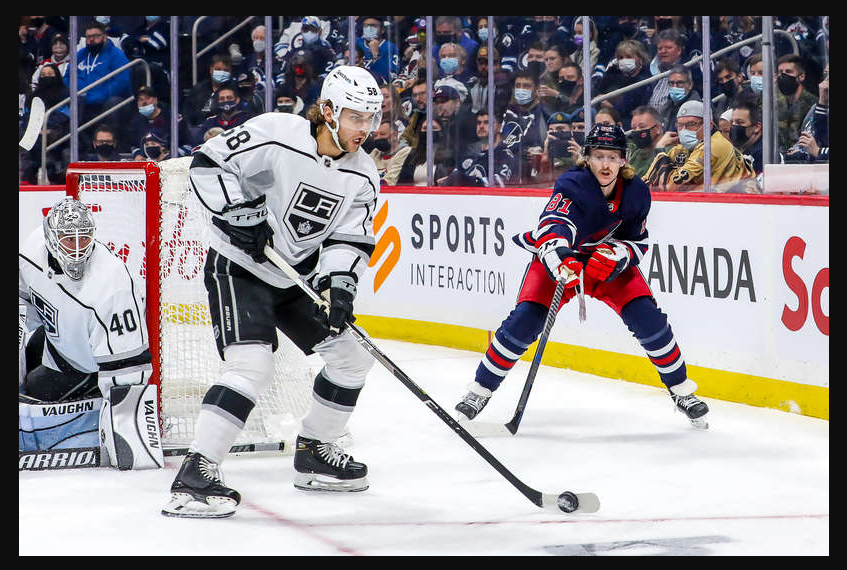 Tonight?s Poll Question:
How many points will be scored by ALL ROOKIES in tonight?s game? (any player 30 games or less before tonight - so we can include Clague)
Caps = Connor McMichael, Axel Jonsson-Fjallby, Garrett Pilon, Brett Leason, Martin Fehervary, maybe more - their injury list is long
Kings = Kaliyev, Kupari, Clague, Strand (Lias has 92 games, so he doesn?t count)
You can take TWO guesses
Previous Game?s Winners
Congratulations to everyone who correctly guessed within some measure of +/-3 minutes of 4:02 of the first period for the Kings 1st goal:
+/-3 minutes (1 point)
jammer06
Helvetica
AngelEyes
pray4mojo
Bill Hicks
hokiecat
Sevenhole
+/- 2 minutes (2 points)
VegasHockey
dannybuoy1
Dr. Tran
+/- 1 minute (3 points)
*= extra bonus point for getting within 2 seconds
notbob
Rusty*
Joe Laviguer
Chateau Bow Wow
randdog
sonnyboy11
beady eye
Busted Chops
LeftyKing
John a90
empire*
srm1105
TooCool
hornman
Liz4LA
DRGinLBC
Poll Win Totals
Kings Of The Mountain
with

13

points:
LeftyKing
Liz4LA
12 Points
Rusty
srm1105
11 Points
VegasHockey
10 Points
Dr. Tran
pray4mojo
9 Points
Byron
Hornman
notbob
8 Points
Greg33
jammer06
John a90
7 Points
beady eye
Busted Chops
Randdog
Reg or Rog?
Shackelford
SirJW
Sonnyboy11
6 Points
AngelEyes
Chateau Bow Wow
Helvetica
JETS GARAGE
MaxwellSmart
Nyssa42
STONE
TooCool
5 Points
CIrvine
cokingsfan
DRGinLBC
hokiecat
KHenry14
Kurisu
Rogie-Vachon
4 Points
Dannybuoy1
DRice
empire
JayWells24
Joe Laviguer
Sevenhole
3 Points
beedee
Bill Hicks
Stone
2 Points
Ice24
kingrussell
1 Point
Dirtweazle
forum gold
lurker
MBreeden
PuckMaster
rinkrat
RoS
Salami
Stormy2213
waynet
***Bet your karma in geogirl?s KARMA BETTING THREAD HERE***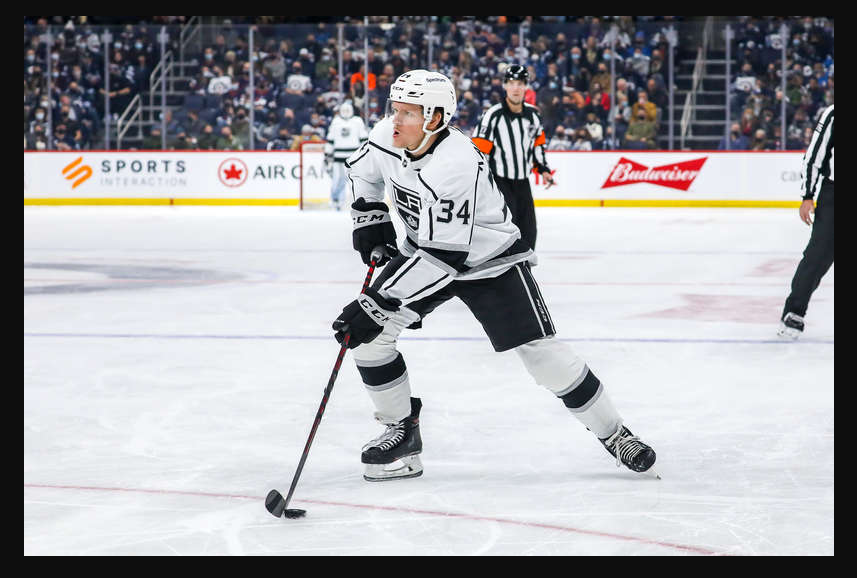 ________________________________________________
Photos courtesy of nhl.com/getty images​