jammer's overlord
Staff member
TEAM LGK
Joined

May 10, 2012
Messages

12,814
LGKash:

$450.00

Game Day Thread
Game #80/82 -- 4/23/22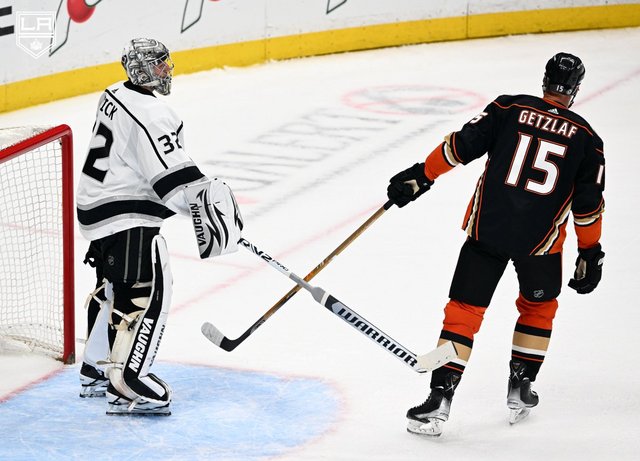 Anaheim Ducks vs. Los Angeles Kings
at

| Los Angeles, CA
Fan Appreciation Night
Previous Meetings
04/19/22 -
Kings 2
, Ducks 1
02/25/22 -
Kings 4
, Ducks 1
11/30/21 -
Ducks 5
, Kings 4 (SO)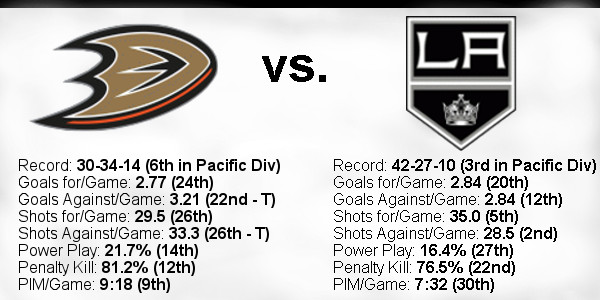 TV:

**BSW**



Radio: LA Kings iHeartRadio app
Please remember,
DO NOT
post links to Live Game Streams in the GDT or anywhere else on LGK
Check out articles on LA Kings Insider Here
Alexander Edler (video), Andreas Athanasiou, & Todd MacLellan 4/21/22 Post Game Quotes
Link to Alexander Edler video
https://twitter.com/i/status/1517373824345518080
Andreas Athanasiou
On getting 2 goals in 15 seconds and if that sealed things at that point
Yeah, obviously whenever you can cushion a lead like that in the third period it's huge. We got two quick ones, so they could put in two quick ones just like that. It definitely gave us a little bit more confidence and a little bit of safety room.
On the sequence of his breakaway goal
I made a hard play to chip it out, it took a good bounce and kind of just set me up for a breakaway. I was pretty tired, so I just put my head down and tried to get to the net, I made a move and it worked out.
On getting a win by more than one goal after a pair of 2-1 victories
Yeah definitely. Both sides, you get that experience of playing with a one-goal lead and down the stretch, hopefully into the playoffs, it's going to be a lot of close games. Just getting comfortable with a one-goal lead, holding it and trying to build off of it.
On what it would mean to him personally to make the playoffs
I think for every guy in this room it would be good, it's the best time of the year, that's what you play for. Right now, we're just focused on one game at a time, Anaheim on Saturday, that's what we're focused on and just take it one step at a time.
On rejoining the lineup at this time of the year, in a playoff push
Where we are in the standings, where the team has pushed to be and how hard they've battled all year, obviously you want to step in as much as possible. That's all I'm trying to do, wherever I am and wherever I'm playing, just be there for the team and help out as much as possible.
Todd McLellan
On getting a multi-goal victory in the third period
[The multi-goal lead] didn't come until late, so we were playing the same game as we've been playing for a while. We stuck with it, real good recovery after the goal against, good penalty kill and then a good two or three minutes to take us into the intermission. I think that was a big three minutes for our team.
On if the team handled a 2-1 lead any differently tonight, coming away with 2 insurance goals
I don't think we approached it any different, I thought we had a little bit more aggressiveness in our game, if that's what you mean, we didn't tactically change anything. We did have a little bit more aggressiveness and we capitalized on the chances that we had. We had fewer chances in the third period than we did in the first, but we came up with a couple and found a way to put the nail in the coffin, if you will.
On the explanation given on the coaches challenge, and that it looked like it was offsides
It did, and you can see why we thought that, but obviously nobody talks to us, because it's really made quickly. I would imagine that there wasn't anything conclusive enough, because it was close, to overturn it. That can be the only thing in my mind.
On Jonathan Quick's performance tonight
Tough night for him to play. It was 6-5-5 for shots on goal, their most dangerous chances came off the power play or off the penalty kill early, they had the breakaway, I think it was Lafferty that he had to make a real big save on, that can change the momentum of the game. Tough night to play, but a real good night for him again.
On the team's evolution in finding success in games w/ that type of possession advantage
I think we've grown in all aspects of the game. Game management, if you remember from training camp, game one to game five, we really emphasized that and we're really seeing the benefits of it now. Checking skills, developing an identity, we're seeing the fruits of our labor now. Taking care of our end first, we're starting to see that in the offensive zone, because we come out clean. It's been a three-year process, but we're starting to see it more and more now. Maybe where we've been frustrated before, when we didn't score in a period like our first, or not scored enough, it would have came back to bite us, but we are in control of our emotions and we can believe that we can do it.
On the human nature of being this close to a postseason berth
I think everybody is doing that, yeah. I'm not going to lie, I came off the bench between the second and third and I wanted to know what the scores were. That's human nature, that's how it is. We should be getting excited about the opportunity and the best thing that we have is control. We'll learn lessons now, we learned lessons tonight. A penalty that we didn't need to take, a missed challenge, a penalty in the third, I'm sure Kempe would like to have that moment back, but it's still 2-1. We're learning as we go and that won't change for nine periods and hopefully we get to play many more periods, and we're going to learn a lot more about ourselves.
​

Subject To Change
FORWARDS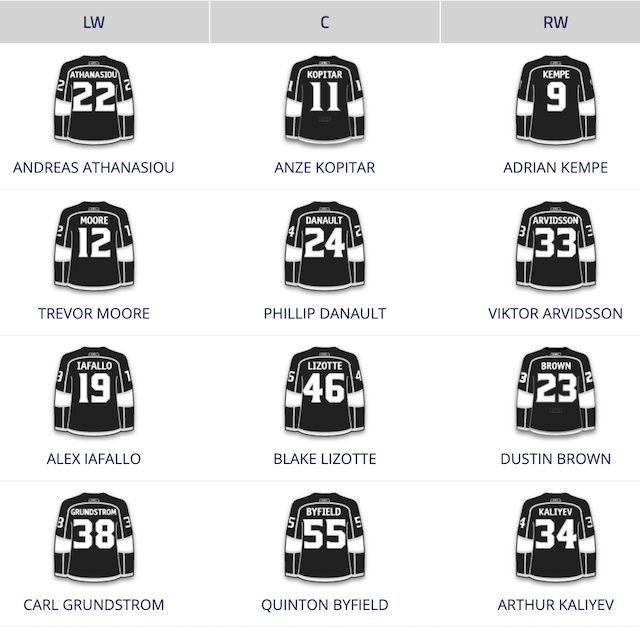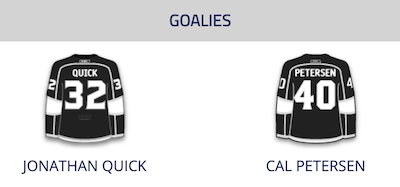 Kings Injuries
Mikey Anderson (LTIR)
Drew Doughty (IR)
Sean Walker (LTIR)
__________________________________________________
__________________________________________________
Ducks Probable Lineup
courtesy of dailyfaceoff.com
FORWARDS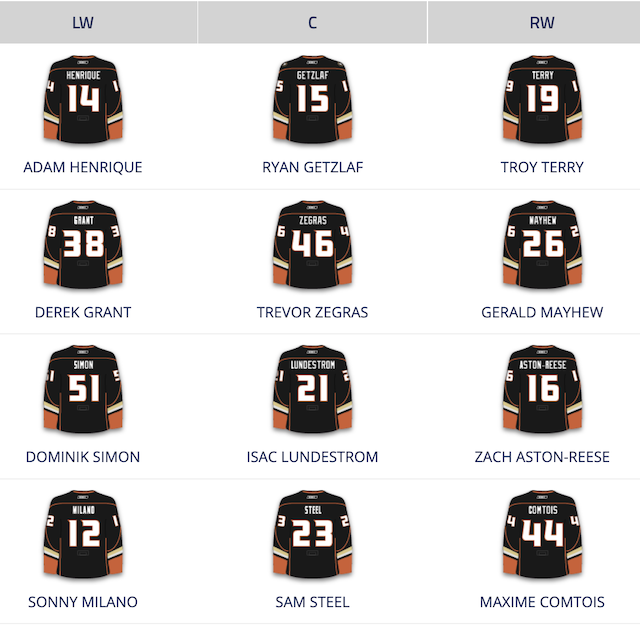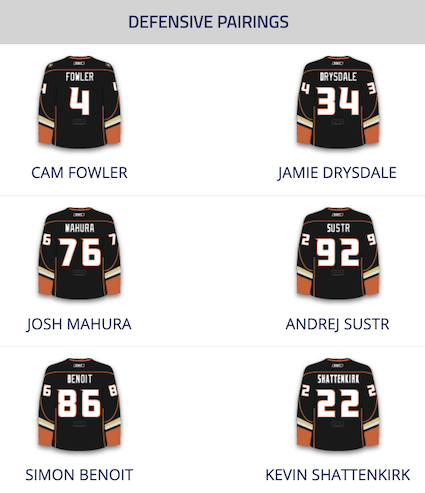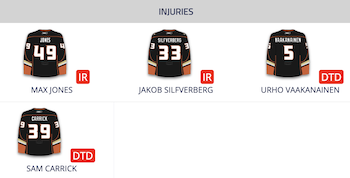 NO Former Kings
________________________________________________
_________________________________________________
GOALIE STATS


PLAYER STATS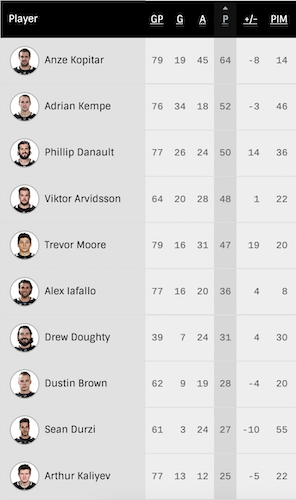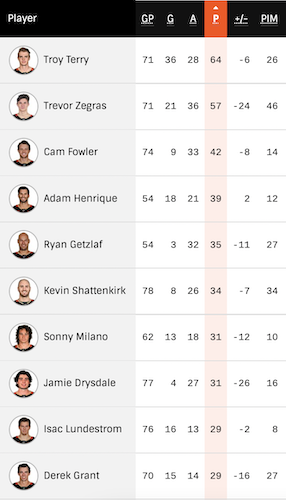 WESTERN CONFERENCE WILD CARD STANDINGS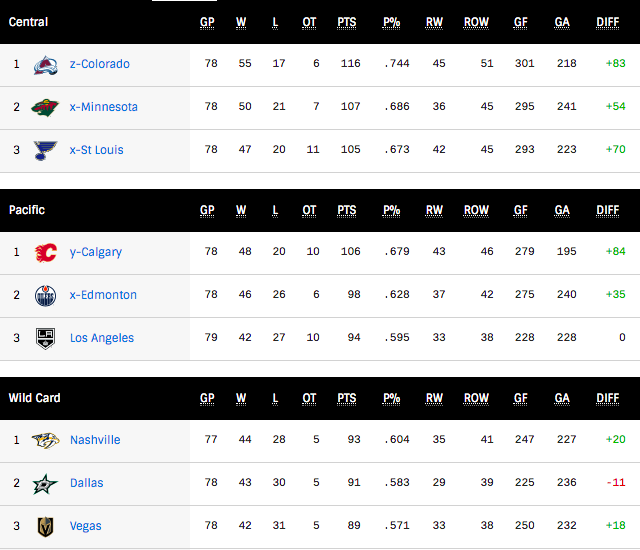 Tonight's Poll Question:
don't forget there is a "carry over question," too
Part 1 - Which KINGS PLAYER is going to score the last regular season Kings goal at home?

You can take 3 guesses for this part (if it's a SO, it will be the player who scores the last goal)

Part 2 - Which player from either team is going to score the last goal with Ryan Getzlaf playing in Crypto.com Arena?

You can take 4 guesses per team for this part (they can be different from your guesses for Part 1)

Previous Game's Winners
I've been trying to make multipoint questions so others can try to catch srm1105, but they've just been too strong down the stretch!

Congratulations to the following posters who guessed within +/- 2 of 32 saves accredited to both hawks goaltenders, nobody guessed Quick would be called upon for only 15 saves (or within +/-2)
30,34 saves (1 Point):
SirJW
DRGinLBC
kingrussell
empire
Sevenhole
31,33 saves (2 points):
RagBone
VegasHockey
jammer06
STONE
AngelEyes
Bill Hicks
hihocarp
JETS GARAGE
KHenry14
32 Exactly (3 points)
:
CIrvine
srm1105
DRice
Shackleford
John a90
Helvetica
sonnyboy11
LeftyKing
forum gold
hokiecat
hornman
kingsmen93
Poll Win Totals
King Of The Mountain
with

64

points:
srm1105
55 Points
sonnyboy11
VegasHockey
54 Points
John a90
Liz4LA
53 Points
52 Points
LeftyKing
51 Points
AngelEyes
pray4mojo
50 Points
Bill Hicks
49 Points
DRice
hokiecat
Kurisu
Nyssa42
47 Points
Helvetica
hornman
jammer06
46 Points
Chateau Bow Wow
Rusty
45 Points
44 Points
Reg or Rog?
43 Points
Busted Chops
41 Points
Dr. Tran
Shackleford
40 Points
forum gold
38 Points
notbob
36 Points
Rogie-Vachon
35 Points
KHenry14
kingrussell
34 Points
Byron
JayWells24
33 Points
31 Points
empire
30 Points
SirJW
STONE
29 Points
CIrvine
dannybuoy1
27 Points
26 Points
25 Points
randdog
24 Points
JETS GARAGE
Sevenhole
22 Points
21 Points
DRGinLBC
20 Points
Clif
19 Points
TooCool
17 Points
cokingsfan
15 Points
beedee
kopinator
13 Points
Dirtweazle
kingsmen93
PuckMaster
11 Points
Greg33
10 Points
beady eye
7 Points
hihocarp
MaxwellSmart
6 Points
Joe Laviguer
5 Points
waynet
4 Points
Ragbone
2 Points
Ice24
rinkrat
1 Point
Ecktore
lurker
MBreeden
RoS
Salami
Stormy2213
***Bet your karma in geogirl's KARMA BETTING THREAD HERE***
________________________________________________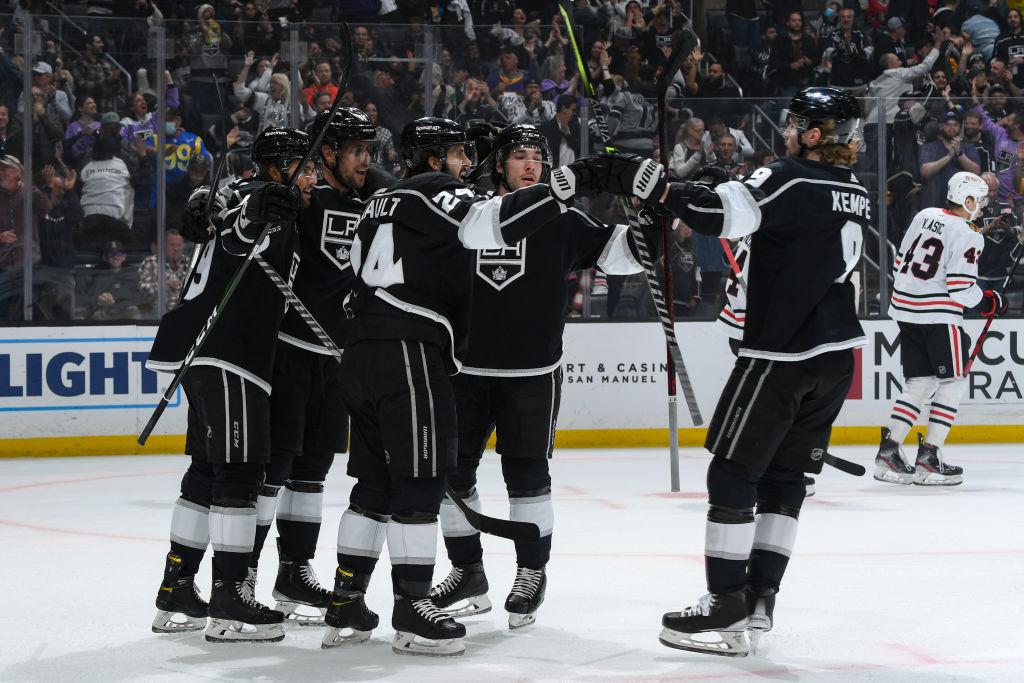 Last edited: