jammer's overlord
Staff member
TEAM LGK
Joined

May 10, 2012
Messages

12,842
LGKash:

$550.00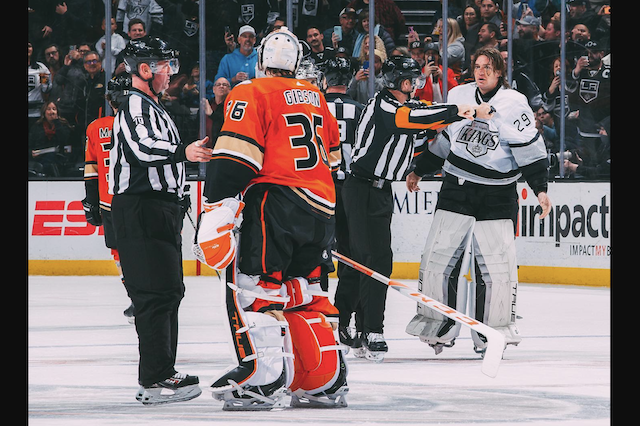 Game Day Thread
Game #57/82 -- 02/18/23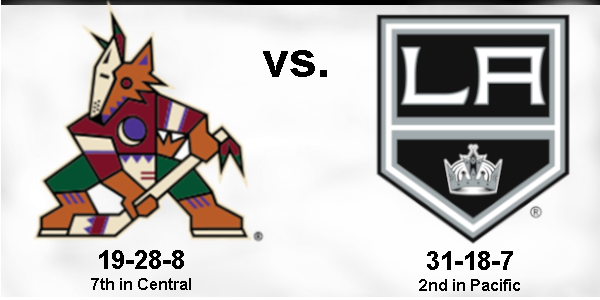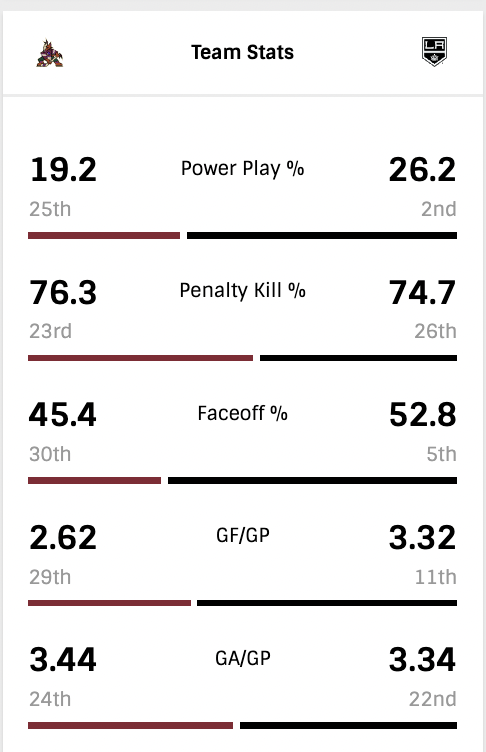 Arizona Coyotes vs. Los Angeles Kings
at

| Los Angeles, CA
Star Wars Night
presented by Big Bear Mountain Resort
Tonight's Giveaway: Neck Gaiter (first 10,000 fans)
Previous Meetings
12/23/22 - Kings 1,
Coyotes 2
12/01/22 - Coyotes 3,
Kings 5

TV:

BSW



Radio: LA Kings iHeartRadio app
Please remember,
DO NOT
post links to Live Game Streams in the GDT or anywhere else on LGK
Check out articles on LA Kings Insider Here
Viktor Arvidsson, Drew Doughty & Todd McLellan 2/17 Post Game Quotes
Viktor Arvidsson on the victory on the road, extending the winning streak to three games
I think we started off good. The first period was good, good intensity and we spent a lot of time in their zone. In the second we got away from it a little bit and then starting the third on a five-minute kill can get you out of the rhythm but I think we managed to pull it off and get the win.
Arvidsson on his power-play goal late in the third period to seal the game
The first time, [earlier in the game] I tried to pass it and Gibson kind of laid his blocker down there and blocked the pass, so I figured he would do the same again. So, I took it to the net and tried to go short side high and I managed to put it in.
Arvidsson on having two power plays that are scoring right now
Oh, it's always good, it's competitive, I think we have competitive players on both units. So, obviously it's going good and everybody's scoring.

Drew Doughty on the win and the overall performance
It's a big win. We didn't like our overall performance, the second period was a little bit sloppy, we thought. When you're outplaying a team that hard in the first period, the tendency is to stay off the gas a little bit and that's something that we need to fix. We have to be able to play a full 60 minutes.
Doughty on the improvements of the power play and his unit specifically
The power play is a lot better this year, we have a much better plan. Obviously we added Kevin, who is basically a power-play specialist. I'm very happy with how the power play is performing, really happy.
Doughty on the support from Kings fans tonight on the road
Yeah, it seemed more like a home game than an away game, to be honest. When we would score, it looked like three quarters of the barn was standing up. Great support by our fans tonight. It felt really good.

Todd McLellan on making it three consecutive victories coming out of the All-Star Break
I thought it was a tough game to play, a tough game to win. It was competitive, we had to be patient, penalties, special teams situations, losing a starting goaltender, a lot of variables went into the night, but I was happy with the special teams and obviously finding a way to close out the night was important for us
McLellan on balancing the emotions between fighting for your goalie and calming down for the win
At this time of the year, the win is the most important thing, but we want to take care of teammates. I'm sure the Ducks team wants to do that as well, but it's about winning right now. I thought we controlled our emotions fairly well in that situation. We had an opportunity to regroup, it gave Quickie a chance to get his head ready for the third period. The penalty kill did a pretty good job, I know we got scored on once, but they did a real good job in that situation.
McLellan on the fire that Pheonix Copley showed late in the second period
He's competitive. It was one of the first things we found out about him when training camp began, every team has their testing regiment that they go through and he wasn't going to be denied. He was carrying the goalie union if you will and you could see right away he's really competitive. In practice, he's competitive, even on drills or situations that don't necessarily mean a lot for the goaltender, he's there all the time and wants to make the save. Just a competitive individual.
McLellan on Jonathan Quick coming in and getting the job done to get the victory
There's probably nobody else we'd rather have going into that situation, a guy that's played as many games as he has, he's played in this building many, many times on big nights. He came in unexpectedly and did a really, really good job. I believe he was the winning goaltender tonight, which is great, we needed that for him, he needed that for him. Coaches complimenting both goaltenders, usually that doesn't happen.
McLellan on Gabe Vilardi's return and playing him on the fourth line
I think it says a lot about the organization and how they have built it up over the years. We've got a lot of competition up front right now, we've mentioned that to the players over and over again. Gabe and Arthur, one has 17 and the other has 10 goals and if you want to call that our fourth line, that's where they're playing, but they both play significant and key roles on the power play and that power play scored three tonight, so they got the job down there. They're both coming back from injury, so they need to find their games a little bit, Trevor Moore as well, but at the end of the day, the depth is what should help us down the stretch.
​

Subject To Change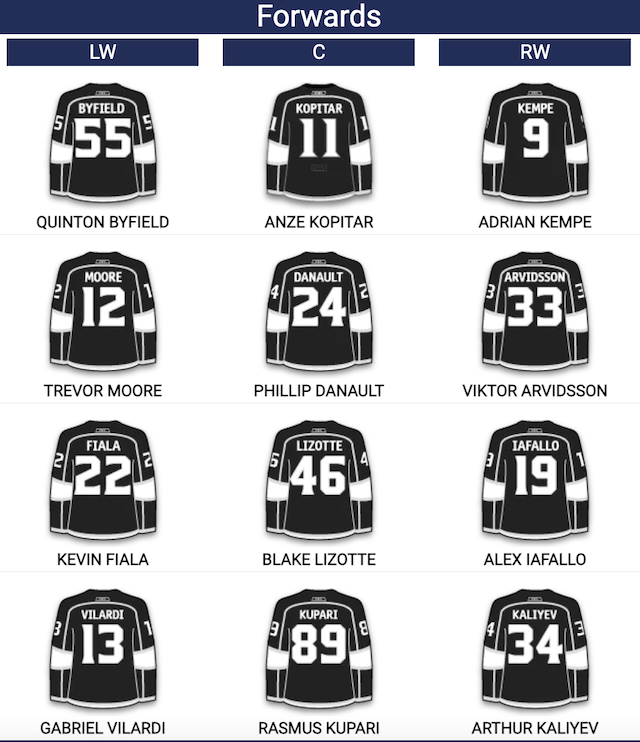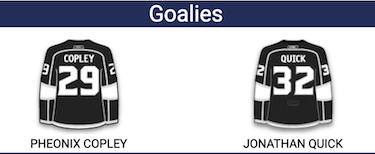 Kings Injuries
Carl Grundstrom (IR)
___________________________________
___________________________________________
Coyotes Probable Lineup
courtesy of dailyfaceoff.com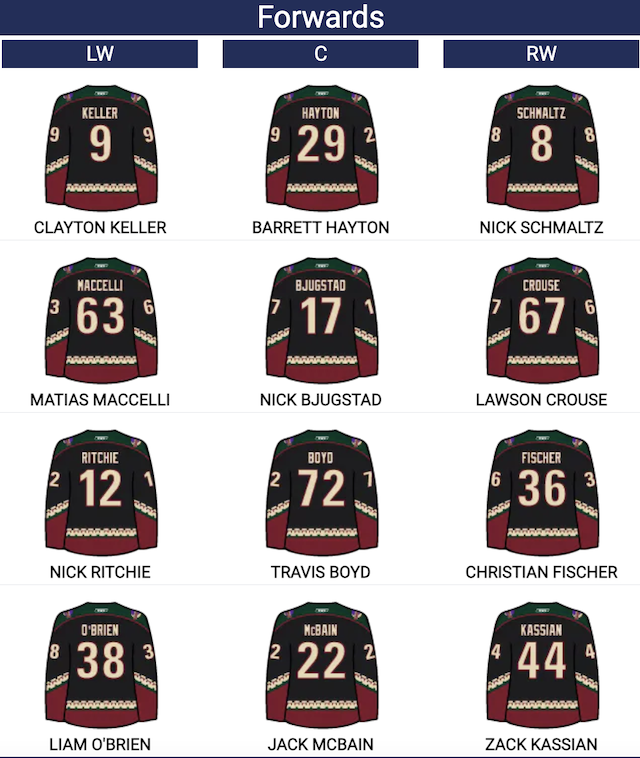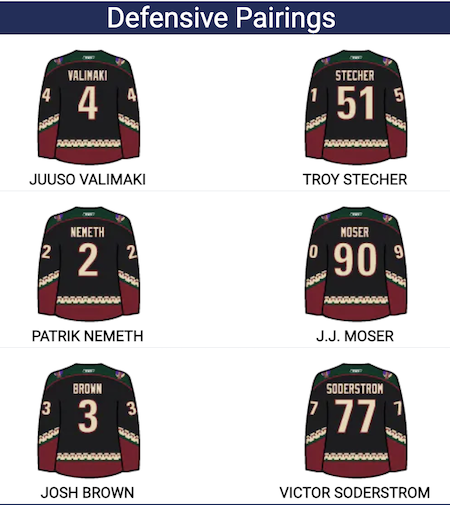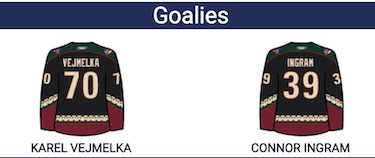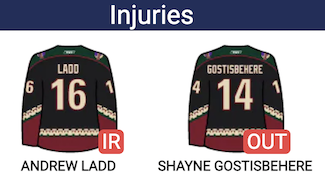 Former King
Troy Stecher

____________________________________________
____________________________________________
GOALIE STATS

PLAYER STATS
Click Here For More Stats & Rosters
WESTERN CONFERENCE STANDINGS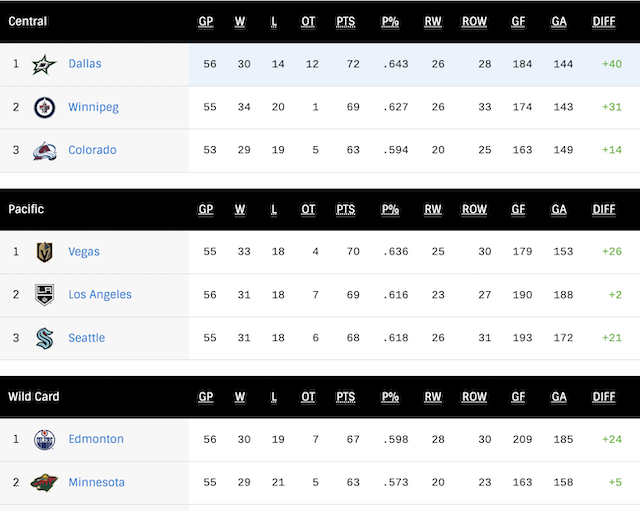 Tonight's Poll Question:
The Kings are now 2nd in the league on the power play.
Part 1 - How many TOTAL POWER PLAY GOALS will be scored by both teams in tonight's game?

Part 2 - How many total goals will be scored in the 2nd period?

only ONE guess for each part


Previous Game's Winners
Congratulations to the only 2 to guess that Lizotte would get the first Kings goal in the previous game. No one guessed Shattenkirk. (because, who even knew he is still playing??):
CIrvine
TooCool
Poll Win Totals
King Of The Mountain
with

43

points:
VegasHockey
39 Points
Kurisu
sonnyboy11
38 Points
LeftyKing
Rusty
srm1105
37 Points
hornman
36 Points
Bill Hicks
35 Points
John a90
randdog
34 Points
pray4mojo
33 Points
AngelEyes
32 Points
DRGinLBC
31 Points
DRice
forum gold
30 Points
beady eye
CIrvine
Helvetica
Liz4LA
SirJW
29 Points
TooCool
28 Points
Nyssa42
27 Points
jammer 06
26 Points
25 Points
24 Points
Chateau Bow Wow
Clif
23 Points
Rogie-Vachon
22 Points
21 Points
empire
JETS GARAGE
Sevenhole
20 Points
dannybuoy1
hihocarp
KHenry14
notbob
19 Points
18 Points
RoS
waynet
17 Points
16 Points
Dr. Tran
kingsmen93
15 Points
14 Points
JayWells24
13 Points
kingrussell
Shackleford
12 Points
11 Points
Busted Chops
10 Points
Byron
Cross Traffic
kopinator
9 Points
Dirtweazle
8 Points
7 Points
6 Points
beedee
5 Points
4 Points
3 Points
Dexter
HTK
salami
STONE
2 Points
05/29/93
PuckMaster
1 Point
Ice24
RagBone
Rinkrat
***Get, Give, & Bet your karma in geogirl's KARMA BETTING THREAD HERE***
________________________________________________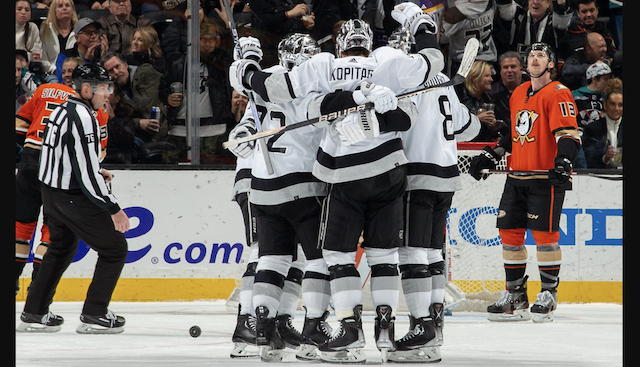 ​
Last edited: