jammer's overlord
Staff member
TEAM LGK
Joined

May 10, 2012
Messages

13,085
LGKash:

$1,350.00

Game Day Thread
Game #2/82
10/14/23


*Game Time 7:30pm*






Carolina Hurricanes vs. LA Kings
at

| Los Angeles, CA
CHARGERS NIGHT
Last Season's Meetings
01/31/23 -- Kings 4
, Hurricanes 5
(OT)
12/03/22 --
Hurricanes 5,
Kings 2
*Game Time 7:30pm**

TV
:
**Bally Sports West**
Radio
:
LA Kings iHeartRadio app
Please remember, DO NOT post links to Live Game Streams in the GDT or anywhere else on LGK
Check out articles on LA Kings Insider Here
Anze Kopitar & Todd McLellan 10/11/23 Post-Game Quotes:
​
Anze Kopitar
On getting the chances tonight and overpassing at times
Maybe it didn't fall, maybe it didn't bounce our way, but then again I think we could have done a better job of directing everything more towards the net, versus trying to find the perfect play. Obviously, power play was 0-for-5 tonight, so we're going to look to improve that going forward and obviously try and win some games.
On what he felt went wrong tonight on the power play
I mean, it's hard to say right now. We'll look at the game and look at the video and maybe just too much passing, not enough focus towards the net. We'll talk about it and we'll fix it.
On seeing his linemate, Quinton Byfield, get his goal tonight
I think it's huge for everybody, not just for him. To come out and he made some strong plays, he made some good plays, just like he did last year. Hopefully, him individually and us as a line, we'll benefit from that and just go from where we left off last year. It's good to see him get on the sheet and hopefully me and Juice can get on it pretty soon too.
Todd McLellan
On his overall takeaways from tonight's game
I thought we did some good things in the game. I think territorially, it was fairly even. I thought what they did better than us was commit to finishing things. They went and got pucks, they got sticks on pucks, they got bodies in front of pucks, broke plays up defensively that we didn't do. Offensively, they went and got pucks and tipped pucks and we didn't do that. They were better in those two areas and as a result, they ended up winning. Our power play was, at times, dangerous and at times again, we looked good doing nothing, so we've got to fix that a little bit. Penalty kill, we gave up a goal, I'd like to see us in the shooting lane in that instance, we weren't and if you look at the blocked shots, another area that they were better in, 23 to 11 and that's part of getting in the way more to break plays up than we did.
On Alex Laferriere during his NHL debut and if the group gained momentum off his fight
...the fight was a byproduct of what was going on, but I thought he had a tremendous night. He looked like he's played in the league for a long time. That's pretty exciting for our organization and for him. He fit two offensive players very well, had real good instincts both offensively and defensively, we had zero hesitation about putting him on the ice. The fight itself was a scrum, we all got involved, we took care of each other and sometimes in those situations, there's a pair that comes out of it swinging and he happened to be the one doing it. He handled himself very well and it did give us some energy.
On how he felt the group adjusted to 11 forwards today versus Saturday
Much better, but we committed to almost playing three lines and then just rotating a few guys through every now and then. Who gets the short end of that stick is sometimes Lizotte, Lewis, Grunny, yet they found ways to have an impact in the game. They were involved in the game scoring, Lizzo had a great chance at the end, but it allowed for more flow up front. The guys had an idea of what was coming, rather than wondering what may come.
On his evaluation of Quinton Byfield tonight
We talked about one young player in Laf, the other young player that I thought had a really good night, maybe his best game as a King, was 55. I thought he was all over the ice. He looked confident, he made great plays not only offensively but defensively. Nice to see him score a goal for all the hard work he did, but I thought he had a really strong night and something to build on as he goes forward.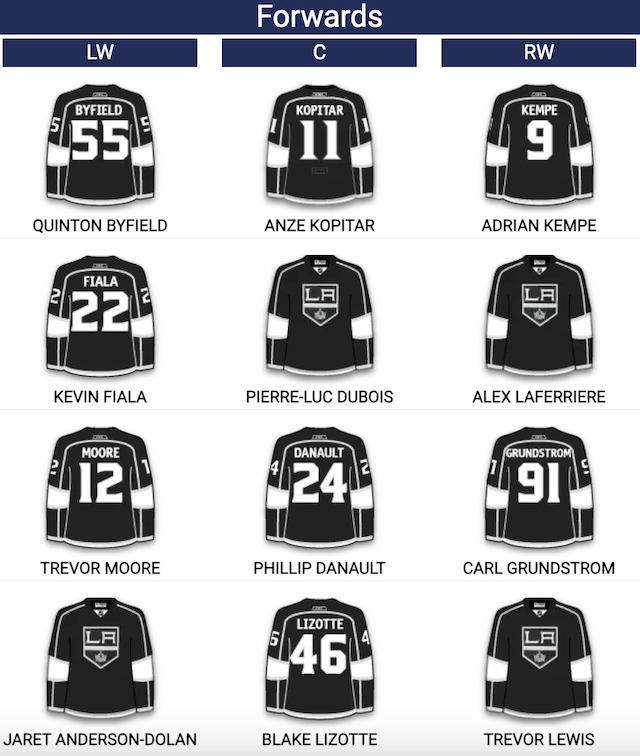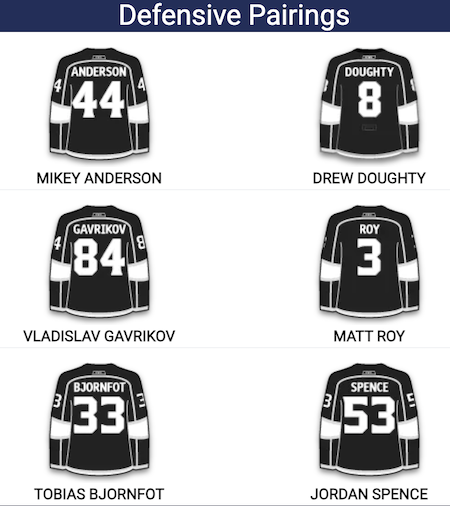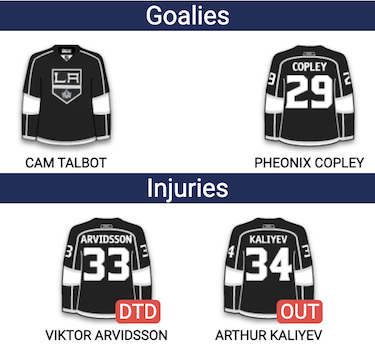 ______________________________________________
HURRICANES PROBABLE LINEUP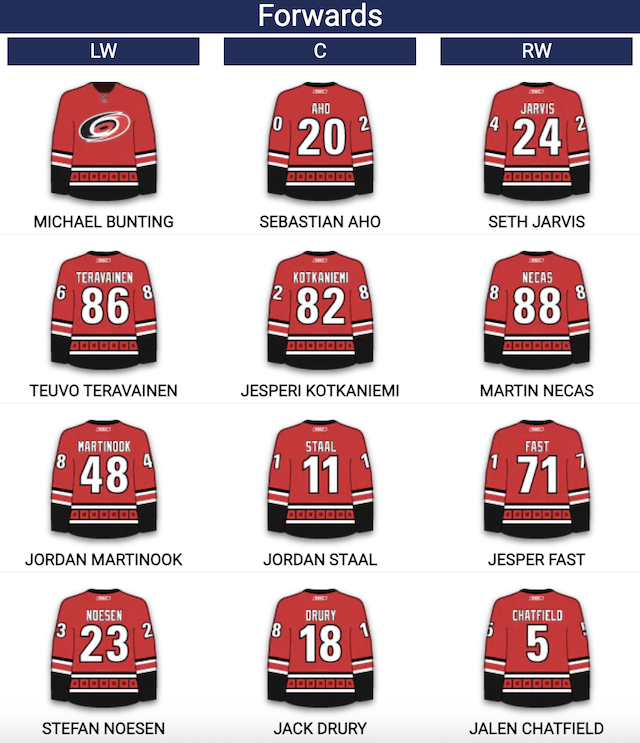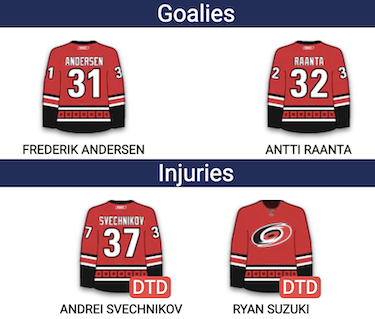 Former King
Brendan Lemieux

____________________________________________________________
____________________________________________________________
GOALIE COMPARISONS (2022-23 Season)
TEAM STATS (2022-23 Season)
STANDINGS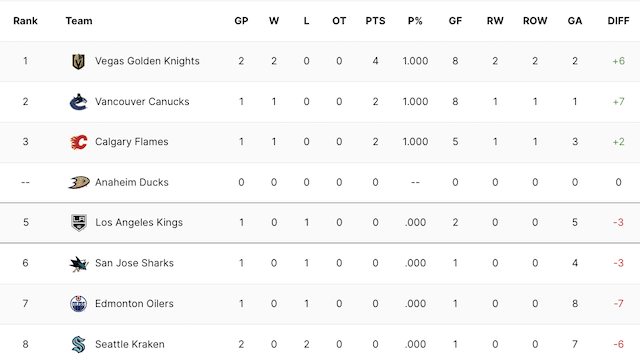 *VBookie BETTING THREAD HERE*
**Tonight's Poll Question**
How many total goals will be scored in tonight's game by both teams

?
You can take TWO guesses
Take your best guess in your post below - the only prize is the glory of seeing your name in the next GDT if you get it right.
PREVIOUS GAME'S WINNERS
Congratulations to the following posters who correctly guessed the Kings first goal would be scored by Grundstrom or that Laferriere would take the Kings first penalty of the season. Nobody guessed both:
Grundstrom First Goal (1 Point)
Clif
CIrvine
TooCool
Nyssa42
waynet
Laferriere First Penalty (1 Point)
VCRW
SaltyPuck
Dexter
puckoff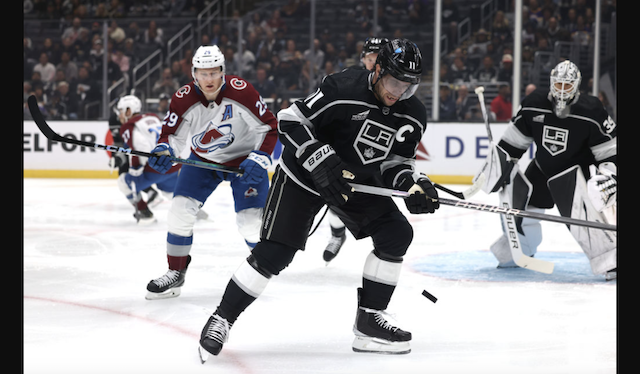 ENJOY THE CLIMB!!
​