jammer's overlord
Staff member
TEAM LGK
Joined

May 10, 2012
Messages

12,815
LGKash:

$450.00

Game Day Thread
Game #62/82 -- 3/15/22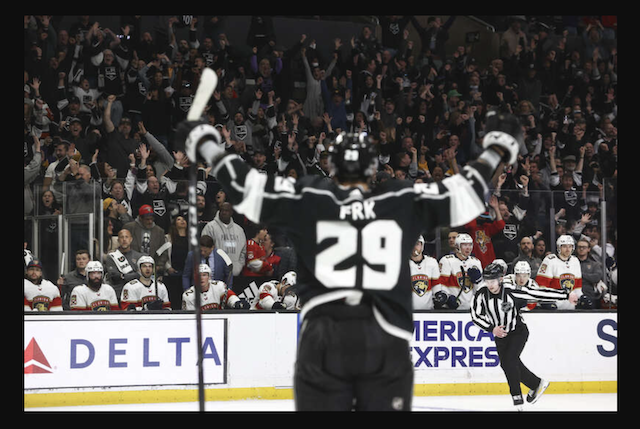 Colorado Avalanche vs. Los Angeles Kings
at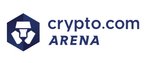 | Los Angeles, CA
LA Galaxy Night
Previous Meeting
01/20/22 -
Avalanche 4,
Kings 1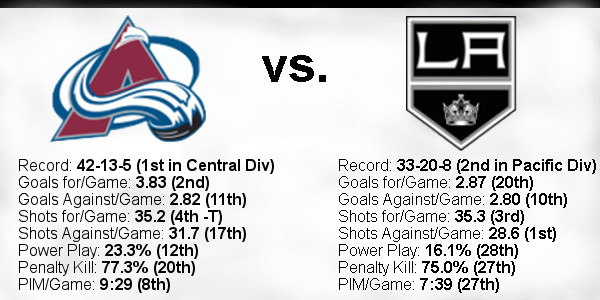 TV:

**BSW**



Radio: LA Kings iHeartRadio app
Please remember,
DO NOT
post links to Live Game Streams in the GDT or anywhere else on LGK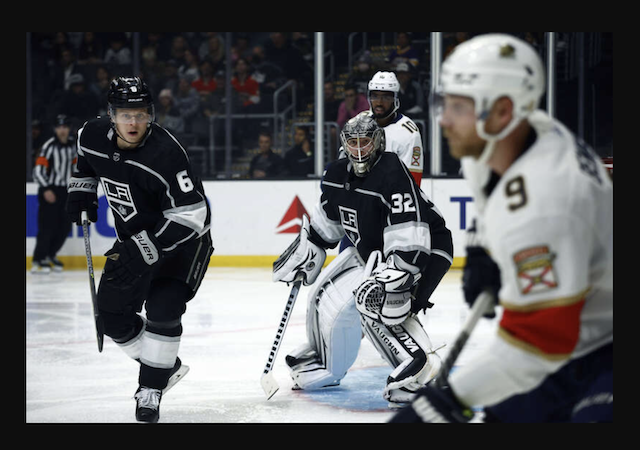 Check out articles on LA Kings Insider Here
Todd MacLellan, Jonathan Quick (video) & Rasmus Kupari (video) 3/13/22 Post Game Quotes
Link to Quick's Post Game Comments
https://twitter.com/i/status/1503239245028368384
Link to Kupari's Post Game Comments
[B]Link toQuick's Post Game Comments[/B] [url]https://twitter.com/i/status/1503239245028368384[/url]
Todd McLellan
On a huge win tonight
Very big win, for a lot of reasons. Obviously the points, but maybe more importantly, the belief system, that was something that was in question, I think, heading into the game with the number of bodies we have missing. In San Jose, I don't think we overcame it at all, I don't think we were prepared for it yet. We regrouped and we responded well tonight.
On the players coming in finding a way to contribute
They bought into the organization. We're one big team, I think, finally. The Reign, the Kings, we all play the game the same way, so when they come in, it's kind of seamless. They understand the language and a lot of them have been here. They've gone back and polished their games up, including JAD and Lias, but when Ras came back today, I thought he looked a lot more like he did at the beginning of the season than he did at the 30-game mark, and that's what the American League is for. I thought Gabe did a tremendous job, he learned a new position, moved to the wing, suited real good for there, board battles, stick battles, that type of stuff. The D, the rest of them have been here for a little while, but Strander came in and he did what he was called upon to do. The organization, as a whole, is one big team. It pays off when they all play the same way.
On the kids line with Byfield, Kupari and Vilardi
Yeah, there was some pace on that line through the middle and with Ras on the wing and, as I mentioned, Gabe did some corner work. They were desperate, they wanted to prove that the staff made mistakes by not keeping them, and that's what players have to do. If they keep proving us wrong, that's a great thing, we want to be wrong….and Frker, we haven't talked about Marty. We brought him up to shoot the puck and he shot the puck. He played fourth-line minutes and he shot the puck, so good for him.
On Jonathan Quick playing in 700 regular-season games
It's remarkable, really. Quickie has played a hard 700, those 700 don't include all of those runs in the playoffs and all of that other stuff. The milestones for players, they should include all of those other games, because what's Quick at then, 775, almost to 800? Commitment, health, he hasn't been totally healthy for his whole career, but his commitment to his craft and his competitiveness. For as stubborn as he is, it's what makes him a really good goaltender. The guys were so happy for him tonight.
On the attitude on the bench in the third period
For as good of an offensive team as they are, they really checked in the third, which is the sign of a really good team, which obviously they are. They made it hard to get through the neutral zone, but we stuck with it. Not every shift was an offensive shift, but we thought we were getting the odd chance. Kind of like Boston, where we had to use every minute we were given and we couldn't waste any. It worked again for us.

​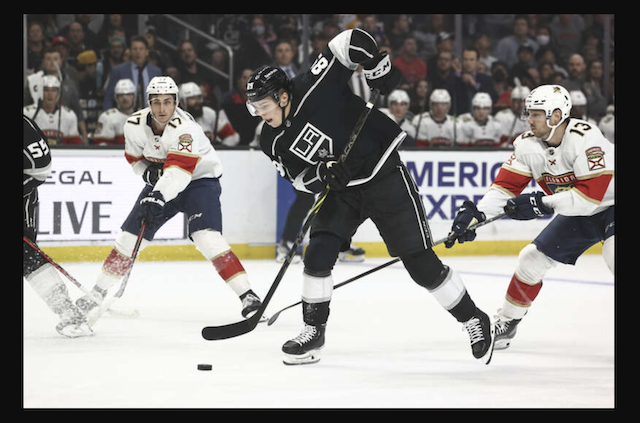 Subject To Change
FORWARDS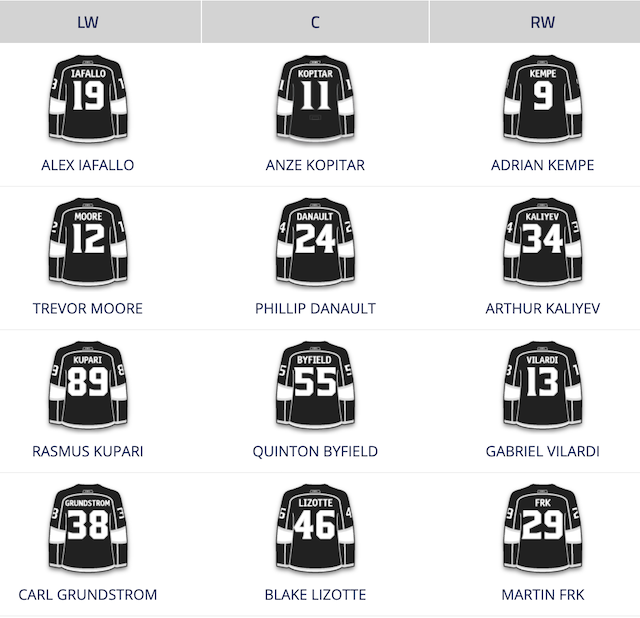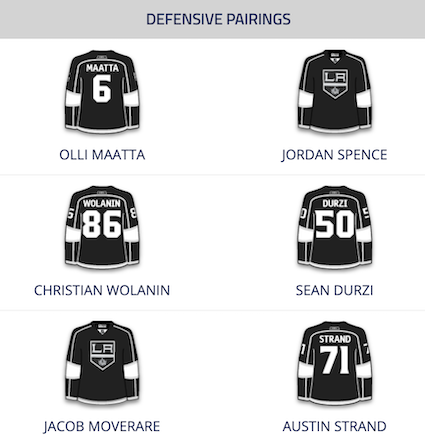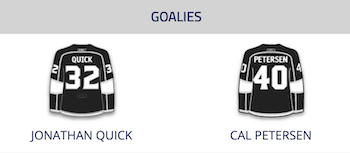 Kings Injuries
Viktor Arvidsson (IR)
MIkey Anderson (IR)
Andreas Athanasiou (IR)
Tobias Bjornfot (DtD)
Dustin Brown (IR)
Drew Doughty (IR)
Alexander Edler (LTIR)
Brendan Lemieux (IR)
Matt Roy
Sean Walker (LTIR)
__________________________________________________
__________________________________________________
Avalanche Probable Lineup
courtesy of dailyfaceoff.com
FORWARDS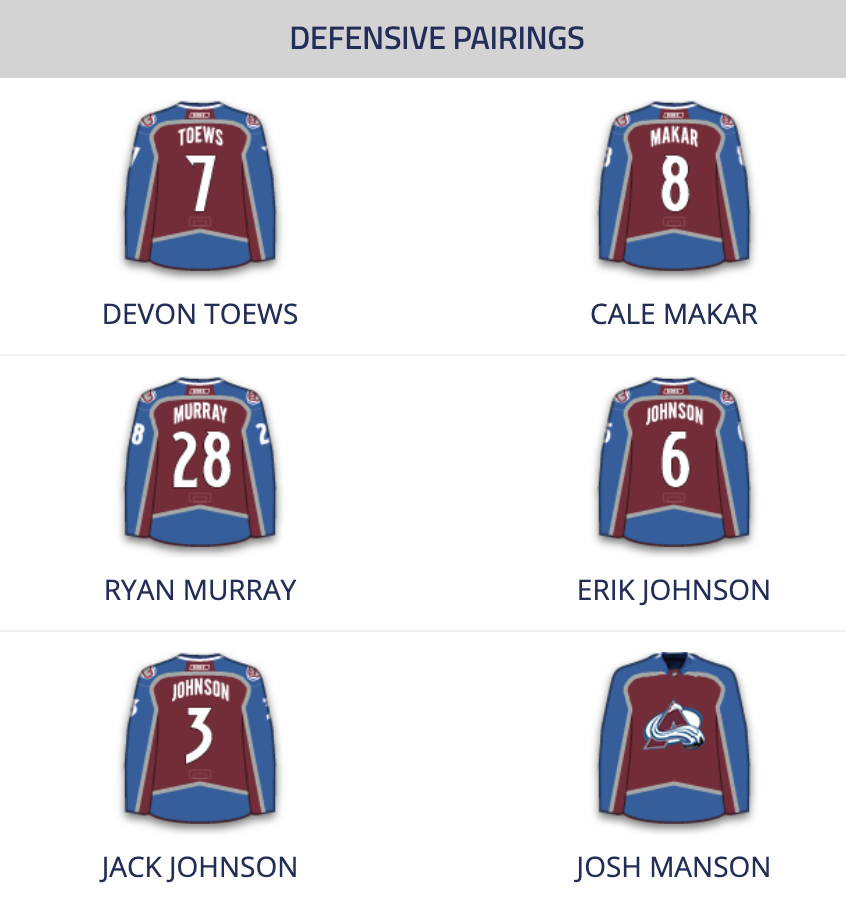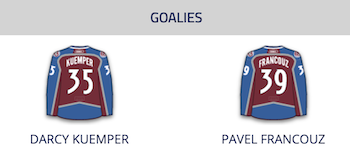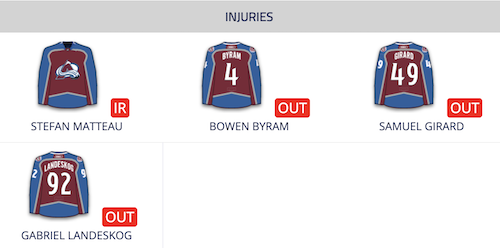 Former Kings
Darcy Kuemper
Jack Johnson

Kuris MacDermid

________________________________________________
_________________________________________________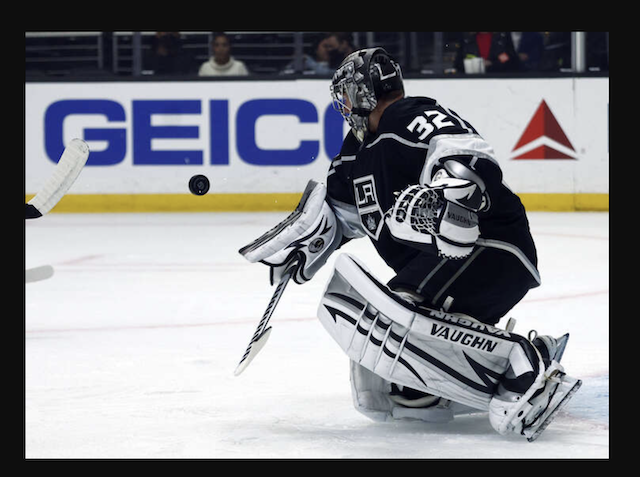 GOALIE STATS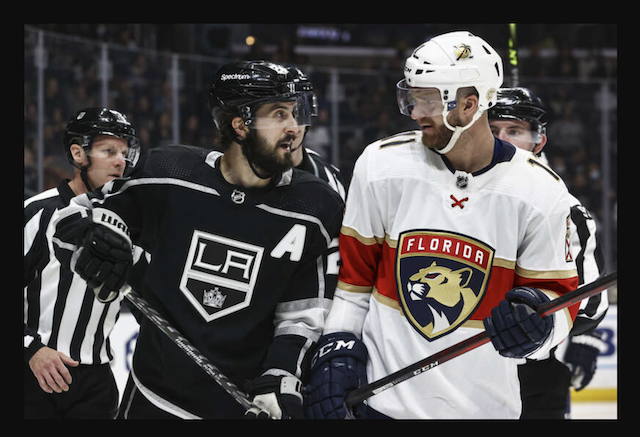 PLAYER STATS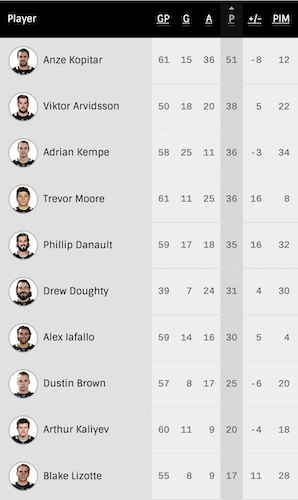 PACIFIC DIVISION STANDINGS
Tonight's Poll Question:
How many total points will be scored in tonight's game by players who have played at least 1 game for the Reign this season?

You can take 3 guesses.

FYI…Durzi started the season with the Reign, in case you forgot.
Previous Game's Winners
Sorry that 2-game question didn't work out the way I had planned - was hoping to shake up the win standings a bit, not injure all the Kings.
Congratulations to the following posters who all picked up 1 point by guessing that the following players would be credited with a single point over the previous 2 games:

Byfield (1 point):
randdog
Kurisu
Spence (1 point):
KHenry14
Durzi (1 point):
SirJW
Poll Win Totals
King Of The Mountain
with

45

points:
srm1105
40 Points
Reg or Rog?
36 Points
LeftyKing
VegasHockey
35 Points
AngelEyes
John a90
Rusty
34 Points
pray4mojo
Sonnyboy11
33 Points
Kurisu
notbob
32 Points
Chateau Bow Wow
DRice
Helvetica
31 Points
hokiecat
Liz4LA
30 Points
Bill Hicks
Dr. Tran
hornman
29 Points
Busted Chops
jammer06
28 Points
JayWells24
27 Points
kingrussell
26 Points
KHenry14
25 Points
Nyssa42
24 Points
Byron
23 Points
dannybuoy1
STONE
22 Points
SirJW
21 Points
CIrvine
Shackleford
20 Points
empire
19 Points
Sevenhole
18 Points
TooCool
17 Points
forum gold
Rogie-Vachon
16 Points
Clif
JETS GARAGE
15 Points
14 Points
cokingsfan
randdog
13 Points
Dirtweazle
DRGinLBC
PuckMaster
12 Points
11 Points
Greg33
kopinator
10 Points
beady eye
beedee
9 Points
8 Points
7 Points
MaxwellSmart
6 Points
Joe Laviguer
5 Points
kingsmen93
waynet
4 Points
3 Points
2 Points
Ice24
rinkrat
1 Point
lurker
MBreeden
RoS
Salami
Stormy2213
***Bet your karma in geogirl's KARMA BETTING THREAD HERE***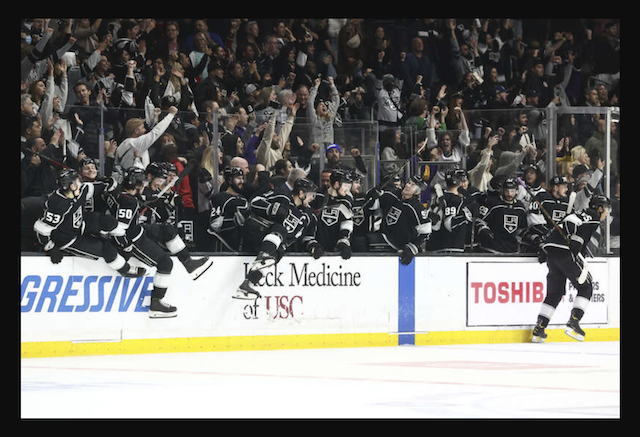 ________________________________________________
Photos courtesy of NHL.com/Getty Images​
Last edited: