jammer's overlord
Staff member
TEAM LGK
Joined

May 10, 2012
Messages

12,809
LGKash:

$450.00

Game Day Thread
Game #77/82 -- 4/16/22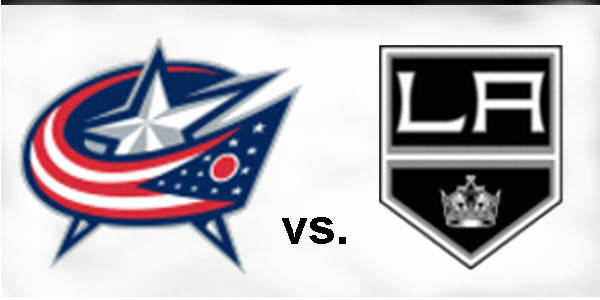 Columbus Blue Jackets vs. Los Angeles Kings
at

| Los Angeles, CA
First Responders Appreciation Night
Mexican Heritage Night
Previous Meeting
03/04/22 -
Kings 4
, Blue Jackets 3 (OT)

TV:

**BSW**



Radio: LA Kings iHeartRadio app
Please remember,
DO NOT
post links to Live Game Streams in the GDT or anywhere else on LGK
Check out articles on LA Kings Insider Here
Anze Kopitar & Todd MacLellan 4/13/22 Post Game Quotes

Anze Kopitar
On the challenge of finding their footing right off the start tonight
Yeah, obviously they came out strong and we didn't match the intensity. Next thing you know, we're down 4-0. It's obviously the start that we can't afford and that's about it.
On the importance of moving past games quickly after a game like that
We're still very much in the hunt, obviously, and definitely not the performance that we wanted tonight, especially at this time of the year. We've got to look at this one, but at the same time, obviously correct stuff and make sure that this is not going to repeat, because it is crunch time for our team and looking ahead to Saturday.
On the concern with the starts of periods, looking especially at the first
It's a variety of different things. A 4-0 start is a lot more concerning than the start of the third period. I'm not saying that the start of the third period was acceptable, but there were things in the second where it looked like the team that we need to be going forward. If you look at the overall picture tonight, they're a playoff team, they're at the top of the league and we did not look like a playoff team. We have another six games left on our schedule and we've got to make sure that all six of them are better than that.
On the team's ability to push back throughout the season and respond
It's not going to do us any good if we sulk about this one. Like I said, it's going to be addressed for sure, we're going to look at some stuff, but then again, there's no time to look back at this one now. We have to focus ahead on the next game and make sure when we come home, that we look like a playoff team.

Todd McLellan
On his impressions from tonight's game
We didn't have anything, we can't play that way against this team. We found some legs in the second, but then we made a lot of mistakes and it ended up in our net. I think I've answered all of the questions you could possibly ask.
On how you move on from tonight's game
Just like that. Exactly like that.
McLellan on it taking an entire team move past this game
Yeah, like I said, I can't answer the questions, I've already explained the game. We can put earrings on a pig if we want, but it's not going to make it any better. That was awful and we move on. We get an opportunity to play more games, so good for us and we have to be better.

​

Subject To Change
FORWARDS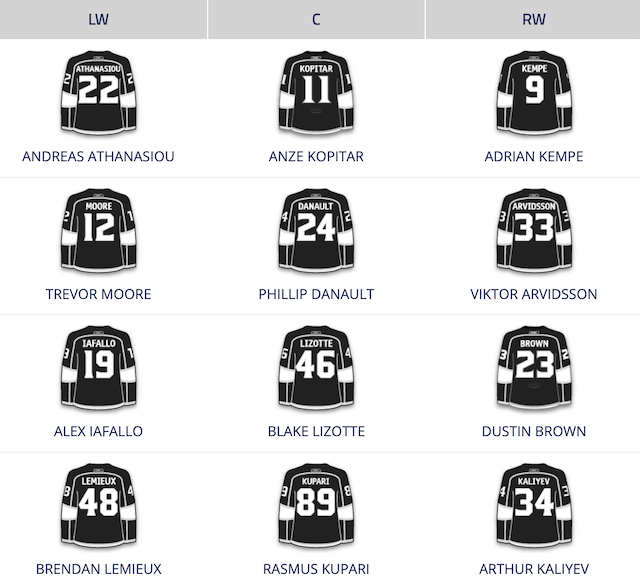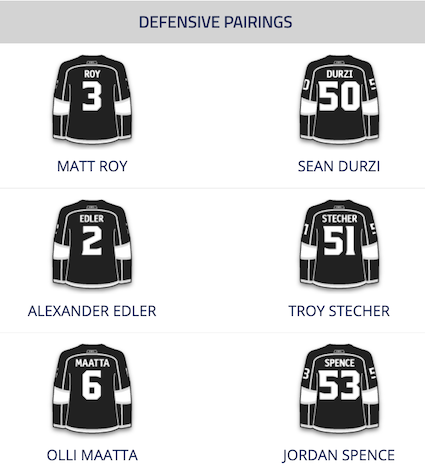 Kings Injuries
Mikey Anderson (LTIR)
Drew Doughty (IR)
Sean Walker (LTIR)
__________________________________________________
__________________________________________________
Blue Jackets Probable Lineup
courtesy of dailyfaceoff.com
FORWARDS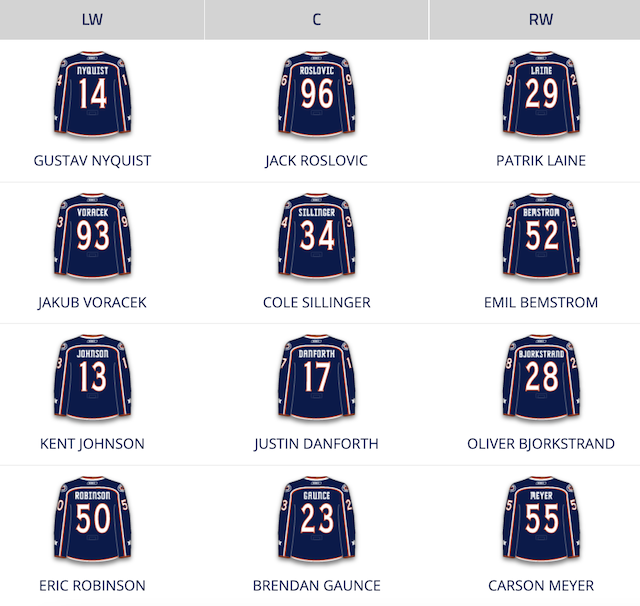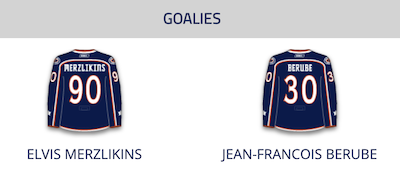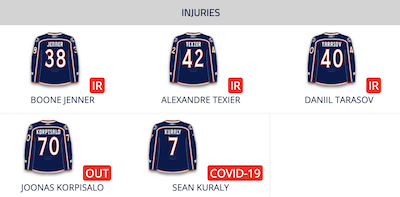 Former Kings Draft Pick
J-F Berube
________________________________________________
_________________________________________________
GOALIE STATS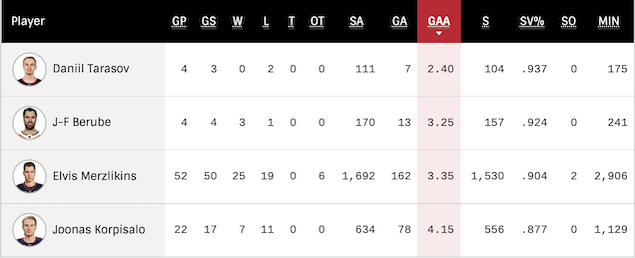 PLAYER STATS
WESTERN CONFERENCE WILD CARD STANDINGS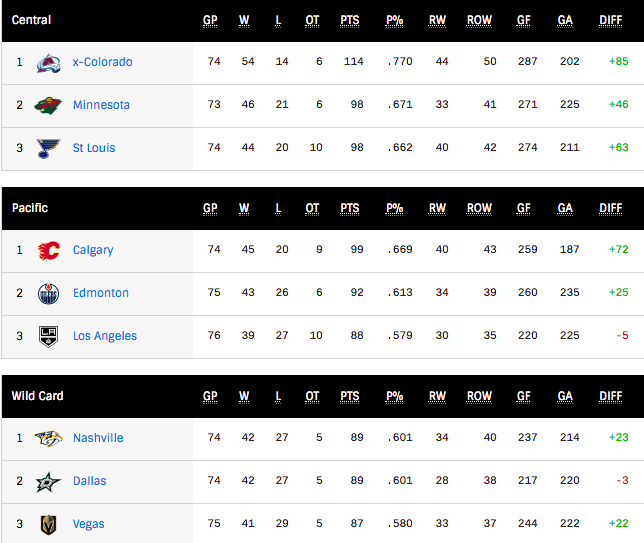 Tonight's Poll Question:
I'm trying for the least jinx-y question I can think of:
Part 1 - Which player is going to score the SECOND Kings goal of the game?
Part 2 - Which player is going to score the SECOND Blue Jackets goal of the game?

You can take 3 guesses per part, and one of your guesses can be "Kings/BJs will score fewer than 2 goals"
1 point for each correct answer (2 points possible)

Previous Game's Winners
Congratulations to the following posters who correctly guessed within +/-2 of 32 shots for the Kings and/or 35 shots by the Avs. Special congratulations to pray4mojo for getting all 6 available points. Chateau Bow Wow, srm1105 and forum gold all also got 5 of 6. Who would have thought with that crazy score that the SOG totals would be very average for both teams?
30,34 shots Kings (1 point) :
Rusty
Rogie-Vachon
hokiecat
KHenry14
31,33 shots Kings (2 points) :
randdog
Byron
Helvetica
John a90
kopinator
sonnyboy11
Nyssa42
32 shots Kings (3 points) :
Chateau Bow Wow
srm1105
forum gold
pray4mojo
notbob
33,37 shots Avs (1 point) :
jammer06
Byron
Helvetica
John a90
Shackleford
sonnyboy11
34,36 shots Avs (2 points) :
Chateau Bow Wow
srm1105
randdog
DRice
forum gold
beedee
kopinator
Bill Hicks
hokiecat
empire
Nyssa42
Kurisu
hornman
35 shots (3 points) :
Dr. Tran
pray4mojo
Busted Chops
Liz4LA
Poll Win Totals
King Of The Mountain
with

57

points:
srm1105
51 Points
Liz4LA
sonnyboy11
VegasHockey
50 Points
John a90
49 Points
pray4mojo
48 Points
AngelEyes
47 Points
LeftyKing
46 Points
Bill Hicks
DRice
Kurisu
45 Points
Chateau Bow Wow
hokiecat
44 Points
Nyssa42
Reg or Rog?
43 Points
42 Points
Helvetica
jammer06
41 Points
hornman
Rusty
40 Points
Dr. Tran
39 Points
38 Points
Busted Chops
notbob
37 Points
36 Points
35 Points
Rogie-Vachon
Shackleford
34 Points
JayWells24
33 Points
forum gold
KHenry14
kingrussell
32 Points
Byron
31 Points
30 Points
29 Points
dannybuoy1
empire
28 Points
27 Points
SirJW
STONE
26 Points
CIrvine
25 Points
randdog
24 Points
23 Points
Sevenhole
22 Points
21 Points
20 Points
Clif
DRGinLBC
19 Points
JETS GARAGE
TooCool
18 Points
17 Points
cokingsfan
16 Points
15 Points
beedee
kopinator
14 Points
13 Points
Dirtweazle
PuckMaster
12 Points
11 Points
Greg33
10 Points
beady eye
9 Points
kingsmen93
8 Points
7 Points
MaxwellSmart
6 Points
Joe Laviguer
5 Points
waynet
4 Points
3 Points
hihocarp
2 Points
Ice24
rinkrat
1 Point
Ecktore
lurker
MBreeden
Ragbone
RoS
Salami
Stormy2213
***Bet your karma in geogirl's KARMA BETTING THREAD HERE***
________________________________________________
Sorry there are no photos - something is wrong with the NHL website - no pics available​
Last edited: