jammer's overlord
Staff member
TEAM LGK
Joined

May 10, 2012
Messages

12,814
LGKash:

$450.00

Game Day Thread
Game #78/82 -- 04/04/23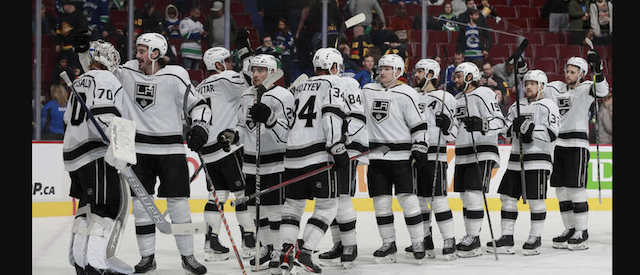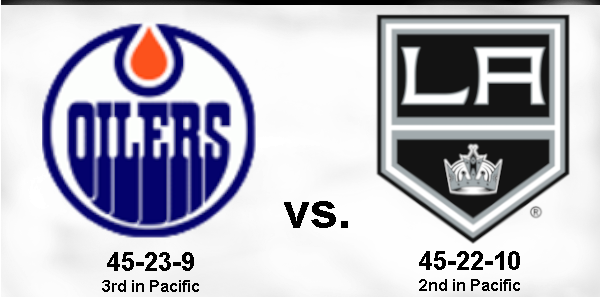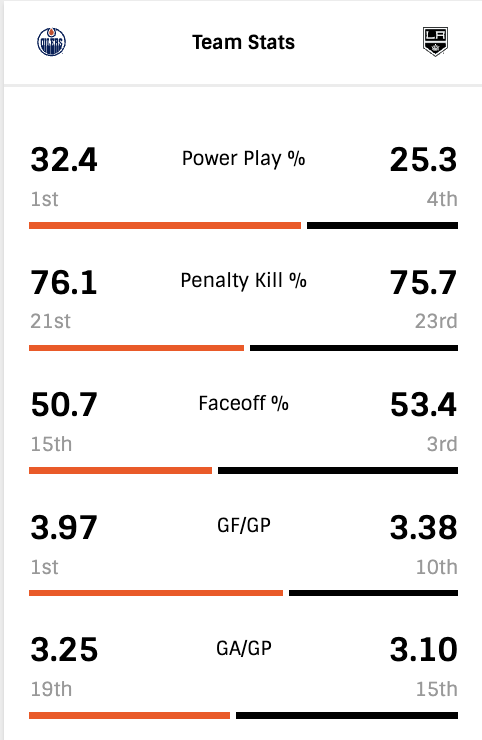 Edmonton Oilers vs. Los Angeles Kings
at

| Los Angeles, CA
First Responders Night
Previous Meetings
03/30/23 — Kings 0,
Oilers 2
01/09/23 — Oilers 3,
Kings 6
11/16/22 —
Kings 3
, Oilers 1
**Game Time 7:30pm on ESPN**
​

TV:

***ESPN***



Radio: LA Kings iHeartRadio app
Please remember,
DO NOT
post links to Live Game Streams in the GDT or anywhere else on LGK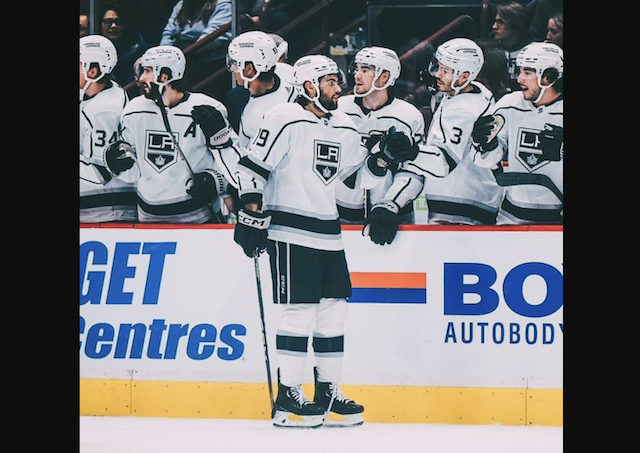 Check out articles on LA Kings Insider Here
Anze Kopitar (audio), Alex Iafallo, & Todd McLellan 4/2 Post Game Quotes
Listen to Anze Kopitar's Post Game Interview Here
Alex Iafallo on the feeling of clinching a playoff berth for the second straight season
It's huge, that's what we've worked for all year and I'm glad we could do it tonight and look forward to that. We got a few games left so we've got to keep keep going strong and move towards the playoffs.
Iafallo on the team's defensive play tonight after weathering an early storm
Everybody sacrificed and I feel like it all started with Korpi, he made some huge saves obviously. A lot of guys had good sticks and good blocks, I think it was just a good team effort.
Iafallo on being a versatile player who can contribute in all situations
Yeah, just trying to flip the switch, whether it's penalty kill or power play, just trying to do as best as I can. They do a great job with video and stuff for us, each team is different, so you've got to pay attention to who's doing what.
Iafallo on the team's penalty-killing efforts in tonight's win
Yeah, it was really good. Really good effort by everybody, especially the d-men They were able to handle the forecheck, guys coming down and Korpi made a bunch of big saves on their power plays. It was just a big, big team effort tonight.

Todd McLellan on the feeling of clinching a playoff berth
I don't want to say it's a relief, because we've sensed that it's been coming, but once you get that asterisk by your name you can you can breathe a little bit. That's a hell of an accomplishment for our group.
McLellan on a full-team win over the Canucks tonight
I thought tonight was a tough night for us to play, we've had a lot of heavy games on this trip and to play back-to-back, short turnaround, it was a complete team win tonight. Sometimes you win because two or three players are stars, I thought tonight 20 of us played extremely well. We got our legs underneath us after the first 10 minutes and then we were pretty solid after that.
McLellan on Alex Iafallo's versatility and value to the team as a whole
Yeah, he's a very valuable player for us. Very trusting, a guy that you can put anywhere in the lineup, on any line. He cleans up a lot of messes and mistakes that are made, he anticipates well defensively and he can obviously put it in the net when he gets a chance.
McLellan on the team's connectivity at the defensive end of the rink tonight
A lot of times coaches talk about being connected offensively and breaking out, we were connected defensively. We did a good job of reading off each other, our gaps were pretty good and there wasn't a lot of lazy or late arriving people. They were committed to getting there on time when they could. It didn't mean we were perfect but when they could, they did their jobs.
McLellan on Arthur Kaliyev moving up in the lineup and getting rewarded with a goal
Yeah, very much so. He;s dangerous when the puck's on his tape in the offensive zone and he showed why again today. Shoot and follow and he put another one in. He's the one guy in our lineup that can do that often and got rewarded.
​

Subject To Change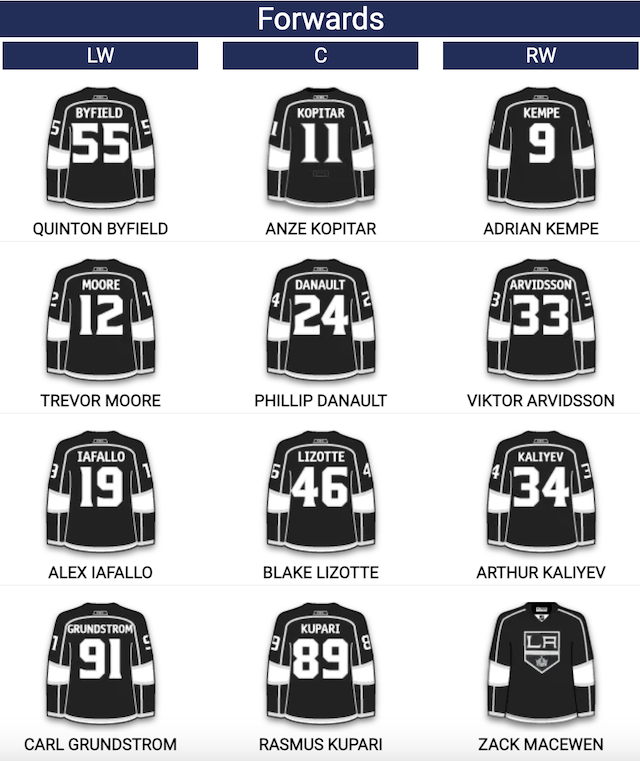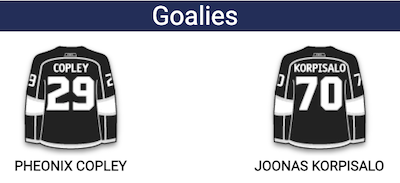 Kings Injuries
Mikey Anderson
Alexander Edler
Kevin Fiala
Gabe Vilardi (D2D)
___________________________________
___________________________________________
Oilers Probable Lineup
courtesy of dailyfaceoff.com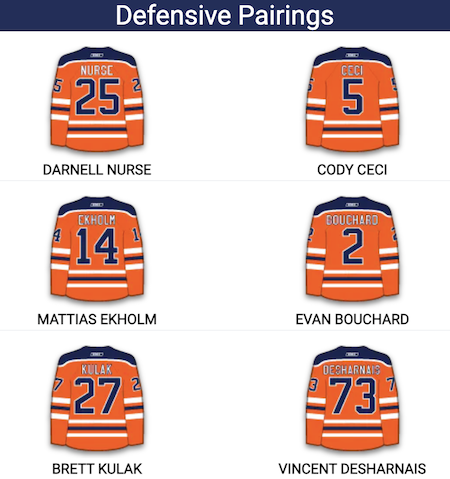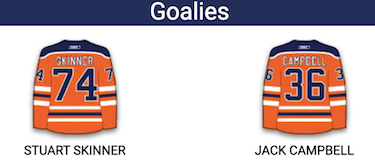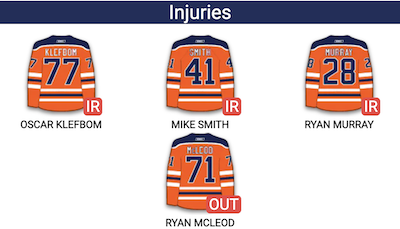 Former King
Jack Campbell

___________________________________________
___________________________________________
GOALIE STATS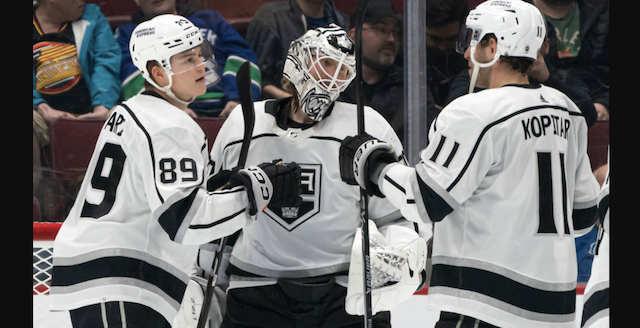 PLAYER STATS
Click Here For More Stats & Rosters
WESTERN CONFERENCE STANDINGS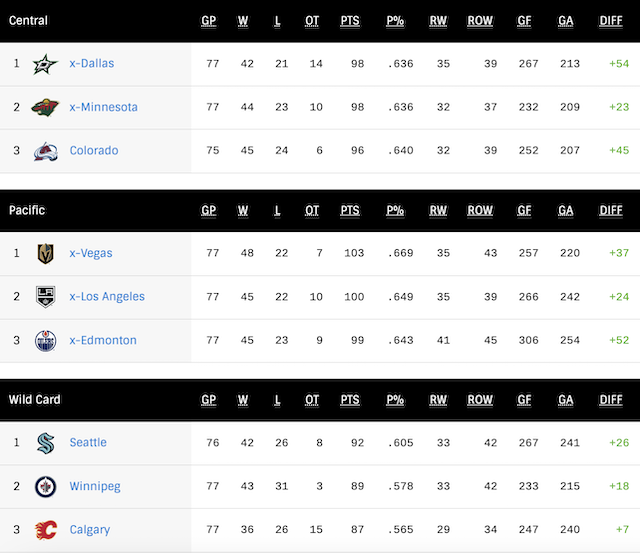 Tonight's Poll Question:
The questions from the 3/30 game are still carrying over, so we'll go with an easy one for tonight:

Which Kings player is going to score the first Kings goal of the game?

You can take 4 guesses
(one of your guesses can be "no Kings goals tonight")
Previous Game's Winners
4/2 Winners - Congratulations to the following posters who correctly guessed the Swedes would get 2 points combined in the game:
Ice24, randdog, DRice, Helvetica, notbob, Kurisu, empire, Shackleford, Liz4LA, LeftyKing, jammer06, pray4mojo, srm1105, TooCool, Nyssa42, VegasHockey
4/1 Winners - CORRECT LIST
Dead on 25 saves Kings (3 points):
Joe Laviguer
DRice
Helvetica
LeftyKing
DRGinLBC
hornman
24,26 saves Kings (2 points):
srm1105
23,27 saves Kings(1 point):
Kurisu
Dr. Tran
VegasHockey
kingrussell
Nyssa42
Poll Win Totals
King Of The Mountain
with

59

points:
VegasHockey
58 Points
srm1105
55 Points
LeftyKing
53 Points
Kurisu
51 Points
Rusty
50 Points
DRice
hornman
sonnyboy11
49 Points
AngelEyes
48 Points
47 Points
Bill Hicks
46 Points
John a90
randdog
45 Points
DRGinLBC
44 Points
forum gold
Helvetica
pray4mojo
43 Points
Chateau Bow Wow
42 Points
beady eye
jammer 06
Liz4LA
TooCool
41 Points
CIrvine
SirJW
40 Points
36 Points
Nyssa42
31 Points
dannybuoy1
hihocarp
notbob
Rogie-Vachon
30 Points
JETS GARAGE
29 Points
empire
28 Points
27 Points
26 Points
Clif
KHenry14
kingsmen93
25 Points
JayWells24
24 Points
23 Points
kingrussell
Sevenhole
Shackleford
22 Points
Dr. Tran
21 Points
20 Points
waynet
19 Points
18 Points
Byron
RoS
17 Points
Cross Traffic
11 Points
Busted Chops
10 Points
kopinator
9 Points
beedee
Dirtweazle
8 Points
7 Points
6 Points
5 Points
Dexter
Joe Laviguer
4 Points
3 Points
HTK
salami
STONE
2 Points
05/29/93
Ice24
jneol67
KingzLA
PuckMaster
puckoff
SaltyPuck
1 Point
cokingsfan
HiFi
mugs
RagBone
Rinkrat
twistedwrister
***Get, Give, & Bet your karma in geogirl's KARMA BETTING THREAD HERE***
________________________________________________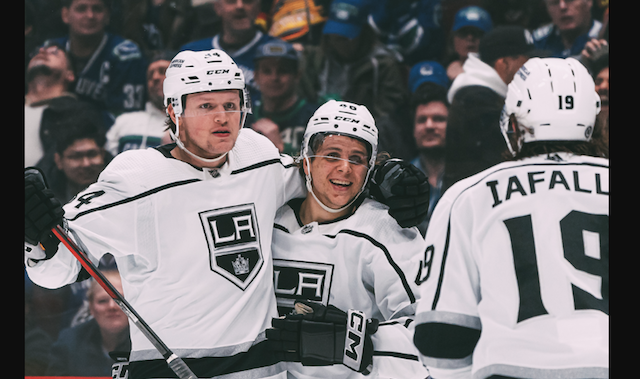 ​
Last edited: