jammer's overlord
Staff member
TEAM LGK
Joined

May 10, 2012
Messages

12,814
LGKash:

$450.00
Since we've all been so focused on the same boring 7 opponents this season, I thought it would be fun to check up on how the rest of the divisions are shaping up. There are a few surprises, and a few teams who have tanked out since having good starts.
First of all, there are 2 "Honda West" division teams in the top 4 overall....Colorado in 1st and Vegas in 4th overall. Which bumps the "Discover Central" leaders, the Carolina Hurricanes down into 5th overall in the league.
Discover Central
The Hurricanes have been a treat to follow this season despite the absence of a certain player who caused me to become a fan of them (he still makes an occasional video appearance during games, though, as a new employee of the front office). They lead this division in a 3 way tie in points with the Lightning and Panthers, but have games in hand. The Canes are fast, skilled, and are getting great goaltending from young Alex Nedeljkovic, who is actually a kid from Ohio, not from some exotic European locale. Reimer and the now-healthy (yay!) Peter Mrazek have been outstanding as well. The younger Mr. Andrei Svechnikov (his older brother, Evgeny, is on the Red Wings now) has been struggling with goal scoring, but still providing speed and skill to complement Sebastian Aho and pals, and Brady Skjei has been a surprisingly welcome addition to the best D corps in the league with Slavin, Pesce, and Dougie Hamilton.
The Panthers have been a shocking (at least to me) surprise, alternating amongst the top 3 slots in the division with their cross-state rivals, the Lightning, along with the Canes. The first few games I watched them I remember thinking, "wow...these guys seem like they are really good!" But, I also thought I just might be delirious from the uncertain off season. But they have proven to be the real deal. Beyond Barkov, Huberdeaux, and Patrik Hornquist, and, of course, Bobrovsky in goal, they have few household names on their roster, but are somehow getting the job done. They are sort of the "Golden Knights of the East", having assembled a roster of other team's castaways, like Anthony Duclair, Anton Stralman, plus the always steady Keith Yandle.
The 4th spot in this division is going to come down to Chicago or Nashville, it looks like. Columbus started strong, but fell off quickly. Chicago looked to have that 4th spot locked up, but Nashville has had a sudden resurgence. I don't follow them enough to know what has propelled them back into a solid 4th in that division, but Chicago is fading. The Red Wings are making a late-season push to not be the embarrassment of the entire league, and seem to be building a good roster for next season. Adam Erne, formerly unremarkable on the Lightning, has been very impressive in the games I've watched, and leads the team with 11 goals.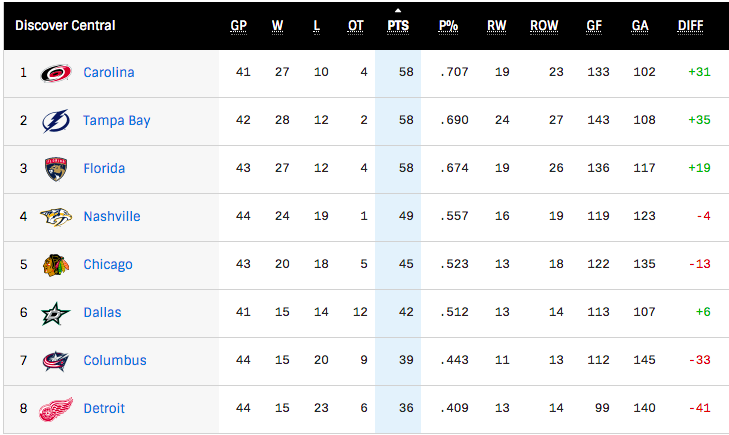 Mass Mutual East
This division seems to shaping up to be the same old, same old with the Capitals on top followed closely by the Islanders and Penguins (who have improved from a dismal start). I thought sure the Flyers were going to do well this season. They started off looking great, but have now dropped to 6th in the division with no hope of working their way back up past the Rangers or Boston, who is currently in 4th, I don't think. New Jersey and Buffalo are so far behind they might as well just forfeit the rest of their games, although there are probably a lot of wagers on if Buffalo is going to win any more games the rest of the season, so I suppose they should play them out for that tiny bit of entertainment they might be able to give their fans, because they certainly aren't giving them any on the ice with a mere 10 wins all season. I don't think even the Ducks or Senators can play bad enough to catch them for the lock on last place in the league.

Scotia North aka "the Canada Division"
This division has, surprisingly, been the most impacted by the Covid virus, with the rest of the Canucks season expected to have more nightly roster changes than even the Kings. Let's hope all of those players get back to full health.
This is the division I have followed the least in recent weeks. It seemed exciting at the beginning, and I was watching lots of North Division games until it became clear that pretty much all of these teams suck, and this division would be decided by who could suck the least. The Maple Leafs seem to have pulled their act together enough to prove that they deserve that
#3
spot overall in the league, with our old pal, Jack Campbell giving them record breaking goal tending. It will be interesting to see how these teams fare when they (hopefully) get integrated back into international divisions next season, because most of the North Division games I have watched were just not great hockey. I haven't watched any recently because I can only watch so many games, and the Kings and Canes keep me busy enough. Winnipeg is holding the 10th overall slot, with the Oilers close behind in 11th, and it looks like the Oilers will at least get a chance at the playoffs this season. The Canadiens are haning onto the last spot in the top half of the league at 16th, with Tyler Toffoli tied for 7th overall in goals in the league (19). The change of scenery was very kind to him.
Calgary, Vancouver and Ottawa are solidly stuck in the bottom half of the league and the division, and are not likely to make a bid for a playoff spot. I thought after a strong playoff performance last season that Vancover would be stronger than they are and exciting to watch. But giving up Markstrom was a tough blow, and now they have their Covid issues to contend with. We'll see if we get to face an improved Vancouver team next season.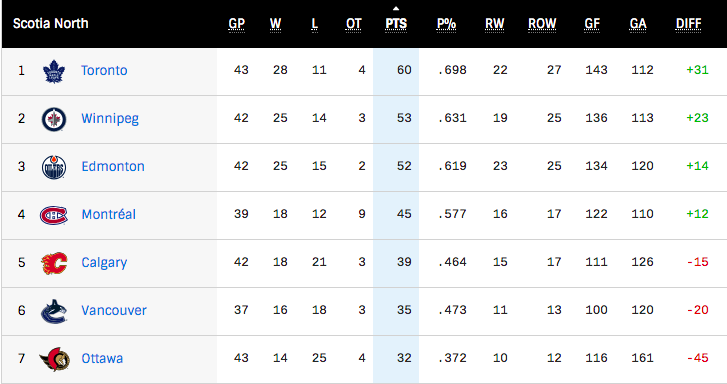 This "divisional experiment" has been fun, but I can't wait to get back to seeing the other teams at least a few times a season, and I have heard the announcers from several teams expressing the same sentiment. I'm sure there are some rising stars I've missed since I can only watch a limited number of games per week, especially since they all start at the same dang time each day!!
Last edited: