jammer's overlord
Staff member
TEAM LGK
Joined

May 10, 2012
Messages

12,842
LGKash:

$550.00

Game Day Thread
Game #70/82 -- 3/31/22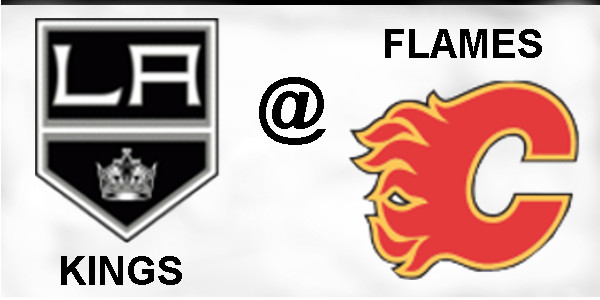 Los Angeles Kings @ Calgary Flames
Scotiabank Saddledome | Calgary, AB
Previous Meeting
12/02/21 -
Flames 3
, Kings 2

TV:

**BSW**



Radio: LA Kings iHeartRadio app
Please remember,
DO NOT
post links to Live Game Streams in the GDT or anywhere else on LGK
Check out articles on LA Kings Insider Here
Quinton Byfield (video) & Todd MacLellan 3/30/22 Post Game Quotes
Link to Quinton Byfield Video
https://twitter.com/i/status/1509389433723887619
Todd McLellan
On the intensity in tonight's game, and if it felt like a playoff level of intensity
It did, and I thought our guys did a good job. They were prepared for it, it's going to be that way until the end of the season. Our group, the group that we have playing right now, did a real good job tonight. We had to scratch and claw to come back, it's disappointing we didn't get the point when the second game started, the shootout game. As far as the 60 minutes, finding guys to contribute, I thought we did a real good job.
On how he felt the group handled the "track meet" style of hockey in the second period
It's not something we want to get into, but at least on the bench, it didn't feel as track meet-ish as it did for the fans. There were some up and down plays going both ways, but I didn't feel it like that.
On it that was the type of game the Kings want to play, with puck possession
That's the kind of game we want to play, yeah. If you're following us, watching us, on our team you have a pretty good idea of how we want to play. That's called identity. We have to play that way, no matter who we play against, where, when or how, to have a chance at success. When we get away from it, Seattle, it comes back to bite us. We tried to play to our identity tonight and we probably earned a point because of it.
On the decision to go with 11 forwards and 7 defensemen
Edler has done a lot of work to get himself back into the lineup and he deserved to play. We liked the idea of having the four-center hole open, try to potentially get some of the things we wanted in the game. We had, and still have, a number of inexperienced D back there, that had to face three centers that are as good as anyone in the league. Edler's presence, his calmness and his veteran leadership is something that we needed back there.
On Quinton Byfield's game, and the play of his line tonight
I thought that line played one of their better games, since we put them together. They spent time in the offensive zone, they checked well, they used their size, their speed when they had to. Q shot the puck, there's no magic. The puck has to go off your stick and towards the net to have a chance to score. He did shoot it, and it was good for him to get rewarded.
On getting the two goals in a span of 14 seconds
The first one was the big one, the ability to come back right away. We've had that in our DNA, we bump up after goals quite quickly. To get the second one was obviously huge, those two minutes offensively earned us a point tonight. We got goals from Kaliyev and Grundstrom, who played on a line without a center, they were a little bit of misfits but they contributed, and our third-line center got us one. They did a real good job.
On if it was difficult to lack "production" from the top players tonight
Depends how you describe production. Goals? They'll score. They played 22, 23 minutes a night against two Hart Trophy winners. Yeah, they got on the scoreboard but they made it hard for them. When you use the word production, I might have a different description of it, or a different definition.
​

Subject To Change
FORWARDS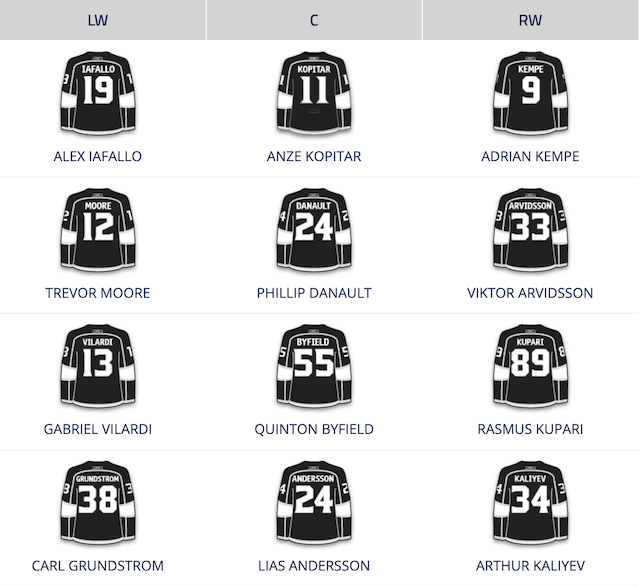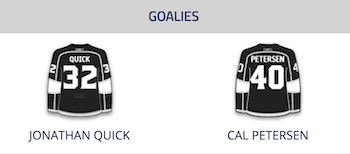 Kings Injuries
Mikey Anderson (LTIR)
Andreas Athanasiou (IR)
Dustin Brown (IR)
Drew Doughty (IR)
Brendan Lemieux (IR)
Blake Lizotte
Matt Roy (IR)
Sean Walker (LTIR)
__________________________________________________
__________________________________________________
Flames Probable Lineup
courtesy of dailyfaceoff.com
FORWARDS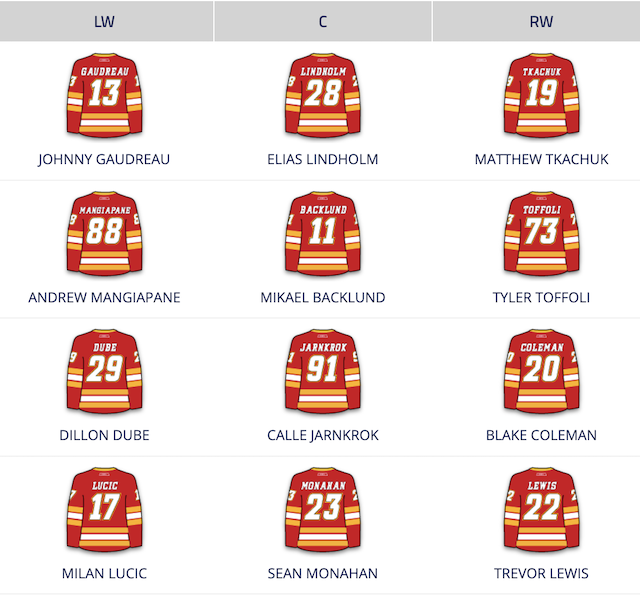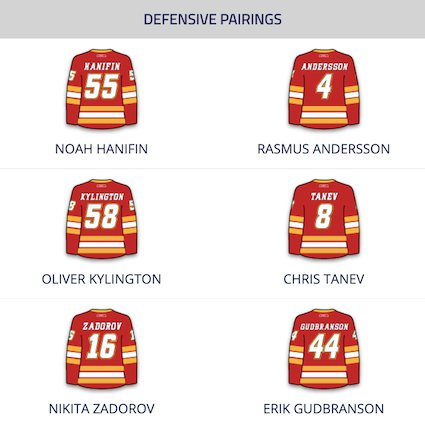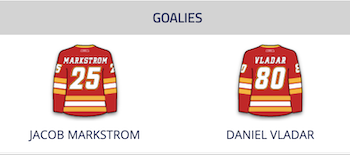 Former Kings
Trevor Lewis

Milan Lucic

Tyler Toffoli

Coach Darryl Sutter
Goaltending Coach Jason Labarbera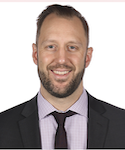 ________________________________________________
_________________________________________________
GOALIE STATS


PLAYER STATS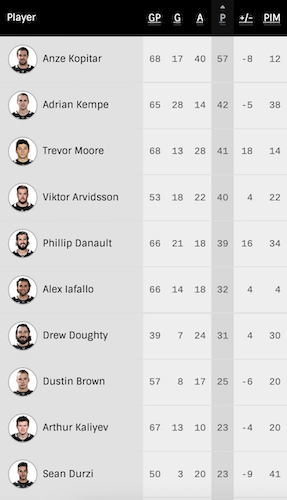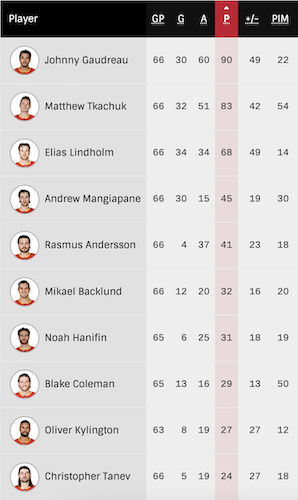 WESTERN CONFERENCE WILD CARD STANDINGS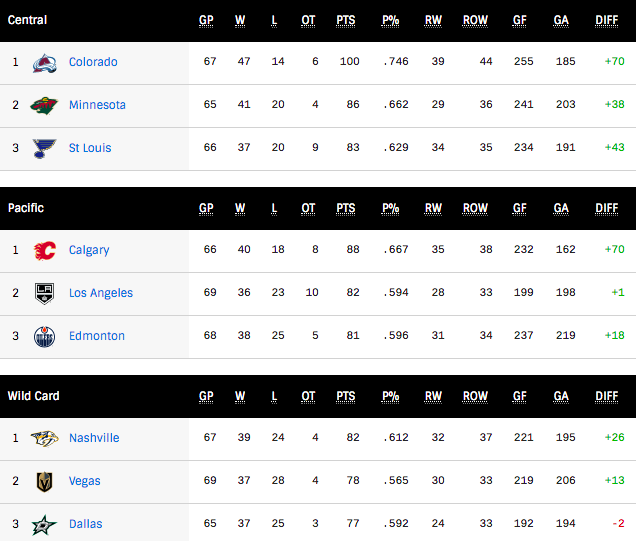 Tonight's Poll Question:
Just 1 question tonight: How many total points will be scored by the 3 former Kings? (Lewis, Lucic, Toffoli)
You can take 2 guesses
Previous Game's Winners
No one guessed that Alex Edler would score the first goal of the previous game. Sorry to everyone who guessed Kaliyev. The goal was credited to Edler.
Poll Win Totals
King Of The Mountain
with

50

points:
srm1105
45 Points
VegasHockey
44 Points
AngelEyes
John a90
Liz4LA
Reg or Rog?
43 Points
LeftyKing
Sonnyboy11
42 Points
41 Points
Kurisu
40 Points
Bill Hicks
DRice
39 Points
Rusty
38 Points
Chateau Bow Wow
jammer06
pray4mojo
37 Points
36 Points
hornman
35 Points
Helvetica
hokiecat
notbob
34 Points
Nyssa42
33 Points
Dr. Tran
32 Points
kingrussell
31 Points
Busted Chops
JayWells24
30 Points
KHenry14
Shackleford
29 Points
Byron
dannybuoy1
28 Points
27 Points
26 Points
STONE
25 Points
Rogie-Vachon
SirJW
24 Points
23 Points
CIrvine
empire
22 Points
forum gold
Sevenhole
21 Points
20 Points
19 Points
JETS GARAGE
TooCool
18 Points
17 Points
Clif
16 Points
randdog
15 Points
cokingsfan
DRGinLBC
14 Points
13 Points
Dirtweazle
PuckMaster
12 Points
11 Points
beedee
Greg33
kopinator
10 Points
beady eye
9 Points
8 Points
7 Points
kingsmen93
MaxwellSmart
6 Points
Joe Laviguer
5 Points
waynet
4 Points
3 Points
2 Points
Ice24
rinkrat
1 Point
lurker
MBreeden
Ragbone
RoS
Salami
Stormy2213
***Bet your karma in geogirl's KARMA BETTING THREAD HERE***
________________________________________________
Photos courtesy of NHL.com/Getty Images​
Last edited: