jammer's overlord
Staff member
TEAM LGK
Joined

May 10, 2012
Messages

12,788
LGKash:

$450.00
***LA Kings @ Chicago Blackhawks GDT 1/22/23 4:00pm Pacific on BSW & NHL Network***

Game Day Thread
Game #49/82 -- 01/22/23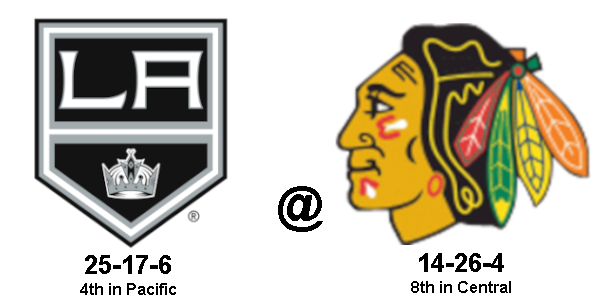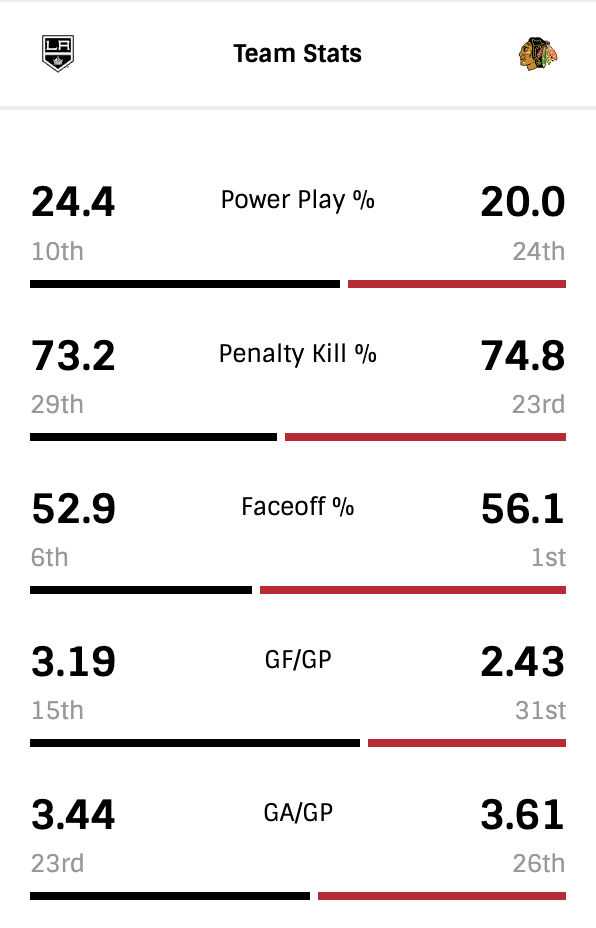 Los Angeles Kings @ Chicago Blackhawks
United Center | Chicago, IL
Bulls Night
Tonight's Giveaway: Blackhawks Socks
pres. by NBC Sports Chicago

Previous Meetings
11/10/22 - Blackhawks 1,
Kings 2
11/03/22 - Kings 1,
Blackhawks 2

TV:

BSW & NHL Network @ 4:00pm



Radio: LA Kings iHeartRadio app
Please remember,
DO NOT
post links to Live Game Streams in the GDT or anywhere else on LGK
Check out articles on LA Kings Insider Here
Drew Doughty, Anze Kopitar & Todd McLellan (video) 1/21 Post Game Quotes
Watch Todd McLellani's Post-Game Interview Here
Drew Doughty on battling back after the early deficit, but eventually coming up short in the third
We did an awesome job of battling back, down 2-0 right off the bat. We showed a lot of heart, a lot of courage, we played awesome and came back in the game, got the lead. We've got to be able to hold on to that lead. All three of the goals they scored in the third period were mistakes on our part, it wasn't something nice they did, even the power-play goal, we know we've got to have that guy in high slot. It kind of goes on for every goal that we got scored against. There are mistakes and we know that, we've got to fix them.
Doughty on where he felt things went wrong in the third period
The coaches are harping on us, with a team like this, you've got to get pucks in behind them. Yeah, you've got to do that with every team, but this team's neutral zone is very similar to ours and we know how hard it is when teams get pucks in behind us. I think we saw us not doing that in the third period enough and it caused a couple of goals against. That's what happens when you don't play the game plan.
Doughty on the spark Jonathan Quick provided when he came in
Yeah, I mean, Copper has been awesome for us, it's too bad he had to get pulled. You always want to step up for your goalie when a situation like that comes up and then obviously we know how good Jonathan Quick is, so we were never worried about it. When he came in, we knew he was going to do the job and he made some huge saves for us to keep us with that lead. I wish we got the win for him because he deserves it.
Anze Kopitar on the momentum swings in the game tonight
Yeah, for sure. Obviously not the start that we wanted, getting scored on, on the first two shifts. Battling back and taking the lead, but we just couldn't sustain it. We've got to improve on some areas and get back at it tomorrow.
Kopitar on the self-inflicted mistakes the group made in the third period tonight
In times like this, when you drop three in a row, you've got to look at yourself first and then go from there. If everybody just elevates their game a few notches we'll be a lot better as a team. So, start with yourself and then expand and help each other.
Kopitar on how he felt Quinton Byfield played and helped his line tonight
He was using the body a lot, I think he's been he's been playing really well since he got called up. We're going to need him to continue to play like that.
​

Subject To Change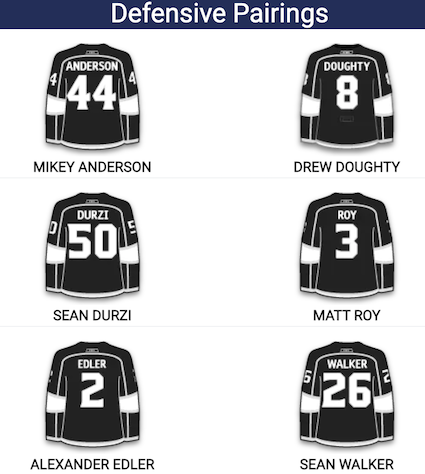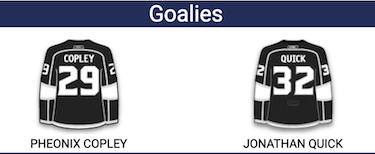 Kings Injuries
Carl Grundstrom (IR)
Arthur Kaliyev (IR)
Trevor Moore (IR)
Gabriel Vilardi (D2D)
___________________________________
___________________________________________
Blackhawks Probable Lineup
courtesy of dailyfaceoff.com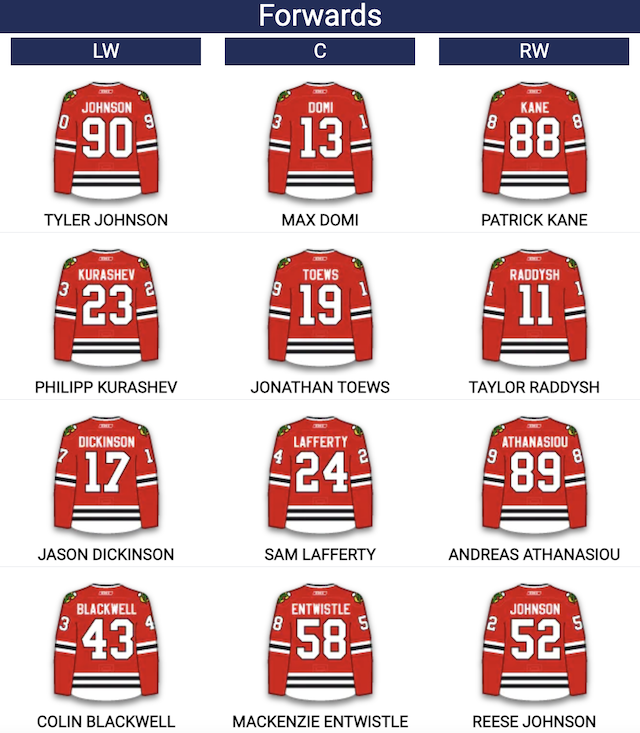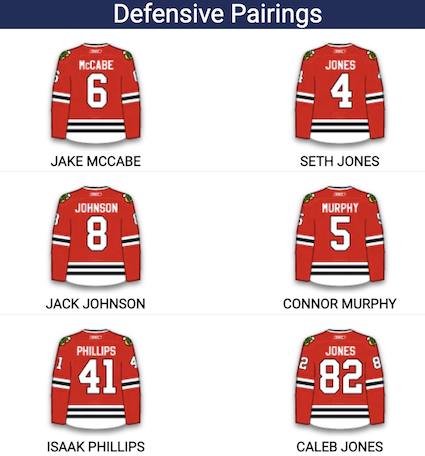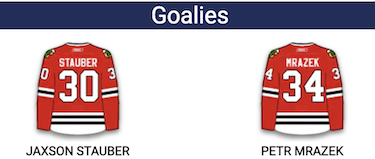 Former Kings
Andreas Athanasiou

Jack Johnson

Sons of Former Kings
Jaxson Stauber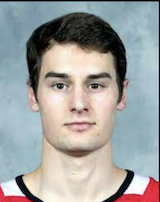 ____________________________________________
____________________________________________
GOALIE STATS

PLAYER STATS
Click Here For More Stats & Rosters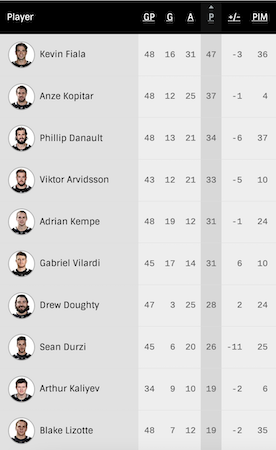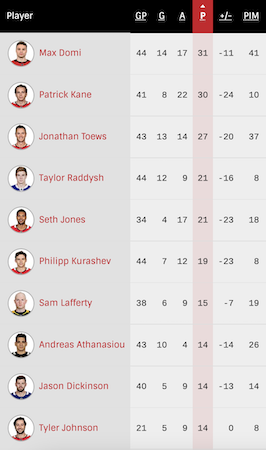 PACIFIC DIVISION STANDINGS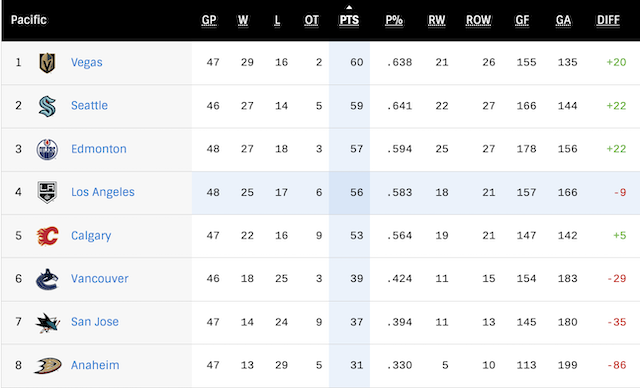 Tonight's Poll Question:
Part 1 - The Blackhawks have 3 Johnsons and 2 Joneses. How many total points will be scored by all Johnsons and Joneses in tonight's game?
You can take 2 guesses

Part 2 - What will be Jack Johnson's +/- for tonight?
You can take 2 guesses for this, too - be sure to indicate + or -, don't just put a number assuming we think it is a minus
Previous Game's Winners
Congratulations to the following posters who correctly guessed the former Preds would combine for 0 points:
Rogie-Vachon
DRice
VegasHockey
Sevenhole
jammer06
John a90
srm1105
LeftyKing
DRGinLBC
waynet
forum gold
hornman
TooCool
kingrussell
Poll Win Totals
King Of The Mountain
with

38

points:
VegasHockey
33 Points
Kurisu
32 Points
LeftyKing
Rusty
31 Points
randdog
30 Points
Bill Hicks
srm1105
29 Points
DRGinLBC
hornman
John a90
sonnyboy11
28 Points
beady eye
27 Points
DRice
Liz4LA
SirJW
26 Points
forum gold
pray4mojo
25 Points
AngelEyes
Helvetica
24 Points
Clif
23 Points
TooCool
22 Points
Nyssa42
21 Points
Chateau Bow Wow
CIrvine
20 Points
empire
jammer 06
19 Points
18 Points
hihocarp
RoS
Sevenhole
17 Points
Rogie-Vachon
16 Points
JETS GARAGE
KHenry14
waynet
15 Points
dannybuoy1
Dr. Tran
14 Points
13 Points
notbob
12 Points
kingrussell
kingsmen93
Shackleford
11 Points
10 Points
Busted Chops
kopinator
9 Points
Dirtweazle
8 Points
Byron
JayWells24
7 Points
6 Points
beedee
5 Points
4 Points
3 Points
Cross Traffic
Dexter
HTK
salami
STONE
2 Points
05/29/93
PuckMaster
1 Point
RagBone
Rinkrat
***Get, Give, & Bet your karma in geogirl's KARMA BETTING THREAD HERE***
________________________________________________
​
Last edited: