jammer's overlord
Staff member
TEAM LGK
Joined

May 10, 2012
Messages

12,842
LGKash:

$550.00

Game Day Thread
Game #12/82 -- 11/01/22
**5:30pm START**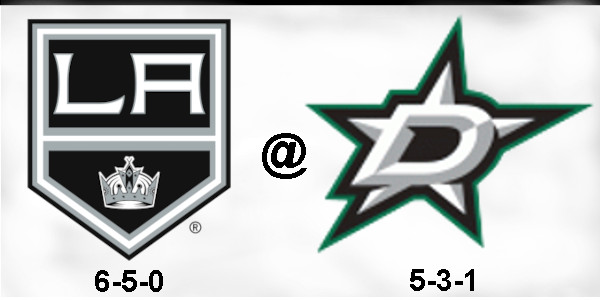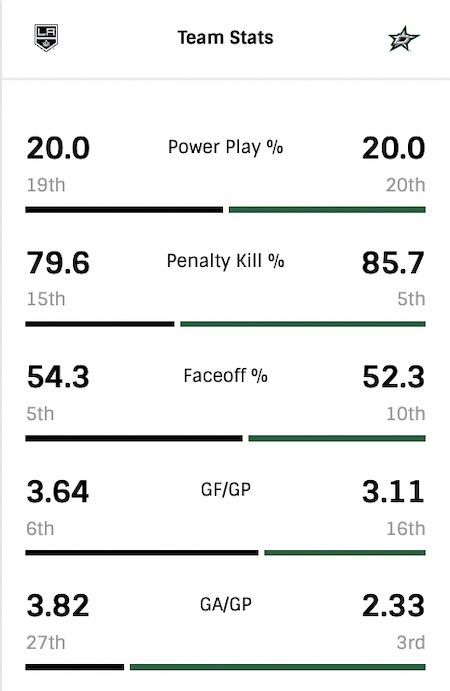 Los Angeles Kings @ Dallas Stars
American Airlines Center | Dallas, TX
Last Season?s Meetings
03/02/22 - Kings 3,
Stars 4
12/09/21 - Stars 0,
Kings 4
10/22/21 - Kings 2,
Stars 3
(OT)
**Game Time 5:30pm Pacific**
​

TV:

**BSW**



Radio: LA Kings iHeartRadio app
Please remember,
DO NOT
post links to Live Game Streams in the GDT or anywhere else on LGK
Check out articles on LA Kings Insider Here
Carl Grundstrom & Todd McLellan 10/31 Post Game Quotes
Carl Grundstrom
 on what he felt went well for him and his line offensively tonight
I think we played pretty well against Toronto and we had a couple of chances, so tonight we just tried to build on that. It was nice to get two goals tonight.
Grundstrom
 on clicking early with Fiala and Kupari
I think we all want to play fast, make plays and go to the net. I think it?s been a well-balanced line so far.
Grundstrom
 on playing with Kevin Fiala and what makes him an effective player
Honestly he just has a really high skill level, he has great hands and great vision. I just try to stay open when he has the puck.
Grundstrom
 on things starting to come together on a team-wide level
Yeah, absolutely. We?ve just got to play our game, play tighter defensively and that?s what?s happened over these last couple of games. If we can keep doing that, we will be fine.

Todd McLellan
 on establishing consistency night-over-night
It has for a couple of nights now ? We?ll get some rest and we?ll see what happens in Dallas, but for the moment, yes. I knew we were going to have our hands full, they were obviously not very happy with our game just as we weren?t a few games ago. I liked the way we started, I liked the way we stuck with things, I think we checked our way to some goals, which was really important. Down the stretch, the penalty kill came up big, I thought Quickie had a real good night. Overall, a pretty good team effort.
McLellan
 on the Fiala ? Kupari ? Grundstrom line helping to establish team balance
It makes it a lot tougher for the other team to pick and choose who they?re going to focus on. Kevin seems to be able to at a high level regardless of where he is. It allows Gabe to play with some first-line players for a little bit. It just feels better right now, it looks better, fewer chances against for the most part. Overall, all four lines contributed.
McLellan
 on the abundance of back-door tap-in goals in the win tonight
You?ve got to take what you?re given. I think, early in the year, we were forcing some stuff and still getting rewarded. Tonight, we took what was there. Grunny didn?t have anything on his goal, he came down, fired it and it was in the net. Kup found something when he set up a goal off the backside and it?s in the net. You have to read quickly and take what?s there and our team did a better job of that tonight than we have been.
McLellan
 on what Carl Grundstrom has done to establish himself as a player who is hard to take out
Well, we don?t want to take anybody out of the lineup, if we could dress 23 at night or 30 a night we would, but it?s just the way it works early in the season. Some guys come out just so other guys can go in. As the year goes on, there are going to be injuries, there?s going to be some upward play by people, some others that maybe don?t play quite as well and those decisions have to be made. Grunny has proven himself to be a pretty effective player, he?s done a tremendous job in adapting to penalty killing this year, something he?s added to his game. We?re fortunate to have him.
On his 100th win as a member of the Kings tonight
Yeah, I wasn?t even aware of it. You know, the next 100 are going be a lot tougher than the first 100. I?m only worried about 101 which is tomorrow in Dallas and we?ll have our hands full there.
​

Subject To Change
FORWARDS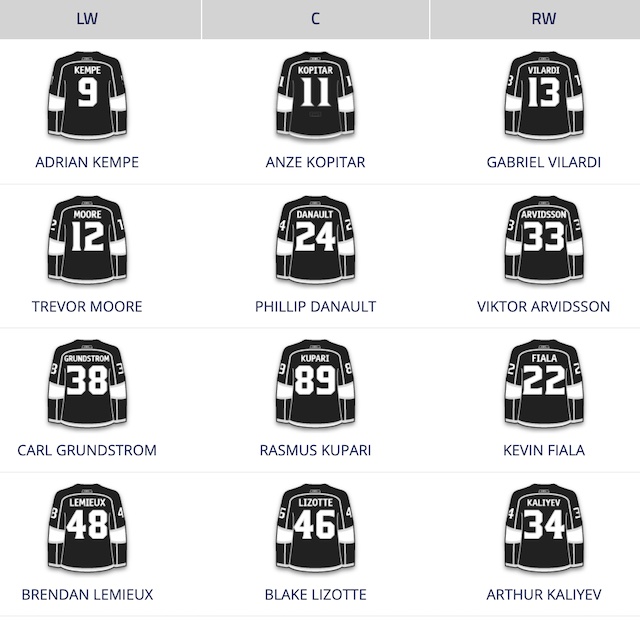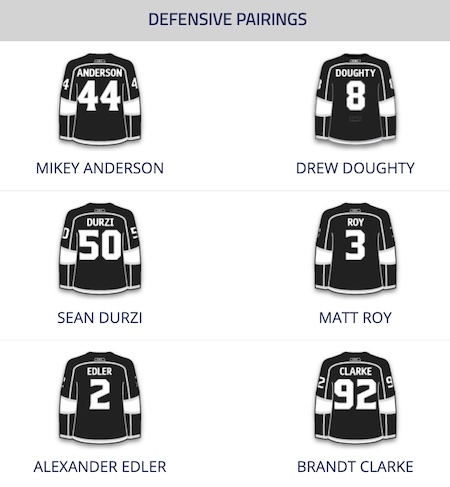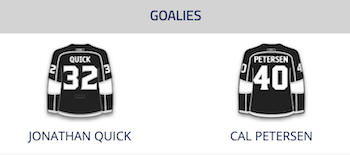 Kings Injuries
Alex Iafallo (LTIR)
Quinton Byfield (illness)
___________________________________________
___________________________________________
Stars Probable Lineup
courtesy of dailyfaceoff.com
FORWARDS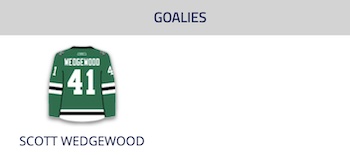 Former Kings Draft Pick
Colin Miller

____________________________________________
____________________________________________
GOALIE STATS


PLAYER STATS
Click Here For More Stats & Rosters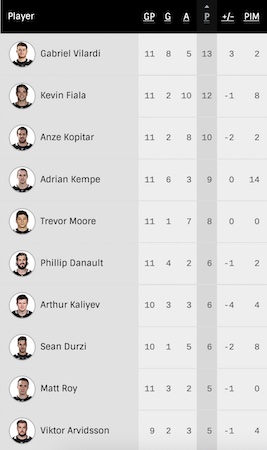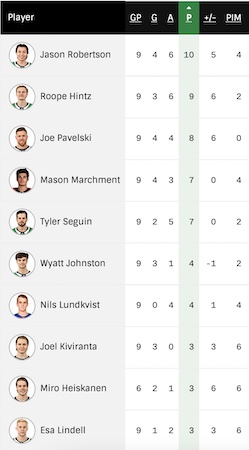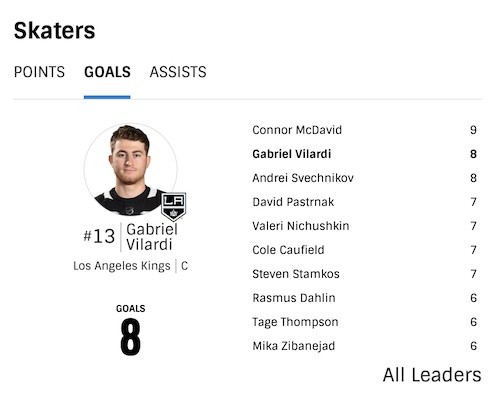 PACIFIC DIVISION STANDINGS
Tonight?s Poll Question:
The Stars' goalie, league GAA leader Jake Oettinger, is out with an LBI, so we'll be seeing backup Scott Wedgewood. How many TOTAL SHOTS ON GOAL will the KINGS get in tonight's game?
ONE GUESS ONLY
+/-3=1 point, +/-2=2 points, dead on = 3 points

We're already at 5 for total goals over the 2 back-to-back games...
Take your best guesses in your post below.
The only prize is the glory of seeing your name in the next GDT if you get it right.
Previous Game?s Winners
Congratulations to the following posters who correctly guessed the forwards would combine for 16 points:
Clif
Helvetica
srm1105
AngelEyes
hornman
kopinator
Poll Win Totals
King Of The Mountain
with

10

points:
VegasHockey
9 Points
Clif
8 Points
hornman
LeftyKing
RoS
7 Points
DRGinLBC
John a90
Kurisu
Liz4LA
Rusty
6 Points
AngelEyes
Bill Hicks
Helvetica
srm1105
5 Points
beady eye
dannybuoy1
forum gold
4 Points
CIrvine
Sevenhole
3 Points
Chateau Bow Wow
Dr. Tran
empire
jammer 06
kopinator
pray4mojo
randdog
SirJW
sonnyboy11
TooCool
2 Points
05/29/93
beedee
Busted Chops
Dexter
Drice
JETS GARAGE
KHenry14
kingsmen93
notbob
Nyssa42
salami
waynet
1 Point
Byron
HTK
kingrussell
PuckMaster
Rinkrat
Rogie-Vachon
STONE
***Bet your karma in geogirl?s KARMA BETTING THREAD HERE***
________________________________________________