jammer's overlord
Staff member
TEAM LGK
Joined

May 10, 2012
Messages

12,830
LGKash:

$550.00

Game Day Thread
Game #69/82 -- 3/30/22
Los Angeles Kings @ Edmonton Oilers
Rogers Place | Edmonton, AB
Previous Meetings
02/15/22 -
Oilers 5
, Kings 2
12/05/21 -
Kings 5
, Oilers 1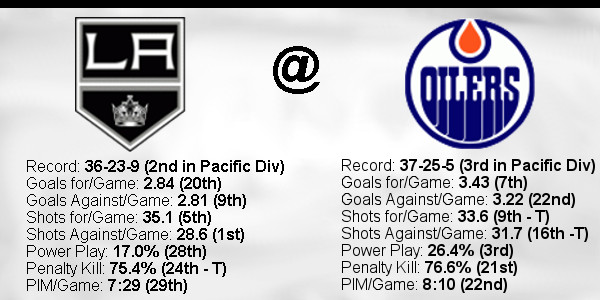 TV:

**BSW**



Radio: LA Kings iHeartRadio app
Please remember,
DO NOT
post links to Live Game Streams in the GDT or anywhere else on LGK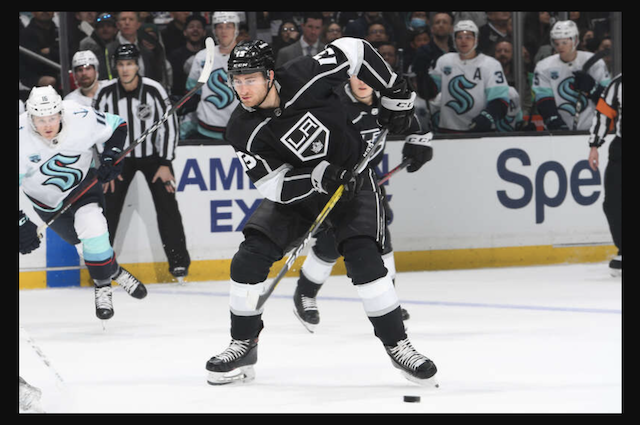 Check out articles on LA Kings Insider Here
Anze Kopitar (video) & Todd MacLellan 3/28/22 Post Game Quotes
Link to Anze Kopitar Video
https://twitter.com/i/status/1508677593779904517
Todd McLellan
On the disappointment in that performance, in an important game
Well, I balance that with how well we?ve played in a lot of important games, teams are going to have that. It?s disappointing, I?m not going to go on a big rant, it?s disappointing. I think today?s game is a combination of the last four seconds in Saturday?s game, and the first 14 seconds in today?s game. We opened the door for them on the last shift on Saturday and they took advantage on the first shift today. After that, they pushed us out of the game with work ethic, execution, faceoffs, you name it, in every aspect of the game. Am I disappointed? Yeah, I?m disappointed, but there?s a whole locker room of guys that are disappointed. We?re all in it together, we?ll stew in it a little bit, but we?re moving on, that?s what we?ve got to do at this time of the year.
On the point in the game he felt it got away
We weren?t good from minute one on, we were chasing it, there was doubt right away. Where did it, not necessarily begin, but where was the dagger? Probably the blocked shot, Eberle?s goal, we had a little bit of momentum.
On if he saw anything coming into the game suggesting that type of performance
I think there?s a lesson for our team to learn, because we controlled the other game pretty well, talking about Saturday?s game, and we didn?t finish it the way we needed to, and that?s happened more than once this year. You think about a playoff series, we?re talking about inexperience. You do that in a playoff series, you give somebody life and the other team takes advantage. Now, we take a day off, we skate in the morning, expect to have a little life, jump, energy and some excitement and none of that existed, for whatever reason, and we get scored on 14 seconds in. Really, the goal was we were lazy, we got beat up the ice and it just carried all the way through.
On his takeaways coming out of tonight, and headed into Edmonton
Well, all 60 minutes. I think, when you lose 6-1 and it likely could have been worse, there?s not a lot you?re going to take from positives out of it. We were beat in every facet of the game today. We?ll look at it, we?ll show the players some things, we?ll get them to use it as some teaching opportunities and then we?ll move on, that?s all we can do. I don?t know what the outcome will be in Edmonton, I just know what we?re living right now wasn?t good enough.
On his 1,000th game tonight and being honored before the game
The opportunity to be recognized was special. I think that the Kings, and all the NHL teams, but the Kings do it pretty well. I?ve been here for Carts, Kopi, Dewy, Quickie and many others, so I?m grateful for that.
​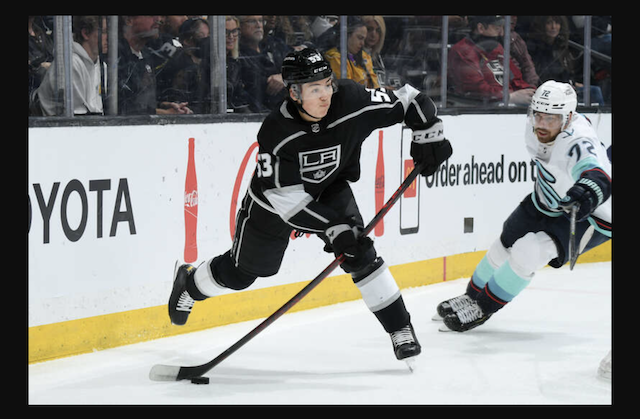 Subject To Change
FORWARDS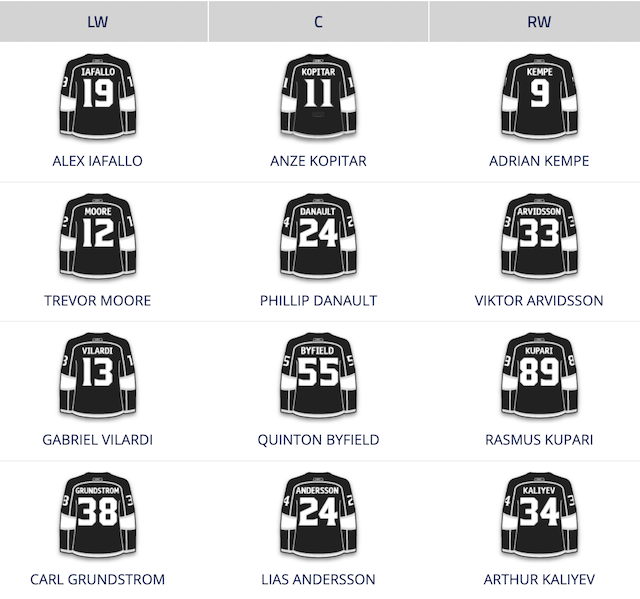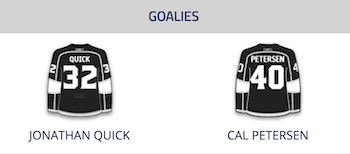 Kings Injuries
Mikey Anderson (LTIR)
Andreas Athanasiou (IR)
Dustin Brown (IR)
Drew Doughty (IR)
Brendan Lemieux (IR)
Blake Lizotte
Matt Roy (IR)
Sean Walker (LTIR)
__________________________________________________
__________________________________________________
Oilers Probable Lineup
courtesy of dailyfaceoff.com
FORWARDS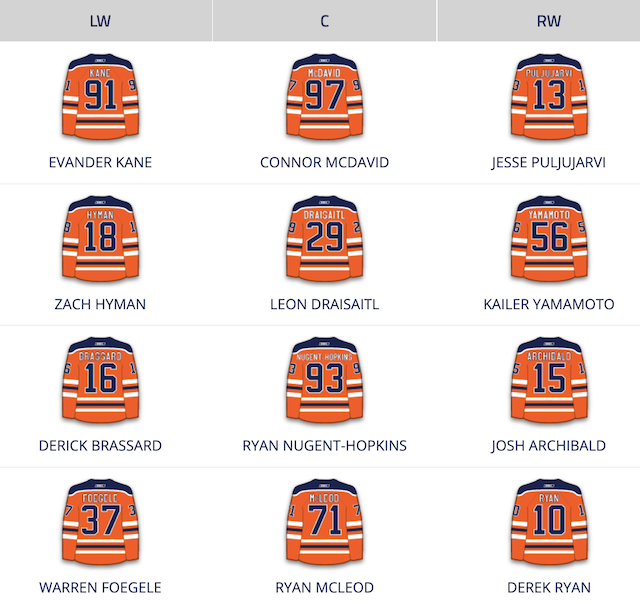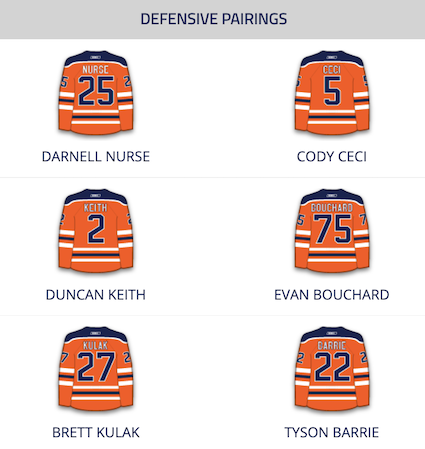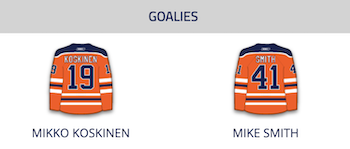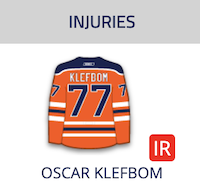 NO Former Kings
________________________________________________
_________________________________________________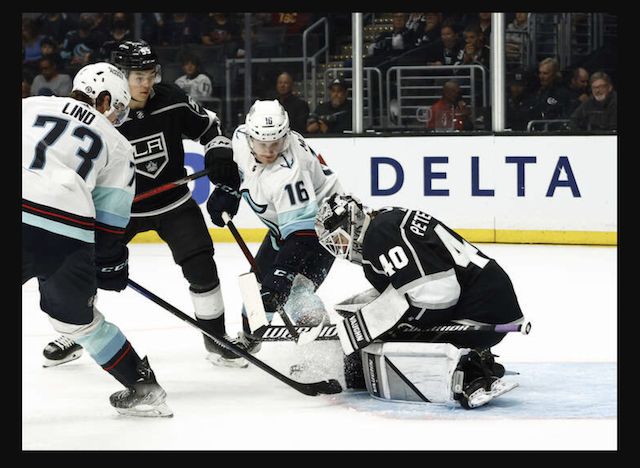 GOALIE STATS

PLAYER STATS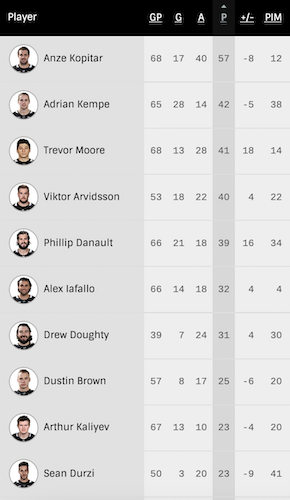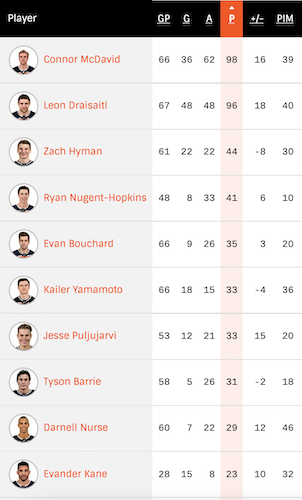 WESTERN CONFERENCE WILD CARD STANDINGS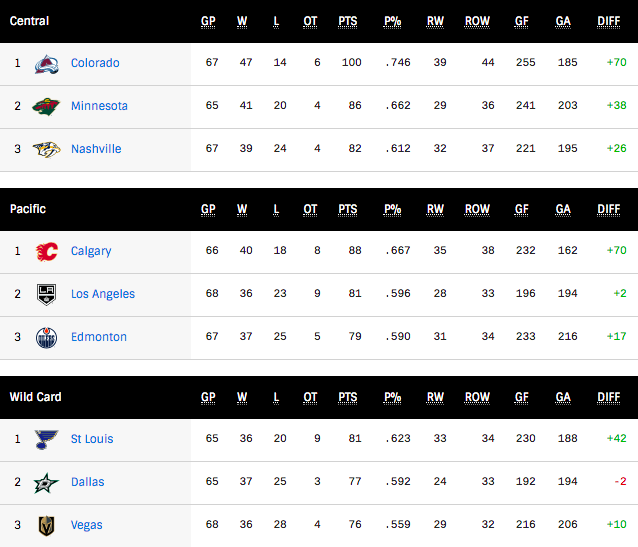 Tonight?s Poll Question:
Part 1 - THREE GAME QUESTION - How many total goals will the Kings score on their 3 game Canadian roadie? (vs. Oilers, Flames, Jets)
You can take 3 guesses for this part - only correct guesses will get 1 point

Part 2 - Who is going to score the FIRST GOAL of tonight?s game?
You can take 6 total guesses - (1 point for a correct guess)
Previous Game?s Winners
Game 67 Winners
Congratulations to the following posters who correctly guessed the two game totals of goals at 5 and or got within +/-3 of 64 SOG:
Total 5 goals (1 point) :
forum gold
empire
SirJW
VegasHockey
kingrussell
Shackelford
Bill Hicks
dannybuoy1
Sevenhole
TooCool
Nyssa42
Total SOG 62,66 (2 points) :
AngelEyes
sonnyboy11
VegasHockey
LeftyKing
Rogie-Vachon
Total SOG 63,65 (3 points) :
jammer06
John a90
pray4mojo
KHenry14
Liz4LA
Total SOG 64 (4 points) :
Byron
DRice
Shackelford
Bill Hicks
Game 68 Winners
Congratulations to the following posters who correctly guessed within +/-2 minutes of 4:29 of the first to be the time of the first penalty :
2:29-6:29 (1 point):
Busted Chops
STONE
Shackelford
Kurisu
hornman
AngelEyes
sonnyboy11
forum gold
Rogie-Vachon
DRGinLBC
Dr. Tran
notbob
hokiecat
Liz4LA
3:59-4:59 (2 points) :
VegasHockey
Poll Win Totals
***NOT UPDATED w/ Game 67 or 68 WINS***
King Of The Mountain
with

50

points:
srm1105
44 Points
Reg or Rog?
43 Points
41 Points
AngelEyes
John a90
LeftyKing
40 Points
Kurisu
Liz4LA
Sonnyboy11
VegasHockey
39 Points
Rusty
38 Points
Chateau Bow Wow
37 Points
36 Points
DRice
35 Points
Bill Hicks
Helvetica
hornman
jammer06
pray4mojo
34 Points
hokiecat
notbob
33 Points
Nyssa42
32 Points
Dr. Tran
31 Points
JayWells24
kingrussell
30 Points
Busted Chops
29 Points
28 Points
dannybuoy1
27 Points
KHenry14
26 Points
25 Points
Byron
STONE
24 Points
Shackleford
SirJW
23 Points
CIrvine
22 Points
empire
Rogie-Vachon
21 Points
Sevenhole
20 Points
forum gold
19 Points
JETS GARAGE
18 Points
TooCool
17 Points
Clif
16 Points
randdog
15 Points
cokingsfan
14 Points
DRGinLBC
13 Points
Dirtweazle
PuckMaster
12 Points
11 Points
beedee
Greg33
kopinator
10 Points
beady eye
9 Points
8 Points
7 Points
kingsmen93
MaxwellSmart
6 Points
Joe Laviguer
5 Points
waynet
4 Points
3 Points
2 Points
Ice24
rinkrat
1 Point
lurker
MBreeden
Ragbone
RoS
Salami
Stormy2213
***Bet your karma in geogirl?s KARMA BETTING THREAD HERE***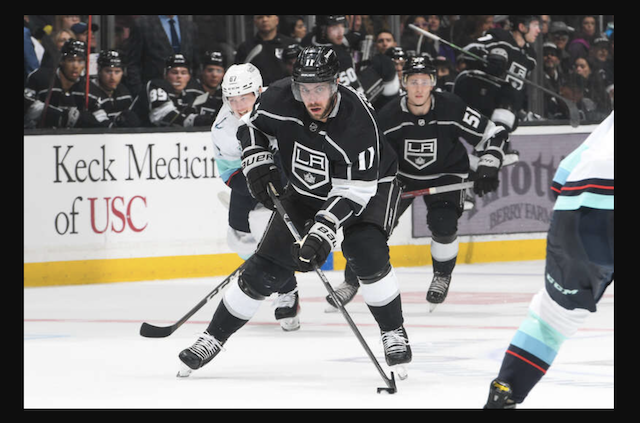 ________________________________________________
Photos courtesy of NHL.com/Getty Images​