jammer's overlord
Staff member
TEAM LGK
Joined

May 10, 2012
Messages

13,085
LGKash:

$1,350.00

Game Day Thread
Game #4/82
10/19/23


*Game Time 5:00pm*






LA Kings @ Minnesota Wild
Xcel Energy Center | St Paul, MN
Last Season's Meetings
10/15/22 -- Kings 7

, Wild 6
11/08/22 -- Wild 0, King
s 1
02/21/23 --

Kings 1,

Wild
2
*Game Time 5:00pm Pacific**

TV
:
**Bally Sports West**
Radio
:
LA Kings iHeartRadio app
Please remember, DO NOT post links to Live Game Streams in the GDT or anywhere else on LGK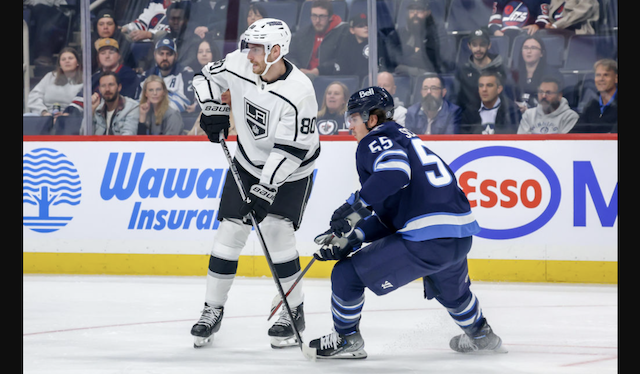 Check out articles on LA Kings Insider Here
Cam Talbot & Todd McLellan 10/17/23 Post-Game Quotes:
​
Cam Talbot
On his first win as an LA King
It was a lot of fun. We knew that they were going to come our hard in their barn and we'd have to weather the storm in the first ten minutes and I thought we did a great job of that. You could tell in the second period, once we started playing our game, we kind of took the game over from there.
On weathering the storm in the early goings, but rebounding as a team
I think in the first period, we were trying to be a little too cute in our zone, making passes that weren't really there. In the second period, when the puck was on our tape, we put it on the tape of the next guy, gained zones, getting the puck deep and establishing our forecheck, which is a strength of ours. Guys did a heck of a job.
On if an early breakaway save can dial him in for a game, like tonight
Absolutely. I mean, that could turn the game right there and you want to be the guy that makes those saves in those situations and gives your team a chance to settle down in a tough building to play in. I think there's a lot of saves throughout the game, but that was probably one of the biggest.
On seeing Dubois get his first goal as a King, in this building
I wanted to stop that last one to secure the game-winning goal for him too, unfortunately it didn't happen, but I'm sure he'll take the win and the goal. We're happy for him.
Todd McLellan
On Cam Talbot's play early to keep the Kings in the game in the first period
He was essential. We weren't ready, or else we didn't react properly, to the first five to ten minutes. I thought it started with the power play, getting one before we even had most of our guys on the ice, it put us in a bad mindset. We weren't ready and Talbs did what we needed him to do, which was to make some real big saves in the first 10 or 12 minutes and get us to settle down a little bit. After that, I thought the team responded well and played a pretty solid game.
On what he liked during the second period and beyond, to turn the game around
I thought we played smart. We didn't have to take risks to open things up and when we did find an opportunity to go, we took advantage of it. We played a lot more directly in the second and third periods than we did in the first early. There was way too much East-West play going on. I thought we were prepared to play, we call it ugly, instead of cute and sometimes you need to do that. At the end of the night, we scored ugly goals but they still all count.
On Pierre-Luc Dubois tonight, getting the win in his former city
I thought he played a real solid game. Right from the circle on out, he created for others and protected pucks for himself. Strong, powerful, yet calm, there wasn't a lot of panic in his game. It's nice to see.
On if he felt tonight was a "switch flicked" for the Kings between the first and second periods
We've had good periods, we've made some dumb mistakes. Our bad period today was a group period, it was every one of us was a little lethargic, not very sharp, we didn't execute very well. So, perhaps out of the seven periods, that may have been our worst as a group. We've had poor results because of some plays that we'd like to have back, but that was probably our worst period.
On seeing Gabe Vilardi get hurt in tonight's game
You never want to see anybody hurt, but one of your old teammates, a really good kid, you don't want to see that at all. Complete accident, but we're hoping that he can come back and heal up, he's going to be a big part of this team. He's a hell of a player, the fans here in Winnipeg are going to enjoy not only him but the other two that came in. They're real good people I said that this morning, they're going to be a big part of this community and they're lucky to have them.

Subject to Change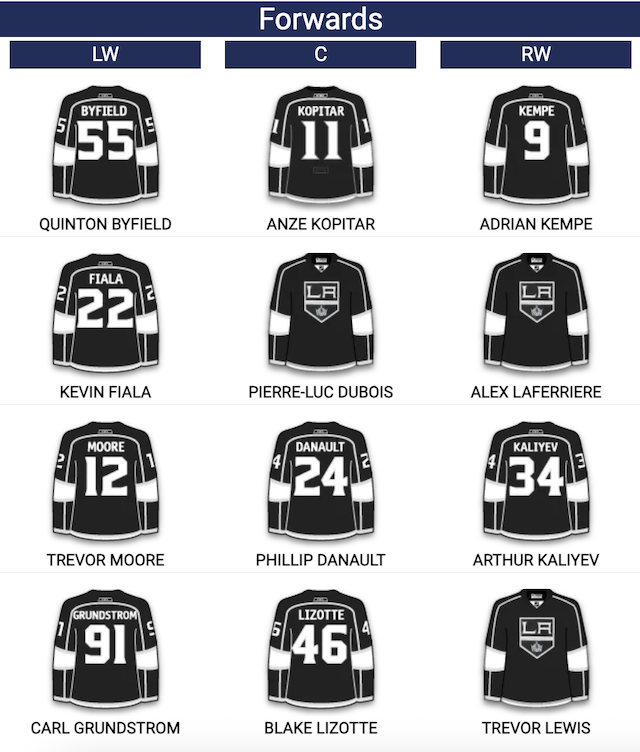 ______________________________________________
WILD PROBABLE LINEUP
Former King
Brock Faber

Jacob Middleton (draft pick 2014)

____________________________________________________________
____________________________________________________________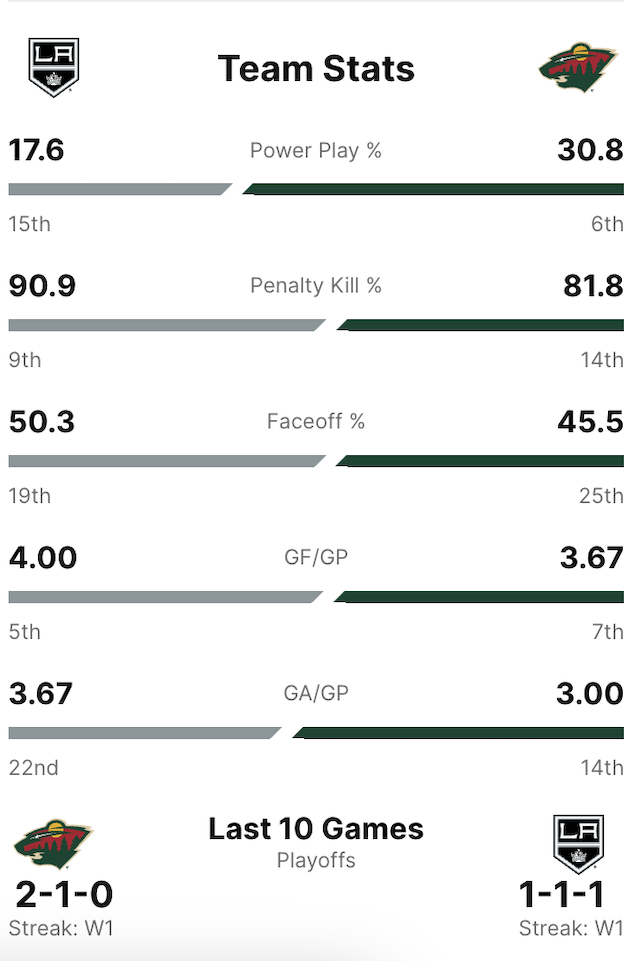 PACIFIC DIVISION STANDINGS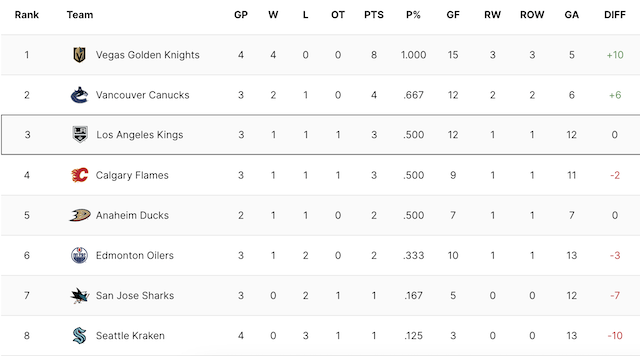 *VBookie BETTING THREAD HERE*
**Tonight's Poll Question**
Brock Faber already has 1G & 1A in his young career with the Wild.
How many TOTAL POINTS will be scored by ALL DEFENSEMEN in tonight's game (both teams)?
You can take THREE guesses
Take your best guess in your post below - the only prize is the glory of seeing your name in the next GDT if you get it right.
PREVIOUS GAME'S WINNERS
Congratulations to the following posters who correctly
guessed just 1 point for the 4 traded players:
SirJW
Dexter
pray4mojo
cokingsfan
beady eye
KernCoKingFan
JayWells24
Jerram
Dr. Tran
Madness20721
Nyssa42
Sevenhole
Bill Hicks
notbob
VegasHockey (who had better not win King of the Mountain by 1 point!)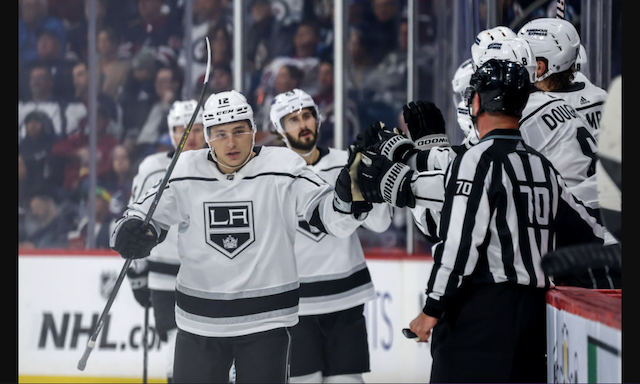 ​
Last edited: