jammer's overlord
Staff member
TEAM LGK
Joined

May 10, 2012
Messages

12,793
LGKash:

$450.00

Game Day Thread
Game #74/82 -- 4/10/22
Los Angeles Kings @ Minnesota Wild
XCel Energy Center | St. Paul, MN
Previous Meetings
12/11/21 - Wild 1,
Kings 2
10/16/21 -
Wild 3
, Kings 2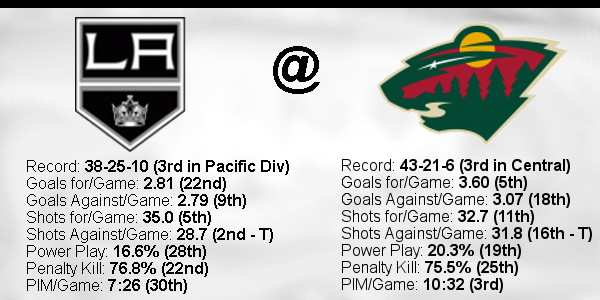 TV:

**KCOP Ch 13**



Radio: LA Kings iHeartRadio app
Please remember,
DO NOT
post links to Live Game Streams in the GDT or anywhere else on LGK
Check out articles on LA Kings Insider Here
Todd MacLellan & Viktor Arvidsson (video) 4/7/22 Post Game Quotes
Link to Viktor Arvidsson Video
https://twitter.com/i/status/1512303022675742722

Todd McLellan
On the differences between last week?s road trip and this week?s homestand
One goal against. We?re playing hard, we made mistakes and [Edmonton] capitalized on it. Didn?t happen in Winnipeg, didn?t happen in Calgary, so it?s that close, it?s that fine of a line. Tonight, we made a couple of mistakes that they capitalized on. I thought we forced them into the odd mistake too, that we didn?t capitalize on, but it?s a fine line. The group is no different tonight, or against Calgary, than it was on the three Alberta/Manitoba games, it?s that close.
On if he felt the Kings did enough of what they needed to tonight
Not enough, not quite enough. We had some really good performances and we had some average performances. We were just talking in the coaches room, after every game we quickly go through the lineup while there?s still a bit of emotion left in it, and when you describe an individual as ?just okay? that probably cuts it in November, December, but certainly not in April. We were a little bit short tonight with ?just okay? players. They weren?t horrible, but they weren?t quite good enough in certain situations.
On the improvements in passing from the first period to the final 40 minutes
Yeah, absolutely. You can come out and look at the pace that we played with, it wasn?t about legs, it was about puck movement. You start throwing pucks into individual?s skates, even on the first power play, I think we passed the puck behind an individual twice, couple of breakouts where we did that, and we were slow. That triggers the other team?s transition, it gives them confidence and it takes you awhile to get your game back. We weren?t sharp.
On his evaluation of Matt Roy in his first game back
I thought Matt, he was in the Indianapolis 500 in the first period and then it slowed down to a good race that he was a part of. That?s what?s going to happen at this time of the year. I?ve shared with some of you my experience of putting players in late in the year, and we want them all back, but it?s not easy, it?s ramped up. If you haven?t been on the bench, or in that play, it?s hard, you can?t replicate it in practice at this time of the year, it does take them a little while. Lemieux would be the same thing.
On if players coming back led to ?just okay? evaluations
Yeah and I think if we expect them, Matt Roy and Brendan Lemieux, to be the first and second stars tonight, we?re dreaming. We thought that they could give us some good minutes, which they did. They got better as the night went on, but that?s how they?re going to get back into the game. We?ve got Lizotte, Brown, Athanasiou, others that are pushing their way back into the lineup, but it?s going to take them a little bit of time and guess what we don?t have? Time.


​

Subject To Change
FORWARDS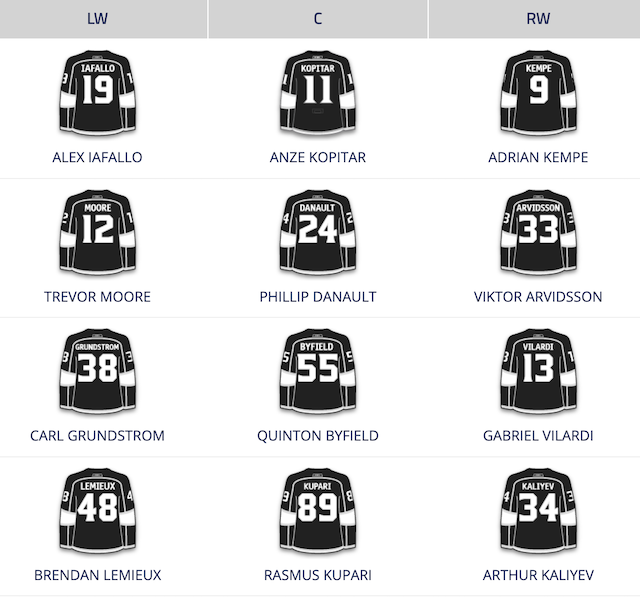 Kings Injuries
Mikey Anderson (LTIR)
Andreas Athanasiou (IR)
Dustin Brown (IR)
Drew Doughty (IR)
Blake Lizotte
Sean Walker (LTIR)
__________________________________________________
__________________________________________________
Wild Probable Lineup
courtesy of dailyfaceoff.com
FORWARDS

Former Kings Draft Pick
Nicholas Deslauriers

________________________________________________
_________________________________________________
GOALIE STATS

PLAYER STATS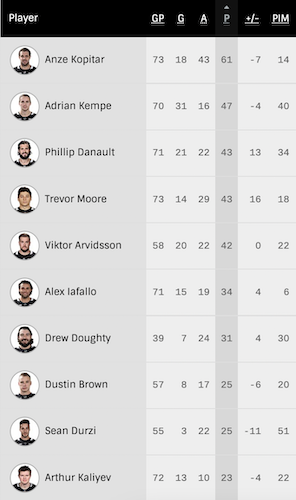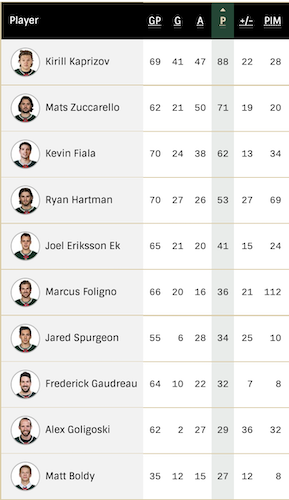 WESTERN CONFERENCE WILD CARD STANDINGS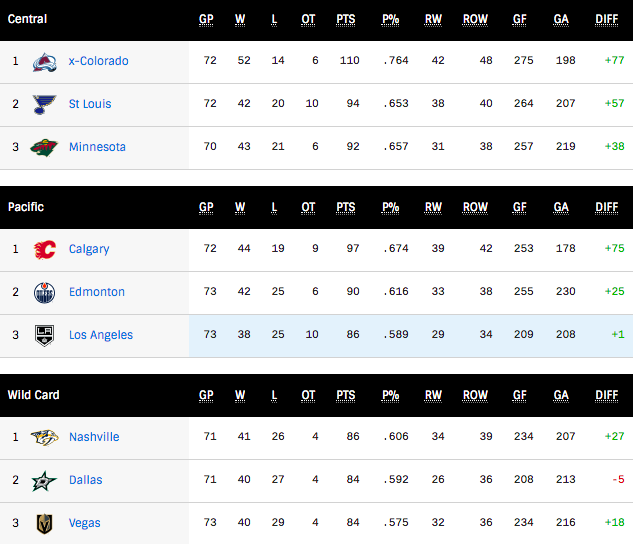 Tonight?s Poll Question:
2:00pm start on KCOP Ch13
The Wild are 4th in goals scored in the 1st period, and the Kings are last. The Kings are 5th in 2nd period goals (Wild are 12th), and in the 3rd Kings are 21st and the Wild are 9th.

3 part question:

How many TOTAL goals will be scored in the 1st period by both teams?
How many TOTAL goals will be scored in the 2nd period by both teams?
How many TOTAL goals will be scored in the 3rd period by both teams?

You can take 2 guesses per period - 1 point for each correct guess (so 3 possible points)

Previous Game?s Winners
Congratulations to the following posters who correctly guessed the time of the Game Winning Goal to within +/- 2:00 or less of 4:01 of the 3rd period. Nobody guessed Bouchard for GWG
:
2:01-6:01 of the third (1 point):
CIrvine
KHenry14
JayWells24
AngelEyes
John a90
sonnyboy11
forum gold
Liz4LA
empire
3:01 - 5:01 of the third (2 points):
VegasHockey
DRGinLBC
pray4mojo
randdog
hokiecat
3:31 - 4:31 of the third (3 points):
Rogie-Vachon
Poll Win Totals
King Of The Mountain
with

51

points:
srm1105
49 Points
VegasHockey
47 Points
AngelEyes
46 Points
John a90
LeftyKing
Liz4LA
45 Points
sonnyboy11
44 Points
Reg or Rog?
43 Points
42 Points
Bill Hicks
DRice
Kurisu
41 Points
pray4mojo
40 Points
hokiecat
39 Points
Chateau Bow Wow
jammer06
Rusty
38 Points
hornman
37 Points
Helvetica
36 Points
Nyssa42
35 Points
Dr. Tran
notbob
34 Points
Busted Chops
JayWells24
33 Points
32 Points
KHenry14
kingrussell
Shackleford
31 Points
Rogie-Vachon
30 Points
29 Points
Byron
dannybuoy1
28 Points
27 Points
SirJW
26 Points
CIrvine
empire
STONE
25 Points
forum gold
24 Points
23 Points
Sevenhole
22 Points
21 Points
20 Points
Clif
randdog
19 Points
JETS GARAGE
TooCool
18 Points
DRGinLBC
17 Points
16 Points
cokingsfan
15 Points
14 Points
13 Points
beedee
Dirtweazle
PuckMaster
12 Points
11 Points
Greg33
kopinator
10 Points
beady eye
9 Points
kingsmen93
8 Points
7 Points
MaxwellSmart
6 Points
Joe Laviguer
5 Points
waynet
4 Points
3 Points
2 Points
hihocarp
Ice24
rinkrat
1 Point
Ecktore
lurker
MBreeden
Ragbone
RoS
Salami
Stormy2213
***Bet your karma in geogirl?s KARMA BETTING THREAD HERE***
________________________________________________
Sorry there are no photos - something is wrong with the NHL website - no pics available​