jammer's overlord
Staff member
TEAM LGK
Joined

May 10, 2012
Messages

13,106
LGKash:

$1,350.00

Game Day Thread
Game #10/82
11/02/23
4:00pm Pacific on BSW


LA Kings @ Ottawa Senators
Canadian Tire Centre | Ottawa, ON

Last Season's Meetings
12/06/22 -- Kings 5, Senators 2
11/27/22 -- Senators 3, Kings 2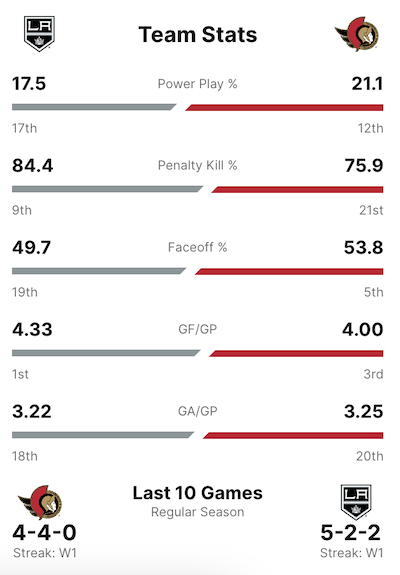 **Game Time 5:00pm**

TV
:
**ESPN**
Radio:
LA Kings iHeartRadio app
Please remember, DO NOT post links to Live Game Streams in the GDT or anywhere else on LGK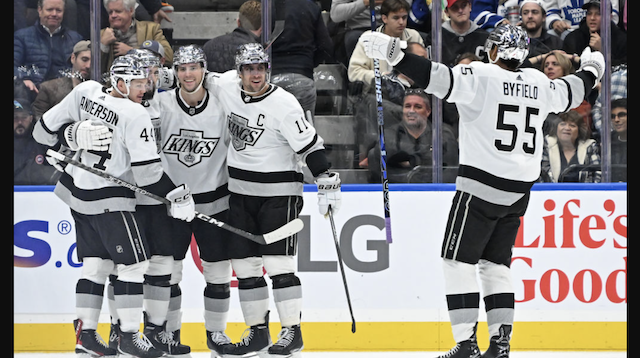 Check out articles on LA Kings Insider Here
Cam Talbot, Phillip Danault & Todd McLellan 10/31/23 Post-Game Quotes:
​
Cam Talbot
On if he felt this was as complete a 60 minutes as the Kings have played this season
Yeah, it's definitely up there. We started on time, this is a tough building to play in, they come out really hard. They've got a ton of talent over there, so that was, like you said, as complete as 60 minutes as we've played all year.
On the impact of the penalty kill tonight and early in the season
Obvoiusly we changed a little bit on the PK this year, compared to last year, I wasn't here, but our penalty kill's given us some big moments throughout the season so far. Early on in that game, it could have gone either way. Our power play got us a big one and our kill was huge in the first and second period. Sometimes, you've got to tip your cap there in the third, pretty good shot and they're all-world over there to, so sometimes they're gonna beat you but you make it hard on them and that's what we've been doing.
On the special nature of getting a win tonight in front of friends and family
Always. Yeah, it's nice to come into town, have dinner with family the night before and then obviously get to play in front of them again tonight. Like I said, never take those things for granted, you never know how long they're gonna last and I'm just lucky that I'm still able to do what I do.
Phillip Danault
On if he felt tonight's was the most compete game played by the Kings this season
Yeah, it was pretty solid. I thought we just played like last game against Vegas, to be honest, we carried that into today and it was a pretty solid 60 like you said.
On the team's defensive play tonight to shut down Toronto
We take a lot of pride defensively and that brings us a lot of chances in the o-zone and some power play as well. I mean, we just have four lines that care a lot defensively, Talbs was awesome again, giving us a big chance to win every game and the defense is playing well as well.
On Quinton Byfield's play tonight and his impact on their power-play unit
Yeah, I'm not surprised, Q has been playing really, really good, he's stepping up as a young guy for us and we need that. He's playing hard and he's putting up points in big wins, he's playing well. He's been playing like that since the beginning.
Todd McLellan
On the complete, 60-minutes effort tonight
Well, our last two, I thought our game against Vegas was a pretty darn good game by two teams. Tonight was a real solid night, but the penalty kill early in the first set the tone, who knows how it would have went from there, but they did a really good job. Scoring first and then keeping the foot on the gas pedal was important, so a full team effort, I'm proud of them.
On the team gaining momentum and energy off the penalty kill tonight
Yeah, we had some energy, we felt good about ourselves getting that job done and then to respond with a line after and get momentum back in our favor is important. That's usually how it has to go if you're winning games and we were able to do that. Unfortunately, we gave up the one of the third, but it was late enough in the game and again, we responded after that positively with our foot on the gas pedal and went and found the fourth.
On Quinton Byfield's play tonight and if he felt it was one of his best performances
You know what's interesting, we've been saying "is that Q's best game" almost every game this year, so that's a real good sign for him and for us. Again, a couple of assists and all that, but the tenacity that he's playing with, is, for me at least, quite obvious. The way he hunts pucks down, creates turnovers, he's going from A to B really quick. The confidence he's playing with allows him to move from job to job without a pause now and there used to be pauses. He's feeling better with the puck, it's going to go in eventually for him, but right now we'll take what we're getting.
On seeing Andreas Englund get rewarded with his first goal in the NHL
I couldn't be happier for him. He does some of the dirty work for our team that doesn't go unnoticed, at least in our locker room and in the coach's office. He's a great personality for our group and to see him get his first goal, that gave us a little boost to score first and to have Big E do it, it was a motivating moment for our group.
On the connected play of the group across the entire lineup tonight
We weren't a distant team. A lot of teams like to stretch it out, we're connected and when we are, we play our game. I didn't feel like it went like this, from line to line, there wasn't the waves, it just kept going. We broke down, we had mistakes and that's what you have goaltending for, but the continuum of doing it right the same way, over and over again, was from all four lines and six defenseman.

Subject to Change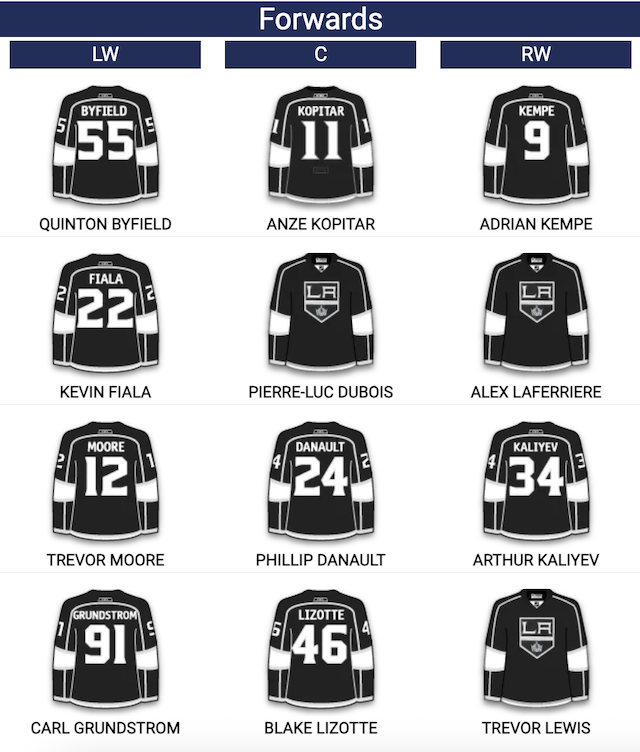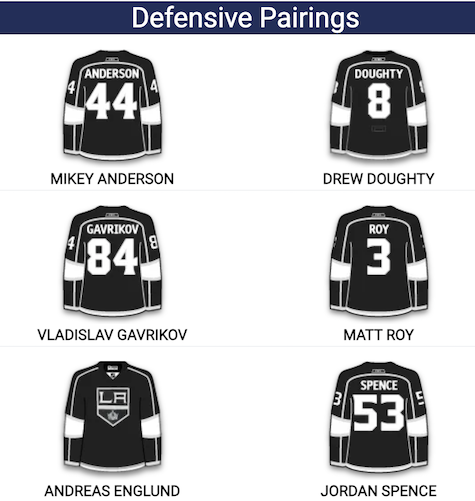 SENATORS PROBABLE LINEUP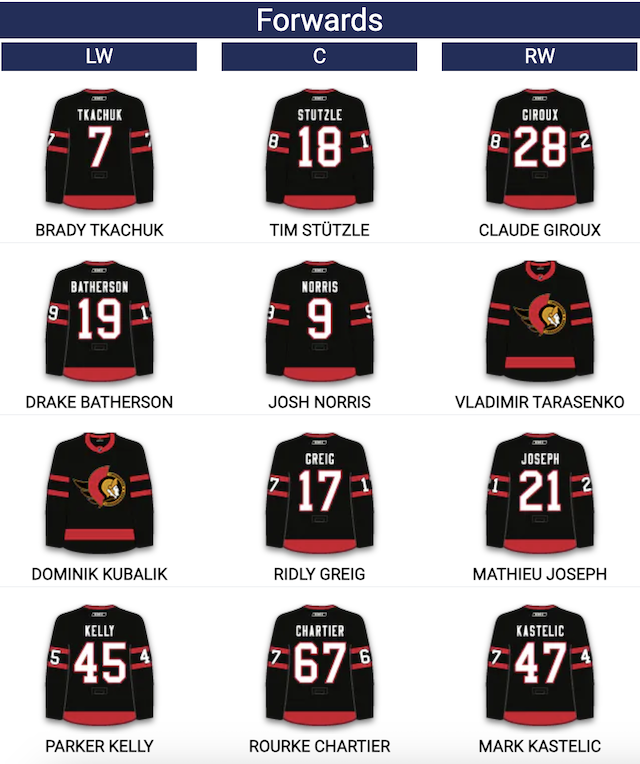 Former King
Joonas Korpisalo

Dominik Kubalik (2013 Draft Pick)

_______________________________________________________________________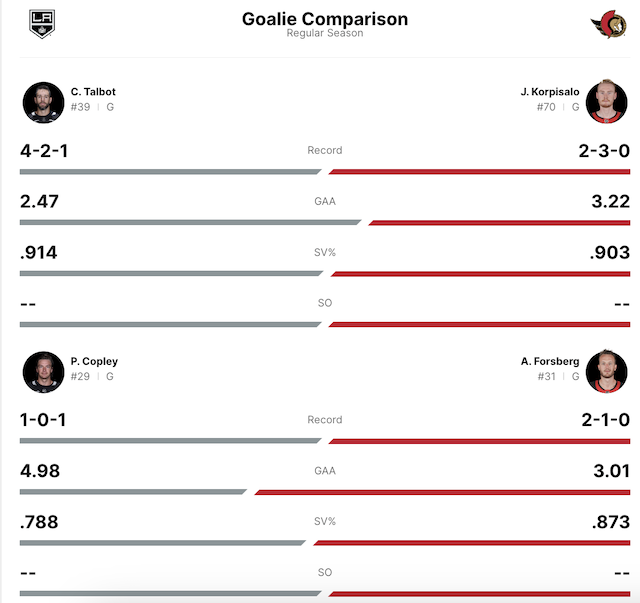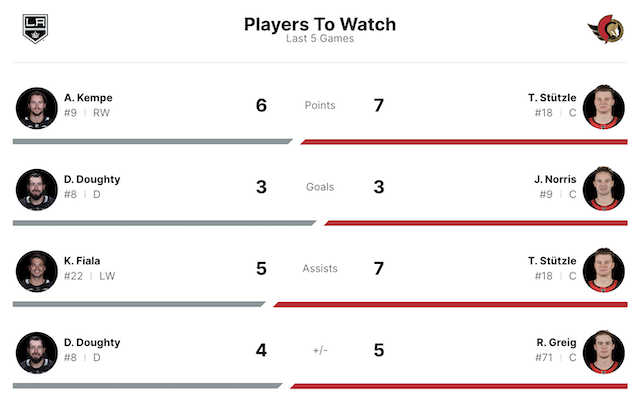 PACIFIC DIVISION STANDINGS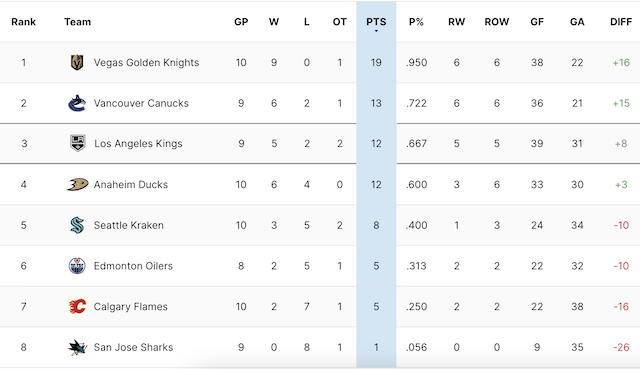 *VBookie BETTING THREAD HERE*

**Tonight's Poll Question**

Tonight we have a goalie from each side (Talbot & Korpisalo) facing their team from last season. The Kings are averaging 32.4 Shots per Game (13th), and the Sens are in 4th place with 34.5 Shots per Game.

Part 1 - How many SAVES will the KINGS goalie make?
Part 2 - How many SAVES will the SENATORS goalie make?
SAVES, NOT SHOTS AGAINST!
You can take just ONE GUESS per goalie
+/- 1 will get 1 point, dead on will get 2 points
(so 4 possible points).
.


Take your best guesses in your post below -




the only Prize is the glory of seeing your name in the next GDT if you get it right.




PREVIOUS GAME'S WINNERS

Congratulations to the following posters who correctly guessed within +/-3 minutes of 12:13 of the third period for Kempe's first goal:

11:13 to 13:13 (3 points)

DRGinLBC

pray4mojo

SirJW (off by 2 Seconds!!!!)

10:13-14:13 (2 points)

Byron

notbob

katydid213

randdog

Liz4LA

mugs

9:13-15:13 (1 point)

TooCool

Cross Traffic

Byron is the current King of the Mountain with 6 points
5 points = Dr Tran, Sir JW
4 points = clif, Dexter, DRGinLBC, Liz4LA, notbob, pray4mojo, Rusty, TooCool
3 points = CIrvine, dannybuoy1, Jerram, katydid213, mugs, Nyssa42

if you think your point totals are incorrect, shoot me or jammer06 a PM & we'll make it right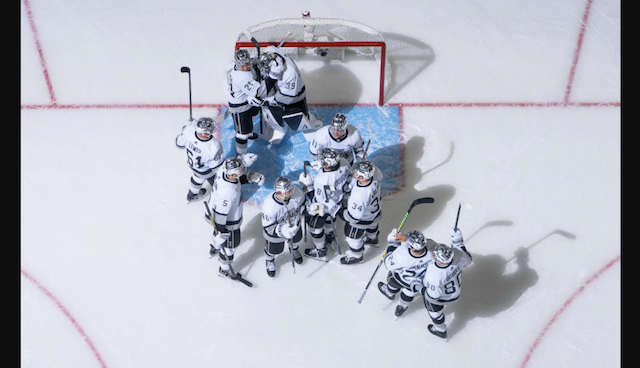 ​
Last edited: