jammer's overlord
Staff member
TEAM LGK
Joined

May 10, 2012
Messages

12,768
LGKash:

$450.00

Game Day Thread
Game #50/82 -- 01/24/23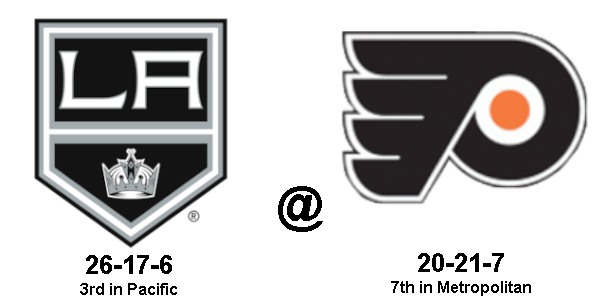 Los Angeles Kings @ Philadelphia Flyers
Wells Fargo Center | Philadelphia, PA
Dollar Super Pretzel Night presented by J&J Snacks
Previous Meeting
12/31/22 -
Flyers 4
, Kings 2

TV:

BSW @ 4:00pm



Radio: LA Kings iHeartRadio app
Please remember,
DO NOT
post links to Live Game Streams in the GDT or anywhere else on LGK
Check out articles on LA Kings Insider Here
Pheonix Copley, Alex Turcotte & Todd McLellan plus JAD (video) 1/22 Post Game Quotes
Watch Jaret Anderson-Dolan's Post-Game Interview Here
Pheonix Copley on getting back at it quickly after getting pulled in yesterday's game
I wanted to get back at it. Obviously, it's frustrating, I want to give the boys a chance to win every time I'm in there and I felt like I didn't do that the last couple of games. I wanted to get back in and be able to be a part of the team, be a part of getting a win and do my part. It was great to get back in tonight.
Copley on how he felt the team played tonight to snap a three-game skid
I think we played with a little bit of attitude. It's obviously frustrating going on a little bit of a skid there, but coming off a back-to-back, we got an effort that was big for the group. Now, we move to the next one.
Copley on the performance from the team in front of him tonight, particularly with shot blocks
It was a lot of blocked shots, Durz had an amazing one in the second and the PK had a bunch as well. That's something that we feed off of and it gets everyone going. When guys are doing that, everyone kind of gets going and it fires everybody up.
Alex Turcotte on coming up through the system with Kupari and Fagemo and playing with them tonight
Yeah, it's obviously pretty cool. We all kind of came in around the same time, so I want them to do well and they want the same for me, so we can push each other and help each other each day and help the team, it's only going to help us going forward. I definitely feel pretty comfortable playing with them, just because I know them so well off the ice. It felt pretty good.
Turcotte on feeling more comortable in his second go-around at the NHL level
I think I felt really good, definitely more confident this time around, compared to when I played my first game a little over a year ago. I just tried to be effective in the minutes I was given and help the team in whatever way I can.
Turcotte on playing in the United Center as an NHL player for the first time
Yeah, it was a dream come true. You know, when they started singing the national anthem, I remember coming to games growing up as a kid and that's kind of what they're known for, I kind of got goosebumps. I was just really excited, I have a lot of friends and family here, I know I had a lot of fun out there.
Todd McLellan on correcting some of the issues from the third period last night in tonight's game
I think tonight was an example of where one game affects the other. Last night, we had that lead and we didn't manage it real well. Tonight, we managed it better but we took our foot off the gas so we're still trying to figure that out. We made much better decisions tonight in a lot of different areas that allowed us to come away with the win.
McLellan on the improvements he felt the team made from the game in Nashville
We were better in a lot of areas, if you're going to compare it to the night in Nashville. I thought we were tighter, we checked well for two periods, we broke out quite clean. Those were all real positive signs. Had we finished, again much like last night, on many more opportunities, a couple breakaways and we had some looks earlier in the game, I think we would have been in a much more comfortable situation than we were at the end, but in any case, we'll take the win.
McLellan on seeing Anderson-Dolan get rewarded with two goals tonight
For him in particular, for the group, they pull for this kid. They see him work and they see him do all the things he needs to do to be ready all the time. To get the two goals, the coaching staff is obviously happy for him, the players are really happy for him. He's become a big factor and has a big impact on our team.
McLellan on getting the bounceback game from Pheonix Copley
Certainly. We believe in both our goaltenders right now. Sometimes the plan doesn't go as it's set out. We planned to play Pheonix in Nashville and Quickie here in Chicago, but it changed. Quickie got basically the whole game, Phoenix got his here, so happy for bot of them.
McLellan on the performance he got from the Kupari – Turcotte – Fagemo line
Minutes, trusting minutes. I thought they were really good, they played with energy, they hounded pucks, created some scoring chances, checked. We trusted them the whole night, there wasn't a shift where you didn't feel good about them.
​

Subject To Change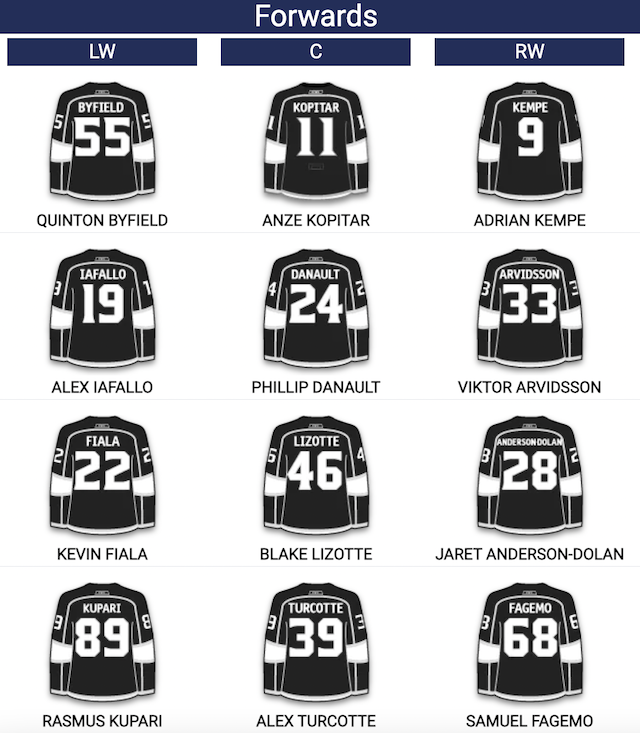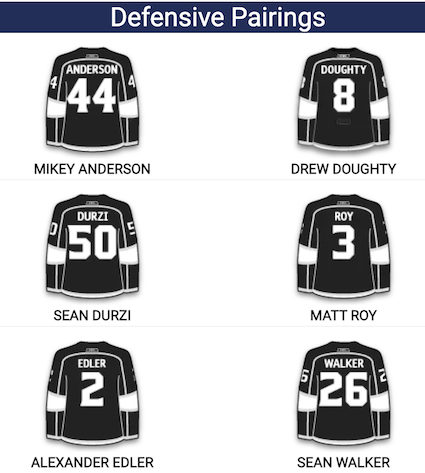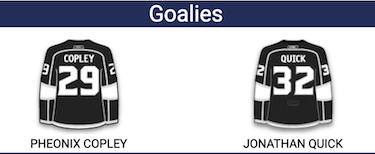 Kings Injuries
Carl Grundstrom (IR)
Arthur Kaliyev (IR)
Trevor Moore (IR)
Gabriel Vilardi (D2D)
___________________________________
___________________________________________
Flyers Probable Lineup
courtesy of dailyfaceoff.com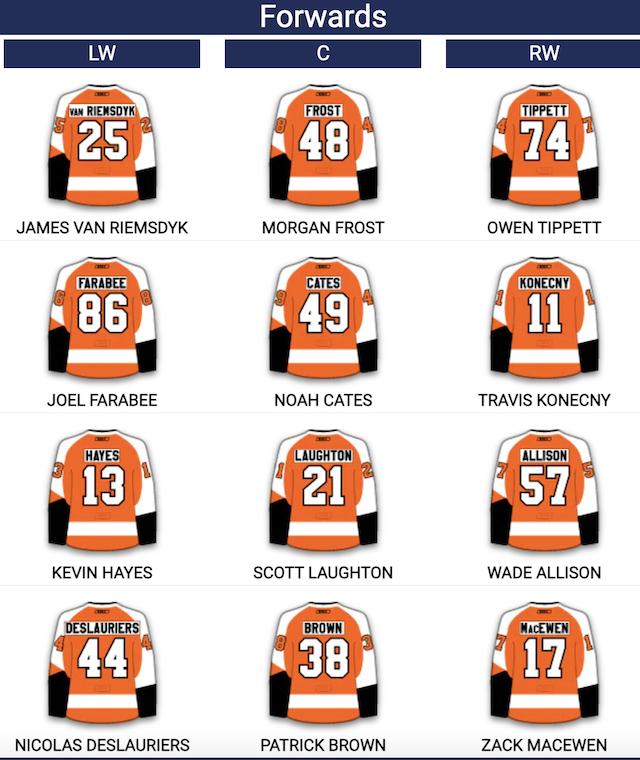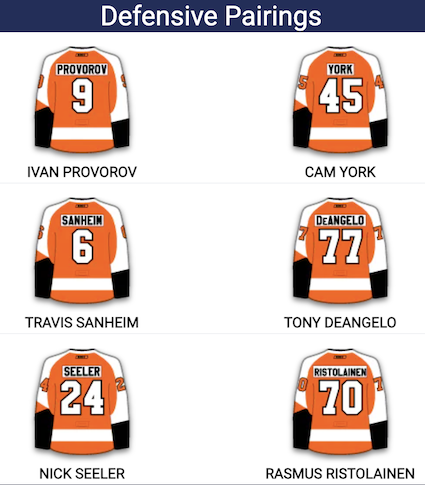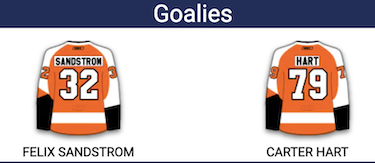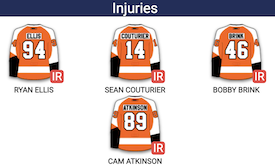 Former Kings Draft Pick
Nicolas Deslauriers

Sons of Former Kings
Sean Couturier

____________________________________________
____________________________________________
GOALIE STATS

PLAYER STATS
Click Here For More Stats & Rosters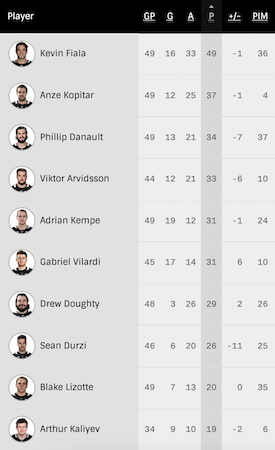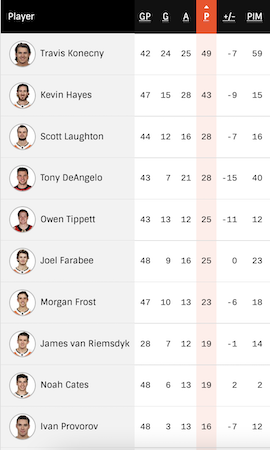 PACIFIC DIVISION STANDINGS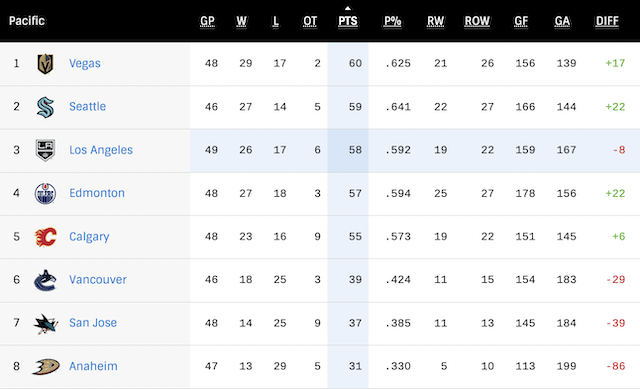 Tonight's Poll Question:
Part 1 - At what time will the Game Winning Goal be scored?
You can take 3 guesses - use the min:sec of the __ period format, or choose SO
+/- 1:00 = 1 point, +/- :30 = 2 points +/- :10 = 3 points - correct guess of SO = 2 points

Part 2 - Who is going to score the Game Winning Goal?

You can take 6 guesses - split them up between the teams however you'd like, but you

MUST PICK AT LEAST 1 PLAYER FROM EACH TEAM

(you can't pick all 6 from 1 team)
Previous Game's Winners
Congratulations to the following posters who correctly guessed the Jones/Johnsons would combine for 0 points and/or that JJ would end the game at evens:

Both (2 points):
Kurisu
SirJW
jammer06
Rogie-Vachon
sonnyboy11
pray4mojo
notbob
LeftyKing
hornman
Liz4LA
CrossTraffic
0 Points (1 Point):
VegasHockey
randdog
waynet
Rusty
AngelEyes
Bill Hicks
srm1105
TooCool
Chateau Bow Wow
Even Rating (1 Point):
dannybuoy1
Poll Win Totals
King Of The Mountain
with

39

points:
VegasHockey
35 Points
Kurisu
34 Points
LeftyKing
33 Points
Rusty
32 Points
randdog
31 Points
Bill Hicks
hornman
sonnyboy11
srm1105
30 Points
29 Points
DRGinLBC
Liz4LA
SirJW
John a90
28 Points
beady eye
pray4mojo
27 Points
DRice
26 Points
AngelEyes
forum gold
25 Points
Helvetica
24 Points
Clif
TooCool
23 Points
22 Points
Chateau Bow Wow
jammer 06
Nyssa42
21 Points
CIrvine
20 Points
empire
19 Points
Rogie-Vachon
18 Points
hihocarp
RoS
Sevenhole
17 Points
waynet
16 Points
dannybuoy1
JETS GARAGE
KHenry14
15 Points
Dr. Tran
notbob
14 Points
13 Points
12 Points
kingrussell
kingsmen93
Shackleford
11 Points
10 Points
Busted Chops
kopinator
9 Points
Dirtweazle
8 Points
Byron
JayWells24
7 Points
6 Points
beedee
5 Points
Cross Traffic
4 Points
3 Points
Dexter
HTK
salami
STONE
2 Points
05/29/93
PuckMaster
1 Point
RagBone
Rinkrat
***Get, Give, & Bet your karma in geogirl's KARMA BETTING THREAD HERE***
________________________________________________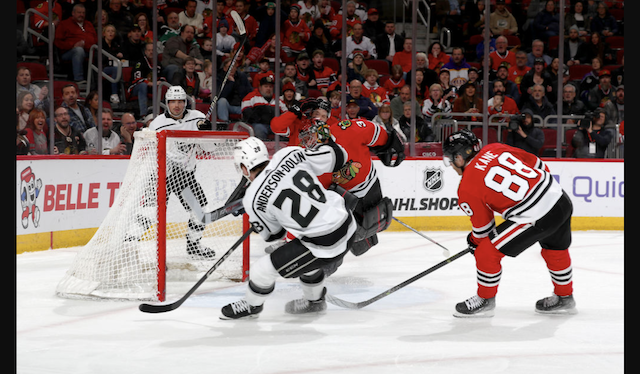 ​
Last edited: