jammer's overlord
Staff member
TEAM LGK
Joined

May 10, 2012
Messages

12,830
LGKash:

$550.00

Game Day Thread
Game #23/82 -- 11/25/22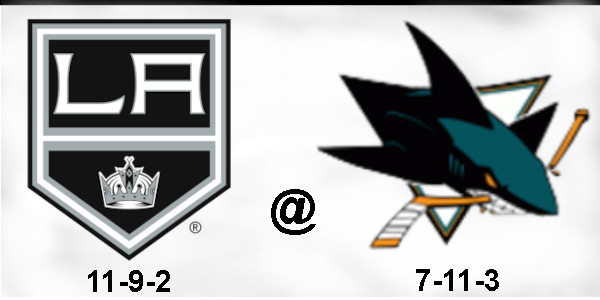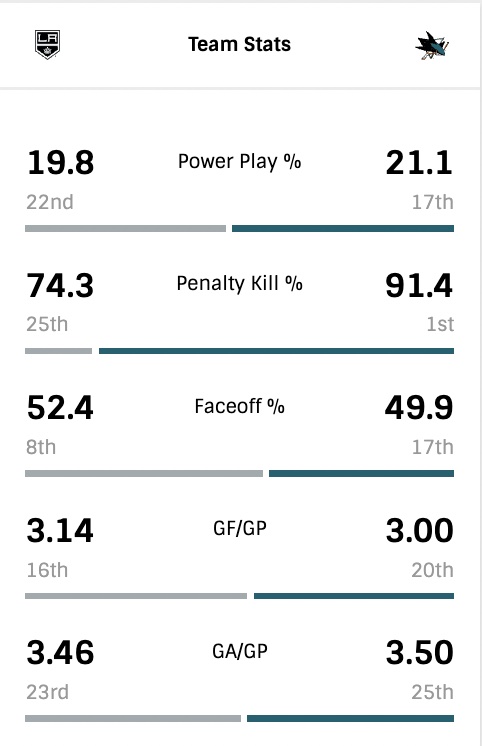 Los Angeles Kings @ San Jose Sharks
SAP Center | San Jose, CA
Tonight's Giveaway: Oakland Seals Scarf All Arena Giveaway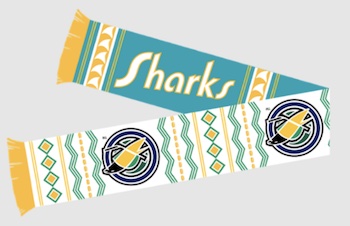 I hate how much I want one of these!!
Last Season's Meetings
03/17/22 - Sharks 0,
Kings 3
03/12/22 - Kings 0,
Sharks 5
03/10/22 -
Sharks 3,
Kings 2 (OT)
01/17/22 - Kings 2,
Sharks 6

TV:

BSW



Radio: LA Kings iHeartRadio app
Please remember,
DO NOT
post links to Live Game Streams in the GDT or anywhere else on LGK
Check out articles on LA Kings Insider Here
Alex Edler & Todd McLellan 11/22 Post Game Quotes
Alex Edler
 on what changed in his mind between the first and second periods
Yeah, I think we had a good first and I think it was kind of the opposite in the second, they had a good second. We scored two, they scored three, and then we battled back and tied it up, but they scored right after. It's hard when you're trailing.
Edler
 on the backbreaking nature of the fourth goal, 50 seconds after the Kings tied it
We always talk about those shifts right after a goal, it's tough when you work hard and tie it up and then they get one right after. Those things happen.
Edler
 on seeing his partner, Sean Walker, get his first of the season
Yeah, that was very nice. He's been really close for a while, so it was nice to see him get one.
Edler
 on how he feels through 20+ games this season and if he's had any conversations with Todd McLellan about his minutes
We talked a little bit before the season, but I think I've been around 15 or 16 minutes up until the last few games, but that's what happens when someone gets hurt, other guys get more ice time. I feel good, my body has felt good all season long so I'm ready to play whenever I'm needed to play.

Todd McLellan
 on his takeaways from an up and down game
We had a real good push in the first, I thought we were an aggressive team, we were on our toes a little bit, we were connecting passes and plays. The break came, we went out and the first two shifts of the period we gave up pretty good scoring chances, so they came with their push and we didn't respond really well. I thought after that, we sat back a little bit, we were slow, we didn't connect on the passes that we were connecting on in the first period. You have to give them credit, they pushed, but their push was a lot stronger, a lot more aggressive than ours in the second. Third period came on, I thought it was a pretty even period. We scored, obviously we were excited about that and then all of a sudden, boom, it's out, the air is out of your sails again. Our game tonight has matched our year, where we're inconsistent, we're up and down. Whether it's within a game, whether it's two-game segments, one-game segments, back-to-backs, we're still searching for that.
McLellan
 on the difficulty of getting back to it after the fourth goal against came so quickly
It's hard. Both of these games we've had to fight and claw from behind, which also sounds strange because we had the lead in tonight's game, but once we got back in and we were fighting and clawing our way there, you could feel a little momentum building. We scored the goal, we get that big save and then 50 seconds later it's in our net again on one that we should probably have. It's tough, but you're not always dealt an easy task or an easy game and you should be able to push back. I thought we sagged a little bit when we could have pushed a little harder.
McLellan
 on expecting a push from the Rangers when they got it in the second period
I think you have to expect that, we're in the NHL, just like we responded in the third. I thought we came out and played an aggressive game. Teams get the opportunity to regroup between periods and the good, consistent teams are able to keep it at an even keel. They also scored at the 18-minute mark in the third period, so a lot of that set us back, but we were able to regain it in the third. We didn't have it between the first and second.
McLellan
 on if he felt Cal Petersen should have had the fourth goal, and his play overall
Yes he does, Cal has to make that save, Cal made some outstanding saves and the difference is……Cal was playing without a stick, we had two broken sticks, Edler blocked it and Cal punched it out. If that goal goes in, maybe we recover, I don't know. The one that we did let in took a lot of life on our team. He stopped a breakaway after that. We mishandled the puck at the blueline and Cal made some really good saves. Sometimes it's the one that you need, rather than all the ones you made, that makes a difference in the game and we needed that one.​

Subject To Change
FORWARDS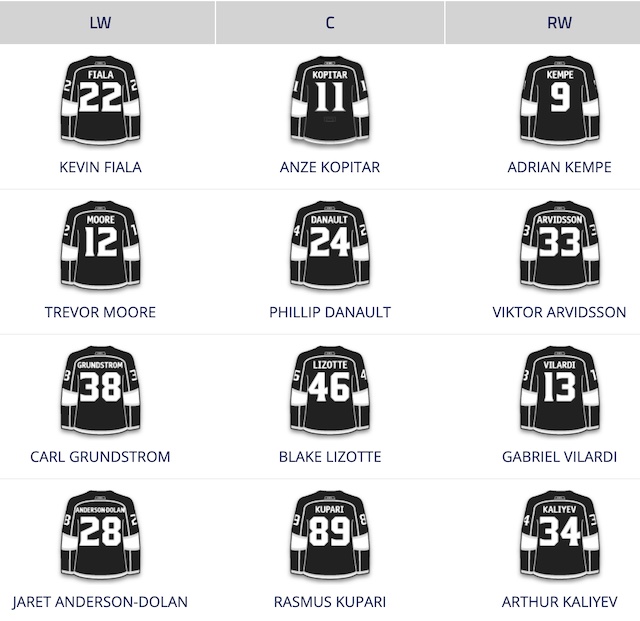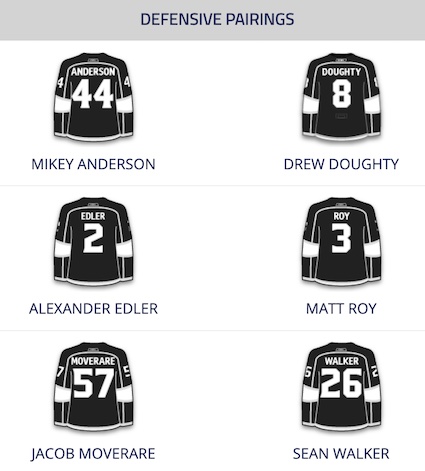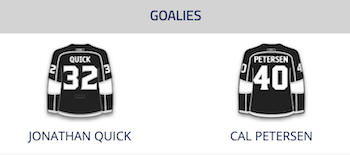 Kings Injuries
Sean Durzi (DTD)
Alex Iafallo (LTIR)
Brendan Lemieux (IR)
___________________________________________
___________________________________________
Sharks Probable Lineup
courtesy of dailyfaceoff.com
FORWARDS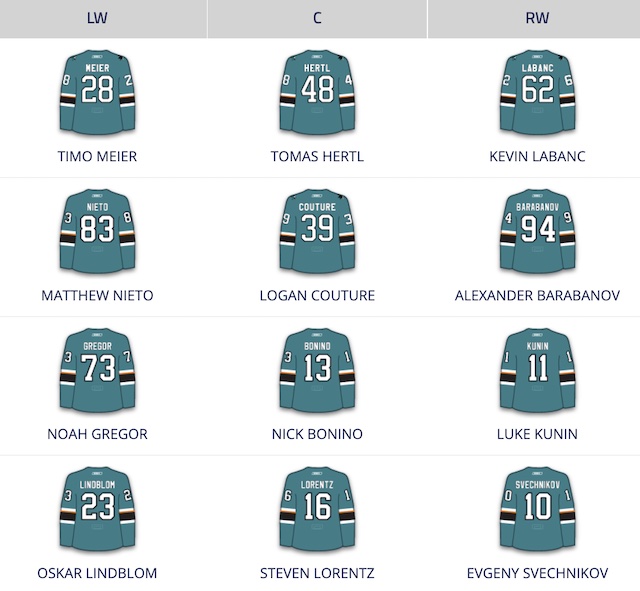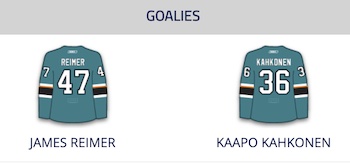 NO Former Kings
____________________________________________
____________________________________________
GOALIE STATS

PLAYER STATS
Click Here For More Stats & Rosters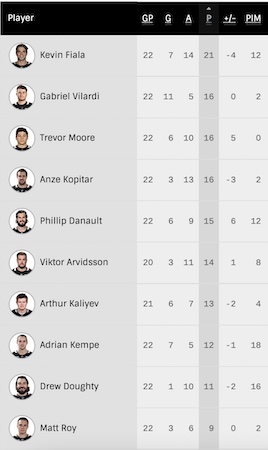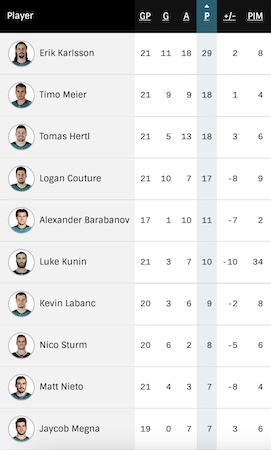 PACIFIC DIVISION STANDINGS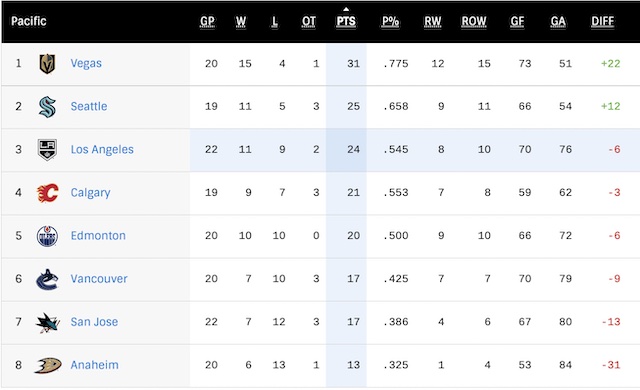 Tonight's Poll Question:
Part 1 - We know we'll hear the words "Thousand Oaks Native" and "Long Beach Native" at least a few times tonight. How many TOTAL POINTS will be scored by ALL USA BORN PLAYERS in tonight's game? (Bognino, Kunin, Labanc, Nieto, & Megna for the Sharks. Iafallo, Lemieux, Lizotte, Moore, Anderson, Roy, Petersen, & Quick for the Kings.)

You can take 2 guesses for this part.

Part 2 - at what time will the FIRST PENALTY of the game be taken by either team?

use the "____ mins of the ____ period" format
You can take 2 guesses for this part
+/- 2:00 = 1 point, +/- 1:00 = 2 points, +/- :30 = 3 points

Take your best guesses in your post below.
The only prize is the glory of seeing your name in the next GDT if you get it right.
Previous Game's Winners
Congratulations to the only two posters who correctly guessed 16 credited assists in the previous game:
Rogie-Vachon
JETS GARAGE
Poll Win Totals
Kings Of The Mountain
with

17

points:
DRGinLBC
LeftyKing
16 Points
hornman
RoS
15 Points
AngelEyes
beady eye
VegasHockey
14 Points
Bill Hicks
John a90
Kurisu
srm1105
13 Points
Clif
Liz4LA
12 Points
forum gold
Rusty
11 Points
Helvetica
10 Points
randdog
9 Points
SirJW
8 Points
Chateau Bow Wow
dannybuoy1
empire
JETS GARAGE
Nyssa42
Sevenhole
sonnyboy11
TooCool
7 Points
Drice
kopinator
6 Points
beedee
CIrvine
Dr. Tran
KHenry14
pray4mojo
waynet
5 Points
Busted Chops
jammer 06
Rogie-Vachon
4 Points
kingrussell
kingsmen93
3 Points
Byron
hihocarp
HTK
notbob
salami
STONE
2 Points
05/29/93
Dexter
Dirtweazle
PuckMaster
1 Point
Rinkrat
***Get, Give, & Bet your karma in geogirl's KARMA BETTING THREAD HERE***
________________________________________________
​
Last edited: