jammer's overlord
Staff member
TEAM LGK
Joined

May 10, 2012
Messages

12,768
LGKash:

$450.00

Game Day Thread
Game #81/82 -- 4/27/22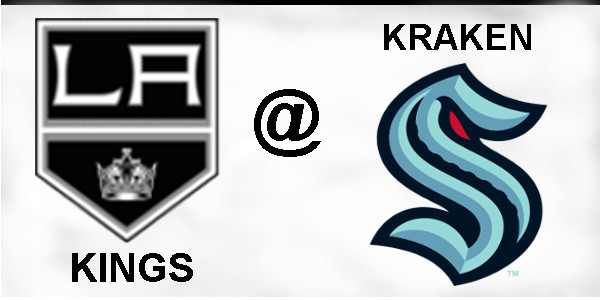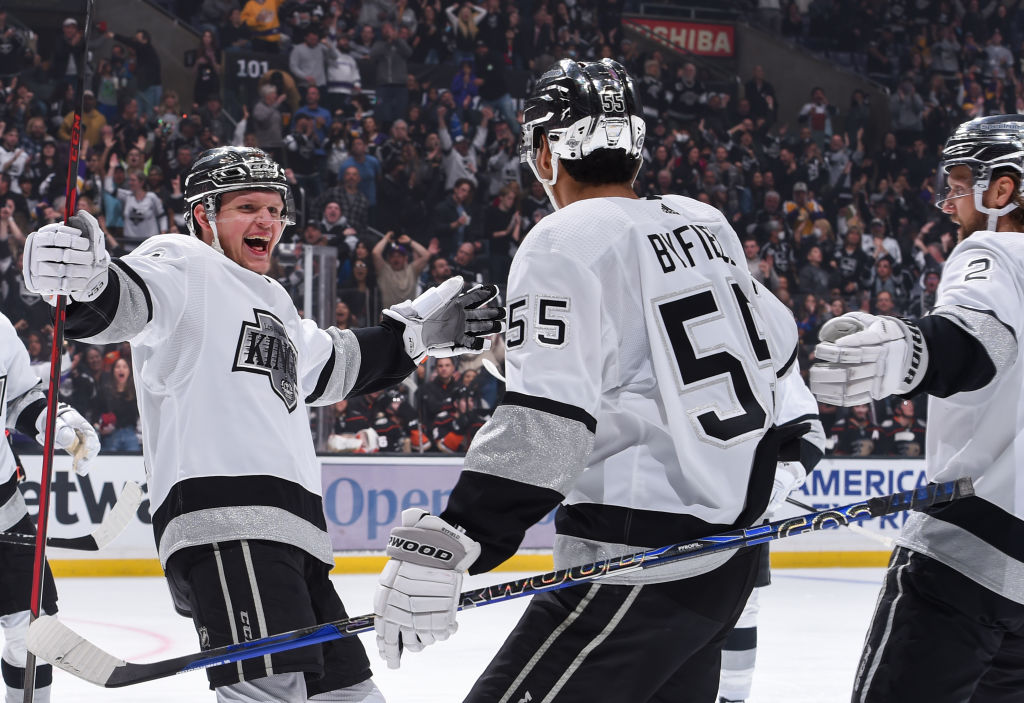 Los Angeles Kings @ Seattle Kraken
Climate Pledge Arena | Seattle, WA
Previous Meetings
03/28/22 -
Kraken 6
, Kings 1
03/26/22 - Kraken 2,
Kings 4
01/15/22 -
Kings 3
, Kraken 1

TV:

**BSW**



Radio: LA Kings iHeartRadio app
Please remember,
DO NOT
post links to Live Game Streams in the GDT or anywhere else on LGK
Check out articles on LA Kings Insider Here
Matt Roy, Quinton Byfield, & Todd MacLellan 4/23/22 Post Game Quotes
Matt Roy
On being one win away from clinching a playoff spot
We've kind of felt that way for a few weeks now. Every game has been a huge game for us, it's just kind of felt like that, one game, let's just get that one game. We've been chipping away and it's nice to be in that spot.
On both he and Edler chipping in with goals tonight in a big win
Yeah, definitely. It's something we've been trying to do all year, haven't been doing a great job at it. Those are two pretty big goals tonight, so we're pretty happy with it.
On his goal and how the play developed
I think I was in the neutral zone, I saw a passing lane and he gave it to me nice and soft. I was able to step into [the shot] and luckily it missed the guy in front of me and snuck through.

Quinton Byfield
On being one win away from clinching a playoff spot
It's definitely amazing, we've worked all year for this and we're where we want to be. Win and you get in. You don't want to leave it up to anyone else, it's a great feeling in the locker room. A lot of guys haven't been there and I think it would be a great experience and we have a lot of veterans as well, who are going to show us the way.
On his line tonight with Kaliyev and Grundstrom
I think Carl, he has a lot of skill and he works super hard, he's always finishing hits, he's always getting in there. Arty, he has a crazy shot and he's always making plays. I'm just trying to read off of those two guys. Last year in Ontario, me and Arty played a lot together, so there's definitely some chemistry as well.
On what he's learned from his time out of the lineup as a scratch
I've learned a lot. You can't take anything for granted, you have to play every game like it's your last, like you don't know if you're going to be in the lineup. Make it hard on them to take you out. I think that's the mentality I'm going with now, I just want to show what I can do and make plays out there, remember that hockey is fun.
On growing up watching Ryan Getzlaf play and if he got the chance to say anything to him
I didn't get to actually, I don't think I took a faceoff against him. My first game when I was called up last year, my first draw was against him. He welcomed me to the league, he was very kind there. I wish I had the opportunity to say something to him, even after the game we were kicked out, but I definitely would have said something. He's had a hell of a career, Hall of Famer. I wish I could have played against him more, I have a lot to learn off of him.

Todd McLellan
On being at the one-yard line, one win away from the playoffs
It feels like we're getting close…who was that football team though that was at the one-yard line and threw an interception. Seattle? No, we're getting close. Again, it's the same thing, we've maintained control of our position, we want to continue to do that through Thursday.
On the team's bounce back to the second goal allowed
[It was] big. The way the goal happened, obviously a freak bounce and the way Quickie has played for us, maybe it's better that it went in that way than a real good play, because the guys buckled down and wanted to play for him. It's a sign of a good team and of guys playing for one another.
On getting two goals from defensemen tonight
Our D has been in such a flux throughout the whole year and when you look collectively at the production of all 12 or 12, however many we've used, it hasn't been that bad. We don't have that one guy, I think Drew is still leading us in scoring when it comes to defensemen, and Durzi, and neither of them have played the full year, but they provide offense for us. They've been able to sustain plays, use their shots from the blueline, as we saw today. Tonight, Edler and Roy, good to see for those two, because they've had some tough minutes lately against some tough players, more in a checking role, a shutdown role. To see them contribute is a real good thing, and Byfield winning the faceoff, we've stressed certain areas for him and that was one area he excelled in, in that moment. He can do it.
On the performance of the fourth line tonight
I've liked their last six periods, they've been a factor in the games. They have physicality, there's pace, there's some size, puck movement and goals. All while being fairly responsible, their checking skills were pretty good, it's a good look right now.
On Ryan Getzlaf and his final game against the Kings
You know what, it's almost appropriate, he came into the league competing like that. He's not out yet, but we're done with him and in some sense that's a good thing, because he's a nemesis to our club here, but we'll also miss him, because he does a lot for the game and the game in Southern California in particular. To have that in a rival, I thought it was appropriate that Quickie, Kopi and Brownie had their moments with Getzy because they've been going at it for a lot of years.

​

Subject To Change
FORWARDS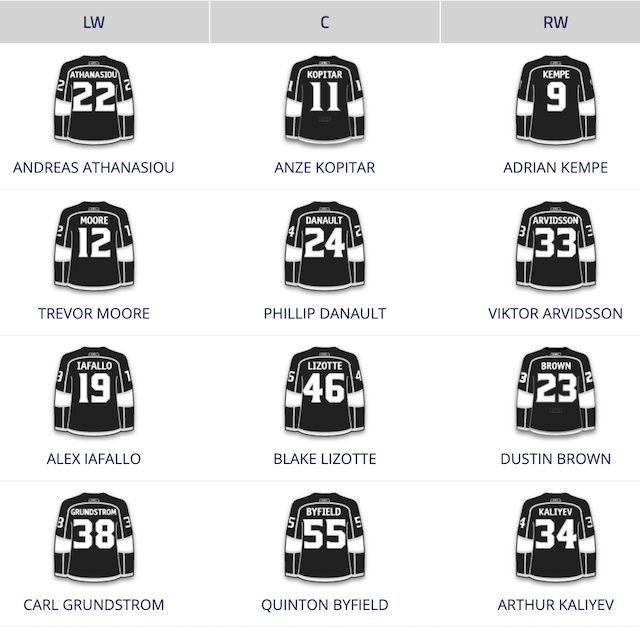 MIKEY ANDERSON HAS BEEN ACTIVATED!!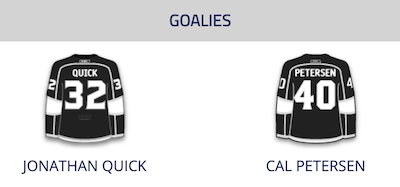 Kings Injuries
Drew Doughty (IR)
Sean Walker (LTIR)
__________________________________________________
__________________________________________________
Kraken Probable Lineup
courtesy of dailyfaceoff.com
FORWARDS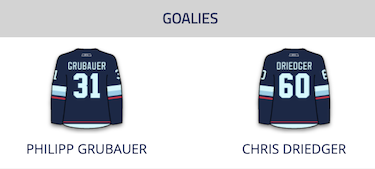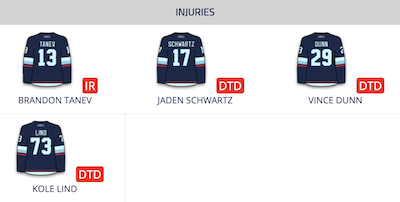 NO Former Kings
________________________________________________
_________________________________________________
GOALIE STATS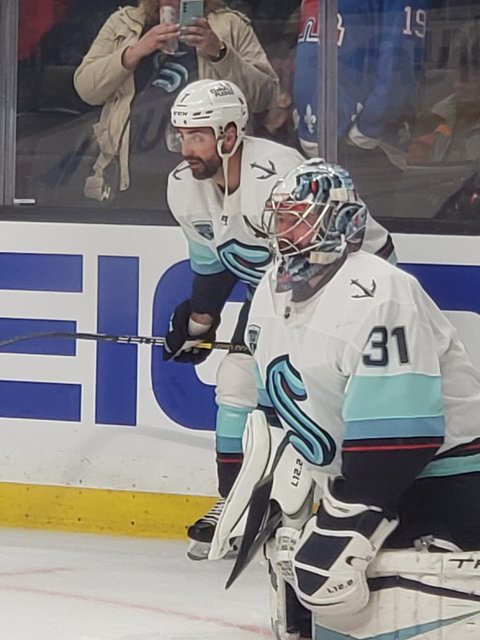 PLAYER STATS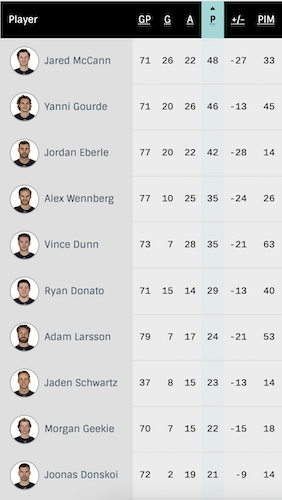 WESTERN CONFERENCE WILD CARD STANDINGS
Tonight's Poll Question:
Thanks to everyone who has played the poll game this season! I hope you had fun chasing srm1105. These will be the final questions of the season. Extra-special thanks to jammer06 for totaling up all the winners after every game.
The Kraken and Kings are both very good at limiting shots-against.

Part 1 - How many TOTAL SHOTS ON GOAL will the KINGS get in tonight's game?
Part 2 - How many TOTAL SHOTS ON GOAL will the KRAKEN get in tonight's game?

Only 1 guess each for Parts 1 & 2
+/- 2 = 1 point, +/- 1 = 2 points, dead-on = 3 points

Part 3 - What will be the final score of the game? Only the numbers - doesn't matter which team wins or loses.

You can take 2 guesses for this part - correct guesses will get 2 points

(so max of 8 points available)

Previous Game's Winners
Here are the many, many guessers who knew that Getzlaf would only score 1 point in his final 2 games against the Kings (this was from our 1st game against Anaheim last week):
Drice
jammer06
CIrvine
VegasHockey
kingsmen93
srm1105
Rusty
KHenry14
hokiecat
John a90
pray4mojo
JETS GARAGE
empire
sonnyboy11
LeftyKing
kingrussell
AngelEyes
forum gold
STONE
Shackleford
Bill Hicks
hornman
Liz4LA
Busted Chops
And congratulations to these two people who had faith in Alex Iafallo to score the final Kings goal of the home season (ok, so no one guessed that one) and/or that he would score the final goal by anyone in Crypto.com Arena with Ryan Getzlaf also playing:

Last Kings goal of the season at home:
Nobody
Last goal with Getzlaf in the building:

I'm giving you each 2 points, just because
Rogie-Vachon
Bill Hicks
Poll Win Totals
King Of The Mountain
with

65

points:
srm1105
56 Points
sonnyboy11
VegasHockey
55 Points
John a90
Liz4LA
53 Points
Bill Hicks
LeftyKing
52 Points
AngelEyes
pray4mojo
51 Points
50 Points
DRice
hokiecat
49 Points
Kurisu
Nyssa42
48 Points
hornman
jammer06
47 Points
Helvetica
Rusty
46 Points
Chateau Bow Wow
45 Points
44 Points
Busted Chops
Reg or Rog?
42 Points
Shackleford
41 Points
Dr. Tran
forum gold
40 Points
38 Points
notbob
Rogie-Vachon
36 Points
KHenry14
kingrussell
35 Points
34 Points
Byron
JayWells24
33 Points
32 Points
empire
31 Points
STONE
30 Points
CIrvine
SirJW
29 Points
dannybuoy1
27 Points
26 Points
25 Points
JETS GARAGE
randdog
24 Points
Sevenhole
22 Points
21 Points
DRGinLBC
20 Points
Clif
19 Points
TooCool
17 Points
cokingsfan
15 Points
beedee
kopinator
14 Points
kingsmen93
13 Points
Dirtweazle
PuckMaster
11 Points
Greg33
10 Points
beady eye
7 Points
hihocarp
MaxwellSmart
6 Points
Joe Laviguer
5 Points
waynet
4 Points
Ragbone
2 Points
Ice24
rinkrat
1 Point
Ecktore
lurker
MBreeden
RoS
Salami
Stormy2213
***Bet your karma in geogirl's KARMA BETTING THREAD HERE***
________________________________________________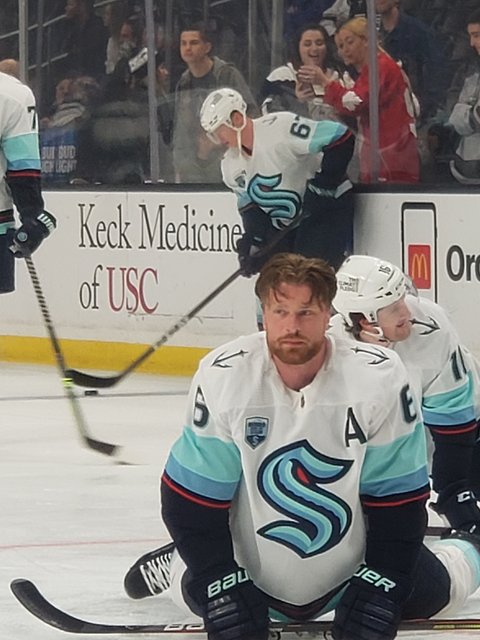 Last edited: