jammer's overlord
Staff member
TEAM LGK
Joined

May 10, 2012
Messages

12,809
LGKash:

$450.00

Game Day Thread
Game #52/82 -- 01/28/23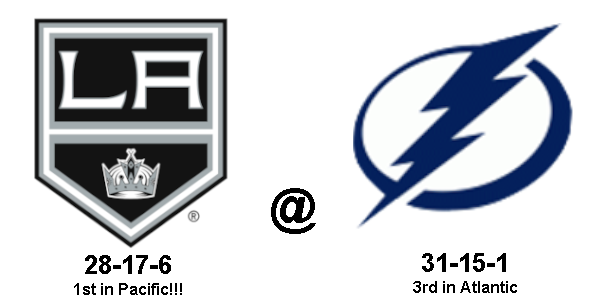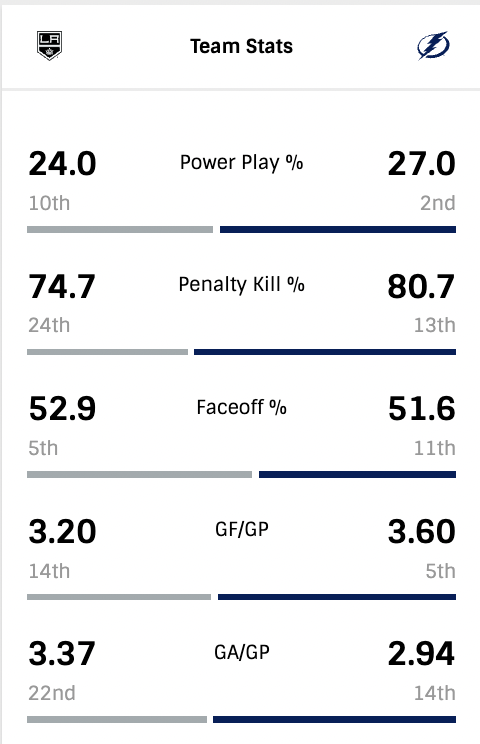 Los Angeles Kings @ Tampa Bay Lightning
Amalie Arena | Tampa, FL
Gasparilla Pirate Fest Night
Previous Meeting
10/25/22 - Lightning 2,
Kings 4

TV:

BSW @ 4:00pm



Radio: LA Kings iHeartRadio app
Please remember,
DO NOT
post links to Live Game Streams in the GDT or anywhere else on LGK
Check out articles on LA Kings Insider Here
Adrian Kempe, Matt Roy & Todd McLellan plus Pheonix Copley (audio only) 1/27 Post Game Quotes
LISTEN to Pheonix Copley's Post-Game Interview Here
Adrian Kempe on finding a way through towards a difficult win on the road
Yeah, good character win. I think we played alright in the third, obviously the second wasn't our best period We played good in the first, into the second, then we gave it back in the last 5,10 minutes. After that, we knew they were going to push and I think we did a good job, all the way until the last minute. They have a lot of skill on their own, we knew they were going to get some chances, but obviously we've got to sort of keep it out as much as possible.
Kempe on the performance of the penalty-killing unit tonight
Yeah, it was great. The amount of time they had on the powerplay it's hard enough to keep them out for an entire thing, but I think we did a great job of saying aggressive in the zone. I think they've got great players, but we didn't give them a lot of chances. That was definitely a big factor.
Kempe on what Quinton Byfield has brought to his line
It's been great, ever since he came up, he's been getting better and better every game. Board work has been excellent, his speed and playing physical and everything, it's been really good and he makes great plays, he made one today to Kopi. Just got to keep that going. He's been playing consistently in the d-zone and all around, it's fun to watch and to play with him.
Matt Roy on coming away with the win from a difficult performance

It was a bit of relief there at the end, we're glad we could hit the empty net, we wish we didn't make it so interesting there. Happy to get the two points and we're looking forward to tomorrow.
Roy on Pheonix Copley's performance tonight and the penalty-killing effort of the group
It's great, congrats to him and I think with all of those penalty kills, it was a challenge for us and we knew that during the game. You need your goalie to be the best killer out there and he did a great job
.
Roy on what's important to carry into tomorrow's game in Tampa Bay
Back-to-back here, I think we just need to keep things simple and stick to our game. We've got to play with some passion out there [in Tampa Bay].
Todd McLellan on finding a way to get the two points from a difficult evening
We can look at it from a positive perspective, good teams when the momentum swings as much as it did tonight find ways to win and that's what we did. From the negative side, we're up 3-0 and a couple of quick goals put us on our heels, so we have work to do and growth to gain when those things happen. They're a tough team to play, they've got a lot of offensive weapons, in my opinion, they're feeling it now. They look much more like the team that we played last year than at the beginning of the season, so we're fortunate to come away. We'll take the points and we'll move on and hopefully there'll be the rest of the teams from the West.
McLellan on the effort and performance from the penalty kill tonight and as of late
I think our penalty kill has done an exceptional job lately, starts with the goaltenders, moves to the backend and then the forwards. We have some pressure and we have some principles and they're showing up together at the same time, but we were getting scored on earlier in the year, maybe we didn't have that as much. It had to work a little too much tonight, even our power play, the first one was what, 15 seconds, or something like that. Momentum was gained and maybe lost on their behalf because we did get 2 shorties, but three from special teams tonight.
McLellan on bounceback performances from Pheonix Copley over the last three wins
He's finding a way to win some games and that's really important for us right now. Trent Yawney has a saying sometimes, the artwork has to hang in the basement, not upstairs. They're not always pretty for our team, not just Copley, and tonight was one of them and we'll take it. He's done a tremendous job in coming in and settling everybody down and winning games.
McLellan on the explanation regarding the five-minute major in the second period

Apparently, this is how it goes with the rules and apparently there's a rule that if a player is tripped and goes violently into the board and so they can review it for major, but there's no such thing as a major for tripping, so they converted to a boarding penalty. In that situation, they obviously weren't going to call anything to begin with, linesmen got involved, they reviewed it like they should and then assessed the major. After the major you review again and that's what they came up with. Confusing, but you never want to see anybody go into the end wall but it's new, something I haven't experienced.
​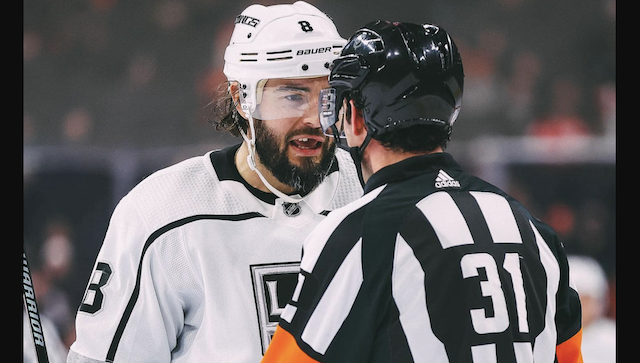 Subject To Change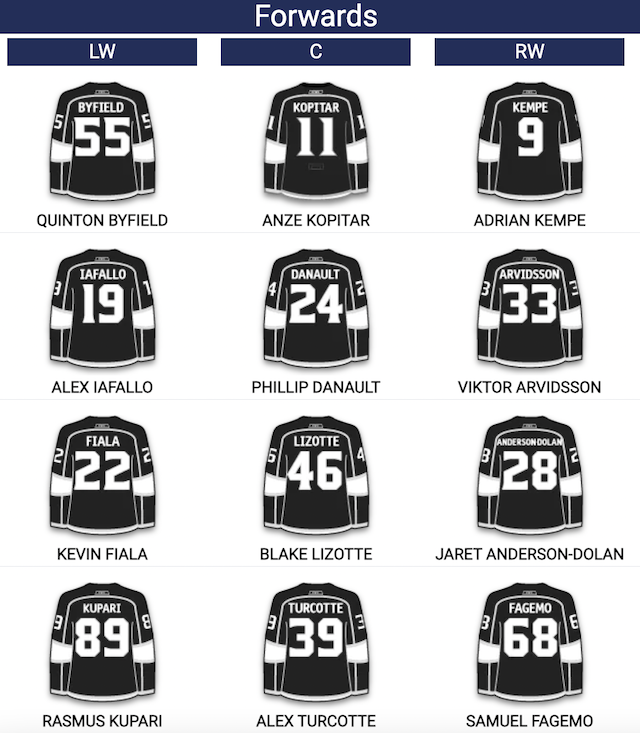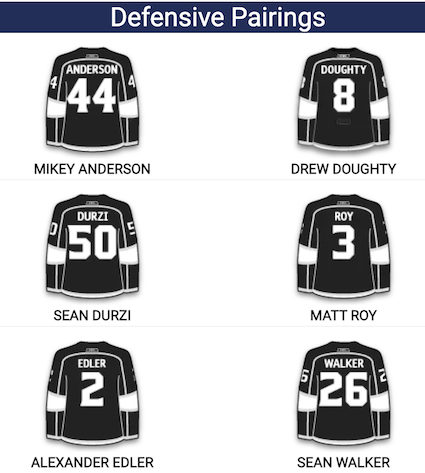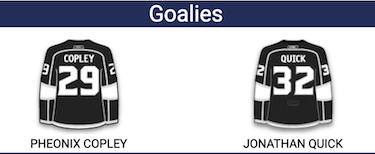 Kings Injuries
Carl Grundstrom (IR)
Arthur Kaliyev (IR)
Trevor Moore (IR)
Gabriel Vilardi (D2D)
___________________________________
___________________________________________
Lightning Probable Lineup
courtesy of dailyfaceoff.com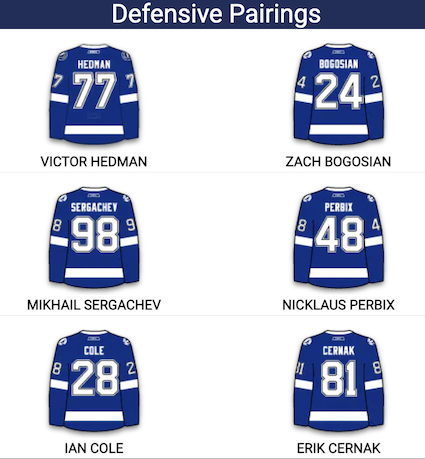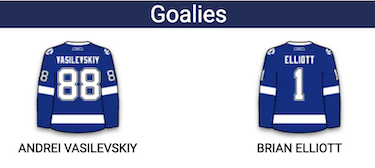 No Lightning Injuries
Former Kings Draft Pick
Erik Cernak

Also, Former King Jeff Halpern is an assistant coach
____________________________________________
____________________________________________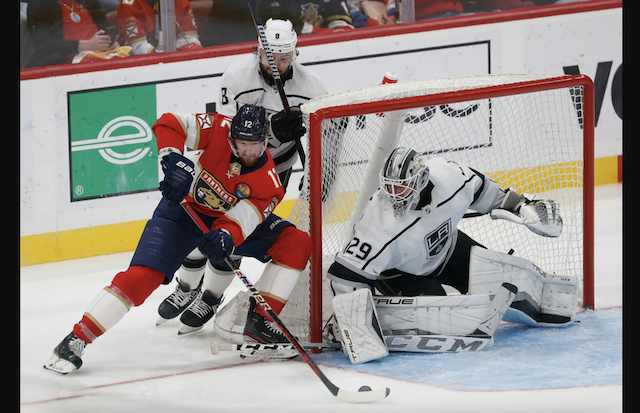 GOALIE STATS


PLAYER STATS
Click Here For More Stats & Rosters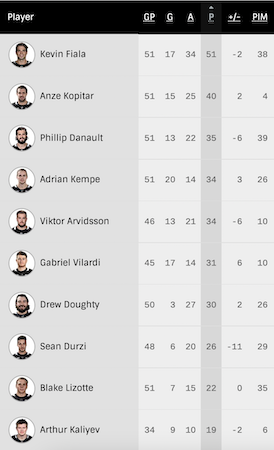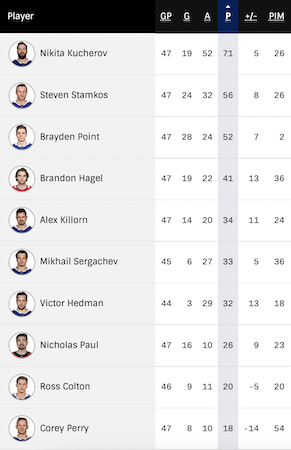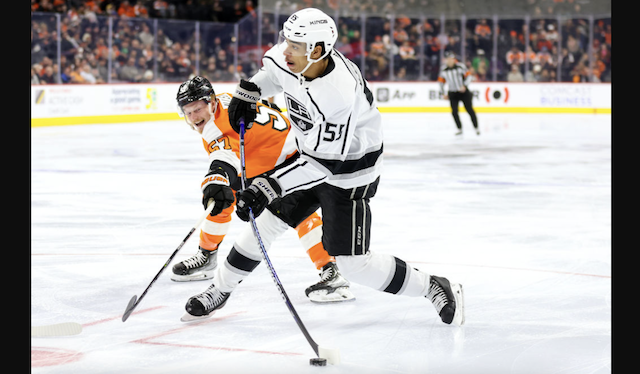 PACIFIC DIVISION STANDINGS
Tonight's Poll Question:
Since we have 2 questions carrying over from yesterday, let's just go with 1 for today:
Who is going to score the Game Winning Goal?
You can select 4 players from each team
Previous Game's Winners
no winners - 2-game questions from yesterday carry over
Poll Win Totals
King Of The Mountain
with

39

points:
VegasHockey
36 Points
Kurisu
35 Points
LeftyKing
34 Points
33 Points
Rusty
32 Points
Bill Hicks
hornman
randdog
sonnyboy11
srm1105
31 Points
30 Points
DRGinLBC
John a90
Liz4LA
29 Points
beady eye
pray4mojo
SirJW
28 Points
DRice
27 Points
AngelEyes
forum gold
26 Points
Helvetica
jammer 06
25 Points
24 Points
Clif
TooCool
23 Points
Chateau Bow Wow
Nyssa42
22 Points
CIrvine
21 Points
20 Points
empire
Rogie-Vachon
19 Points
18 Points
hihocarp
RoS
Sevenhole
waynet
17 Points
JETS GARAGE
16 Points
dannybuoy1
KHenry14
15 Points
Dr. Tran
notbob
14 Points
13 Points
12 Points
kingrussell
kingsmen93
Shackleford
11 Points
10 Points
Busted Chops
kopinator
9 Points
Dirtweazle
JayWells24
8 Points
Byron
7 Points
6 Points
beedee
Cross Traffic
5 Points
4 Points
3 Points
Dexter
HTK
salami
STONE
2 Points
05/29/93
PuckMaster
1 Point
RagBone
Rinkrat
________________________________________________
photos courtesy of RinkRat and NHL.com
​