jammer's overlord
Staff member
TEAM LGK
Joined

May 10, 2012
Messages

12,847
LGKash:

$550.00

Game Day Thread
Game #29/82 -- 12/08/22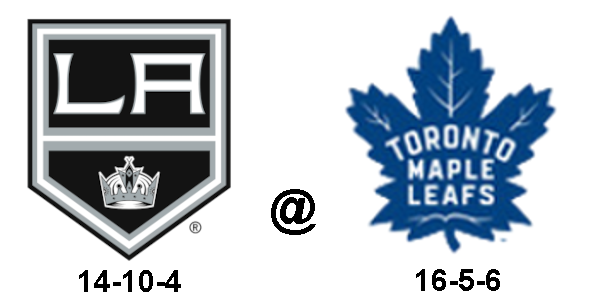 Los Angeles Kings @ Toronto Maple Leafs
Scotiabank Arena | Toronto, ON
Previous Meeting
10/29/22 - Maple Leafs 2,
Kings 4

TV:

BSW



Radio: LA Kings iHeartRadio app
Please remember,
DO NOT
post links to Live Game Streams in the GDT or anywhere else on LGK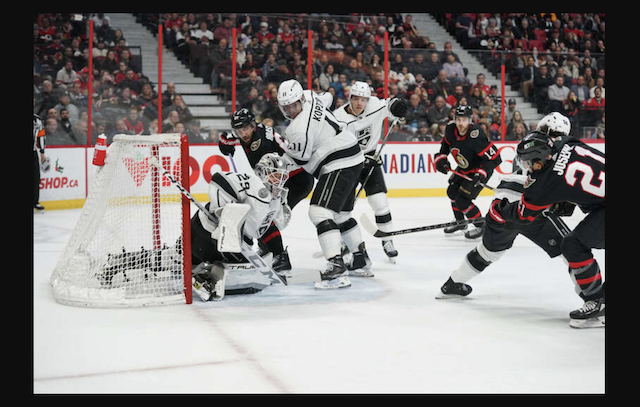 Check out articles on LA Kings Insider Here
Pheonix Copley (video), Viktor Arvidsson, & Todd McLellan 12/6 Post Game Quotes
Pheonix Copley Video Interview
Viktor Arvidsson
 on the 60-minute effort from the Kings tonight
I think we played fast and we executed. They did too, but we made better decisions with the puck and we were able to be effective.
Arvidsson
 on his 2 goals tonight

[On The First] Durzi made a great play on the blueline to Moore, he got it over to me and it was nice to see it go in. [On The Second] I came off the bench and kind of saw the play develop. Kevin made a great play on the wall and saw me coming in.
Todd McLellan
 on the full-team performance in tonight's win
I thought it was a complete game by everybody. We didn't have to rely on one or two people. Starting with the goaltender, I thought he played really well, gave us some confidence, made a big save in the third period that could have been a game changer. Throughout the lineup, I thought we had real good effort, we executed some of the things that we wanted and we learned some lessons. Last time we played them, they did some things that we needed to counter with and the guys applied them. It was a good night for us.
McLellan
 on scoring five goals tonight without sacrificing defensively, at 5-on-5
You know, with that type of question, I'd say why do we have to ask it, and I know why you have to ask it, but we should be able to do that on a nightly basis. It's in the DNA of our team and it's a lot of fun to score goals and we've scored a lot of goals this year, we want to keep that up, but it should never be at the expense of our own end and our goaltenders. I believe that we can get better in that area and for the most part tonight, it was there.
McLellan
 on Pheonix Copley playing within himself tonight to help the team
I thought he did, yeah. He was calm, you could tell he played in the league before. Calm, pretty collected, took a few shots for him to feel comfortable. Remember, he's got a lot of new teammates, he hasn't played with a lot of these guys, even throughout training camp it happened fast for him. I thought, for as good as he played, the guys wanted to play well for him and we needed that in our locker room.
McLellan
 on getting two goals early from defensemen to help set the tone of the game
I'm not sure if the positional scorers change it, but the fact that we were able to start real quick [was good]. If you remember a week ago or 10 days ago in LA they took it to us pretty good first period. We weren't real happy with that, so the fact that we were able to come out and put our foot on the gas was a good thing for our team.
​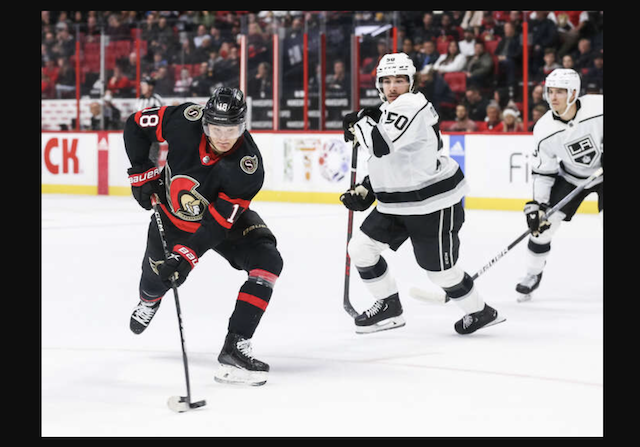 Subject To Change
FORWARDS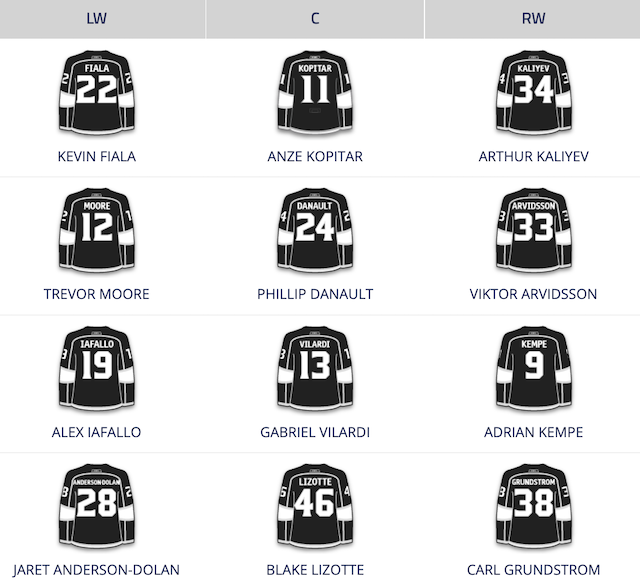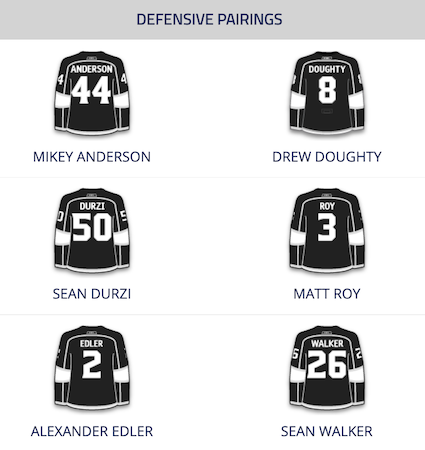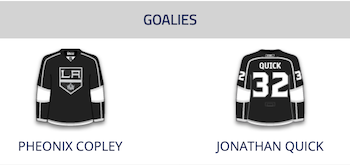 Kings Injuries
Brendan Lemieux (IR)
___________________________________________
___________________________________________
Maple Leafs Probable Lineup
courtesy of dailyfaceoff.com
FORWARDS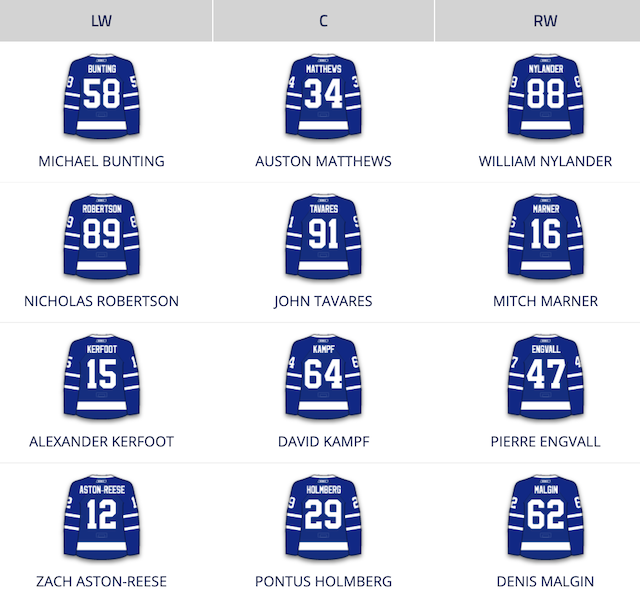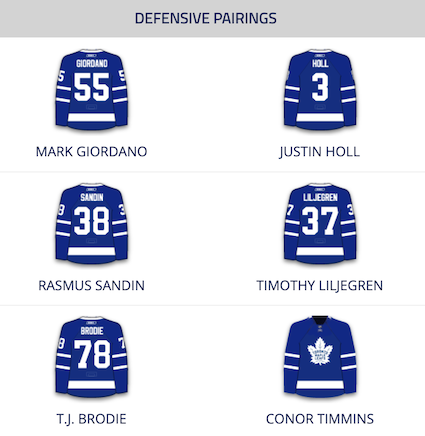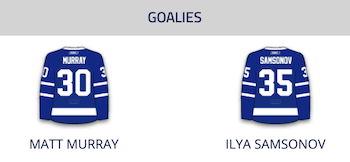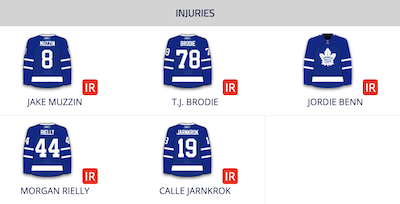 Former Kings
Jake Muzzin (IR)

Wayne Simmonds

]
____________________________________________
____________________________________________
GOALIE STATS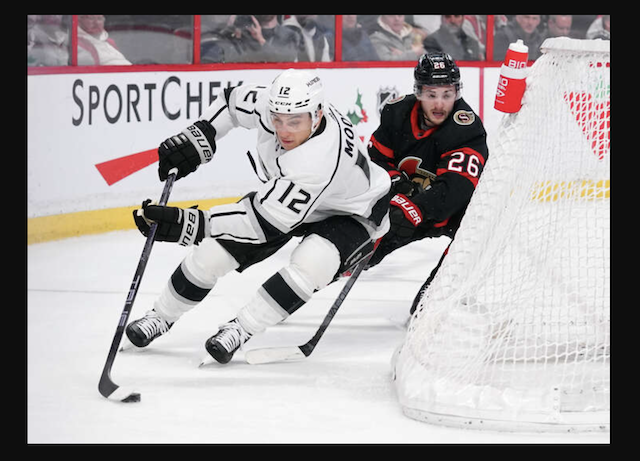 PLAYER STATS
Click Here For More Stats & Rosters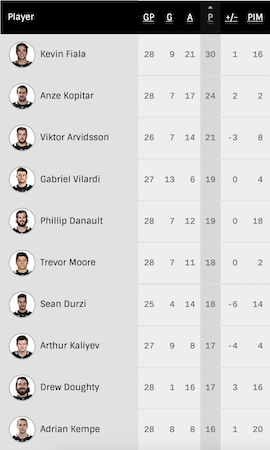 PACIFIC DIVISION STANDINGS
Tonight's Poll Question:
How many total points will be scored by ALL KINGS FORWARDS in tonight's game?
You can take 3 guesses (they got 10 last game)
Take your best guesses in your post below.
The only prize is the glory of seeing your name in the next GDT if you get it right.
Previous Game's Winners
Congratulations to the following posters who correctly guessed a total of 1 Goal for the 2nd or 3rd periods. Shockingly, no one guessed 5 total goals for the first period!

2nd Period 1 goal (1 point):
Chateau Bow Wow
Rusty
randdog
VegasHockey
forum gold
pray4mojo
3rd Period 1 goal (1 point):
TooCool
KHenry14
kopinator
Bill Hicks
Poll Win Totals
King Of The Mountain
with

20

points:
LeftyKing
19 Points
beady eye
hornman
srm1105
18 Points
Bill Hicks
DRGinLBC
Kurisu
RoS
VegasHockey
17 Points
Liz4LA
randdog
Rusty
16 Points
AngelEyes
John a90
15 Points
Clif
forum gold
SirJW
14 Points
13 Points
Helvetica
sonnyboy11
TooCool
12 Points
11 Points
pray4mojo
10 Points
Chateau Bow Wow
empire
hihocarp
Nyssa42
9 Points
Drice
JETS GARAGE
KHenry14
Sevenhole
8 Points
dannybuoy1
kopinator
waynet
7 Points
CIrvine
jammer 06
notbob
6 Points
beedee
Dr. Tran
kingsmen93
Rogie-Vachon
5 Points
Busted Chops
kingrussell
4 Points
3 Points
Byron
HTK
salami
STONE
2 Points
05/29/93
Dexter
Dirtweazle
PuckMaster
1 Point
Rinkrat
***Get, Give, & Bet your karma in geogirl's KARMA BETTING THREAD HERE***
________________________________________________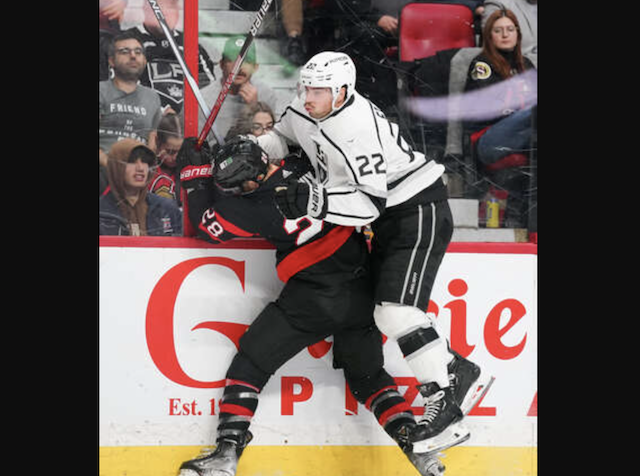 ​
Last edited: