jammer's overlord
Staff member
TEAM LGK
Joined

May 10, 2012
Messages

12,809
LGKash:

$450.00

Game Day Thread
Game #82/82 -- 4/28/22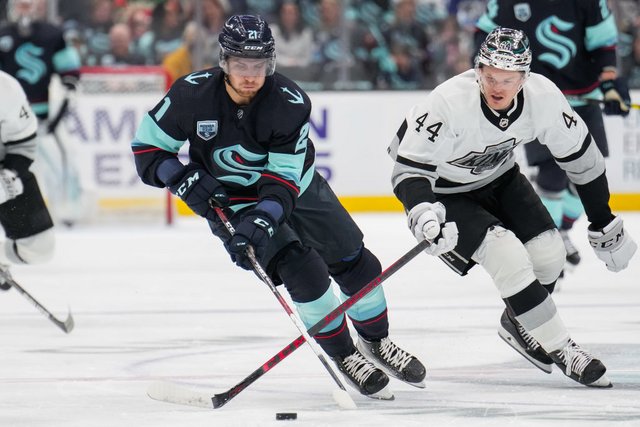 Los Angeles Kings @ Vancouver Canucks
Rogers Arena | Vancouver, BC
Previous Meetings
12/30/21 - Canucks 1,
Kings 2
(SO)
12/06/21 - Kings 0,
Canucks 4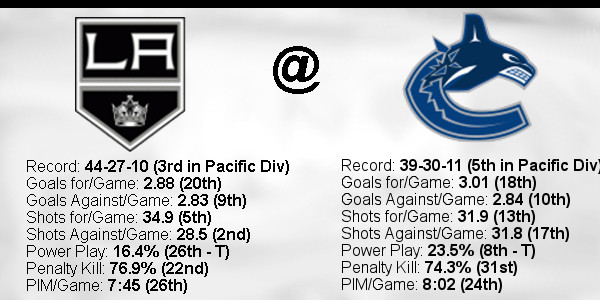 TV:

**BSW**



Radio: LA Kings iHeartRadio app
Please remember,
DO NOT
post links to Live Game Streams in the GDT or anywhere else on LGK
Check out articles on LA Kings Insider Here
Mikey Anderson, Gabriel Vilardi, & Todd MacLellan 4/27/22 Post Game Quotes
Link to Mikey Anderson Video Interview
https://twitter.com/i/status/1519541682982821891
Gabriel Vilardi
On the team clinching a playoff berth
It?s really cool. Obviously I haven?t been here all year, so it?s a little different for me, but just coming in here, joining the team, ever since I?ve been here I feel like the team is clicking, we?re gelling. It?s definitely really nice, for me it?s my first playoffs and I?m really excited.
On the opportunity over these final two games to prove he should be in the Game 1 conversation
Yeah, I haven?t played in two weeks now, it was my first game back so I?ve got to take whatever opportunity I have and show them that I can play. Like I said at the intermission, I want to play. They drafted me, I want to play and I want to help the team.
On the play of his line, down 2-0, in helping to turn the game around
I thought our line played well, I thought all of our lines played well and created chances, all of our lines could have scored tonight. It was nice that we buried on our chances, it was good.
On what he feels changed from the first period to the final 40 minutes
A lot of guys haven?t played and were stepping back into the lineup, first game in two weeks. They came out better than us in the first period, we weren?t very hard to play against, so they took advantage of us and Quickie made some big saves, that?s what he does. It gave us a chance to come back.

Todd McLellan
On the team?s comeback mentality tonight after a slow start
That was evident, but I don?t think we should have put ourselves in that situation. I didn?t think we played with any purpose in the first period. We played because the game was scheduled and that was really it. We weren?t getting any better, we were forming bad habits and we had to talk about it between the first and second. After that, I thought we began to play with purpose. They play a heavy, hard game, they?re a tough team to play against and they tested a lot of our players that needed testing, that haven?t played for long time, or have been injured. A lot of our guys needed that.
On if having several players playing for the first time in a couple weeks impacted the slow start
I think it did, and also the coaching staff, the decisions that we and management made with the lineup also sends a different message to the group, maybe it isn?t as important, but that wasn?t the case. We had to fix that between the first and second. We?re making decisions going forward on who can help us next week and if things go well for us, we plan to play for a long time, we need everybody involved. If you can?t come into this environment and contribute, why would we believe you could do it three weeks from now in Round 2 or 3, if we?re fortunate enough to get there. I don?t think our guys, and there?s a lot of young players, first-time guys going through this, understood that. We had to make that real clear.
On Mikey Anderson in his first game back from injury
I thought he was looking to get physical right away, to test his ability to do that again. The situation he was hurt in presented itself basically on the first shift and he got involved in it. I think from that point on, he got comfortable. There?s always going to be rush, there?s timing, there?s lung and legs that have to get back to game form, but the ability to play him for 25 was important and the back-to-back will be even better, because he?ll have to play with a little bit of fatigue now and that will push him even more.
On if it was good to have lower-pressure situation to work Anderson back in
Yes, and I know what we would have done, had we not clinched and by clinching, it gave a player who had missed the last 22 games, and an important player, a chance to work his way back in, and others.
On the response in the second period
That is in our DNA, that?s a little bit of our identity. They normally respond and I would have been disappointed if they didn?t respond, because it?s expected of them. They?ve done that for seven months now. Sometimes, you just need to be reminded of the importance of situations. They took it to heart and they did something about it. You think even in the response after the first period, we got scored on right away, so we could have went the other way even more, but we dug in and credit them.

​

Subject To Change
FORWARDS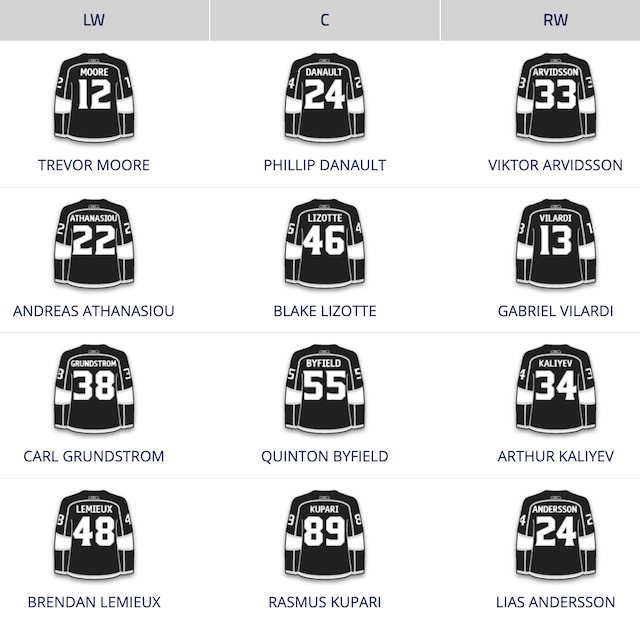 MIKEY ANDERSON HAS BEEN ACTIVATED!!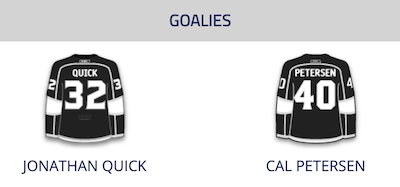 Kings Injuries
Drew Doughty (IR)
Sean Walker (LTIR)
__________________________________________________
__________________________________________________
Canucks Probable Lineup
courtesy of dailyfaceoff.com
FORWARDS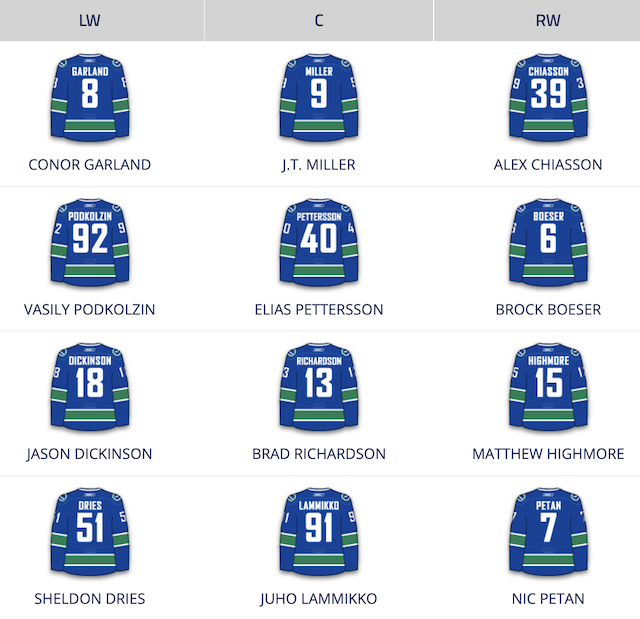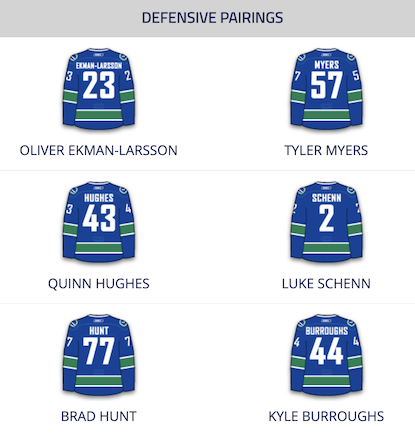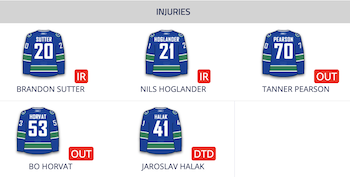 Former Kings
Tanner Pearson

Brad Richardson

Luke Schenn

________________________________________________
_________________________________________________
GOALIE STATS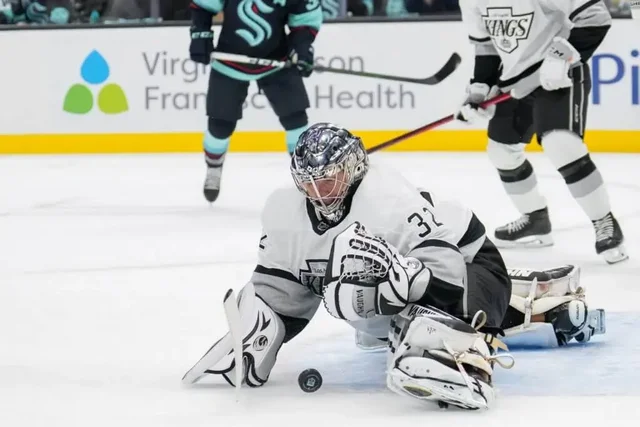 PLAYER STATS
WESTERN CONFERENCE WILD CARD STANDINGS
WHOO HOOO!!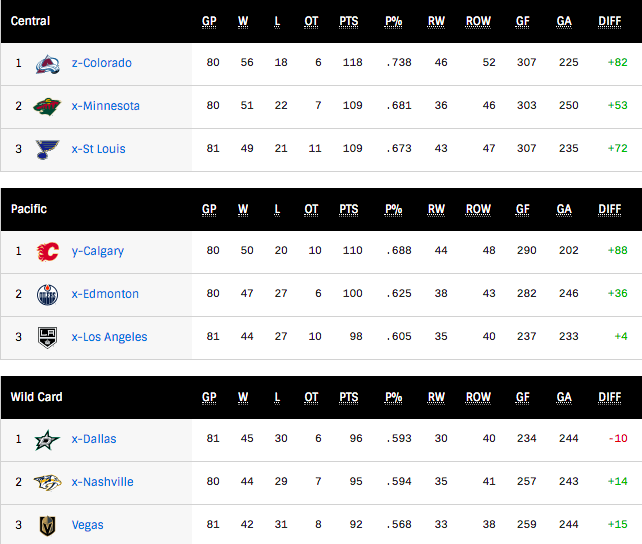 Tonight?s Poll Question:
Thanks to everyone who has played the poll game this season!
I hope you had fun chasing the official King of the Mountain, srm1105.
Extra-special thanks to jammer06 for totaling up all the winners after every game.
No more questions - enjoy the playoffs! And congrats to everyone who managed to get any points with my jinx-inducing questions. And especially to the rest of the top 5 finishers: VegasHockey, sonnyboy11, John a90, & Liz4LA

Previous Game?s Winners
Congratulations to the following posters who correctly guessed within +/-2 of 28 Kings SOG or 40 Kraken SOG, or a final score of 5-3:

Kings SOG 26,30 (1 point):
Rogie-Vachon
Byron
Ecktore
Kings SOG 27,29 (2 points):
Kurisu
VegasHockey
kingrussell
Kings SOG 28 (3 points):
SirJW
Kraken 38,42 SOG (1 point):
DRice
empire
Final score 5-3 (2 points):
Nyssa42 - LOL that I am the only one who got this!
Final Poll Win Totals
King Of The Mountain
with

65

points:
srm1105
58 Points
VegasHockey
56 Points
sonnyboy11
55 Points
John a90
Liz4LA
53 Points
Bill Hicks
LeftyKing
52 Points
AngelEyes
pray4mojo
51 Points
DRice
Kurisu
Nyssa42
50 Points
hokiecat
49 Points
48 Points
hornman
jammer06
47 Points
Helvetica
Rusty
46 Points
Chateau Bow Wow
45 Points
44 Points
Busted Chops
Reg or Rog?
42 Points
Shackleford
41 Points
Dr. Tran
forum gold
39 Points
Rogie-Vachon
38 Points
kingrussell
notbob
36 Points
KHenry14
35 Points
Byron
34 Points
JayWells24
33 Points
empire
SirJW
31 Points
STONE
30 Points
CIrvine
29 Points
dannybuoy1
27 Points
26 Points
25 Points
JETS GARAGE
randdog
24 Points
Sevenhole
22 Points
21 Points
DRGinLBC
20 Points
Clif
19 Points
TooCool
17 Points
cokingsfan
15 Points
beedee
kopinator
14 Points
kingsmen93
13 Points
Dirtweazle
PuckMaster
11 Points
Greg33
10 Points
beady eye
7 Points
hihocarp
MaxwellSmart
6 Points
Joe Laviguer
5 Points
waynet
4 Points
Ragbone
2 Points
Ecktore
Ice24
rinkrat
1 Point
lurker
MBreeden
RoS
Salami
Stormy2213
***Bet your karma in geogirl?s KARMA BETTING THREAD HERE***
________________________________________________​