jammer's overlord
Staff member
TEAM LGK
Joined

May 10, 2012
Messages

13,112
LGKash:

$1,050.00

Game Day Thread
Game #64/82 -- 3/19/22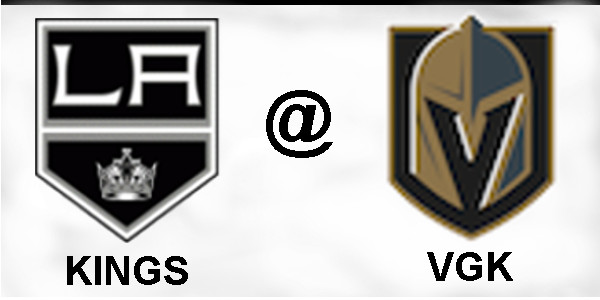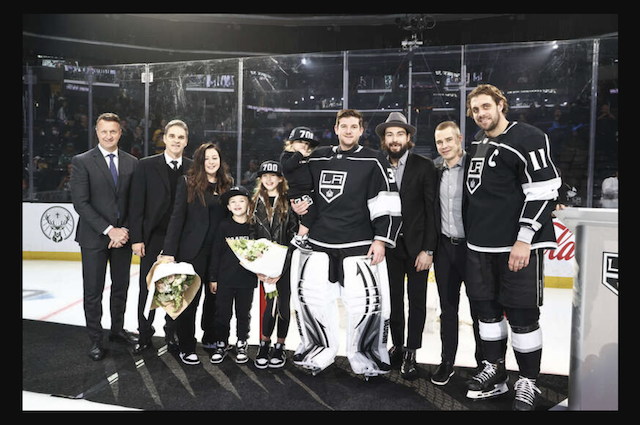 Los Angeles Kings @ Vegas Golden Knights
T-Mobile Arena | Las Vegas, NV
Previous Meetings
02/18/22 –
Kings 4
, Golden Knights 3 (OT)
12/28/21 –
Golden Knights 6
, Kings 3
10/14//21 – Golden Knights 2,
Kings 6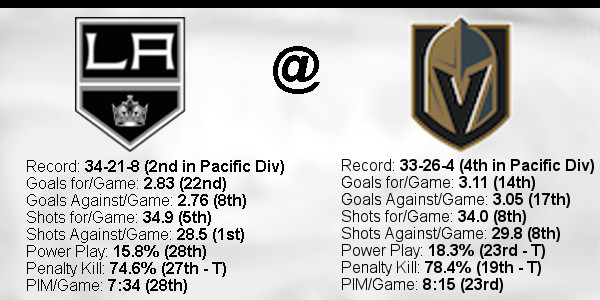 TV:

**BSW**



Radio: LA Kings iHeartRadio app
Please remember,
DO NOT
post links to Live Game Streams in the GDT or anywhere else on LGK
Check out articles on LA Kings Insider Here
Anze Kopitar, Sean Durzi, & Todd MacLellan 3/17/22 Post Game Quotes
Anze Kopitar
On what he felt the Kings did well tonight to establish their game against San Jose
I think our game was a lot more assertive this time around, we didn't really wait, or feel, our way into the game. We went at them. We had a couple of shifts early, Juice hit the post late in the period and obviously it was nice to get on the board on the power play too, and not giving up anything on the PK as well, that's huge this time of the year.
On the confidence with the organization right now
The position that we're in right now, maybe the majority of outside people didn't think that we could make it this high. I think that the belief within our room and within the group has always been at a high level and we've shown it on the ice. It's not just in the room, we're showing it on the ice. I think the team is much improved from previous years and the play on the ice speaks for itself.
On he and Kempe getting off the schneid tonight
Yeah, it's always in your head and I don't think I've gone through a struggle like this before, ever. It's nice to get off the schneid and more importantly, it's nice to win a game and move on.
On how much he and the team discuss the postseason
I mean, whoever is saying they're not checking the out of town scores is probably lying. We know what kind of position we're in and obviously we know what we've got to do. Whether we talk about it or not, it's there, the bigger picture is there and it's showing. We have 19, 20 games left, it's very doable, but we're going to have to make it happen.
On the ceremony for Quick and seeing a guy who doesn't like the spotlight get honored
I think he enjoyed it tonight. Obviously he deserves it, we could go on and on about him. It's well deserved, to be recognized like that. It's pretty cool for him and his family, and for us that have had the privilege to play with him and be in the room with him.

Sean Durzi
On playing more than 26 minutes tonight
I knew the opportunity to play that much was there, it just depends on how the game goes and flows. It's a lot of ice, I'm happy that they trust me with that and I'm happy I made the most of it.
On he and the other young defensemen making the most of others being out
I think we did a pretty good job tonight. We've seen some growth throughout this stretch here, some learning moments and that's what you have to make them, you can't make big mistakes that are going to cost us every single game. I thought we did a good job moving pucks. When we're trying to do too much, it's not available in the NHL and good group, a really resilient group, guys are opening to learning and listening. It was definitely nice to have Eddy back today, just that leadership back there, and tonight I thought we did a pretty good job.
On adding Phillip Danault to his power-play unit and the PP overall
I think having him on the power play tonight showed a lot of volume of what it takes to get pucks back, not only on that play. A big thing for us was shooting and getting pucks back, we've struggled with that down the stretch a little bit. You saw it today, he's very calm, poised with the puck, he's always in the right spots, supporting the puck. That's something I think helped us tonight. We only got one goal, but I thought we looked a lot better, we drove some momentum, we had a couple of good scoring chances and good on him for filling that role there.
On bouncing back from his turnover that led to a Hertl breakaway
With my play style, I try to limit that kind of stuff. On that play, it was a hobbling puck, I was trying to make the safe play and it still didn't work out. It's obviously something you can't dwell on, especially at this time of the year, with the guys we're missing. I want to be able to be counted on to be able to make the next play, whether that the right play and help our team winning, that's what I've got to do. Things like that, I try not to dwell on it or it will dwell on us in the long run.

Todd McLellan
On getting the goals from Kopitar and Kempe, and their overall game
They looked the way they should tonight. We tried to get them as much rest as we could the last couple of days, we may continue that tomorrow with those three, but their checking skills, first of all, let's start on that side of the puck. They didn't give up nearly as much as they have in some games earlier and then pretty determined shooting the puck. Juice hit the post, Kopi had chances on the power play, they scored a power-play goal. Good night for that line.
On Cal Petersen's play in getting the shutout
Solid, confident, not a lot of garbage laying around for secondary chances. That team shoots a lot from the top and gets their stick on a lot of pucks to redirect. They had a shot in the second period, I think Timo Meier reached out and deflected it and it was dangerous, that's common for that team. His concentration level was real good tonight, there were flurries and there were moments of not a lot of shots, so he needed to stay in the game. Solid outing from him.
On flipping the script tonight on special teams
Drawing the penalties, we've been good at drawing penalties all year. We have a tenacity to us, which is real strong. The penalty kill, I thought we had some opportunities to block shots and we got in the lane, some big blocks off bombs from the top. Faceoff wise, we won more than we did in those situations against San Jose in the past, we got more clears. Power play, we adjusted a few things, personnel wise, we created a veteran and a kid unit, if you want to call it that. I thought the veterans did a really good job of leading the way, they moved the puck around quick and the kids followed it up with a decent effort. It had been a long time since we've been on the positive side of power play and penalty kill and if you can do that, you have a real good chance of winning.
On an elevated role for Sean Durzi tonight
When it comes to minutes, they just happen. He earned them and he played well, we had a lot of power play time and he's on the top unit right now, he's going to get that extra 2-3 minutes a night, when you get six power plays. He played a really good game.
​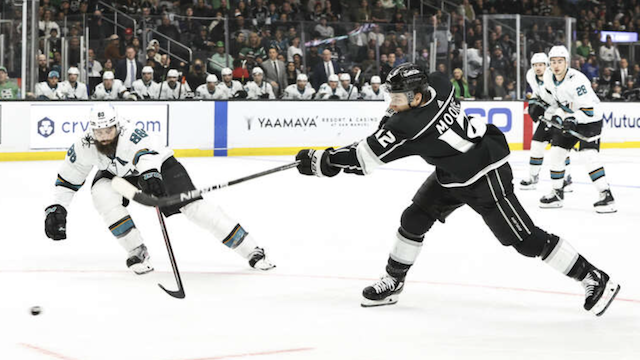 Subject To Change
FORWARDS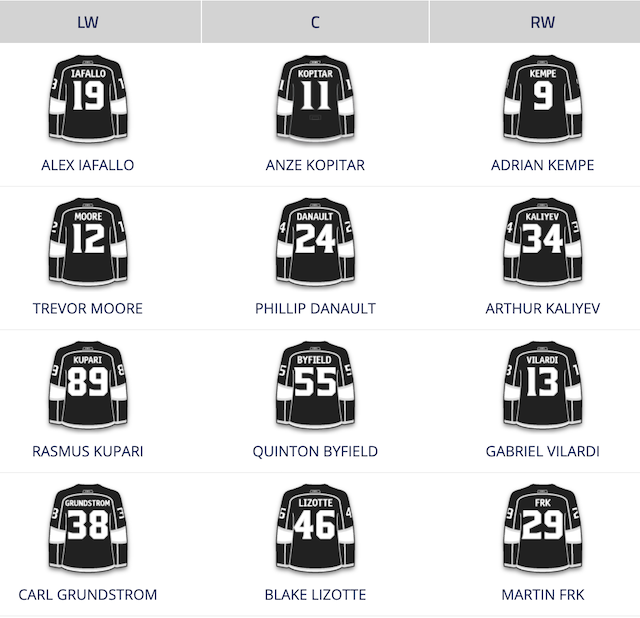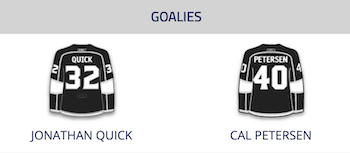 Kings Injuries
Viktor Arvidsson (IR)
MIkey Anderson (IR)
Andreas Athanasiou (IR)
Tobias Bjornfot (DtD)
Dustin Brown (IR)
Drew Doughty (IR)
Brendan Lemieux (IR)
Matt Roy (IR)
Sean Walker (LTIR)
__________________________________________________
__________________________________________________
Golden Knights Probable Lineup
courtesy of dailyfaceoff.com
FORWARDS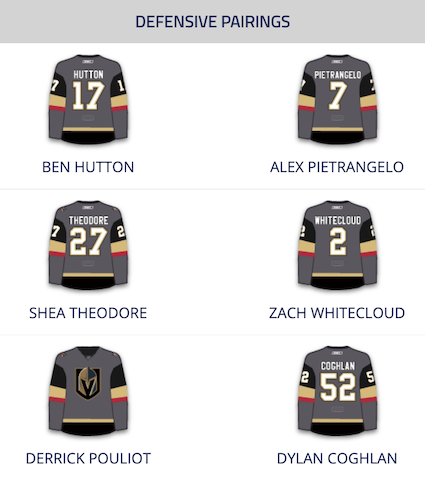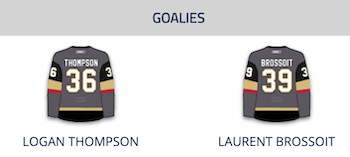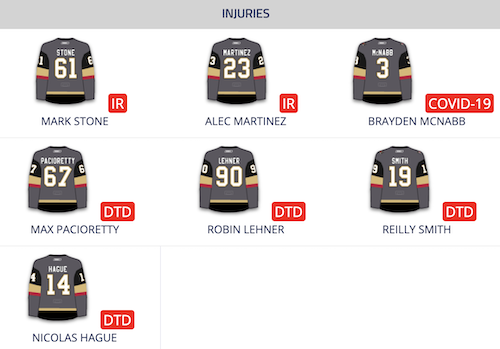 Former Kings
Michael Amadio

Ben Hutton

Alec Martinez (IR)
Brayden McNabb (DtD)

________________________________________________
_________________________________________________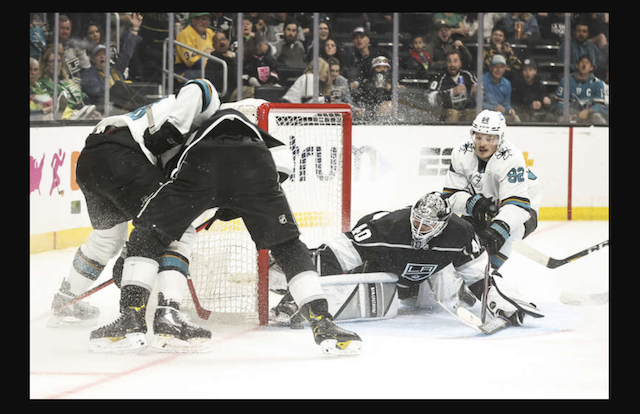 GOALIE STATS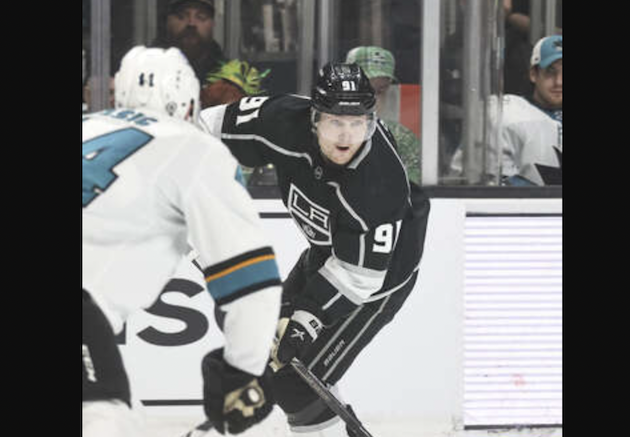 PLAYER STATS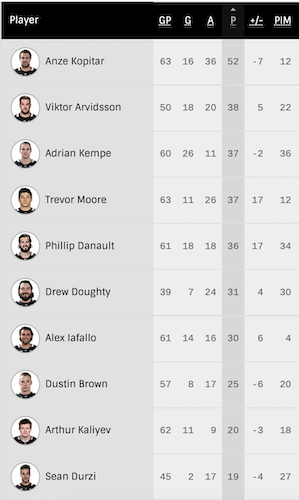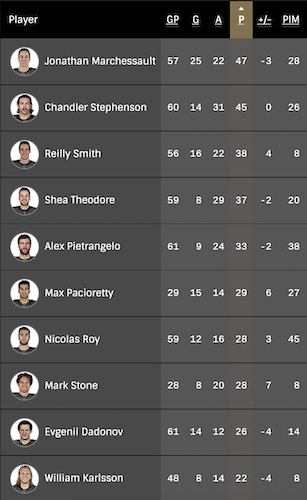 WESTERN CONFERENCE WILD CARD STANDINGS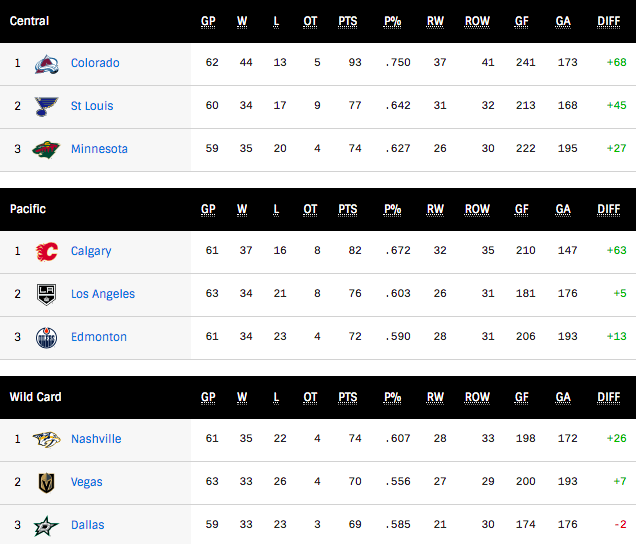 Tonight's Poll Question:
Both teams have a lot of players who wear numbers well into the double digits. How many TOTAL POINTS will be scored in today's game by players from both teams whose JERSEY NUMBER is 29 or higher?

You can take 3 guesses.
Only 1 point available today.
Previous Game's Winners
Congratulations to the following posters who were successfully within +/- 2 mins or less of 6:57 of the second (first goal) or 17:03 of the third (last goal):
First goal 6:57 second

4:57-8:57 (1 point)
Bill Hicks
Kurisu
kingrussell
6:27-7:27 (3 points)
Liz4LA
Last Goal 17:03 Third

15:03-19:03 (1 Point)
VegasHockey
SirJW
JayWells24
Rogie-Vachon
kingsmen93
Reg or Rog?
LeftyKing
AngelEyes
KHenry14
16:03-18:03 (2 Points)
srm1105
DRice
jammer06
empire
randdog
JETS GARAGE
Bill Hicks
hornman
16:33-17:33 (3 Points)
sonnyboy11
John a90
Nyssa42
Liz4LA
Chateau Bow Wow
Kurisu
Poll Win Totals
King Of The Mountain
with

48

points:
srm1105
41 Points
Reg or Rog?
40 Points
39 Points
John a90
38 Points
LeftyKing
Liz4LA
VegasHockey
37 Points
AngelEyes
Kurisu
Sonnyboy11
36 Points
Chateau Bow Wow
Rusty
35 Points
DRice
34 Points
pray4mojo
33 Points
Bill Hicks
Helvetica
hornman
notbob
32 Points
jammer06
31 Points
hokiecat
30 Points
Dr. Tran
29 Points
Busted Chops
JayWells24
kingrussell
Nyssa42
28 Points
27 Points
KHenry14
26 Points
25 Points
Byron
24 Points
dannybuoy1
STONE
23 Points
SirJW
22 Points
empire
21 Points
CIrvine
Shackleford
20 Points
19 Points
Rogie-Vachon
Sevenhole
18 Points
JETS GARAGE
TooCool
17 Points
forum gold
16 Points
Clif
randdog
15 Points
cokingsfan
14 Points
13 Points
Dirtweazle
DRGinLBC
PuckMaster
12 Points
11 Points
Greg33
kopinator
10 Points
beady eye
beedee
9 Points
8 Points
7 Points
MaxwellSmart
6 Points
Joe Laviguer
kingsmen93
5 Points
waynet
4 Points
3 Points
2 Points
Ice24
rinkrat
1 Point
lurker
MBreeden
RoS
Salami
Stormy2213
***Bet your karma in geogirl's KARMA BETTING THREAD HERE***
________________________________________________
Photos courtesy of NHL.com/Getty Images​
Last edited: