jammer's overlord
Staff member
TEAM LGK
Joined

May 10, 2012
Messages

12,830
LGKash:

$550.00

Game Day Thread
Game #79/82 -- 04/06/23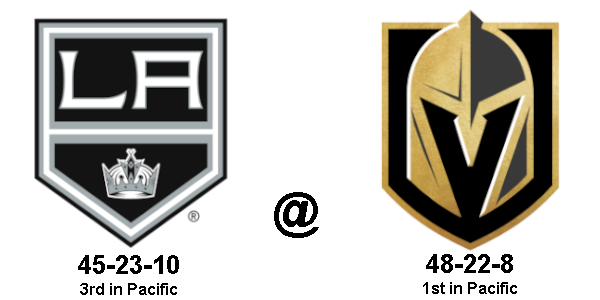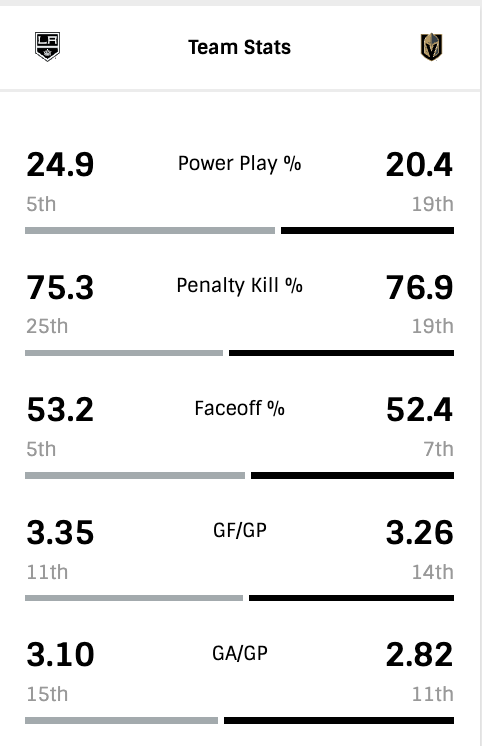 Los Angeles Kings @ Vegas Golden Knights
T-Mobile Arena | Las Vegas, NV
Donate Life Night
Previous Meetings
01/07/23 -
Kings 5
, Golden Knights 1
12/27/22 - Golden Knights 2,
Kings 4
10/11/22 -
Golden Knights 4
, Kings 3

TV:

***BSW***



Radio: LA Kings iHeartRadio app
Please remember,
DO NOT
post links to Live Game Streams in the GDT or anywhere else on LGK
Check out articles on LA Kings Insider Here
Sean Walker (video), Viktor Arvidsson, & Todd McLellan 4/4 Post Game Quotes
Watch Sean Walker's Post Game Interview Here
Viktor Arvidsson on if he felt tonight's game was similar to the one in Edmonton
I'm not sure, they had the puck a lot and I think we defended well, but it came down to a power-play goal, that's what it came down to.
Arvidsson on if he feels there's anything, offensively, that's lacking as a group, minus the finishing
I think we should play a little bit more with the puck, but also we have to defend. We've had chances to score and we've got to bear down on them. It's a little bit of both, I think.
Arvidsson on if he feels the Kings and Oilers are evenly matched teams
Yeah, I think so. I think we play a little bit differently, both teams, it's always tight and low scoring. We've got to keep an eye on that and try to score more goals than them.

Todd McLellan on any frustration with playing well at 5-on-5 again, but coming up short
I think, one they're really good hockey club, so we have to acknowledge that and they've made some changes that have improved their team. So, frustration is going to be part of the game and we have to channel it a little bit better. Our special teams have to be better against theirs. This game was very reminiscent to the one in Edmonton. We got more to the net in Edmonton and probably had more scoring chances in Edmonton, but the team that scores first has a huge advantage. [In] Edmonton, the first one was near the end of the period, we were actually checking well and then the shorthanded one really cost us, so we lost the special teams in that situation. Here, our penalty kill did a pretty good job, but both of their goals were on clearing attempts that we weren't successful on. 32 or 35 percent power plays make you pay for that and they did tonight.
McLellan on if the power-play tonight was about a lack of execution or a lack of personnel
It's not a lack of personnel, we just didn't execute well.
McLellan on what he feels could be lacking offensively
You know, it's funny because when teams check hard against us, that's what it feels like when we're doing it to the other team. It can be a taste of your own medicine and that's how we've played these last five games, in my opinion, Calgary, Edmonton, Seattle, Vancouver, Edmonton. They're all tight-checking, there's not a lot of space and when we've been able to win the special teams battle and get that first goal, it makes a world of difference. The games we weren't successful in, we didn't do that, so there's a bit of a recipe there. The frustration part is because guys want to want to win, they're not just along for the ride. We can do a better job of channeling it and we will.
McLellan on Rasmus Kupari's game tonight
I thought he had good legs and you need legs to fight through some of the checking. He was skating well, he's a good skater, so we tried some different things, some different combinations. This was the seventh game in 11 nights for our team. I thought we we were working hard but the gas tanks weren't quite where they need to be, so it's something we also have to consider as we move forward, making sure we got the right rest.
McLellan on if these tight games, with guys out, give the team confidence heading into the playoffs
That could be the case. If we meet them in the playoffs, or whoever we play in the playoffs, we could be without those guys and three more, so it really doesn't matter. It doesn't. I know you guys want to ask me and I want to tell you, yeah it'd be great, but the lesson we learned last year is it doesn't matter who's out, it matters who's in.
McLellan on the intangibles the group has going right now
I think all of those intangibles that you can't open up the newspaper and read are at a fairly high point with our team right now. The focus is there, the attention to detail is there quite a bit, the drive to win, the game management, we're in a good spot. We have to continue to build on that and make sure that we're keeping our gas tanks full.
​

Subject To Change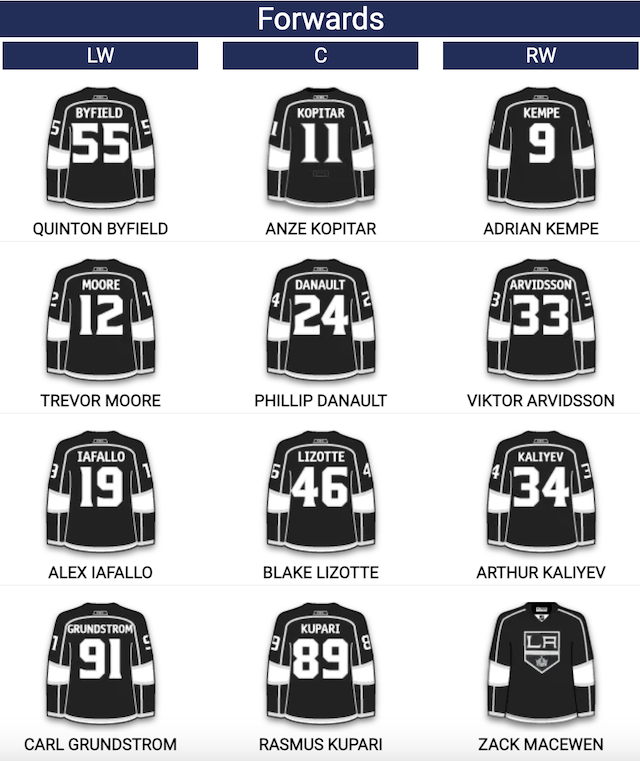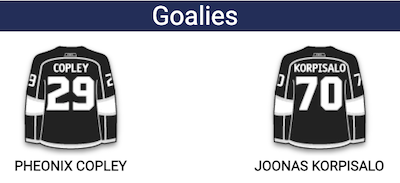 Kings Injuries
Mikey Anderson
Alexander Edler
Kevin Fiala
Gabe Vilardi (D2D)
___________________________________
___________________________________________
Golden Knights Probable Lineup
courtesy of dailyfaceoff.com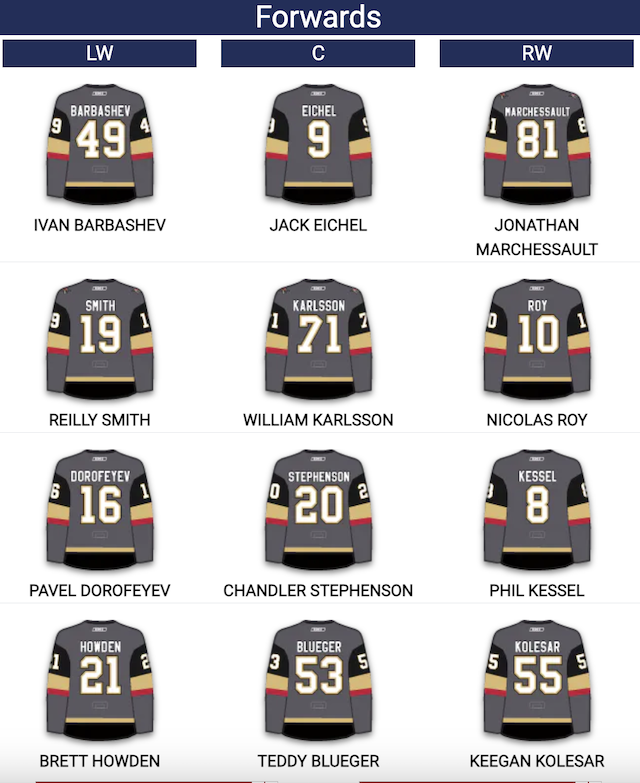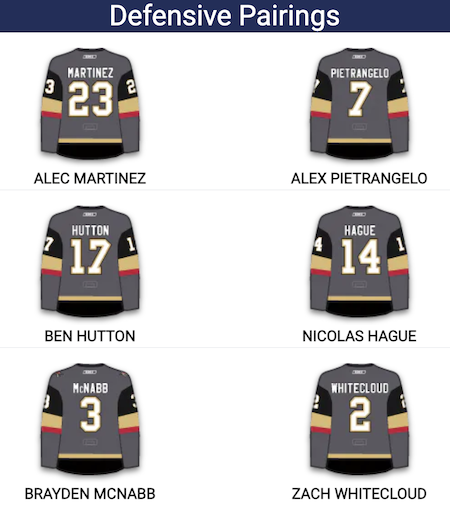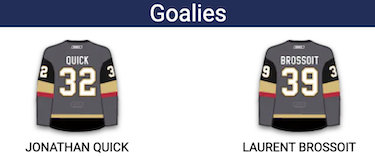 Former Kings
Michael Amadio

Ben Hutton

Alec Martinez (IR)
Brayden McNabb

Jonathan Quick
___________________________________________
___________________________________________
GOALIE STATS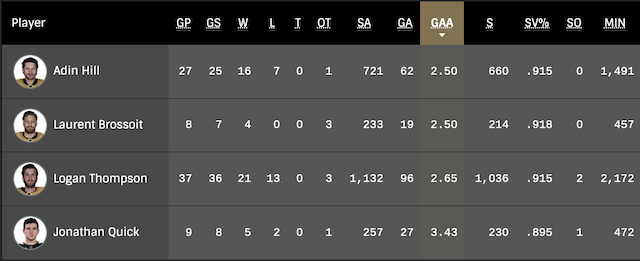 PLAYER STATS
Click Here For More Stats & Rosters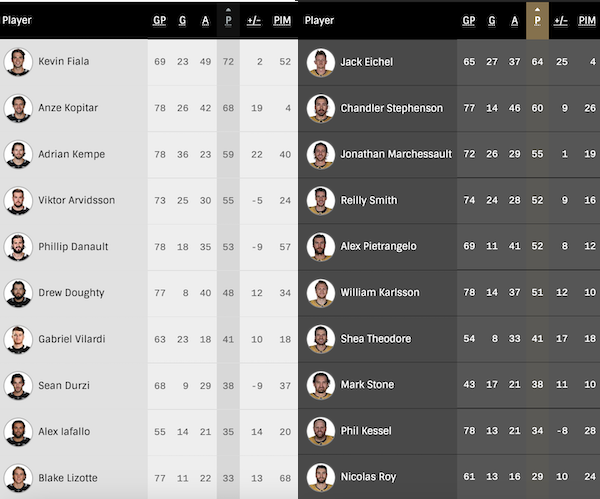 WESTERN CONFERENCE STANDINGS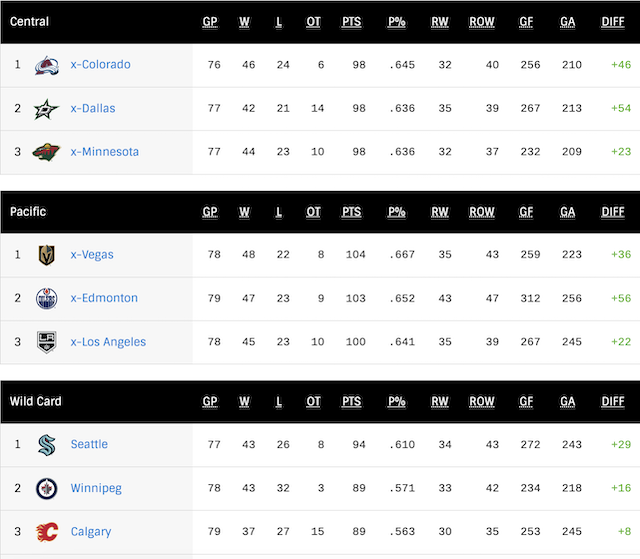 Tonight's Poll Question:
Probably asked this same one before, but:
Part 1 - How many TOTAL POINTS will be scored by all FORMER KINGS now on the VGK in tonight's game?

One guess only for Part 1

Part 2 - How many SHOTS ON GOAL will the KINGS get in tonight's game?

One guess only
+/-2 = 1 point, +/- 1 = 2 points, dead-on = 3 points
Previous Game's Winners
Congratulations to everyone (except me…again….) who correctly guessed the first goal by the Kings would be scored by Arvidsson in the 4/4 game:
LeftyKing, jammer06, DRGinLBC, Helvetica, Byron, Rusty, VegasHockey, JETS GARAGE, randdog, beedee, AngelEyes, DRice, hihocarp, John a90, srm1105, kingrussell, Kurisu, KHenry14, beady eye, kingsmen93, Joe Laviguer, sonnyboy11, pray4mojo, empire, dannybuoy1, Bill Hicks
3/30 Game Results:

Congratulations to the following posters who correctly guessed the Kings & Oilers would combine for 2 PPG over the two games. Nobody correctly guessed they would kill 25:09 of penalty time (or to within +/- 2:00 of that time):
SirJW
VegasHockey
DRGinLBC
Cross Traffic
notbob
pray4mojo
hornman
TooCool
Liz4LA
puckoff
Poll Win Totals
King Of The Mountain
with

61

points:
VegasHockey
59 Points
srm1105
56 Points
LeftyKing
54 Points
Kurisu
52 Points
Rusty
51 Points
DRice
hornman
sonnyboy11
50 Points
AngelEyes
49 Points
48 Points
Bill Hicks
47 Points
DRGinLBC
John a90
randdog
46 Points
pray4mojo
45 Points
Helvetica
44 Points
forum gold
43 Points
beady eye
Chateau Bow Wow
jammer 06
Liz4LA
TooCool
42 Points
SirJW
41 Points
CIrvine
40 Points
36 Points
Nyssa42
32 Points
dannybuoy1
hihocarp
notbob
31 Points
JETS GARAGE
Rogie-Vachon
30 Points
empire
29 Points
28 Points
27 Points
KHenry14
kingsmen93
26 Points
Clif
25 Points
JayWells24
24 Points
kingrussell
23 Points
Sevenhole
Shackleford
22 Points
Dr. Tran
21 Points
20 Points
waynet
19 Points
Byron
18 Points
Cross Traffic
RoS
17 Points
11 Points
Busted Chops
10 Points
beedee
kopinator
9 Points
Dirtweazle
8 Points
7 Points
6 Points
Joe Laviguer
5 Points
Dexter
4 Points
3 Points
HTK
puckoff
salami
STONE
2 Points
05/29/93
Ice24
jneol67
KingzLA
PuckMaster
SaltyPuck
1 Point
cokingsfan
HiFi
mugs
RagBone
Rinkrat
twistedwrister
***Bet your karma in geogirl's betting thread here***
________________________________________________
​
Last edited: