jammer's overlord
Staff member
TEAM LGK
Joined

May 10, 2012
Messages

12,830
LGKash:

$550.00

Game Day Thread
Game #14/82 -- 11/05/22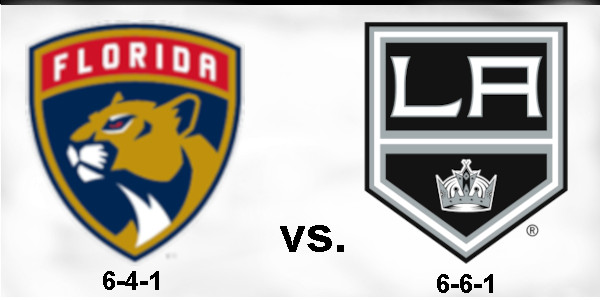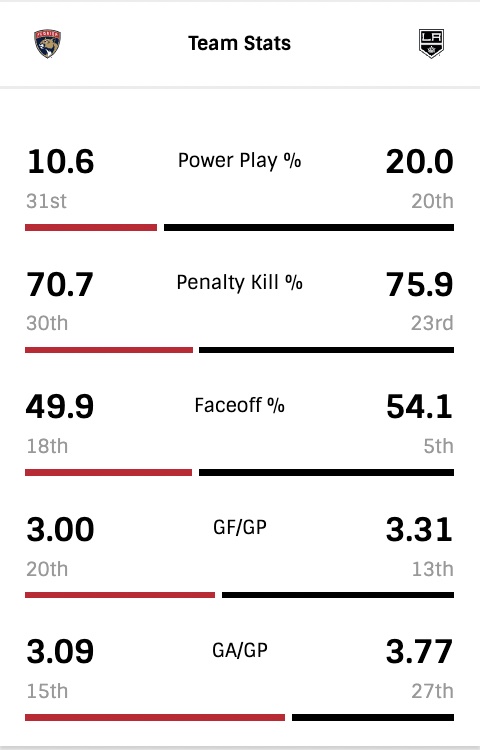 Florida Panthers vs. Los Angeles Kings
at

| Los Angeles, CA
Native American Heritage Night
Last Season's Meetings
03/13/22 - Panthers 2,
Kings 3
(SO)
12/16/21 -
Kings 4
, Panthers 1
**Game Time 7:30pm Pacific**
​

TV:

**BSW**



Radio: LA Kings iHeartRadio app
Please remember,
DO NOT
post links to Live Game Streams in the GDT or anywhere else on LGK
Check out articles on LA Kings Insider Here
Blake Lizotte & Todd McLellan 11/3 Post Game Quotes
Blake Lizotte on his thoughts on a different style of game tonight
You know I think that's actually more of our identity, Kings hockey. I thought we were pretty tight defensively, actually thought our team played a pretty good game overall. Just came up short in this one.
Lizotte on tonight being more of a style the Kings want to see
Yeah, I think so. We've kind of started the year scoring quite a bit but also giving up a lot. I think our team is starting to turn around and play a little more defensive hockey, which I think most Kings fans are used to and Kings players are used to. I think that's actually a good sign for us, when we're in these 1-1 games versus 6-5 shootouts. I think it's more our style and what our identity is and what we want to be.
Lizotte on an improved, 200-foot effort from his line tonight
Yeah, for sure. As of late, my line specifically has been struggling on the defensive end of it. Our focus right now is just playing simple, smart hockey. When you can get pucks to go and it's always nice.
Lizotte on if he feels that consistency has built throughout this trip
I think so, in bits and pieces. Obviously everyone wants to play a full 60 but it doesn't always happen. I think going forward we need to take little bits from each game and try and put it together for a full 60.

Todd McLellan on his thoughts on the vibes in the room being that of a strong defensive effort
I would agree wholeheartedly. We talked about fixing some things after the Dallas game and we saw it today. They did a really good job of it, gave up very few out-numbered rushes. We were pretty solid defensively, good through the neutral zone, we did a lot of things well tonight. We didn't get the win, sometimes bounces go against you and I think that's what happened in overtime to Kevin in front of the net. At the other end, I didn't think we had as much polish as we've shown offensively, some real good opportunities where we bobbled pucks with chances at breakaways, 2-on-1's that missed the net or we didn't make the right play. The one thing that's been coming for us has been the offense and tonight it let us down a little bit.
McLellan on takeaways tonight of process versus outcome
The NHL is all about winning games and they all balance out at the end but I thought tonight we may have deserved a better fate but we didn't get it. The process part was one that, we're not happy with, but we're pleased to see process. Now we're going to get home and get some rest and start to practice, we haven't practiced forever.
McLellan on if he feels the synergy between positional groups has improves on this trip
Well, that's a that's a tough question to answer because I think for two of the games it definitely did. Obviously the Dallas one, as I said in Dallas, you've got to give them credit, they really came out and played well. We did not respond and I thought as the night got tougher in Dallas, we got away from our structure more and more and that can't happen. We got it back tonight, so it's a good sign.
McLellan on if he feels tonight was a "step forward" for Kevin Fiala
I think it's been a step forward every game, I don't think he's stepping back at all. He's a very dynamic player and good players make other players around them better and I see that too. In Kevin's, situation he creates, Carl Grundstrom should have a goal tonight off a tremendous pass from Kevin. He makes other players better, he keeps a lot of plays alive, very creative. He's starting to figure out our system and our structure a little bit more. He's a hell of a player.
McLellan on the growth of the Lizotte line this evening
Definitely. When they're playing and they're playing well, they're very trusting line and they can play against anybody, at any given time, in any zone. We haven't seen enough of that from that group and tonight, they did a much better job.

​

Subject To Change
FORWARDS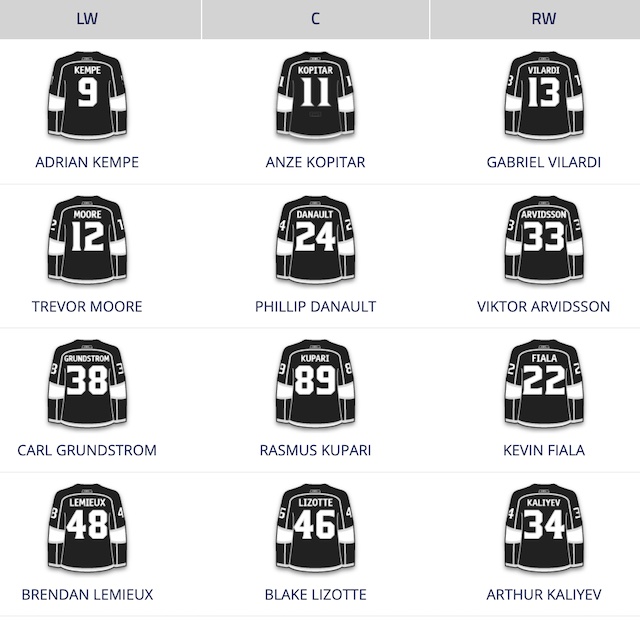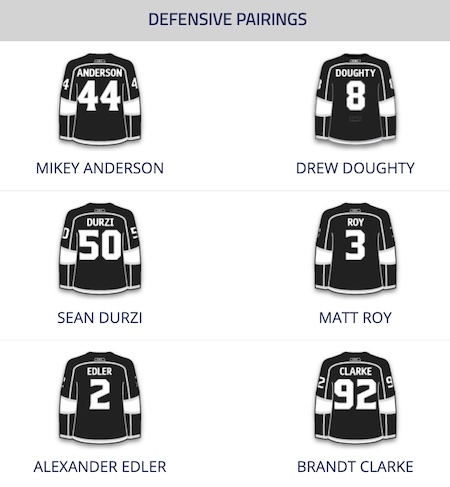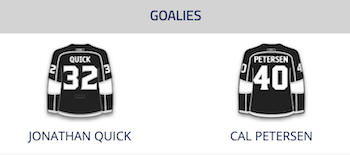 Kings Injuries
Alex Iafallo (LTIR)
___________________________________________
___________________________________________
Panthers Probable Lineup
courtesy of dailyfaceoff.com
FORWARDS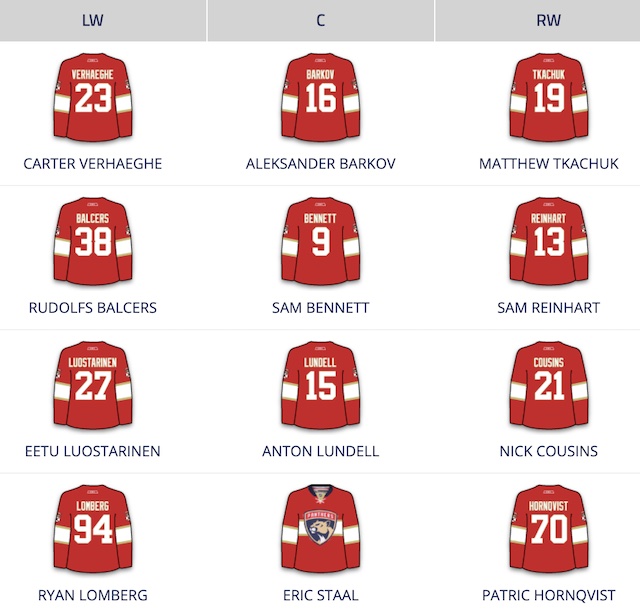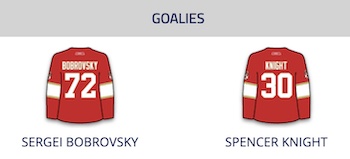 NO Former Kings
____________________________________________
____________________________________________
GOALIE STATS

PLAYER STATS
Click Here For More Stats & Rosters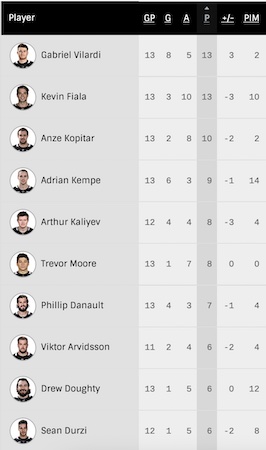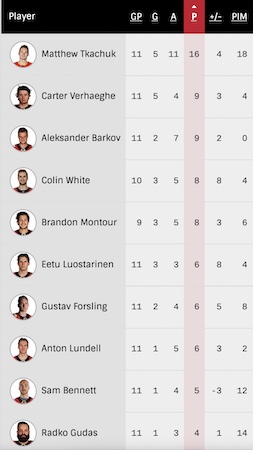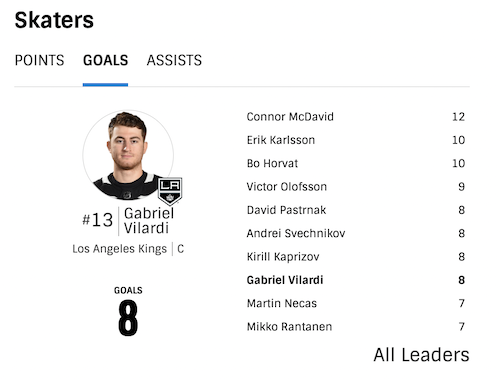 PACIFIC DIVISION STANDINGS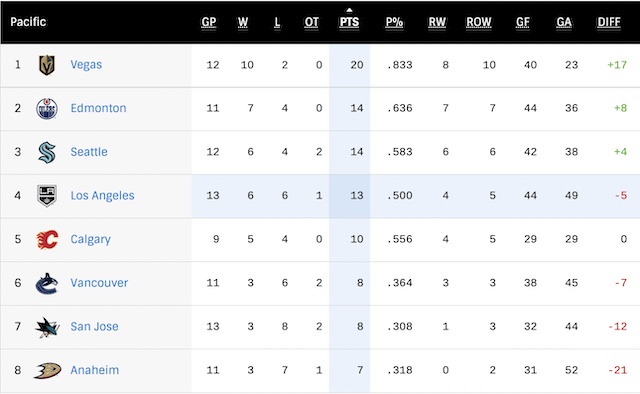 Tonight's Poll Question:
THERE WILL BE NO POINTS AWARDED FOR TONIGHT'S GAME SINCE SOME PEOPLE MAY NOT HAVE HAD THE CHANCE TO MAKE GUESSES
How many total points will be scored by all USA-born players in this game?
Tkachuk (F), White (F), Kierstad (D), & Knight (G) for the Panthers
Iafallo (IR), Lemieux (F), Lizotte (F), Moore (F), Anderson (D), Roy (D), Petersen (G), Quick (G) for the Kings
You can take 3 guesses
Take your best guesses in your post below.
The only prize is the glory of seeing your name in the next GDT if you get it right.
Previous Game's Winners
Congratulations to these posters who correctly guessed that Patrick Kane would be the only 2012-2014 Cup Team Participant to get a point in the previous game
DRice
VegasHockey
Kurisu
randdog
SirJW
LeftyKing
AngelEyes
srm1105
Bill Hicks
kopinator
hornman
beedee
Poll Win Totals
Not updated with previous game winners - I have to leave for the game now!
King Of The Mountain
with

12

points:
Clif
RoS
11 Points
John a90
LeftyKing
10 Points
DRGinLBC
hornman
Liz4LA
Rusty
VegasHockey
9 Points
AngelEyes
Kurisu
8 Points
beady eye
Bill Hicks
Helvetica
srm1105
7 Points
forum gold
6 Points
Chateau Bow Wow
JETS GARAGE
5 Points
dannybuoy1
KHenry14
kopinator
randdog
Sevenhole
sonnyboy11
4 Points
CIrvine
Dr. Tran
empire
pray4mojo
SirJW
3 Points
beedee
Drice
HTK
jammer 06
TooCool
waynet
2 Points
05/29/93
Busted Chops
Dexter
hihocarp
kingsmen93
notbob
Nyssa42
salami
1 Point
Byron
kingrussell
PuckMaster
Rinkrat
Rogie-Vachon
STONE
***Get, Give, & Bet your karma in geogirl's KARMA BETTING THREAD HERE***
________________________________________________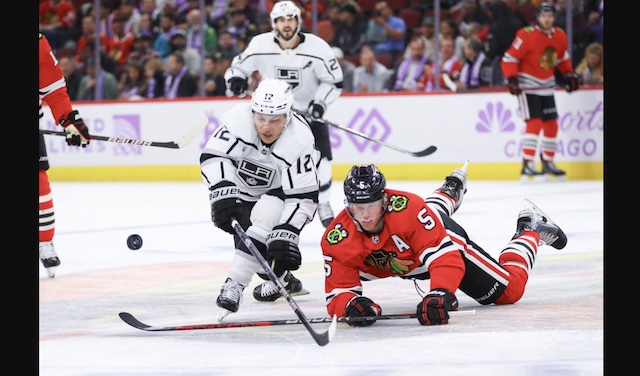 Last edited: