jammer's overlord
Staff member
TEAM LGK
Joined

May 10, 2012
Messages

12,768
LGKash:

$450.00

Game Day Thread
Game #62/82 -- 02/28/23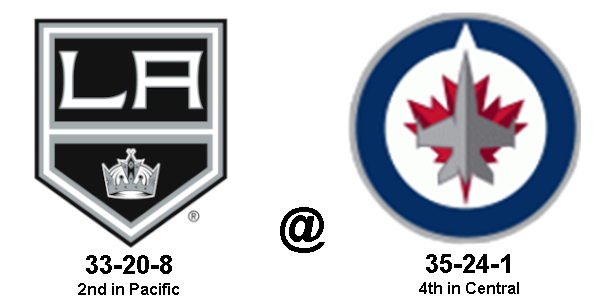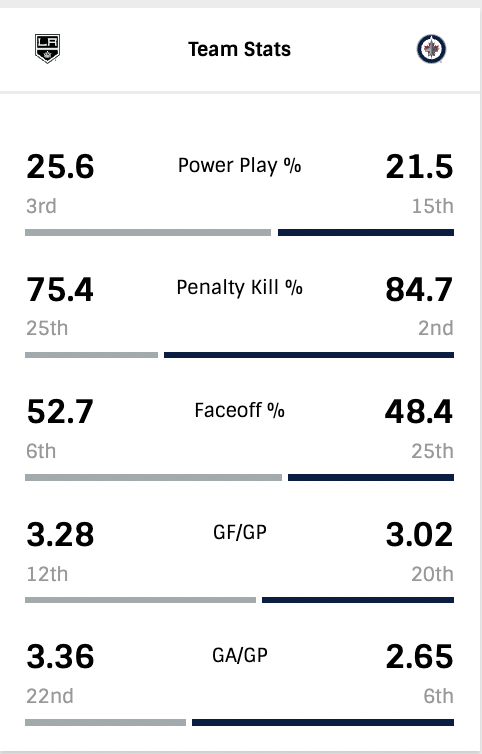 Los Angeles Kings @ Winnipeg Jets
Canada Life Centre | Winnipeg, MB
Black History Night
Previous Meeting
10/27/22 —
Jets 6
, Kings 4

TV:

BSW



Radio: LA Kings iHeartRadio app
Please remember,
DO NOT
post links to Live Game Streams in the GDT or anywhere else on LGK
Check out articles on LA Kings Insider Here
Drew Doughty (video) Anze Kopitar & Todd McLellan 2/26 Post Game Quotes
Watch Drew Doughty's Post Game Interview Here
Anze Kopitar on the team's play early and the goals against that followed
It was just a couple tough bounces really. There wasn't a whole lot of stuff that we didn't like in the first period and then in the second period, just sometimes bounces don't go your way. We realize that you've got to play for your bounces too and tonight it just didn't go for us.
Kopitar on the five-minute power play and his takeaways from that sequence
We had chances. Yeah, you can always pick out some stuff when you need score, when you're not getting on the board, especially early in the game like that. We had some chances, we had some looks, we didn't score.
Kopitar on if a rarely-seen penalty can rattle a team at all
I don't think so. I mean, we were getting on a five-minute power play, so there's not a whole lot of time to be rattled, if there is at all.

Todd McLellan on his overall takeaways from tonight's game
Obviously disliked the result, I thought we were five or six players shy of having an opportunity to win. I'm not talking about the goaltender, I'm talking about positional players that just weren't sharp enough, they didn't make the plays they needed to make. They had opportunities to make them, it wasn't like they were under siege. Then, on the other side, what I liked, I thought we had some players that were ready to play, but it just goes to show when you're playing the cream of the crop in the league, you can't have anywhere from six to seven guys have really off nights and we had them.
McLellan on the start tonight and where he felt things changed from there
When we got off the ice after the first period, we were in our end really three times. We turned the puck over once at the blue line, took a penalty off of it and now they're coming after us. We turned the puck over on a clean breakout, an opportunity to get going the other way and maybe have an out-numbered rush, then it's in our net. We had one other turnover where we survived and killed it, that was it. That's not a bad start against the New York Rangers in this building. Then, after that, it was more of the turnovers and sloppy play that led to the goals.
McLellan on facing a team that is skating 3-4 players shorter than usual
It actually makes it harder for us. They had to piecemeal lines together, so it was hard for us to figure out who was coming and going and when we want to play four, they were playing three. You can see our fourth line again took it on the chin tonight, unfortunately. I think some nights, you can't go 82 games like that, but some nights a three-line team can benefit you. The players on their three lines are pretty damn good players, so they were on the ice a lot.
McLellan on if he felt the five-minute power play was a turning point in the game
I think it was a turning point. The five-minute power play, even with clean ice coming out in the second half of it, you don't get much off of it. Then, the building gets energized and they get hungry and scored right after it. It was certainly a turning point.
​

Subject To Change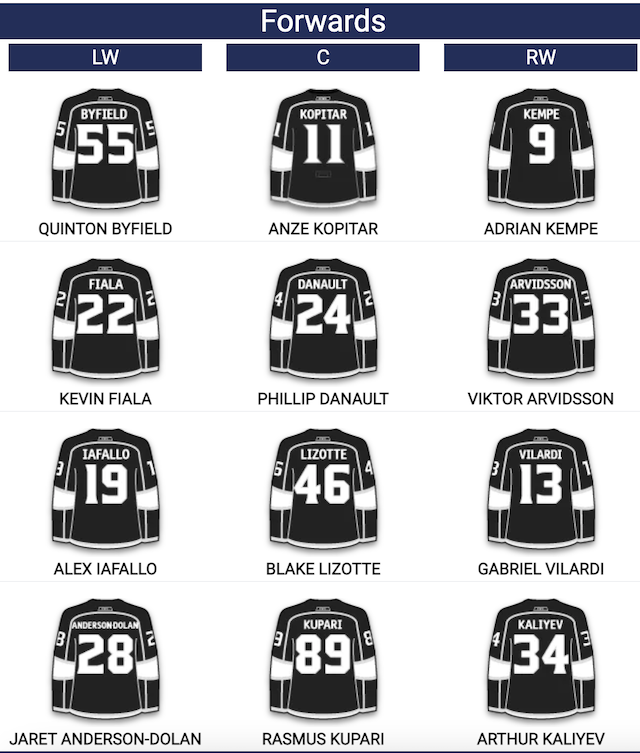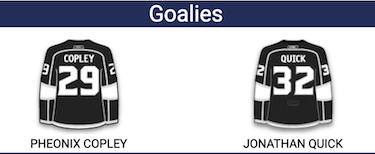 Kings Injuries
Carl Grundstrom (IR)
Trevor Moore (D2D)
___________________________________
___________________________________________
Jets Probable Lineup
courtesy of dailyfaceoff.com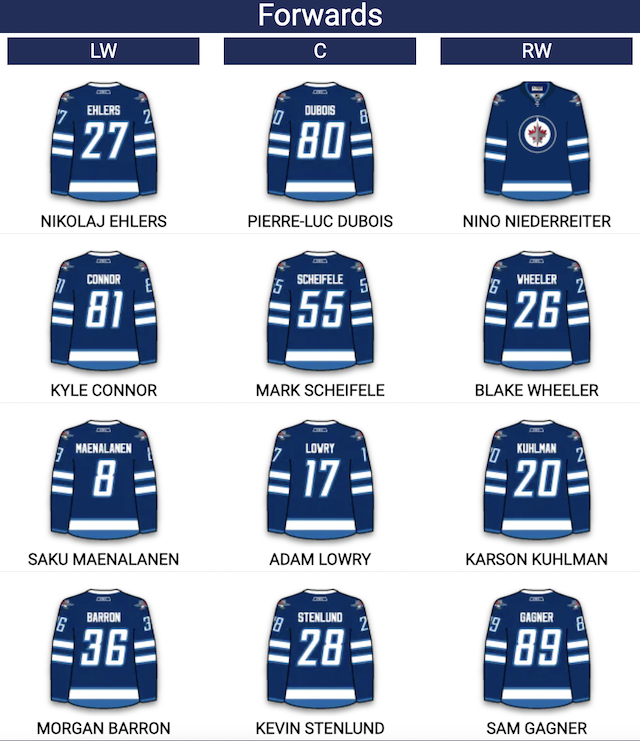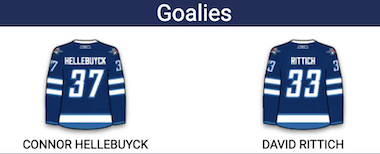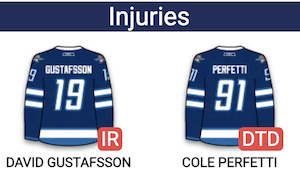 NO Former Kings
___________________________________________
____________________________________________
GOALIE STATS

PLAYER STATS
Click Here For More Stats & Rosters
WESTERN CONFERENCE STANDINGS
Tonight's Poll Question:
The Jets only have 1 OTL this season.
Part 1 - In which period will the GWG be scored? (1,2,3,OT,SO)
ONE GUESS ONLY

Part 2 - Who will score the GWG? You can take 4 guesses per team


Previous Game's Winners
Congratulations to the many smart posters who garnered 2 points for guessing within +/-1:00 or less that the Kings would lead for exactly 0:00 of the previous game:

0:00-0:30 (2 points):
jammer06
JayWells24
Byron
forum gold
hornman
AngelEyes
Rusty
DRice
John a90
VegasHockey
Helvetica
SirJW
dannybuoy1
DRGinLBC
Kurisu
LeftyKing
sonnyboy11
srm1105
Liz4LA
Chateau Bow Wow
notbob
Poll Win Totals
**NOT UPDATED***
(most everyone just moves up 2 points)
King Of The Mountain
with

47

points:
VegasHockey
42 Points
LeftyKing
Rusty
41 Points
sonnyboy11
srm1105
40 Points
Kurisu
39 Points
hornman
38 Points
Bill Hicks
37 Points
John a90
pray4mojo
36 Points
AngelEyes
randdog
35 Points
34 Points
beady eye
DRGinLBC
TooCool
33 Points
DRice
forum gold
Liz4LA
32 Points
CIrvine
SirJW
31 Points
Helvetica
30 Points
Chateau Bow Wow
jammer 06
29 Points
Nyssa42
28 Points
27 Points
26 Points
Clif
Rogie-Vachon
25 Points
dannybuoy1
24 Points
empire
notbob
23 Points
JETS GARAGE
KHenry14
Sevenhole
22 Points
21 Points
hihocarp
20 Points
19 Points
kingsmen93
waynet
18 Points
RoS
17 Points
JayWells24
16 Points
Dr. Tran
15 Points
kingrussell
14 Points
Shackleford
13 Points
12 Points
Byron
Cross Traffic
11 Points
Busted Chops
10 Points
kopinator
9 Points
Dirtweazle
8 Points
7 Points
6 Points
beedee
5 Points
4 Points
3 Points
Dexter
HTK
salami
STONE
2 Points
05/29/93
PuckMaster
1 Point
Ice24
RagBone
Rinkrat
SaltyPuck
***Get, Give, & Bet your karma in geogirl's KARMA BETTING THREAD HERE***
________________________________________________
​
Last edited: